May 2014
Saturday, April 18, 2014 was a fun day for the Cook Boys. After an adventurous drive northeast (during which I filmed an Instant Classic Video of Kellan), the boys and I arrived in the Upper West Side of Manhattan around 3:00 p.m. We parked at 79th & Riverside, where we found this awesome fire hydrant…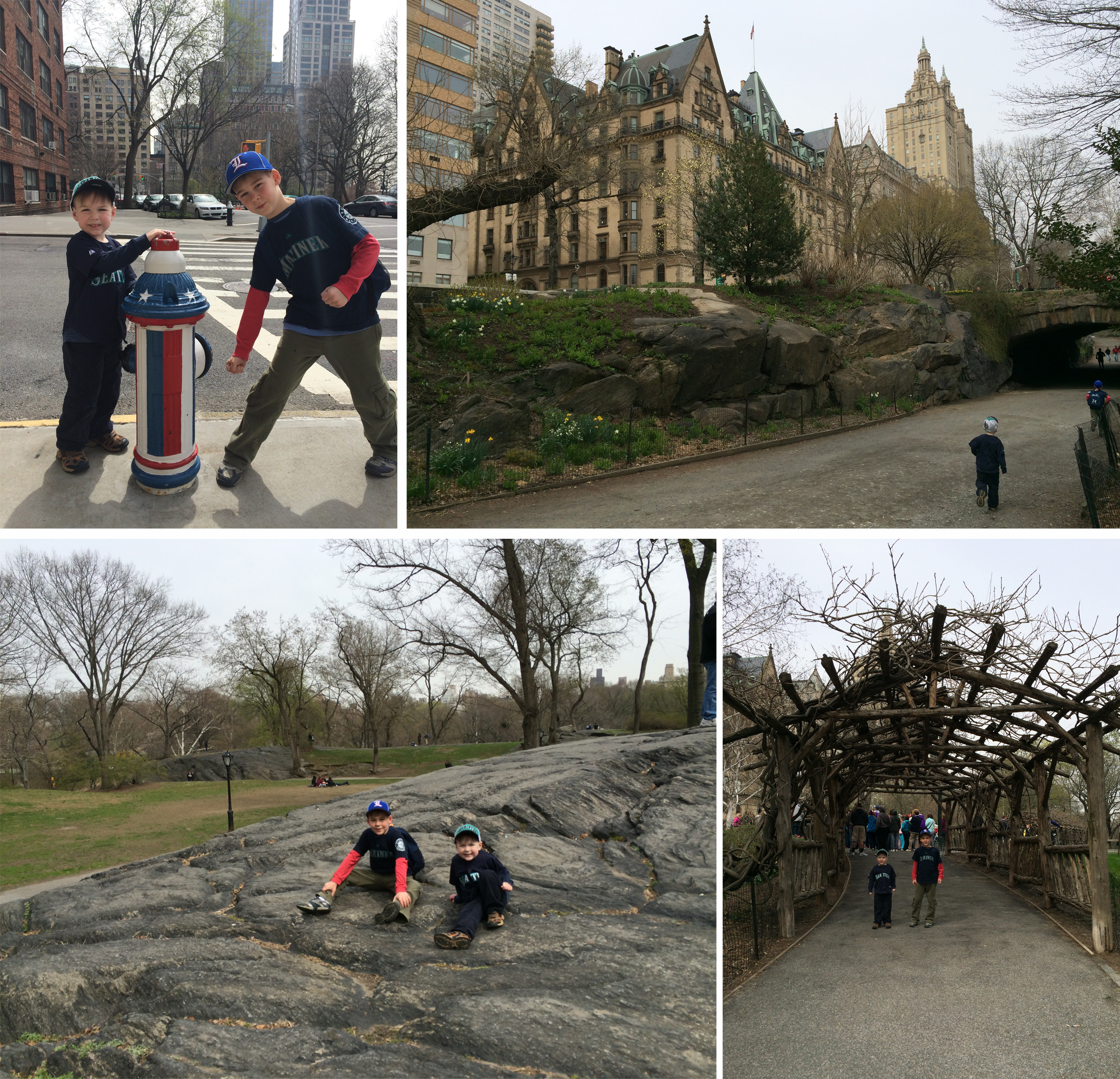 …and then we set out on foot for Central Park. In case you didn't know, that building in the upper right (above) is the "Dakota" where John Lennon lived and was killed outside on the sidewalk.
Our plan was to get to Central Park with lots of time to spare so we could do some playing. But we drive took about 45 minutes longer than planned. We were going to meet up with Zack Hample at his family bookstore, which was across the park from us. So we just walked through the park, actually the boys ran through the park: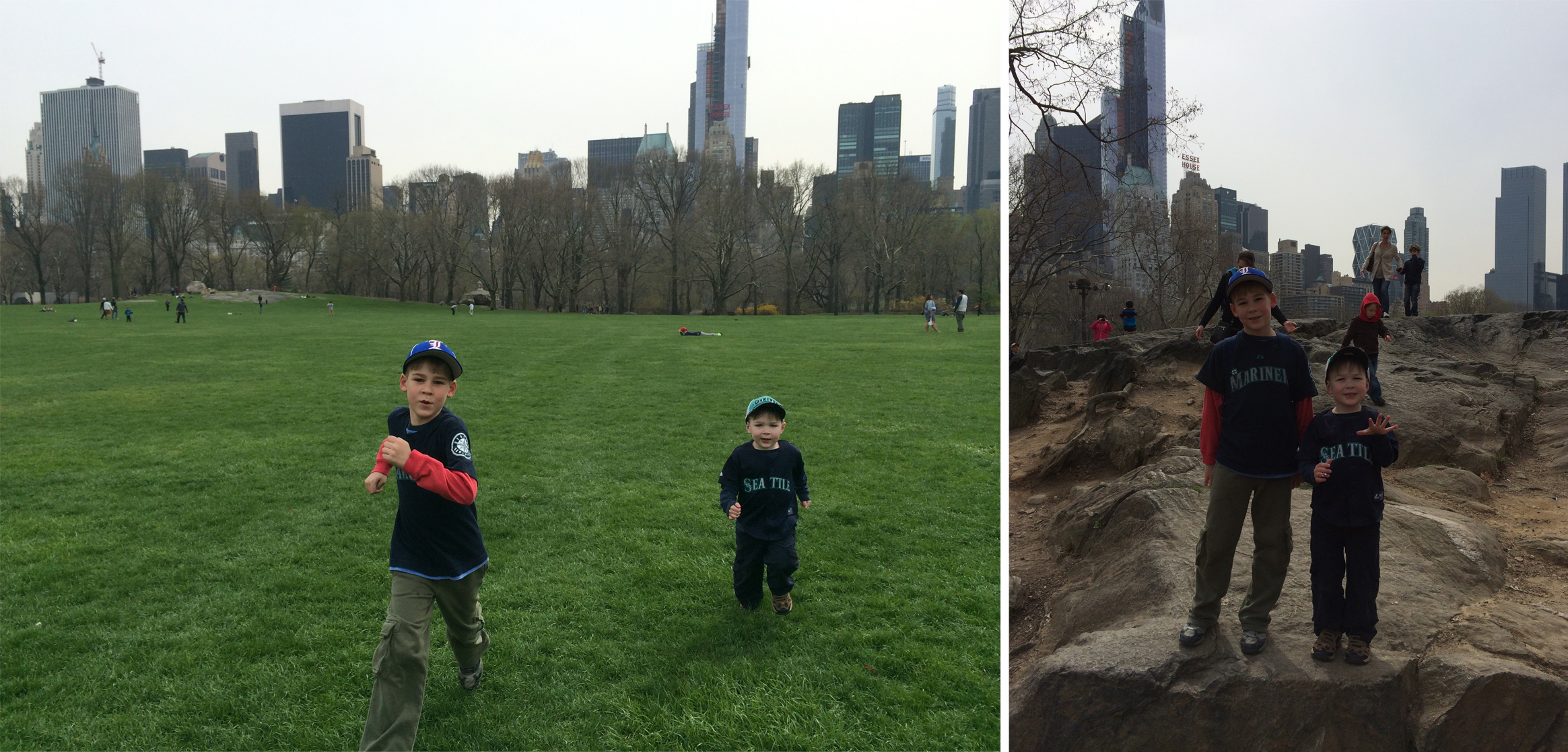 We met up with Zack, grabbed some food at a nearby deli, and hopped on the train: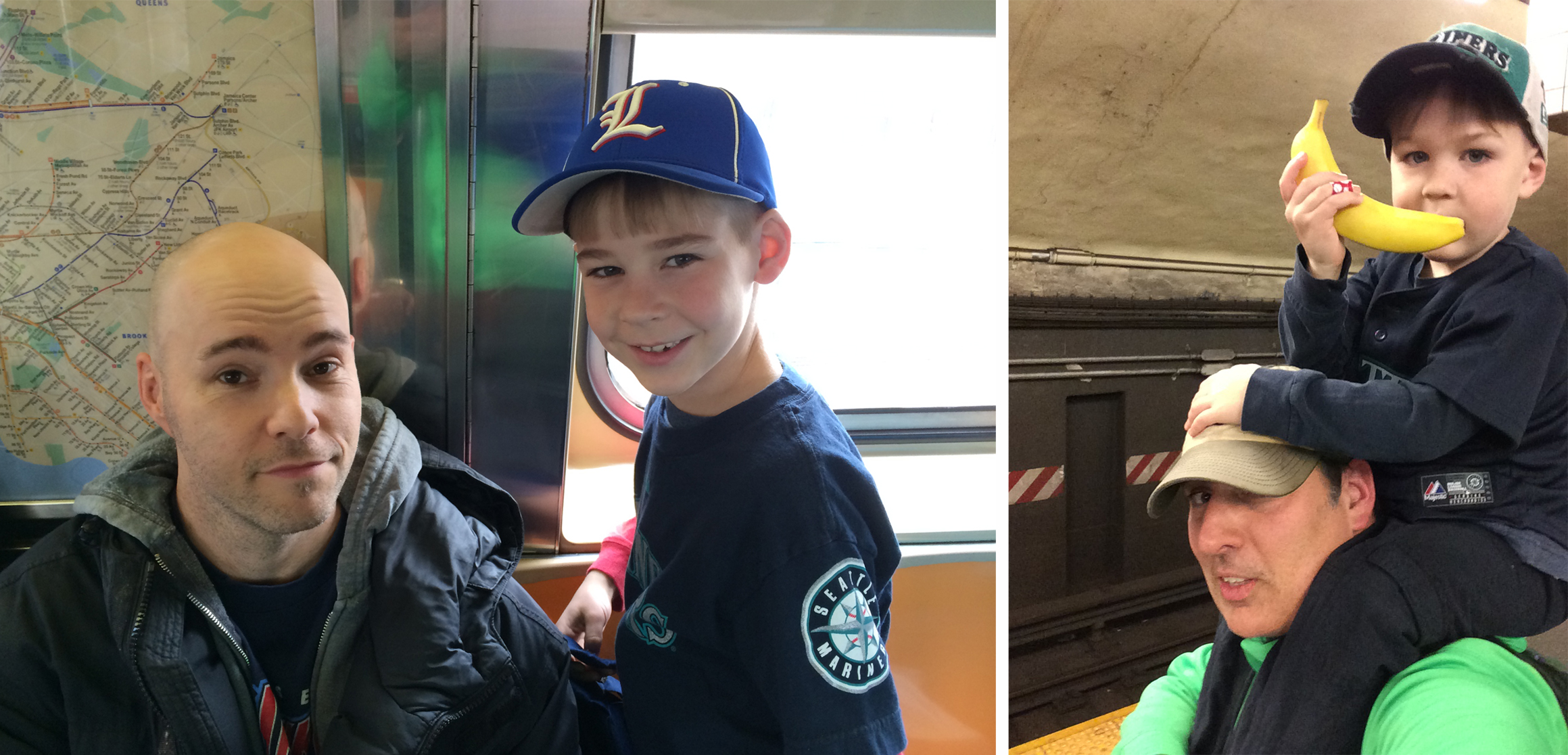 Kellan got that banana at the deli and announced that he wanted to eat it once we got to our seats.
Once we reached Citi Field, we ran into a couple other guys…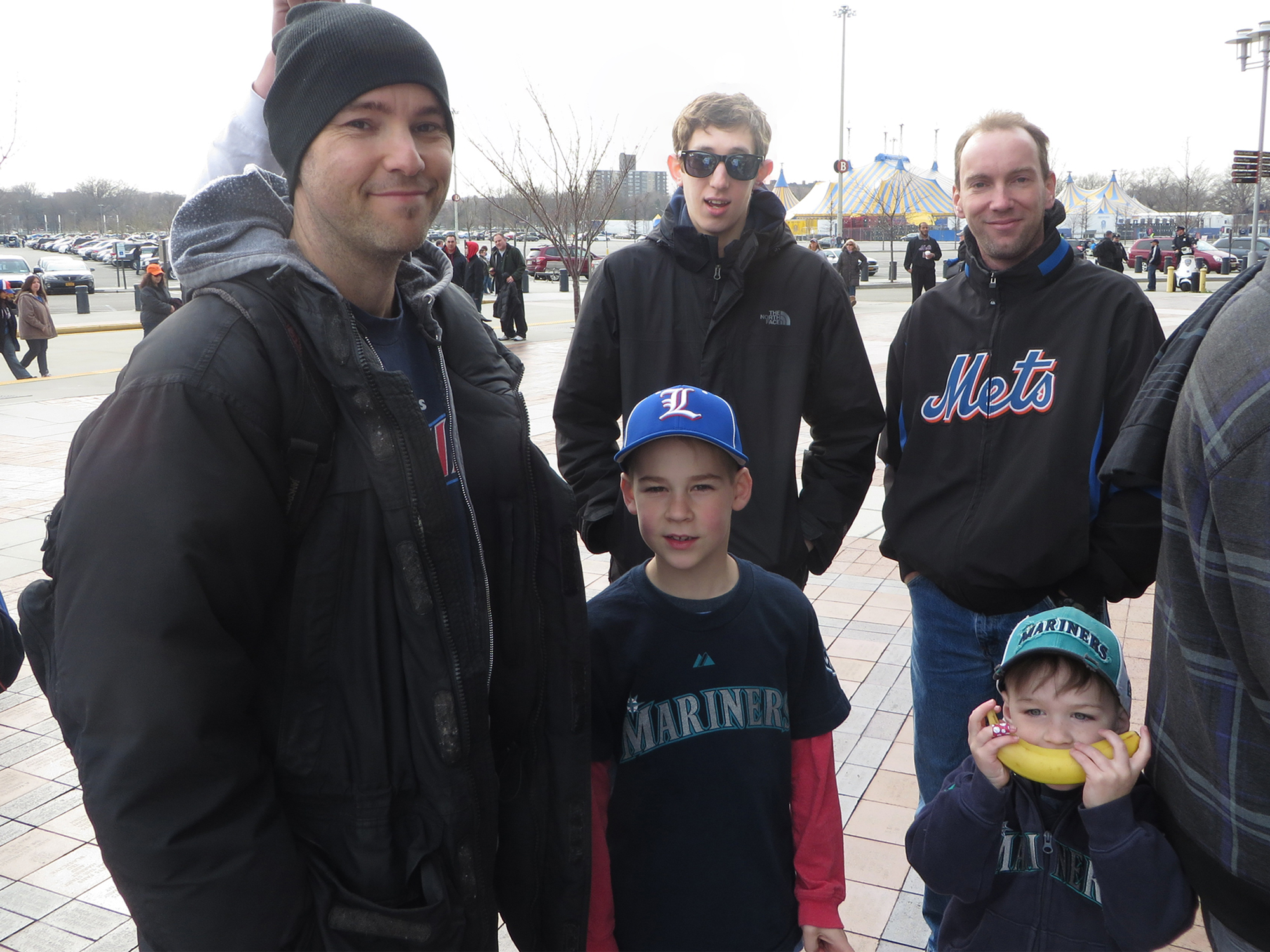 … Greg Barasch and Rick Gold, who know their way around a MLB ballpark.
The boys passed the time while we waited on the gates by playing some catch along the 3B side of the stadium…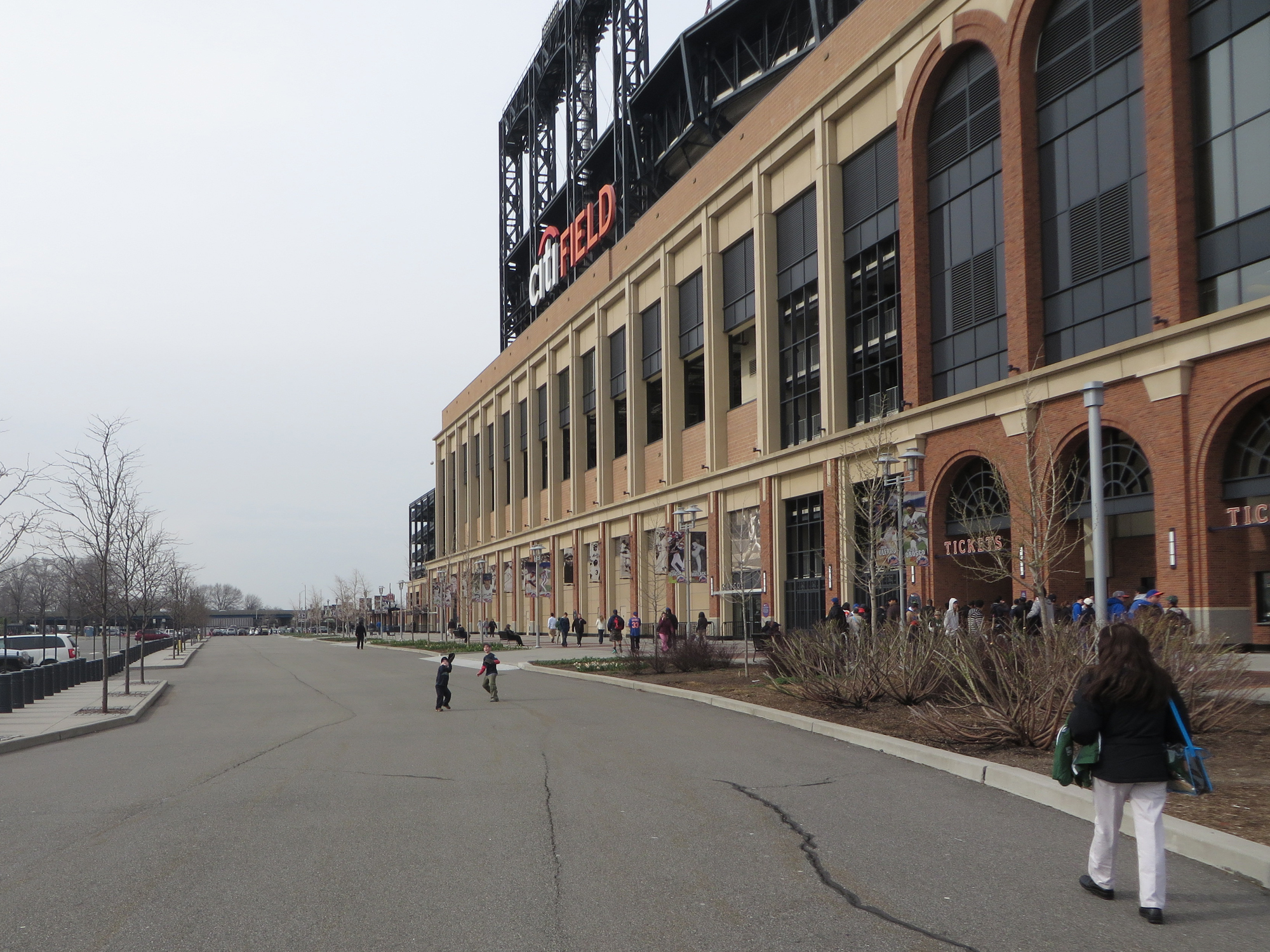 …and running around between the growing lines of fans:

Once the gates opened, we headed to the RF foul line: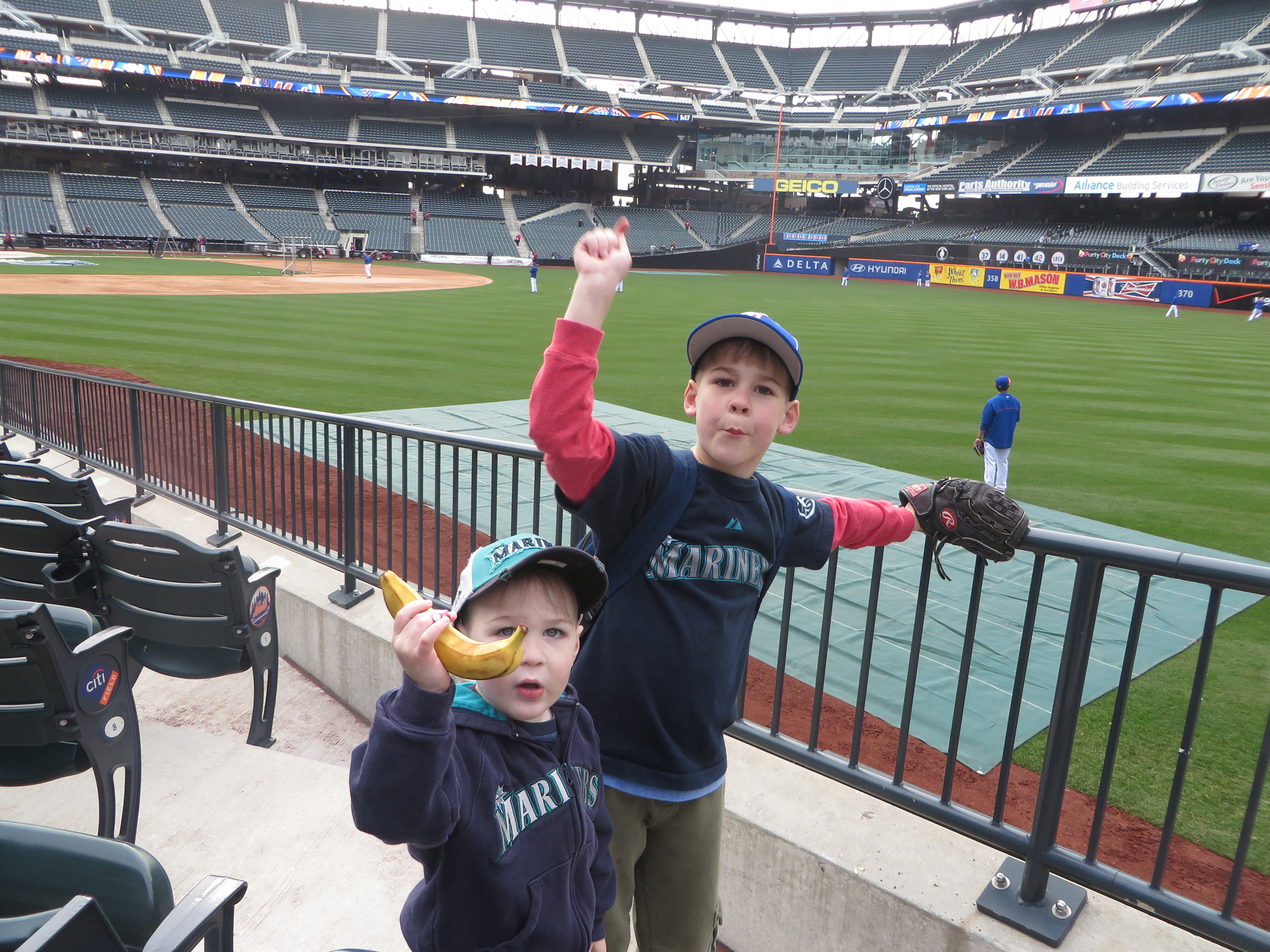 And Kellan declared it to be banana time: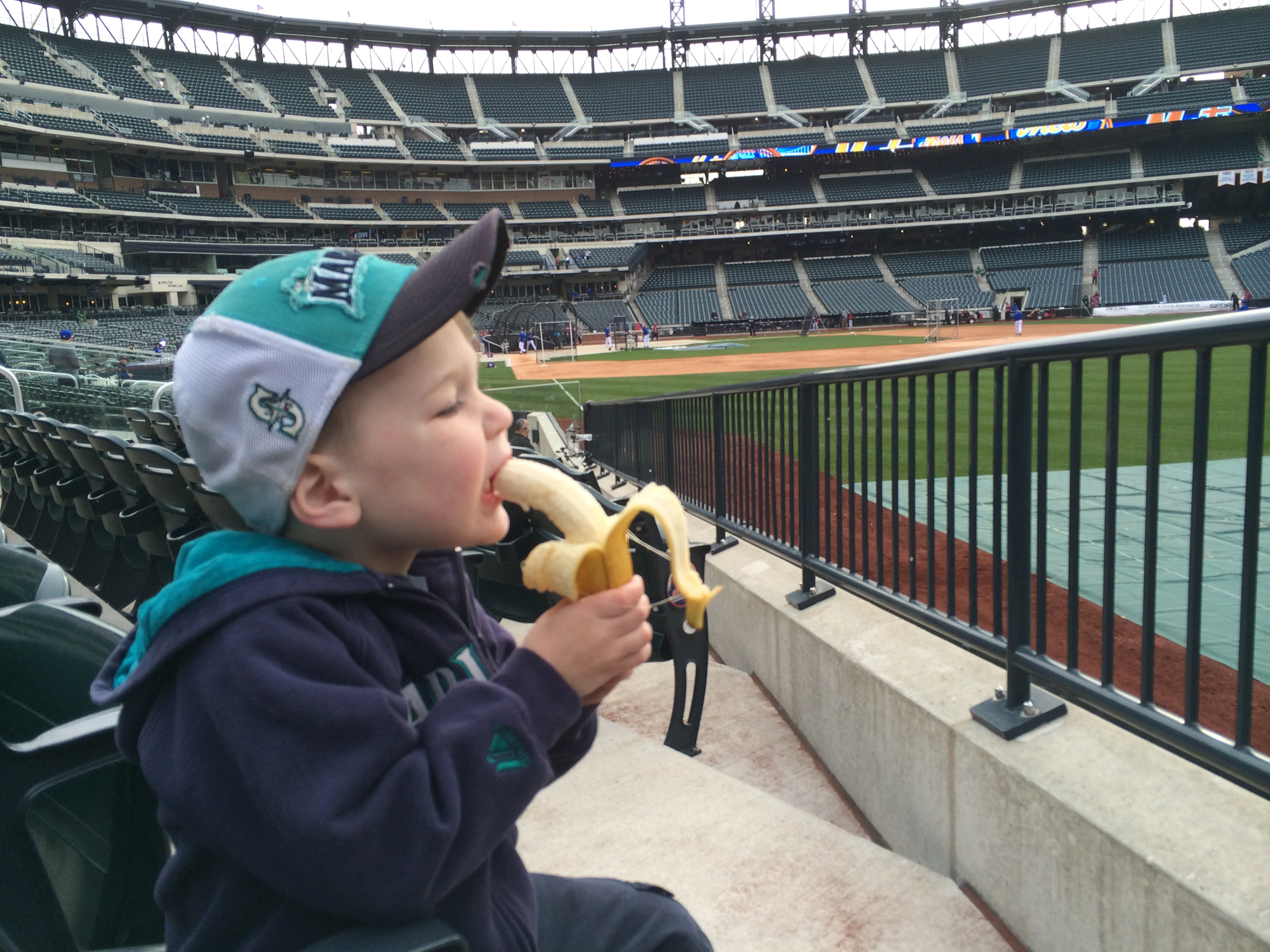 He destroyed that banana!
Nothing was doing on the RF foul line, so we decided to head to CF by the bullpens. Eventually, an unidentifiable Met tossed a ball to Tim: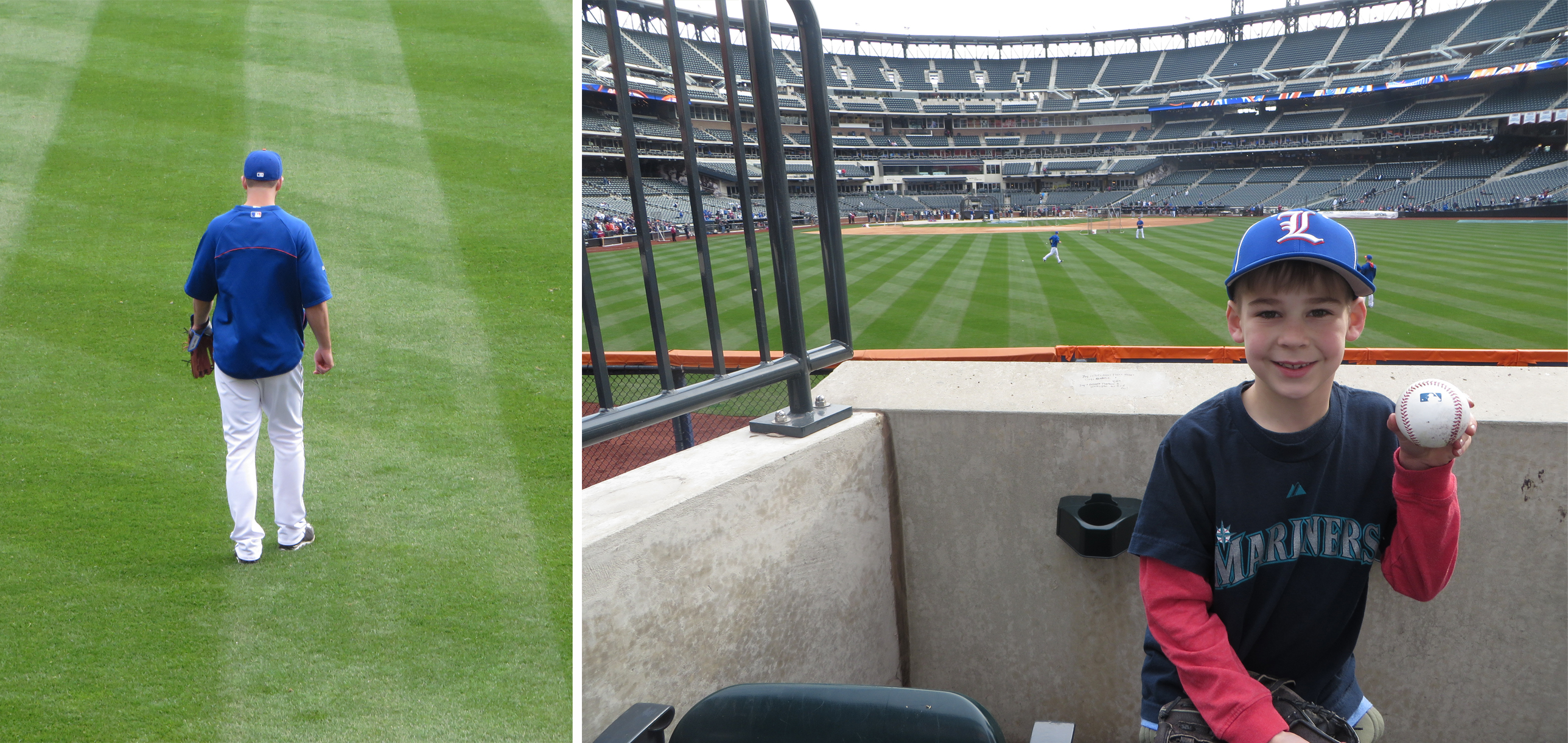 Thanks, Mets guy!
We had the corner spot right next to the bullpen and it was relatively empty out there. But for some reason, we made the terrible decision to head over to the LF foul line where the Braves were playing catch. Left field was pretty packed. The LF line was packed too. And the Braves were essentially done throwing by the time we arrived.
So…
We headed back to the CF bleachers, which were now fairly full in the first 4-5 rows. We hung back in row 10 or so. And Tim took a picture of me and Kellan, just for kicks: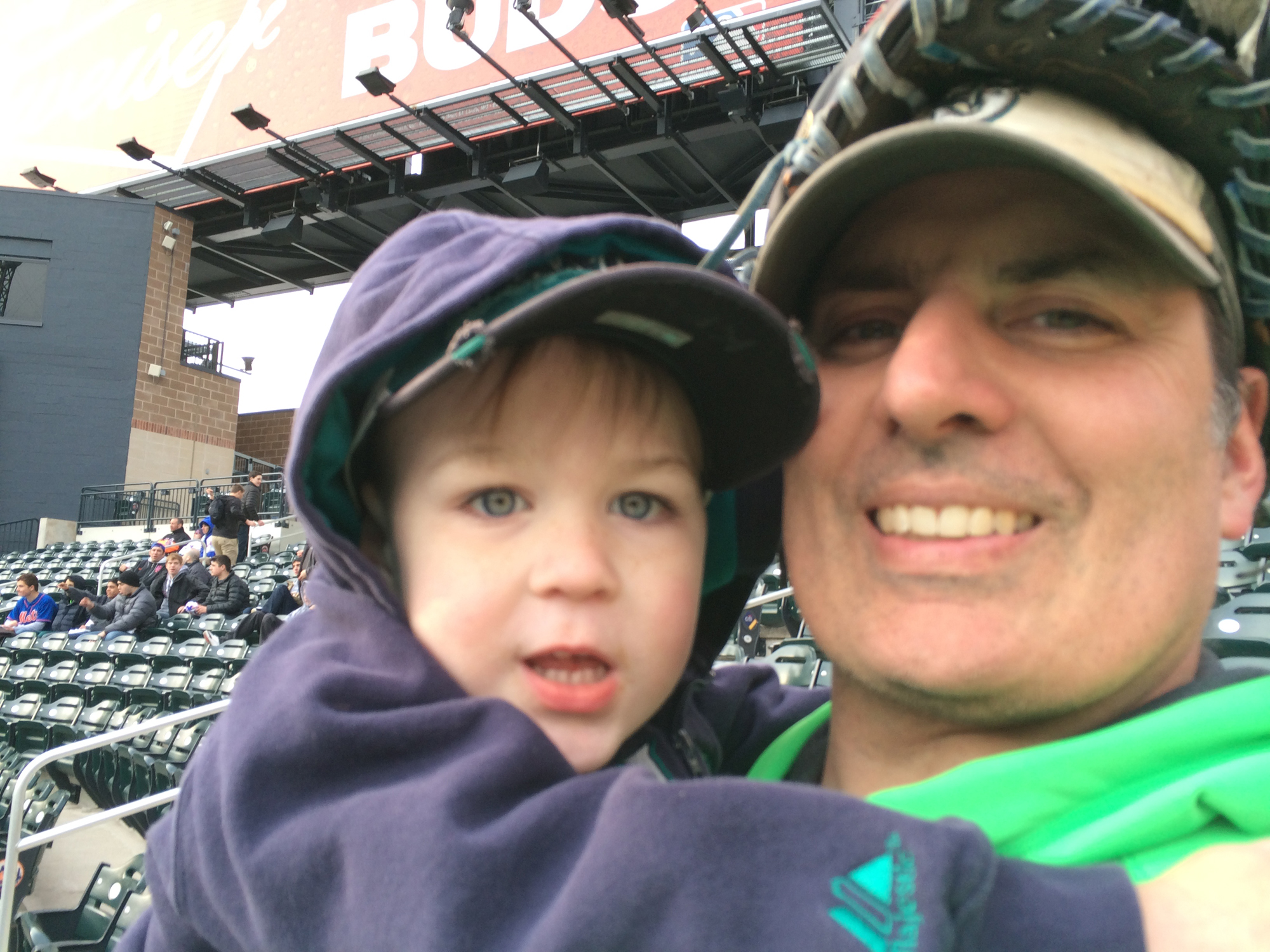 At one point, Craig Kimbrel walked into the bullpen to use the restroom. He walked by below us and waved and said hi to the kids. So I snapped a picture of his glove when he put it down on a chair below us: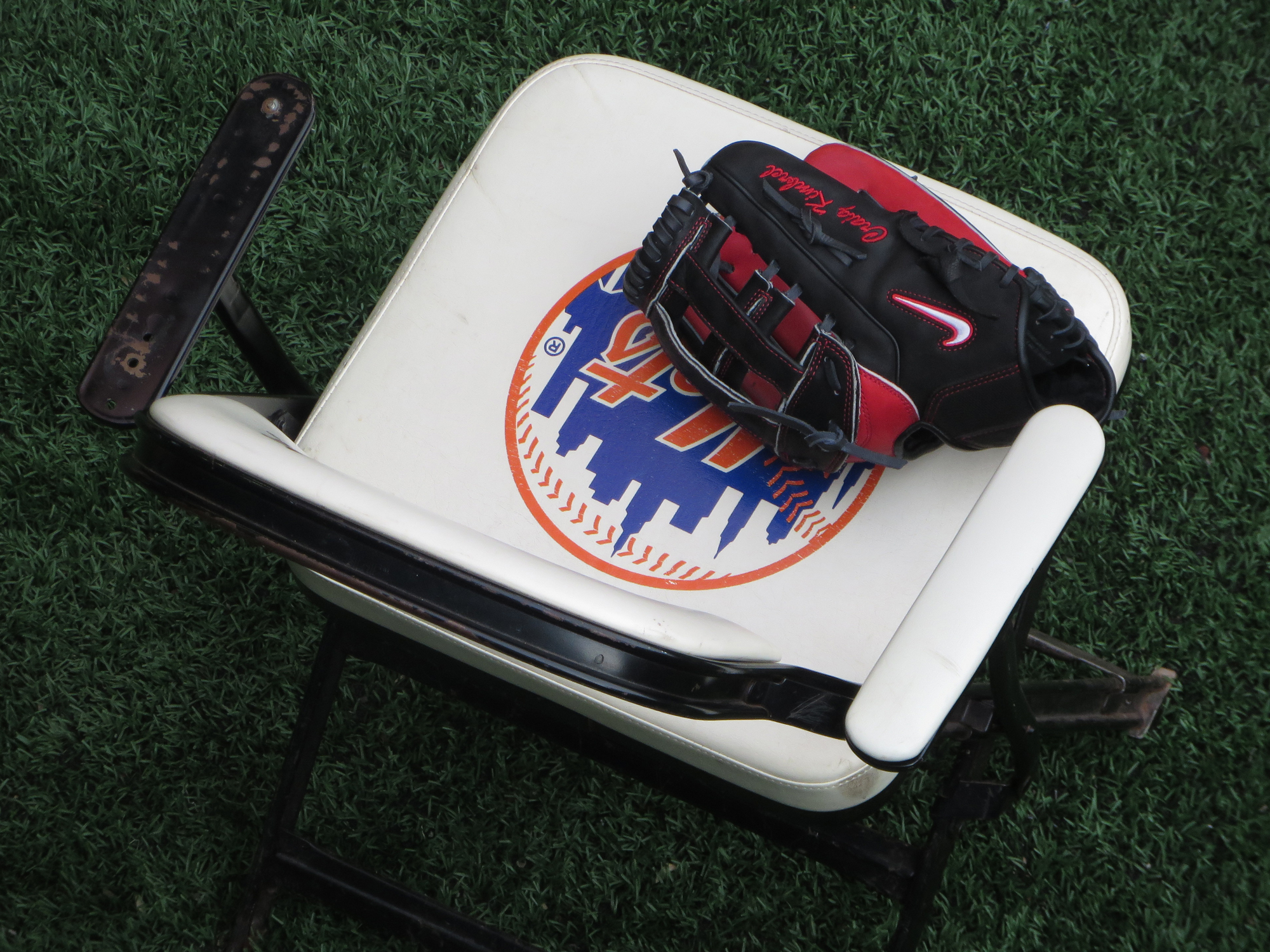 As we hung out during BP, the boys went through my backpack and cleaned out our snack arsenal.
Tim had to take a break from his snacking when an usher-type-guy down in the bullpens decided to toss a baseball up to Tim. It took three throws for the two of them to finally connect…but Tim finally go it.
Thanks, usher-type-guy!
We had a rush of action late in BP. Ervin Santana and tossed a lot of baseballs to people in the front row of the CF seats, but no one had ever gone deeper than the first row. And there were no homeruns hit into the CF seats.
Eventually, things changed thanks to these guys: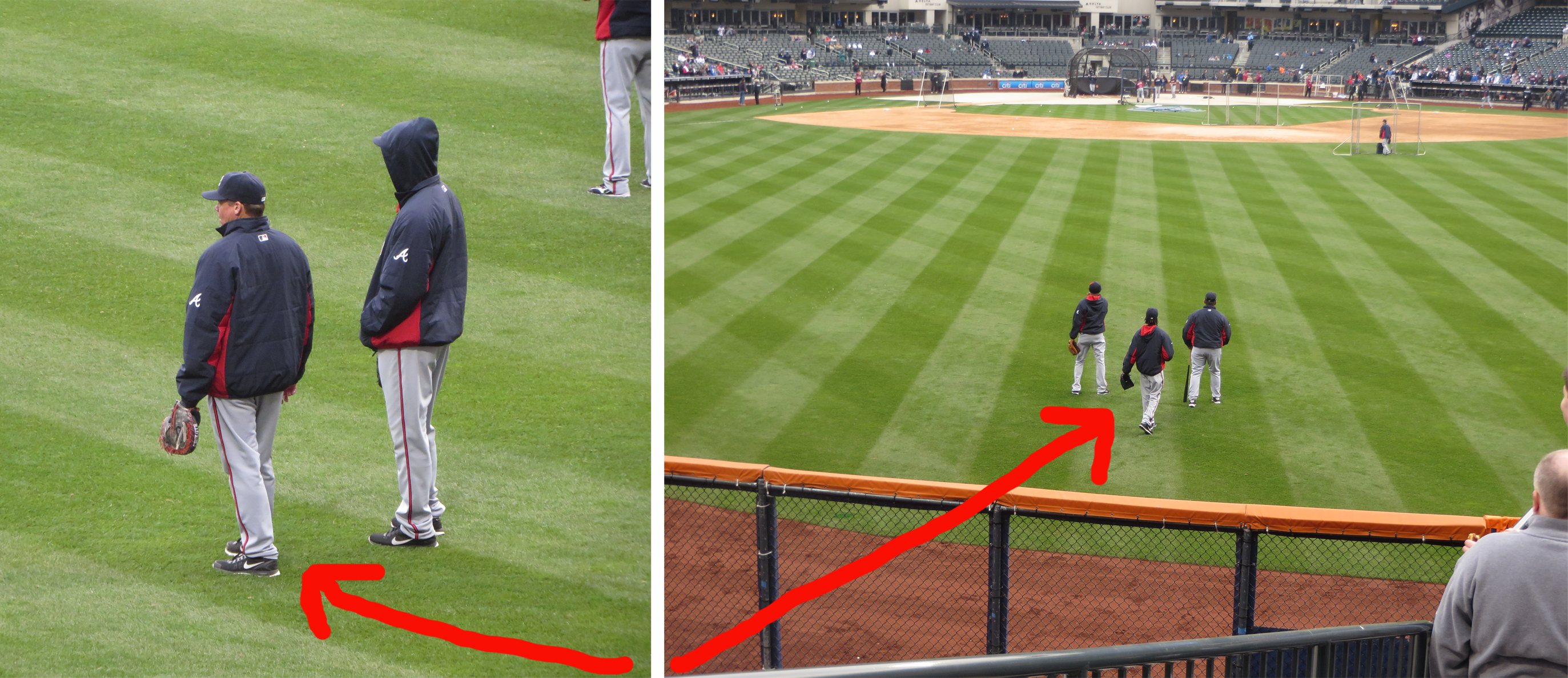 First, Alan Butts (above to the left) wandered out to straight away CF. I figured I was the only person out there who knew his name. So, at an opportune time, I shouted out, "Hey, Alan!" He turned around, scanned the seats for the source of the call, and then he tossed a ball right to us.
Then, very, very late in BP. Ervin Santana spotted Kellan sitting up on my shoulders. He tossed a ball high over everyone else right to me. I held back on reaching out for it just in case Tim could catch it. At the last minute, Tim jumped in front of me and caught the ball. It was a great catch by Tim.
Thanks, Ervin!
Ervin had to know that Tim was my son too, it was just the three of us together in the row. But right after Tim caught the ball, I could see him think that Kellan still needed a ball too. So he went and grabbed another ball, called out to me again, and tossed a ball right to my glove.
Thanks, again, Ervin!
Once BP wrapped up, we decided to head upstairs to the area above the Jackie Robinson Rotuna for some dinner. On our way up the switch-back ramps, Tim stopped to pose with the Citi Field on the backside of the stadium (behind LF):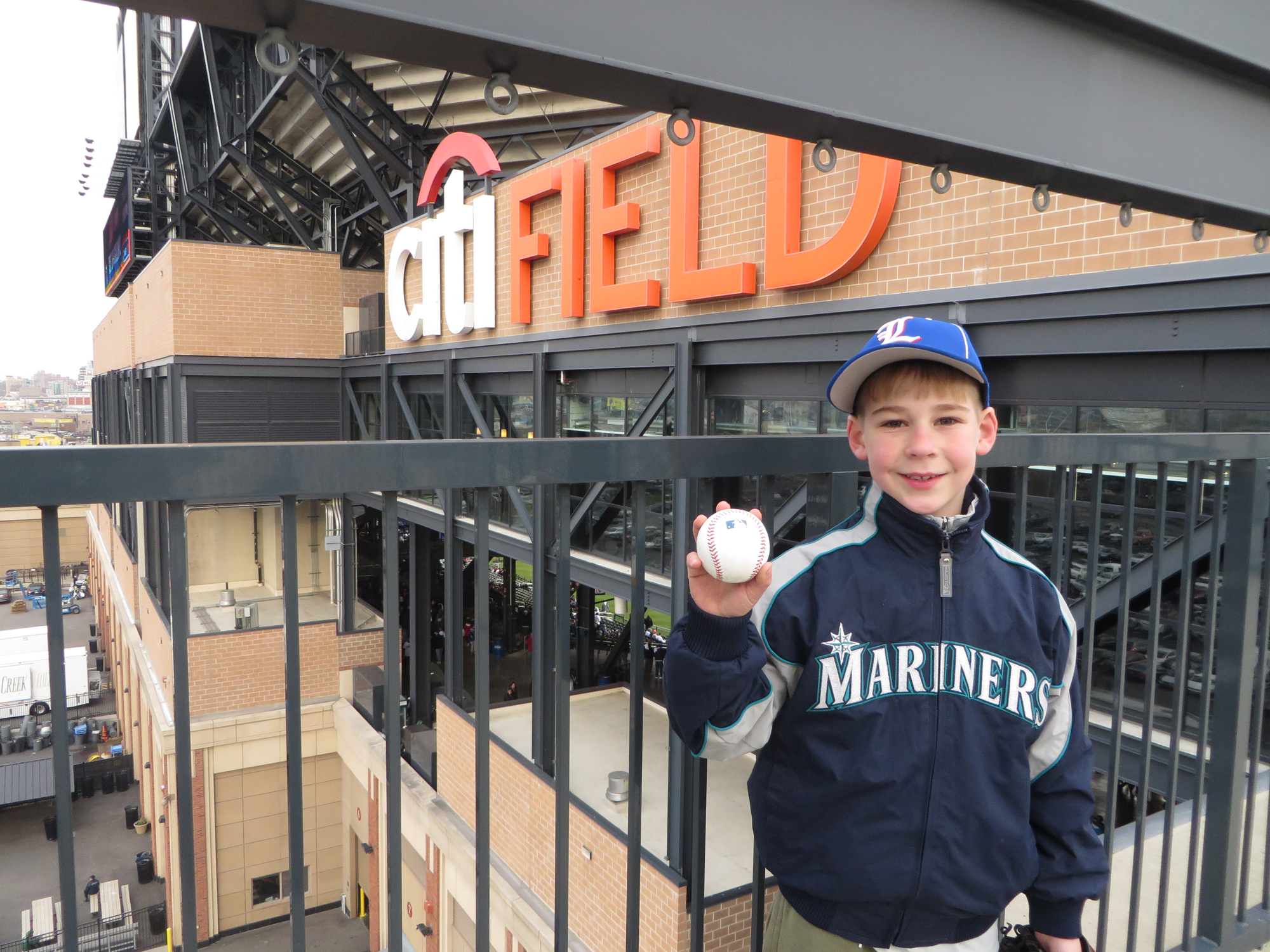 We dined on hot dog (Tim), nachos (me) and a jumbo pretzel with ketchup (Kellan)…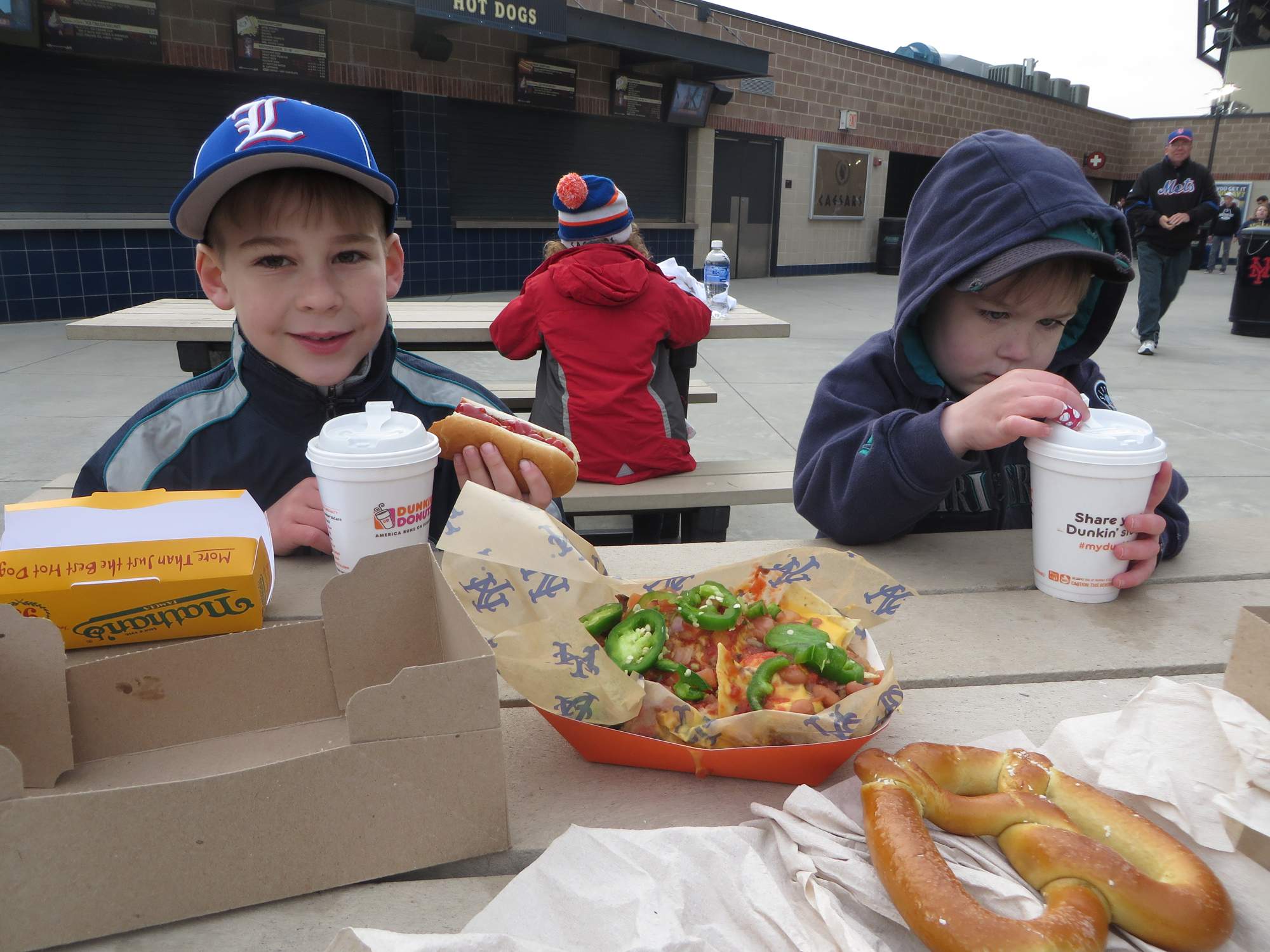 …and the boys kept warm with hot chocolate.
On our long walk back down to the field level, we first stopped (somewhat) behind home plate and had an usher take our picture: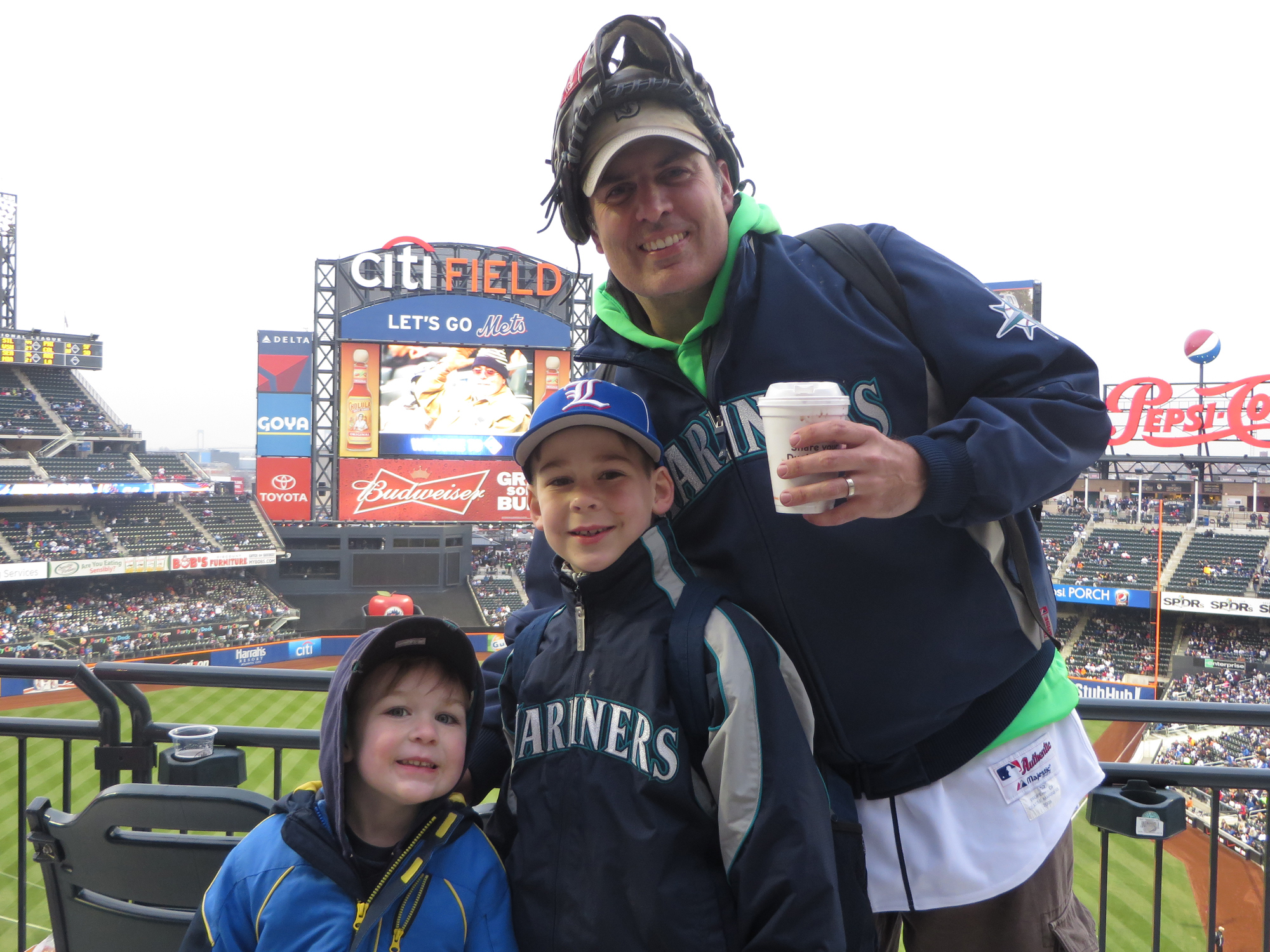 Moments before the game started, we got a random panorama from a bit further down the 3B line:

And here is the first pitch from Jon Neise…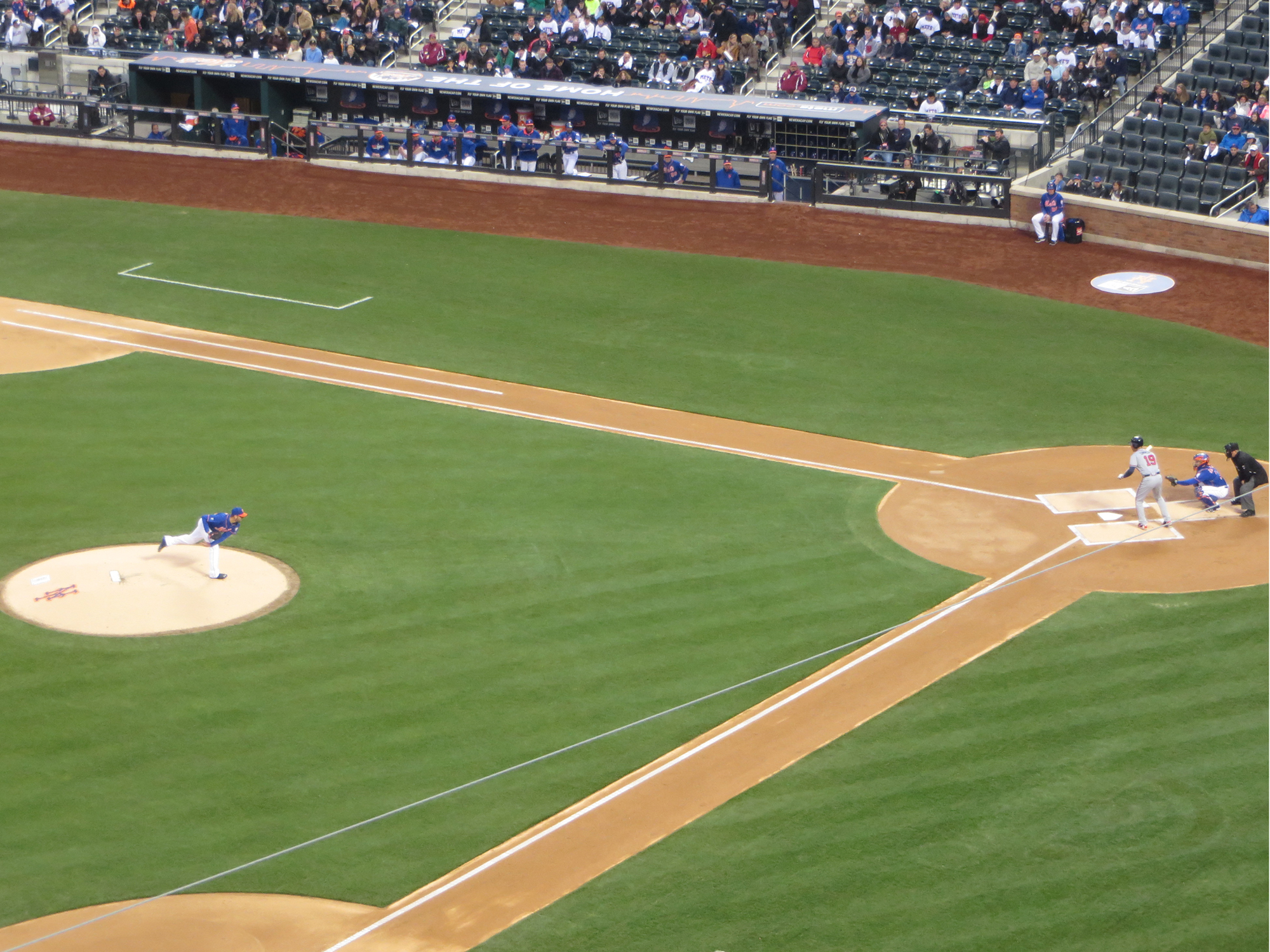 …to Andrelton Simmons. "Ball 1."
Check out what was in the parking lot – cirque du soleil: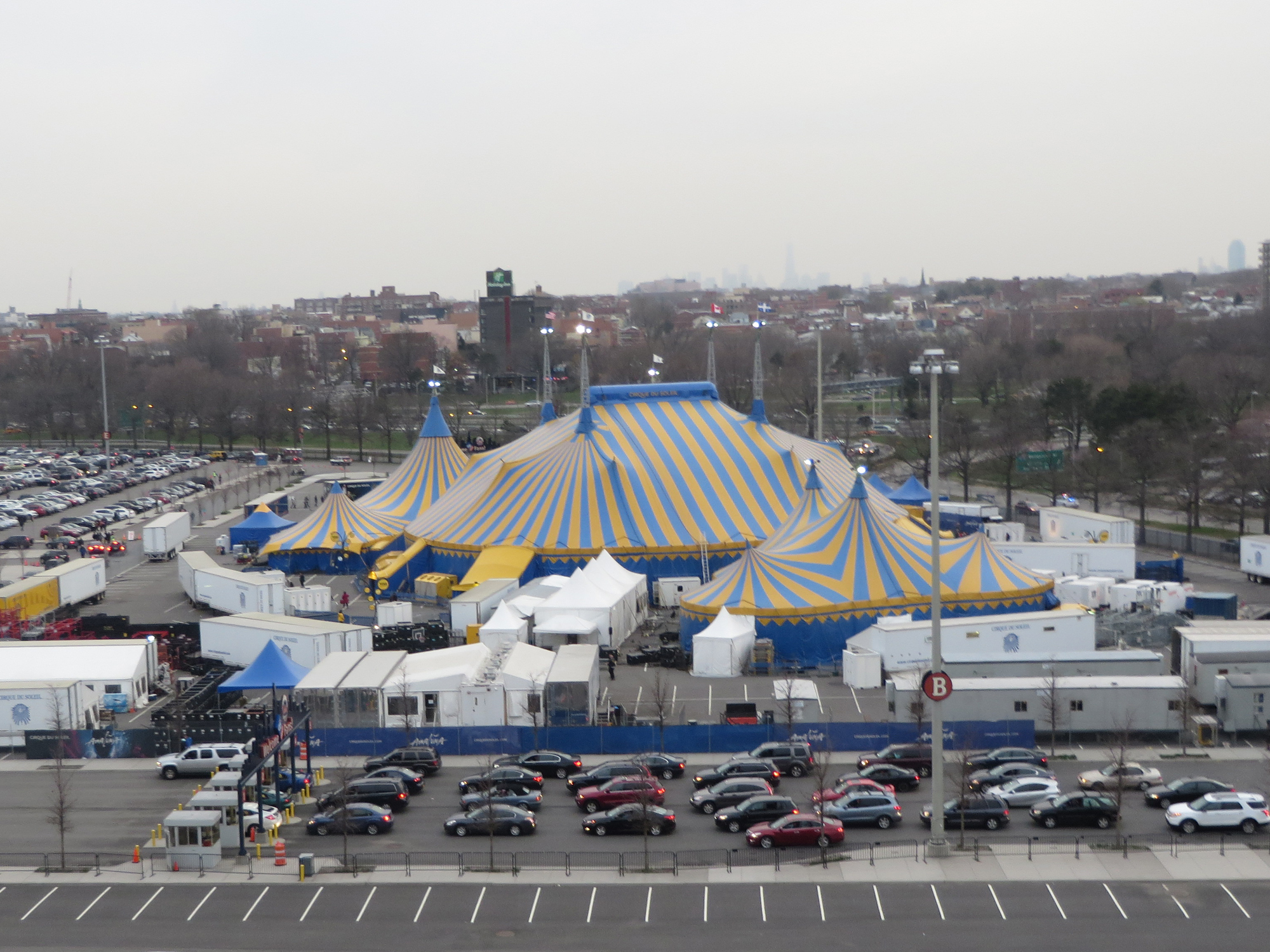 We headed to Shea Bridge…
…where it looked a lot like this: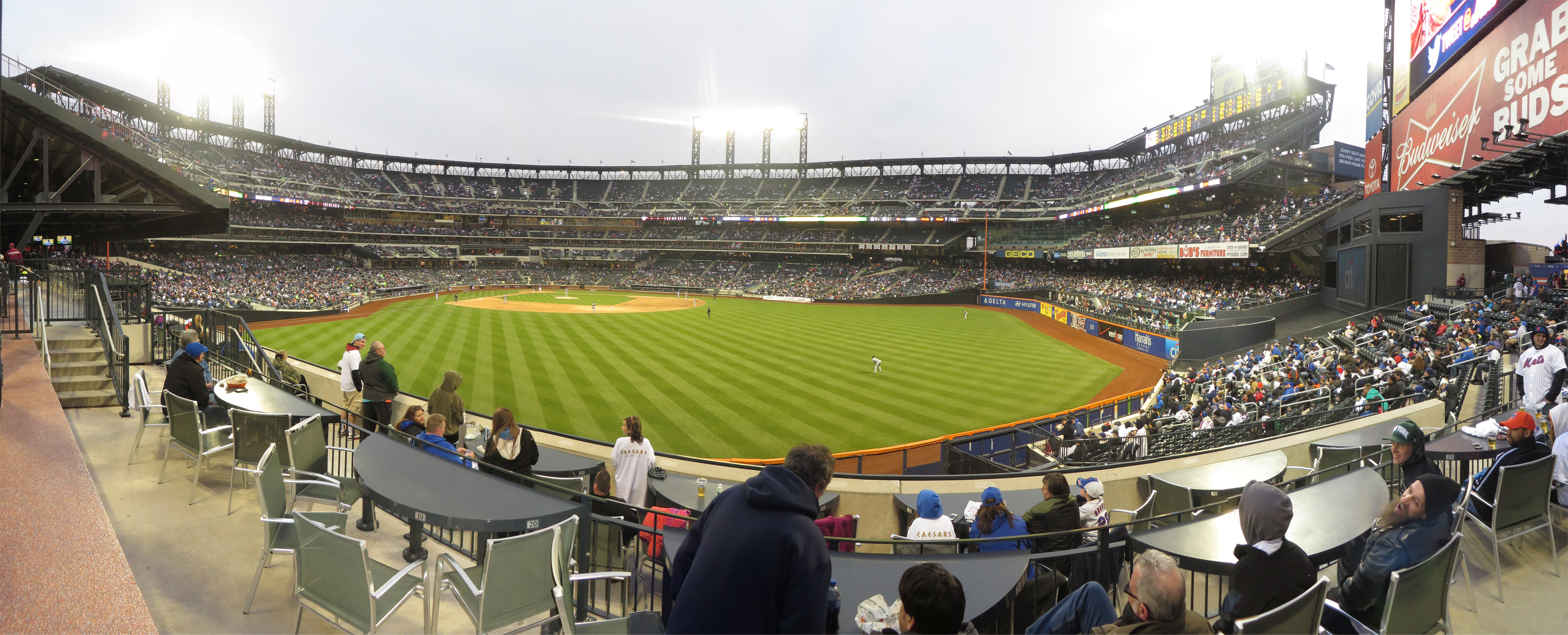 The first inning ended with a 0-0 tie after David Wright…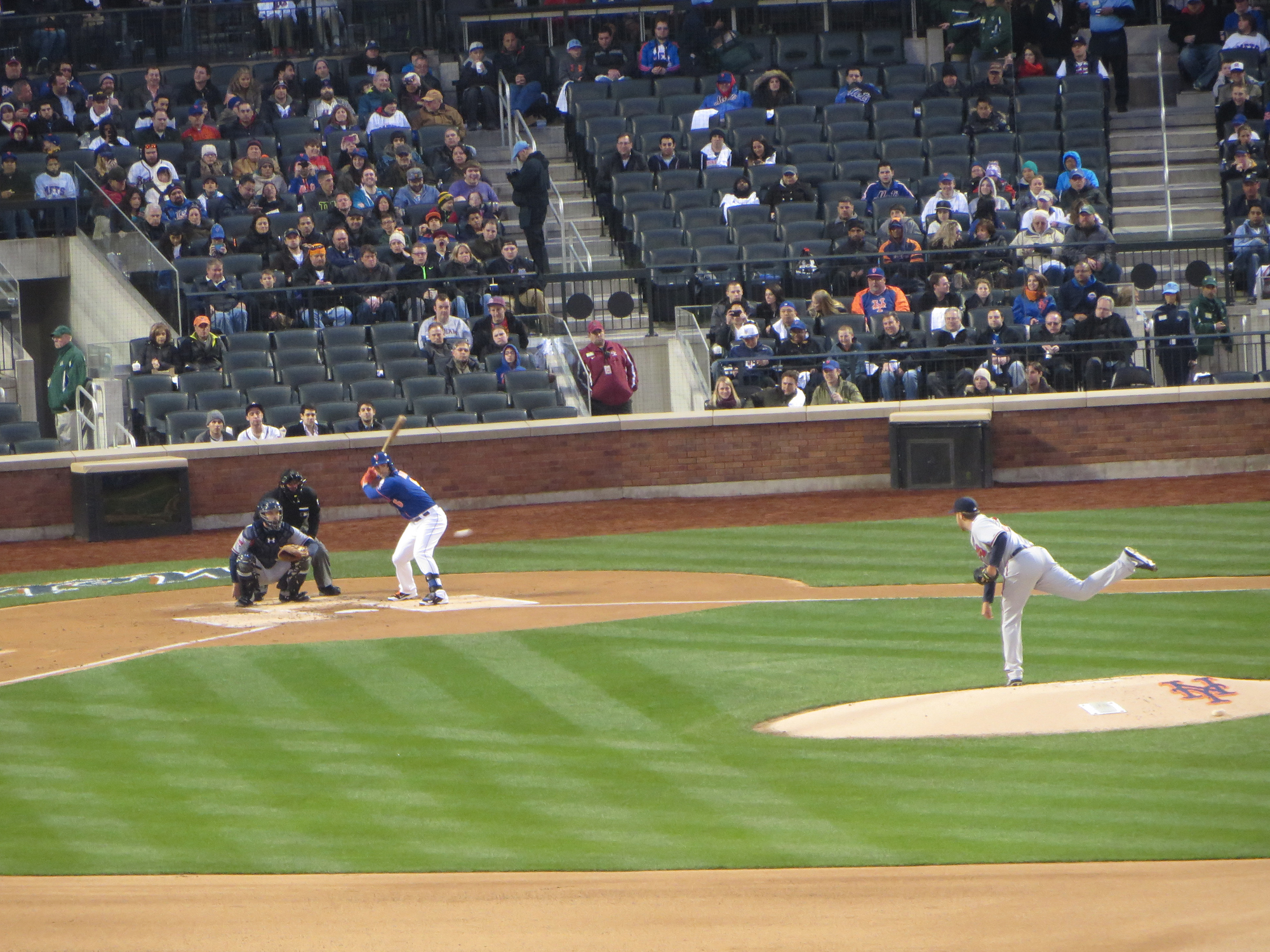 …struck out swinging.
We spent huge portions of this game below Shea Bridge and behind the bullpens: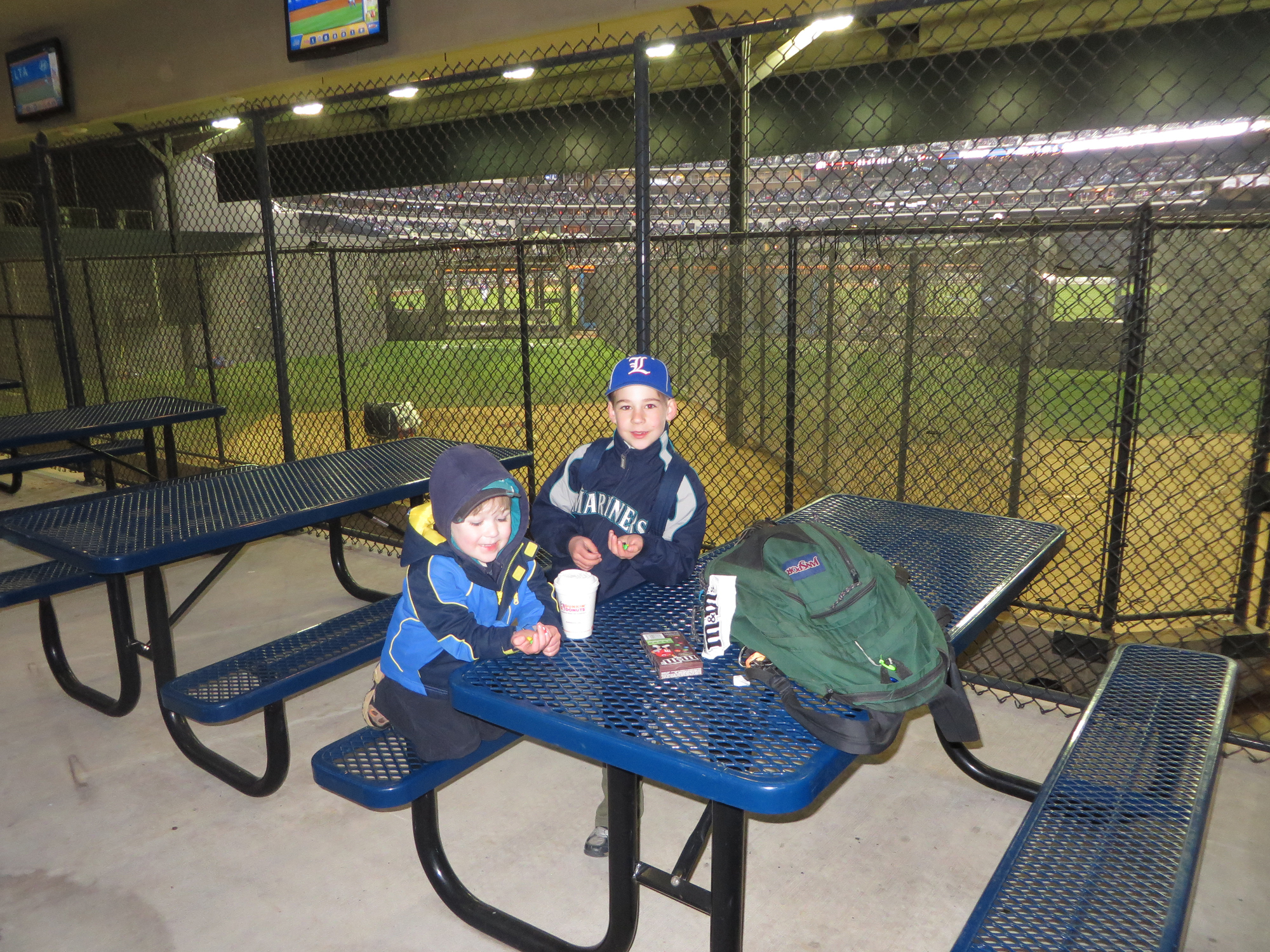 Check out what we found down there in the little hidden corner by the elevators:
For much of the game, Tim and I played catch across the length of the picnic area under Shea Bridge: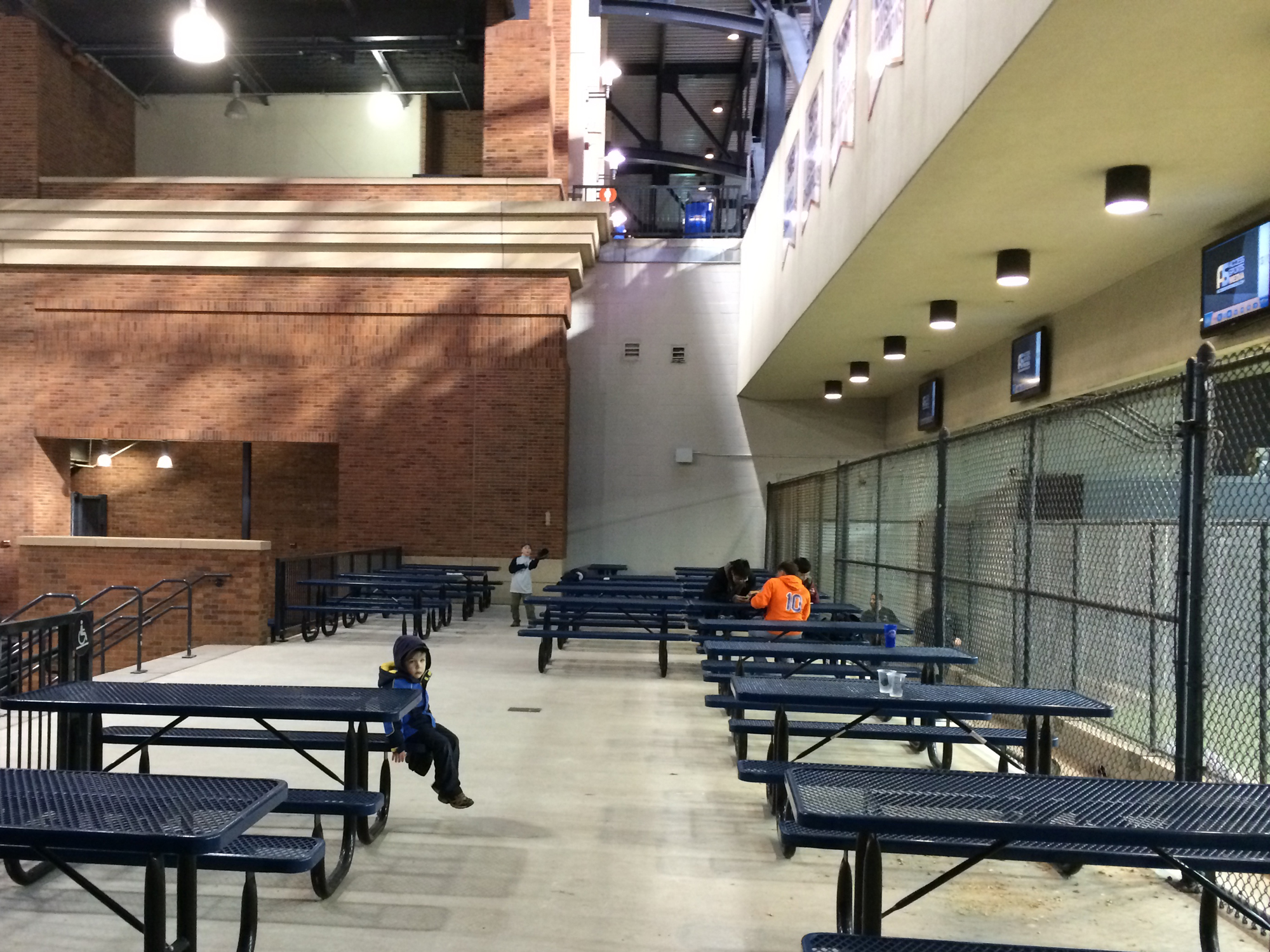 Late in the game, I saw on facebook that one of my wife's cousins was at the game in the LF upper deck. We headed over there to find him. We never did find him, but we got these panoramas from section 533….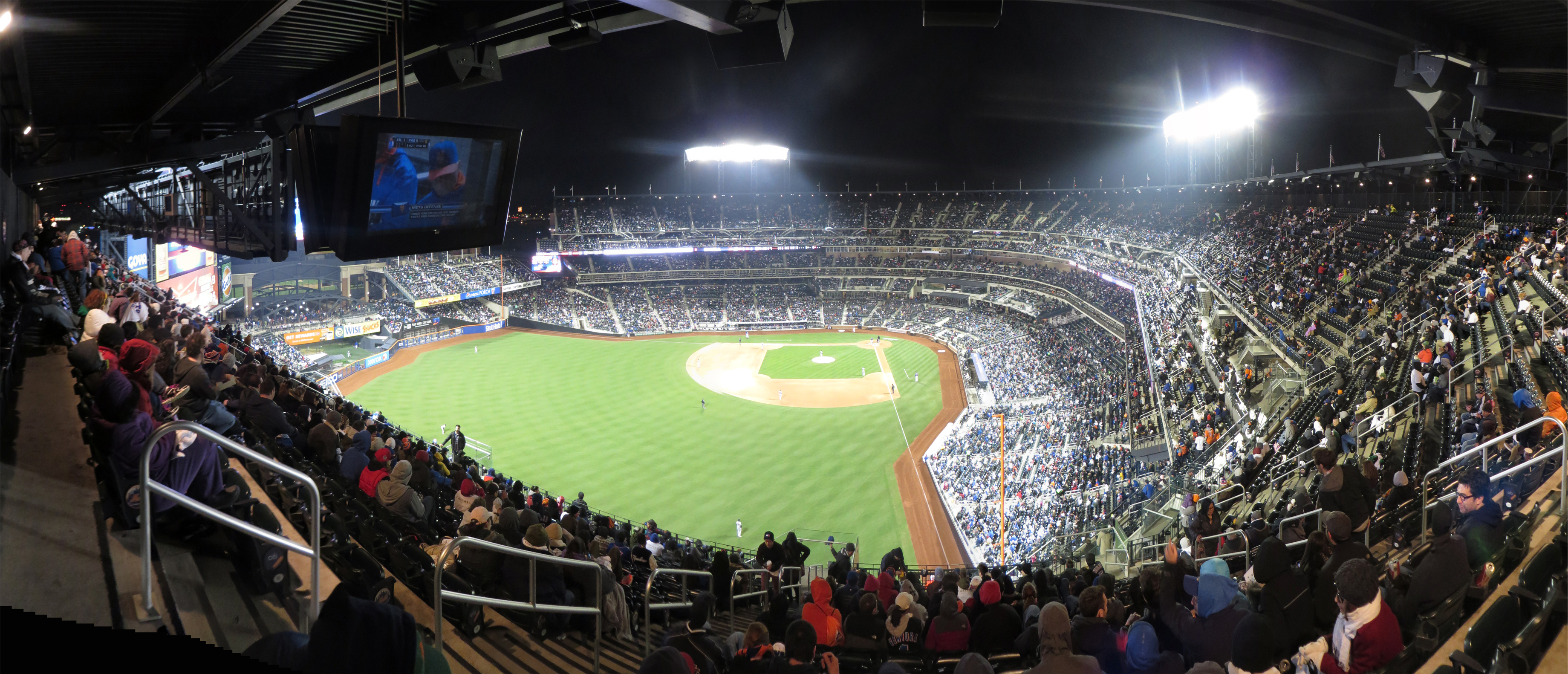 …and section 531: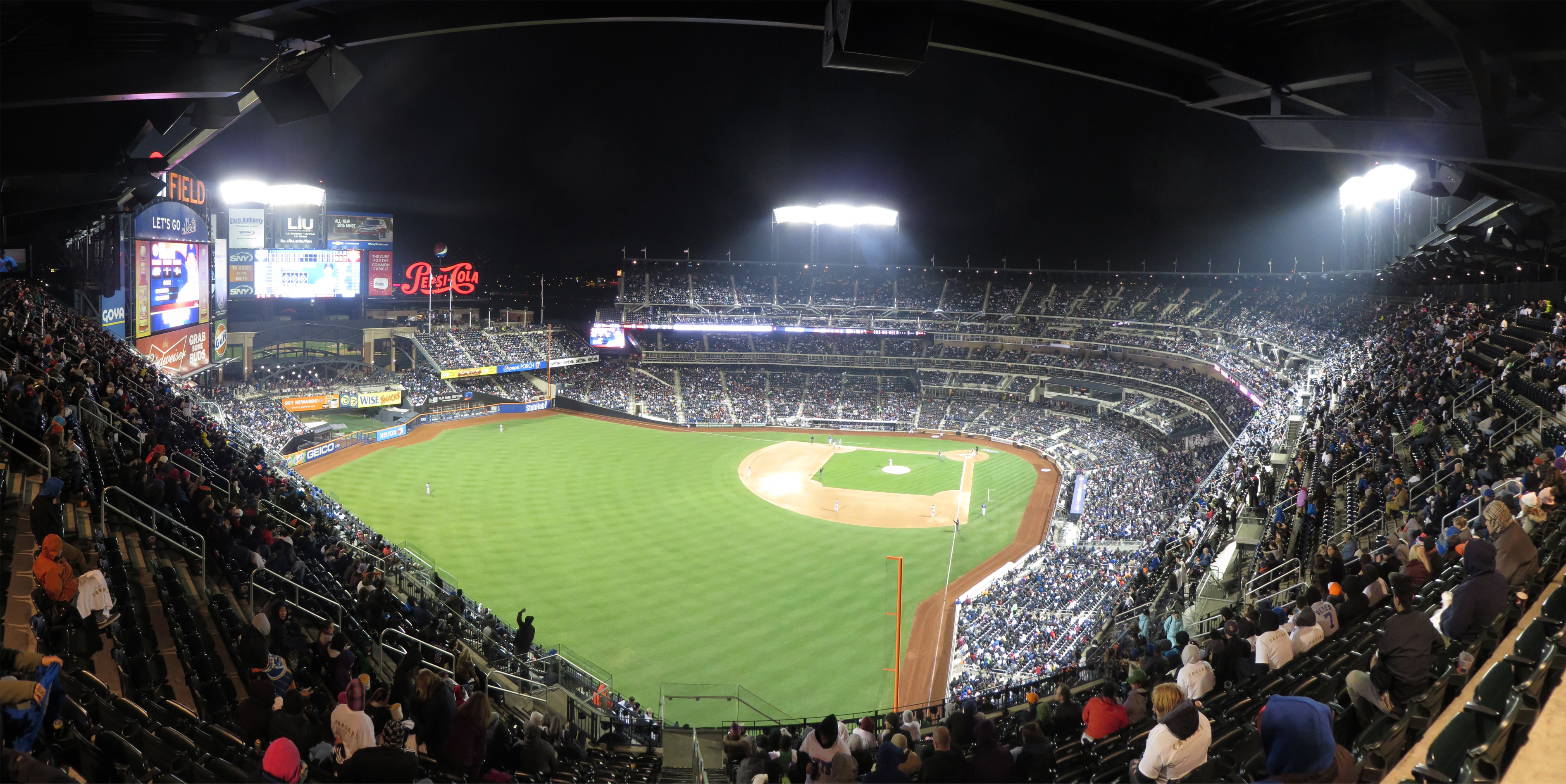 It was windy and freezing up there!
Hey, guess what. All this while, the Braves were winning 1-0 and Aaron Harang was pitching a no hitter!
If we were going to witness our first ever no hitter, I wanted to be closer to the action for the end of it. We started heading toward the infield. But then Kellan wanted to check out one of the little Mets team shops along the 1B foul concourse. We headed in to find that several Mets fans were taking refuge from the (not all that) cold and watching the game on TV: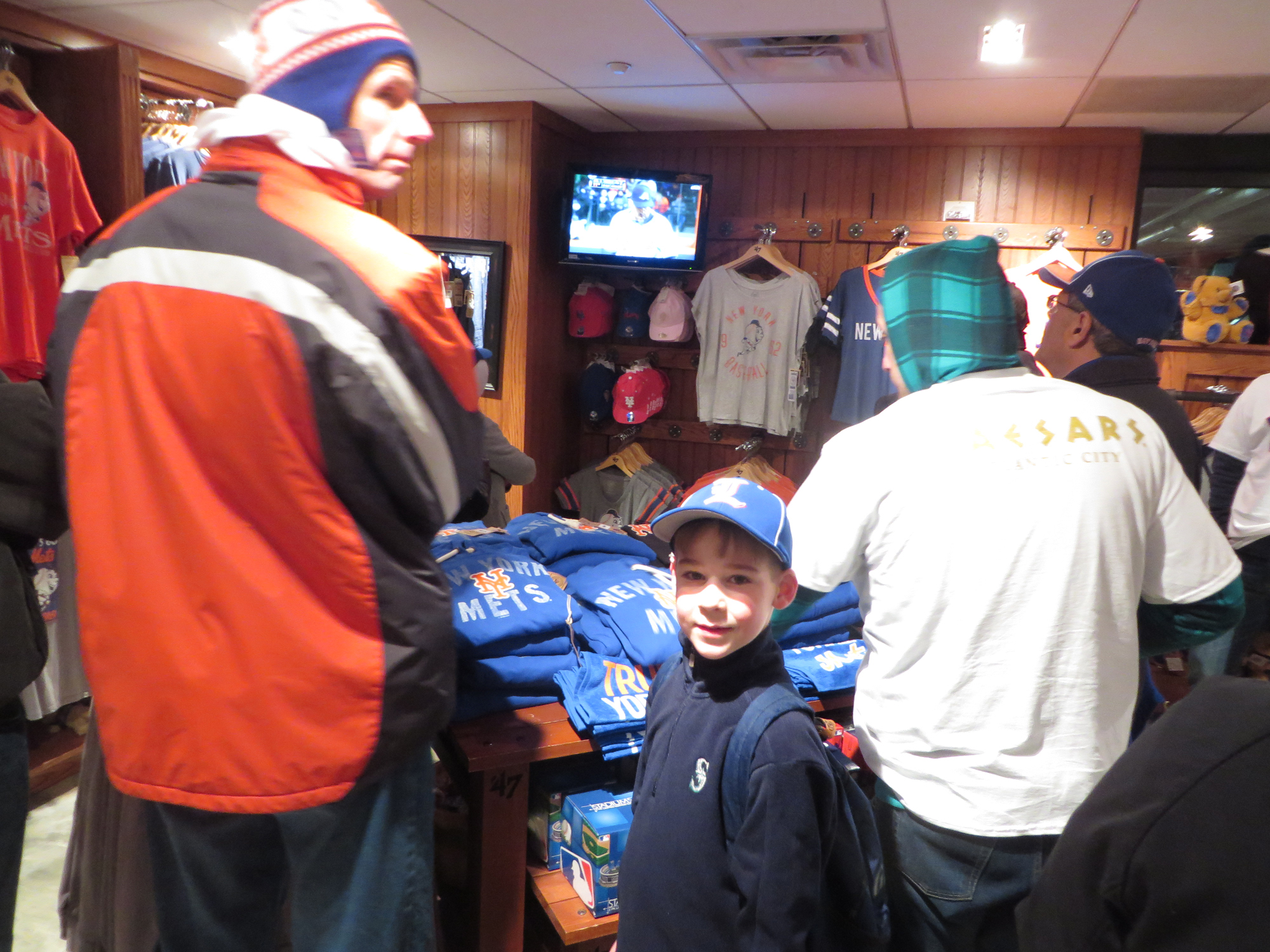 Here's some random game action captured on our walk toward the 3B line:

It was the top of the 8th inning when we reached the 3B foul concourse, and Harang still had his no hitter intact. The Braves were still winning 1-0…
That is, they were winning 1-0, until Freddy Freeman went yard in the top of the eighth: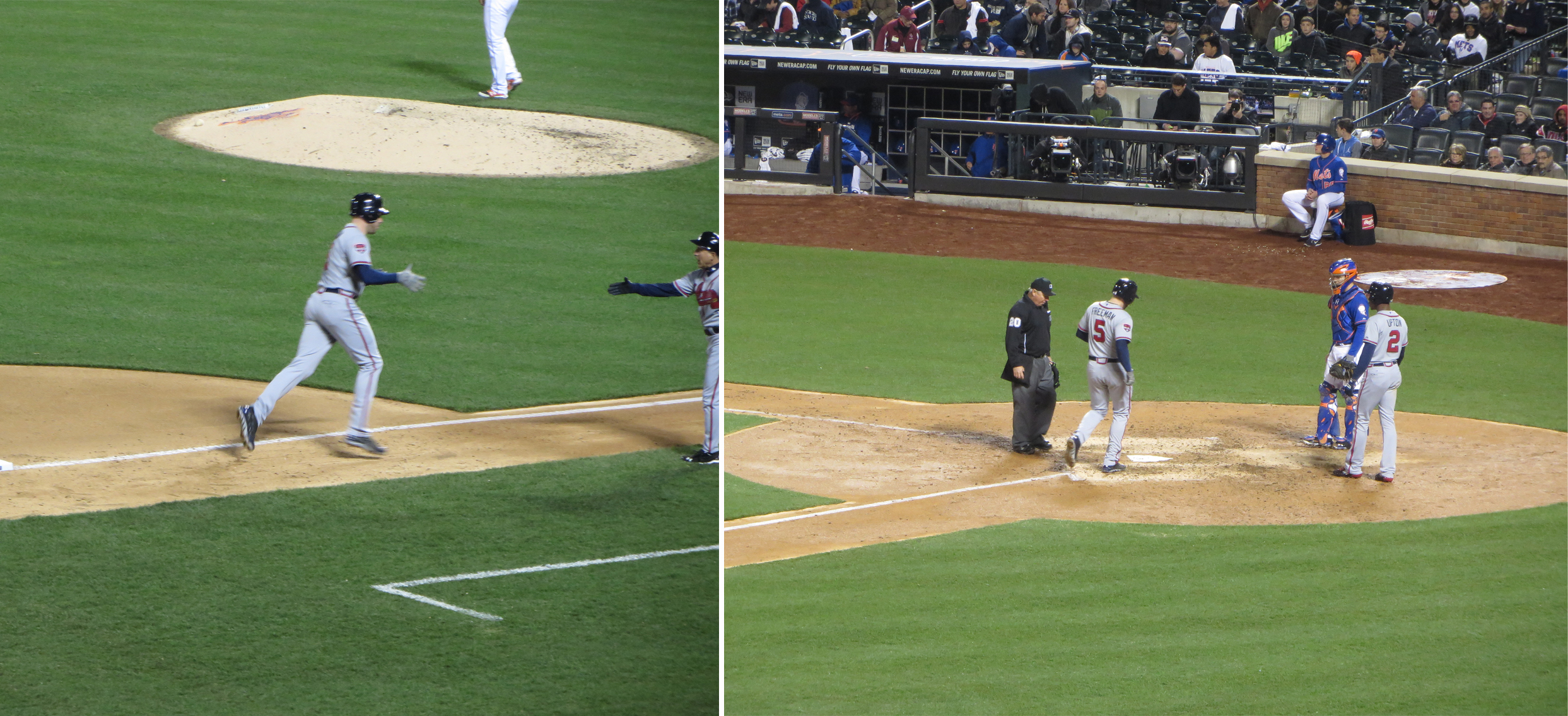 Historically, at least in my experience, the ushers at Citi Field have been insanely strict about checking tickets, even late (or after) the games. We headed over to the aisle leading down to the umpires' tunnel. During our ten minutes or so standing there, I noticed that the usher wasn't checking anyone's tickets. So, eventually, we made a move, and (with no problems) we ended up here:

When we ended up in these seats, we sat down right in the middle of a profanity laced (but good spirited) exchange between a bunch of Mets and Braves fans.
So, heading into the bottom of the eighth inning, the score was 5-0 Braves.
I was excited for Harang's potential no hitter. But check out this photo: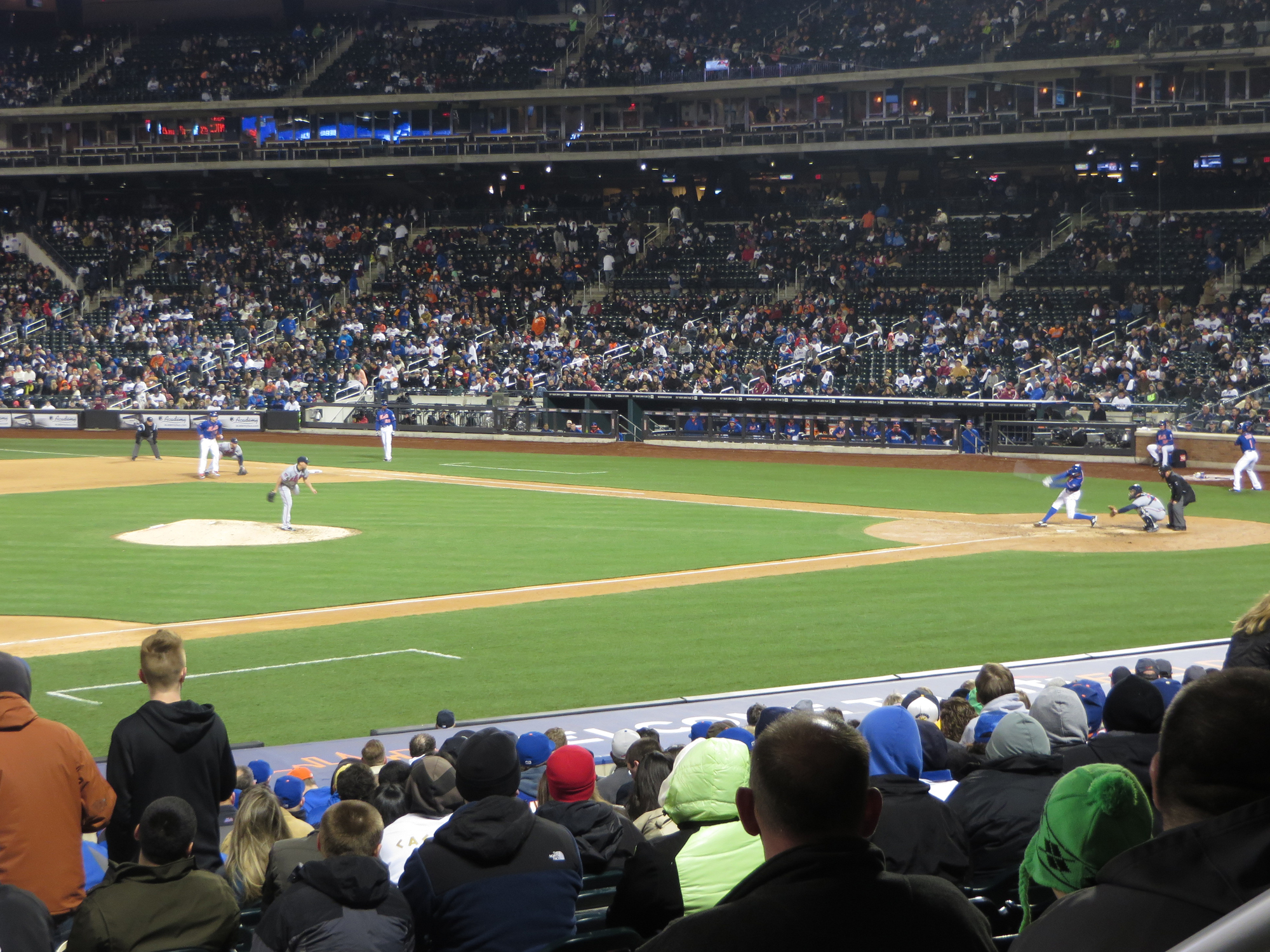 Because Harang had 121 pitches through the first seven innings, the Braves brought in Luis Avilan. We adjusted our hopes to at least getting to witness a combined no hitter.
Well, Avilan retired the first two batters of the inning. Four outs until a no hitter. But that brought up David Wright, and Avilan gave up a clean line drive base knock to LF to spoil our chance at history.
Booo!!!!!
(FYI, that is Wright on first base in the photo above as Avilan pitches to Curtis Granderson, who he would strike out).
For the ninth inning, we made our way down to the second row:

Check out these silly guys:
The Braves scored a sixth and final run in the top of the ninth inning when Justin Upton…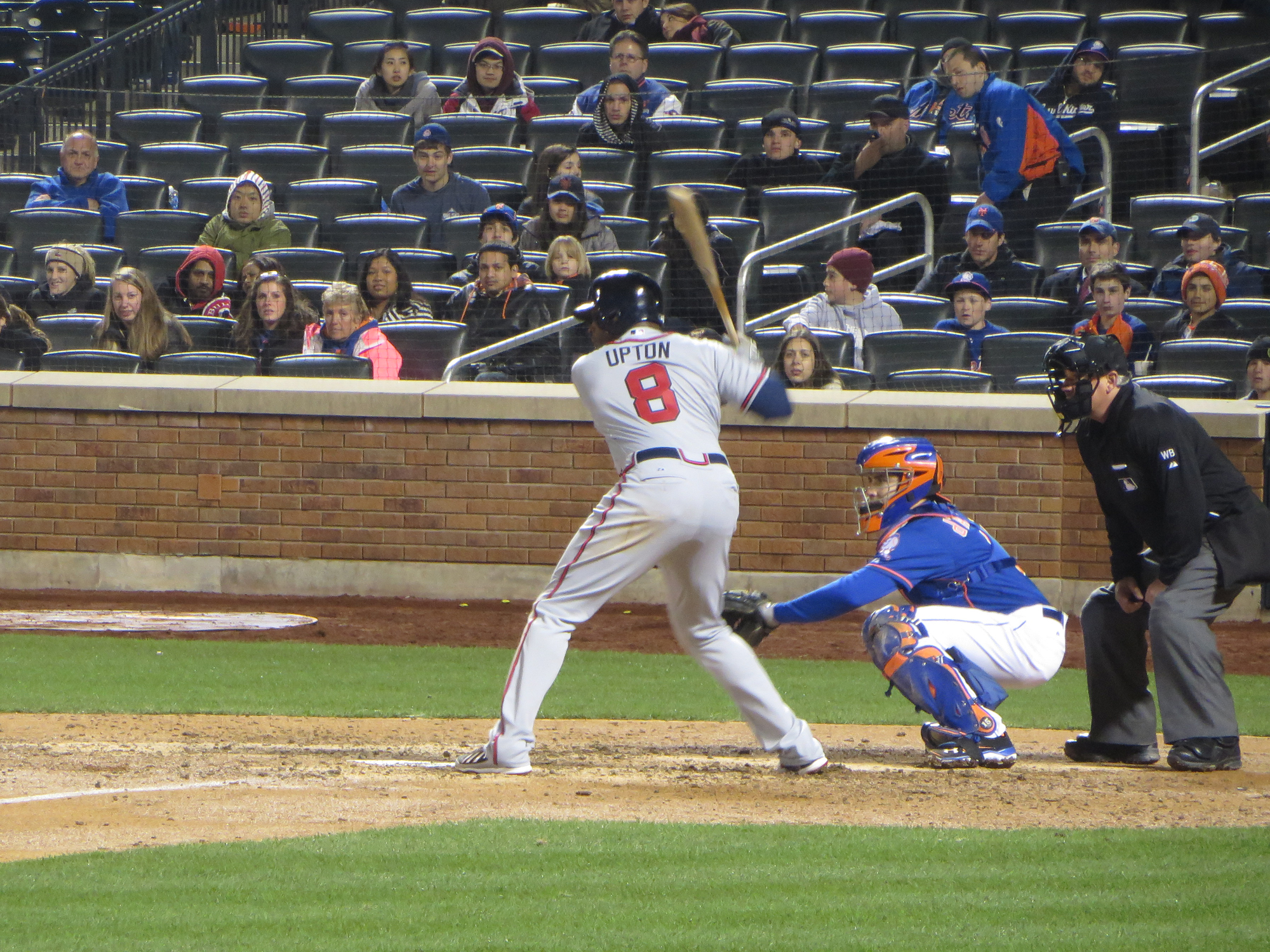 …hit a sacrifice fly.
Jordan Walden retired the Mets in order in the bottom of the ninth to complete the combined 1-hitter.
Boooo!
After the game, Tom Hallion tossed us our final ball of the day, which Tim displayed in this final photo of the night with Zack behind the dugout: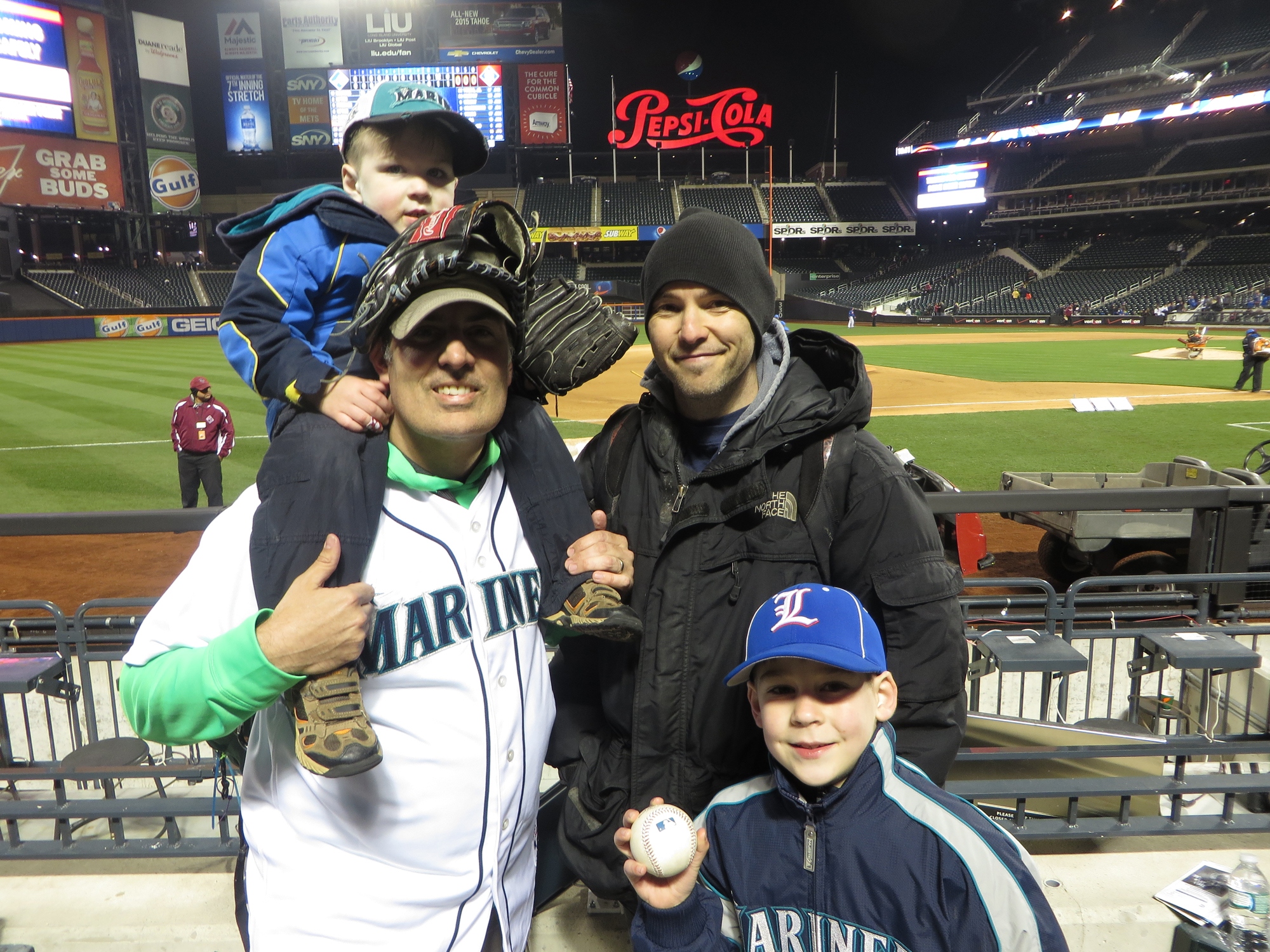 After the game, Zack, Greg, his dad, the boys and I rode the subway together back to Manhattan before splitting up in our own directions.
We had a great day packed with fun and…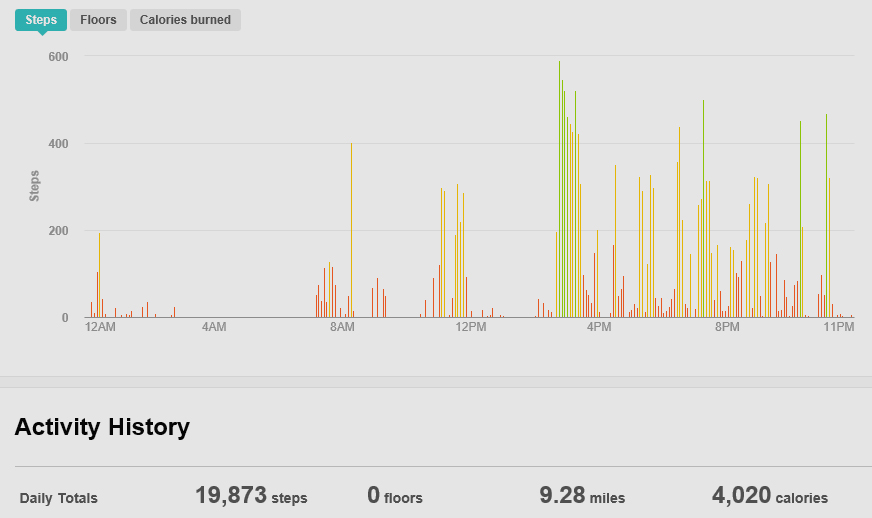 …lots of walking. Sadly, I got in the car a mere 127 steps away from my first 20,000 step day. Darn.
| | |
| --- | --- |
| | 2014 Fan Stats |
| 4 | Games |
| 5 | Teams (Blue Jays, Mets, Phillies, Marlins, Braves) |
| 3 | Stadiums (Stade Olympique, Citizens Bank Park, Citi Field) |
| 27 | Baseballs (Mets 5, Expos 2*, 7 Phillies, 6 Marlins, 2 Mets, 3 Braves, 1 Umpire)* Olympic Stadium Staff |
| 5 | Commemoratives (2013 WBC 1, Angels 50th 2, Dodger Stadium 50th 1, 2011 All-Star, 2012 All-Star) |
| 1 | Ice Cream Helmets (Phillies) |
|   | |
On April 12, 2014, we had a nice little baseball day.  It all started with an opening day parade, ceremony and individual and team pictures for Tim's Little League: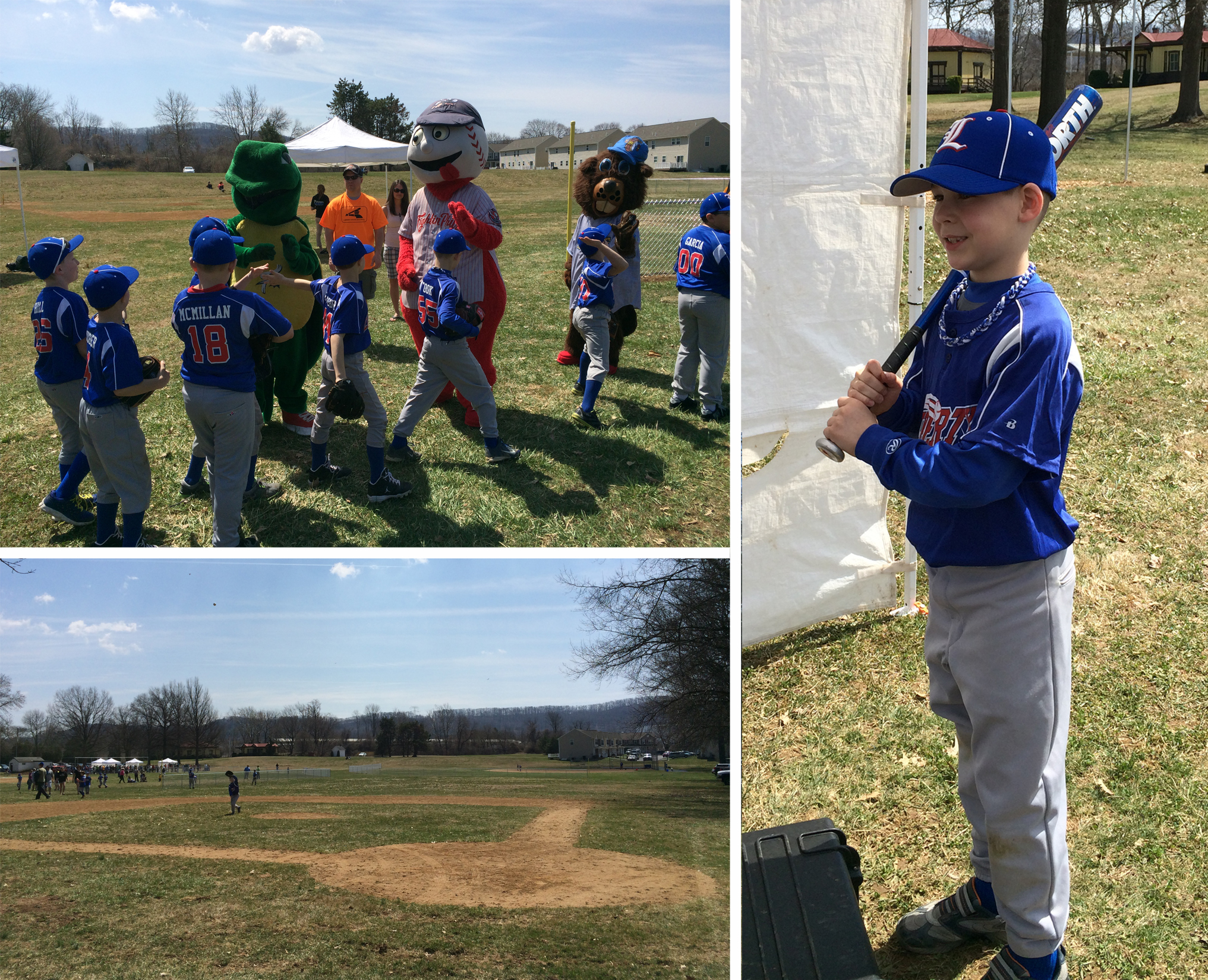 Here's my unofficial picture of Little Leaguer Tim: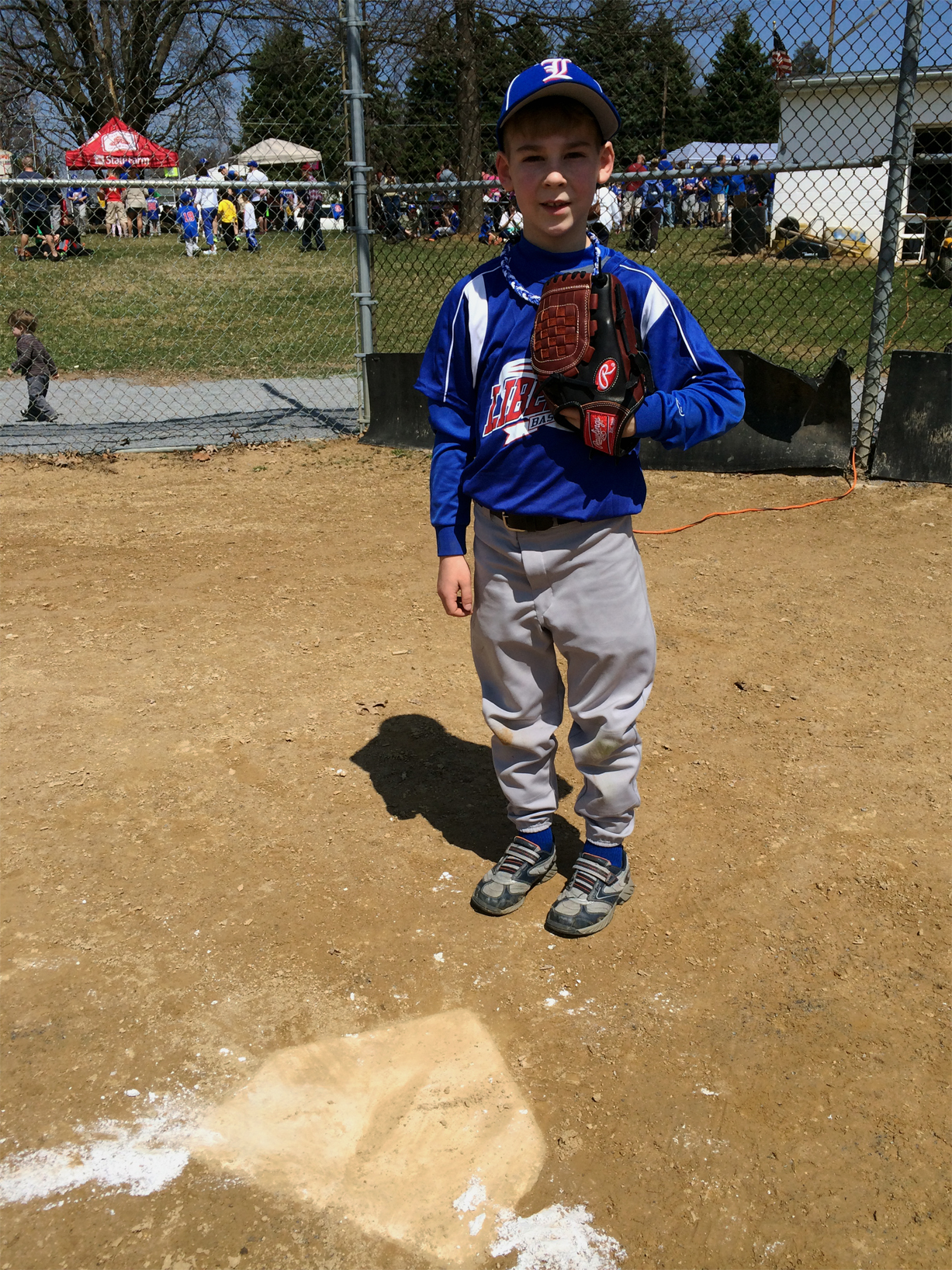 For the third year in a row, we went straight from the Little League opening day ceremony to Citizens Bank Park: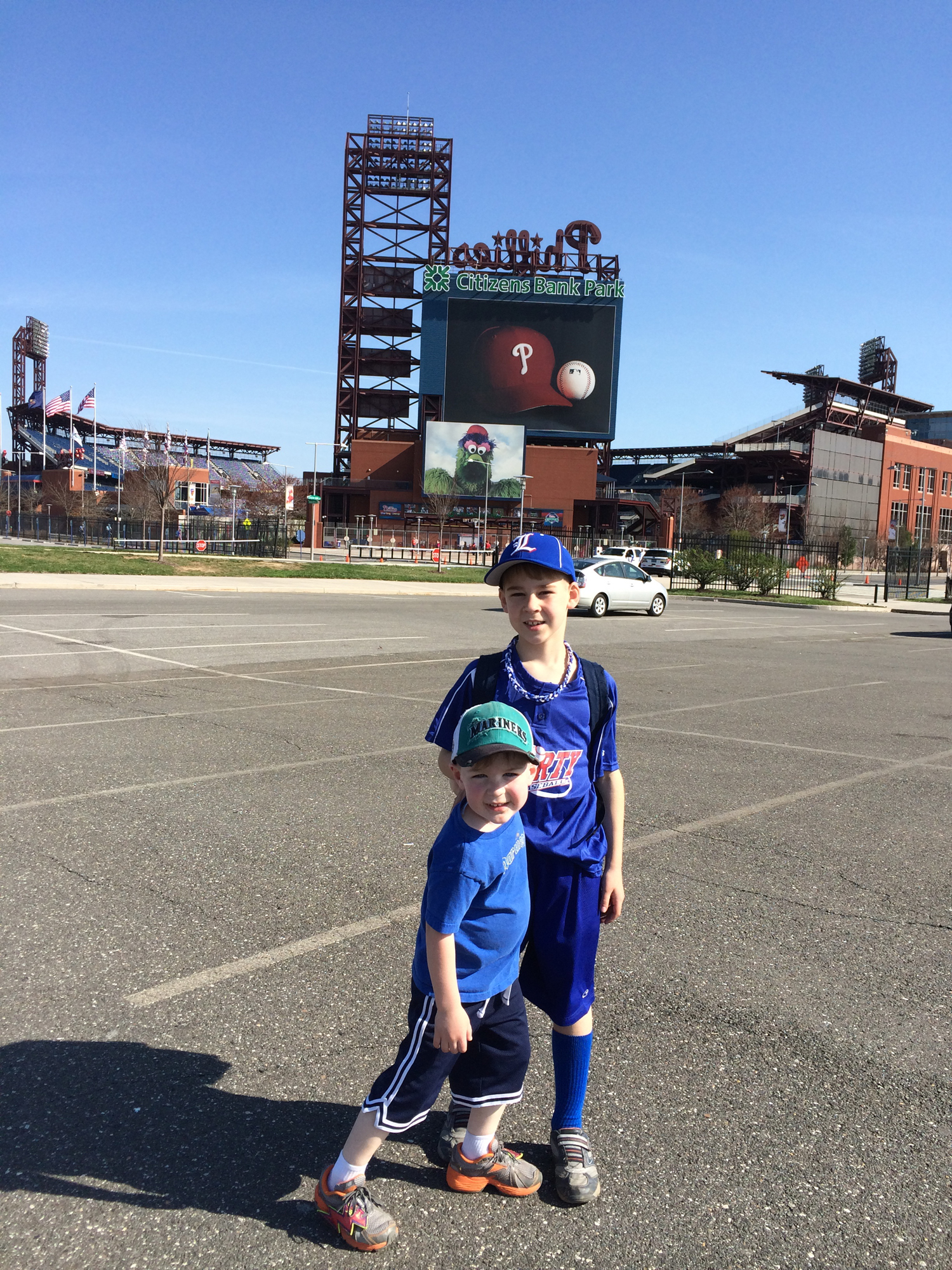 We made the rounds and said hi to some of the regulars, like Lefty: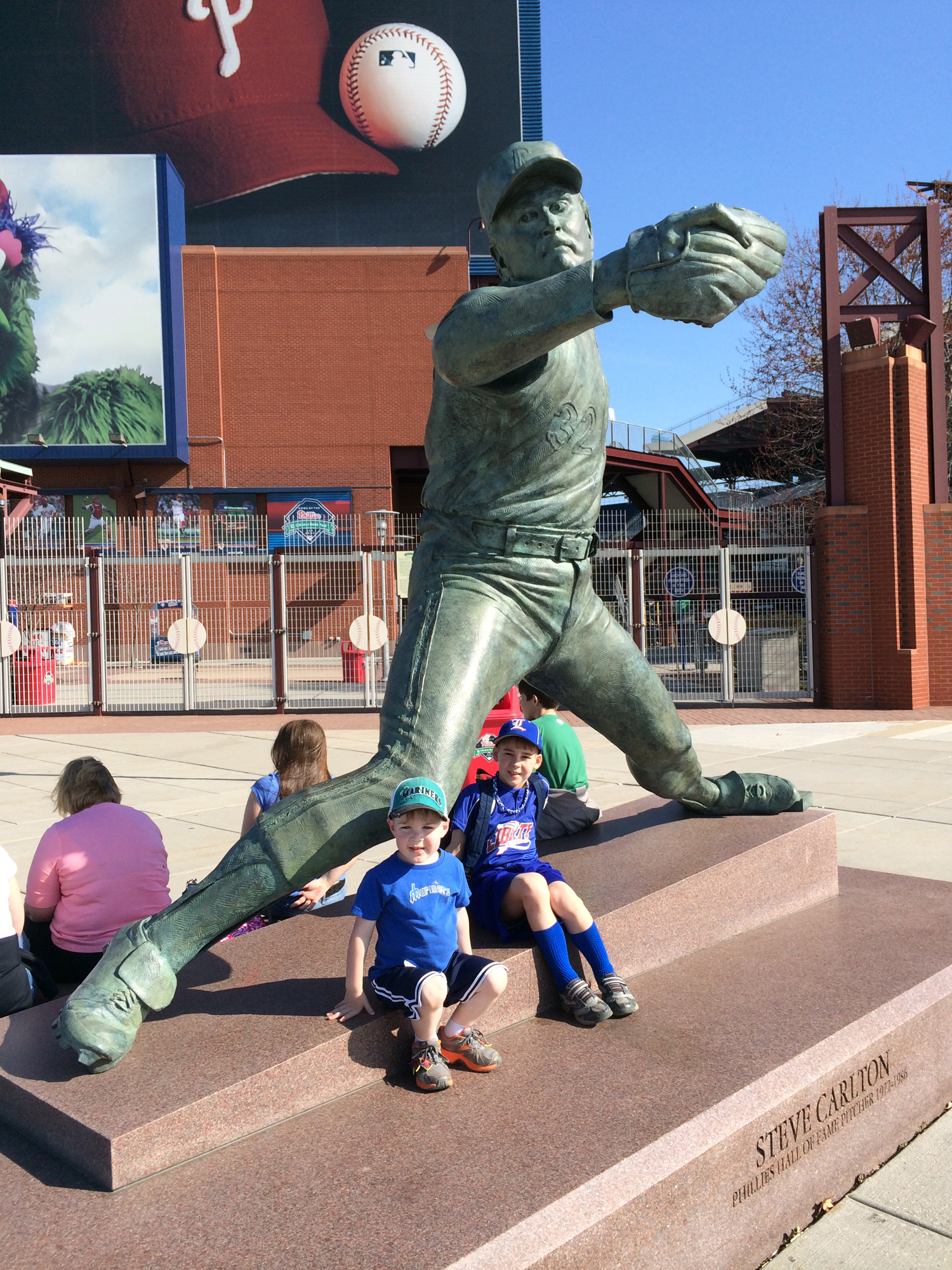 We played catch while we waited for the gates to open: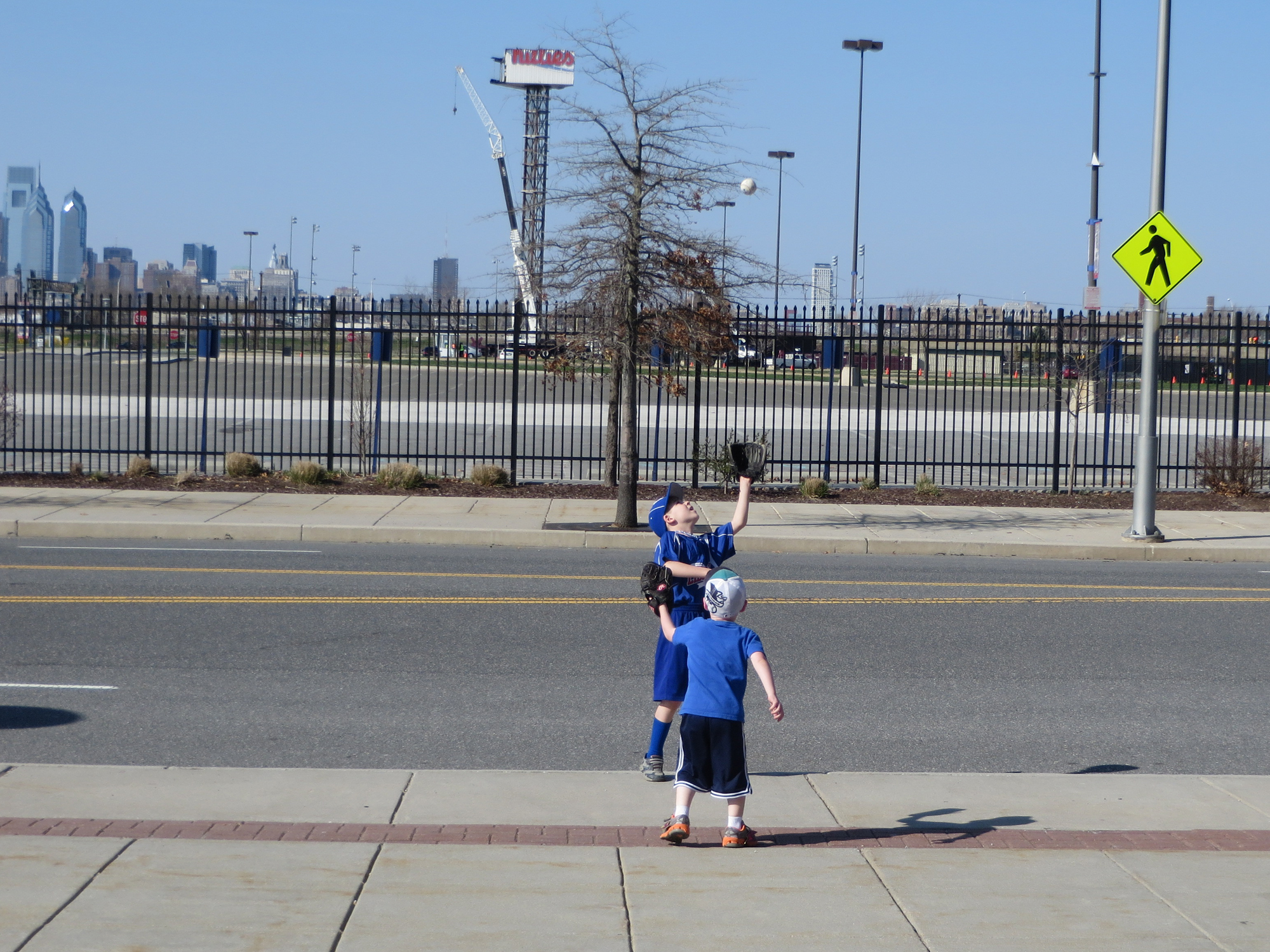 We'd heard word that gates were changing from 2:30 hours before game time to 2:00 hours early this season.  If that was true, and everything else stayed the same as last year, it seemed like all of the gates should open at the same time.  But I asked some ushers and they weren't sure if the other gates were opening at 5:05 or not.  So we stayed at our familiar LF gate:

When the gates opened, we headed over to the pizza wedge:

Yep, all of the gates opened at once.  But it seemed like most of the crowd had entered from the LF gate.
Soon after we made it down to the tip of the pizza wedge, a Phillies lefty hit a homerun into section 102.  I ran over and snatched it out of an arm rest of a couple folded up chairs.  We spent the rest of BP in section 101:
That's Antonio Bastardo in the background above to the right.  He was in the bullpen for a little bit.  On his way back out to the field, he tossed that baseball to Tim.
Thanks, Antonio!
At the end of Phillies BP, all of the Phils cleared the field, but they left several baseballs on the warning track.  Then Mario Hollands…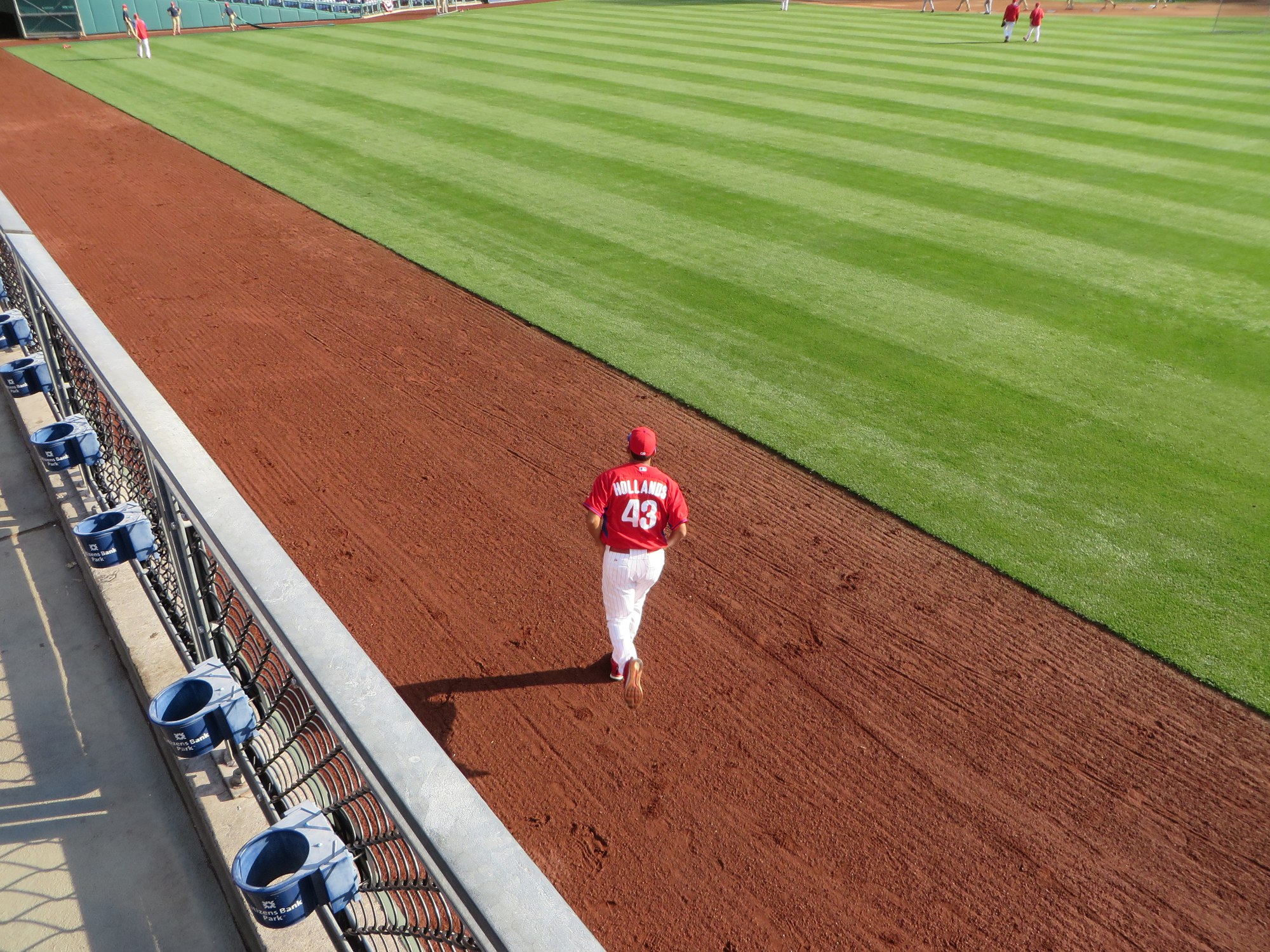 …ran by and retrieved all of the baseballs.  And tossed one to us.
Thanks, Mario!
After starting off Phillies BP with a Phillies homer, it was only fitting that we start off Marlins BP with a Marlins homer.  But this one was better than the first, I caught this one on the fly.
About five minutes into Marlins BP, Tim was the lucky recipient of a toss-up from reining N.L. Rookie of the Year, Jose Fernandez: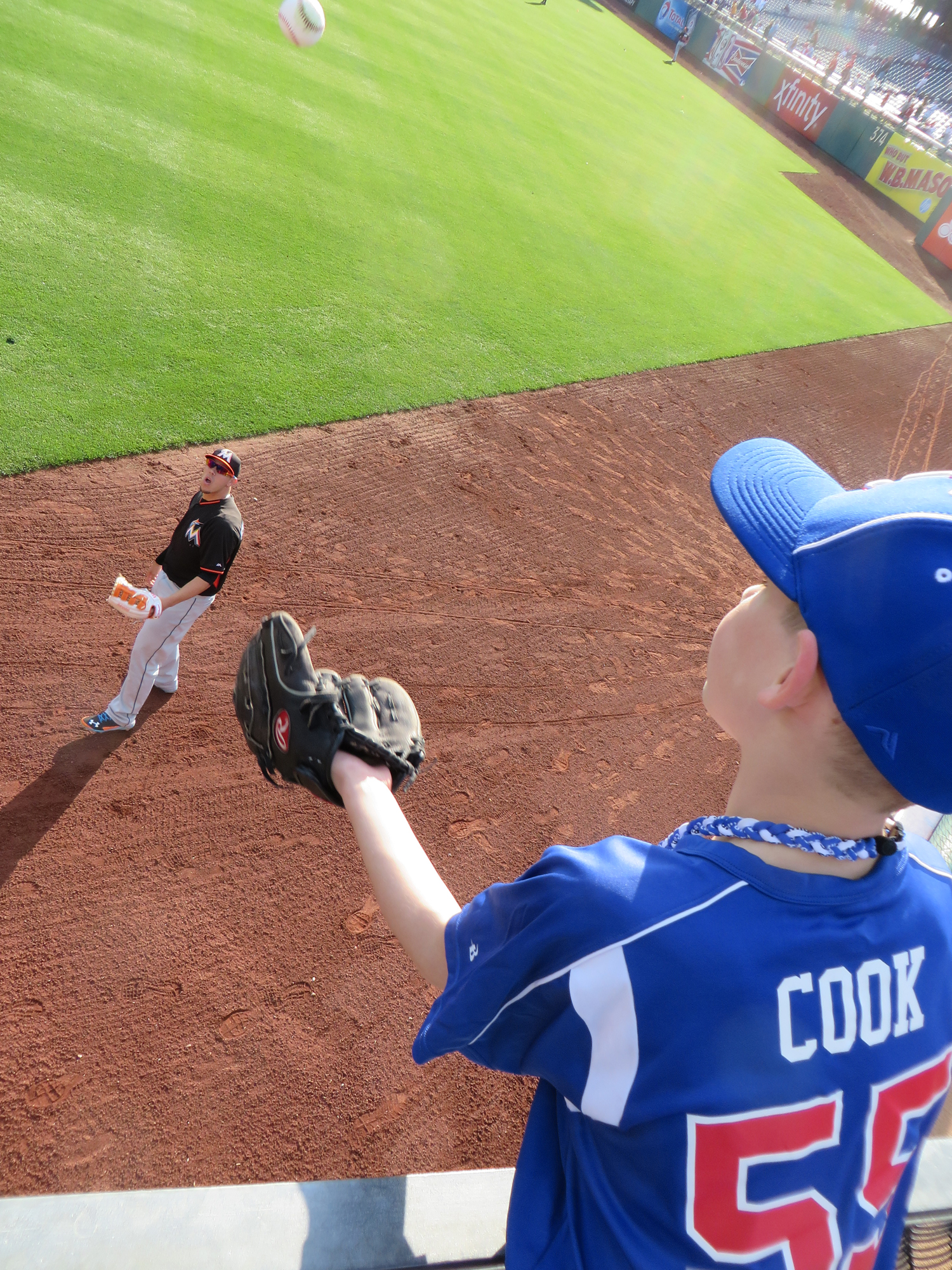 Thanks, Jose!
And when a homer got hit into the bullpen, he was the lucky recipient of a toss-up from a groundskeeper:

Thanks, Groundskeeper!
Eventually, the Marlin from whom we'd most like to catch a ball – Giancarlo Stanton – came out to work on his fielding in RF: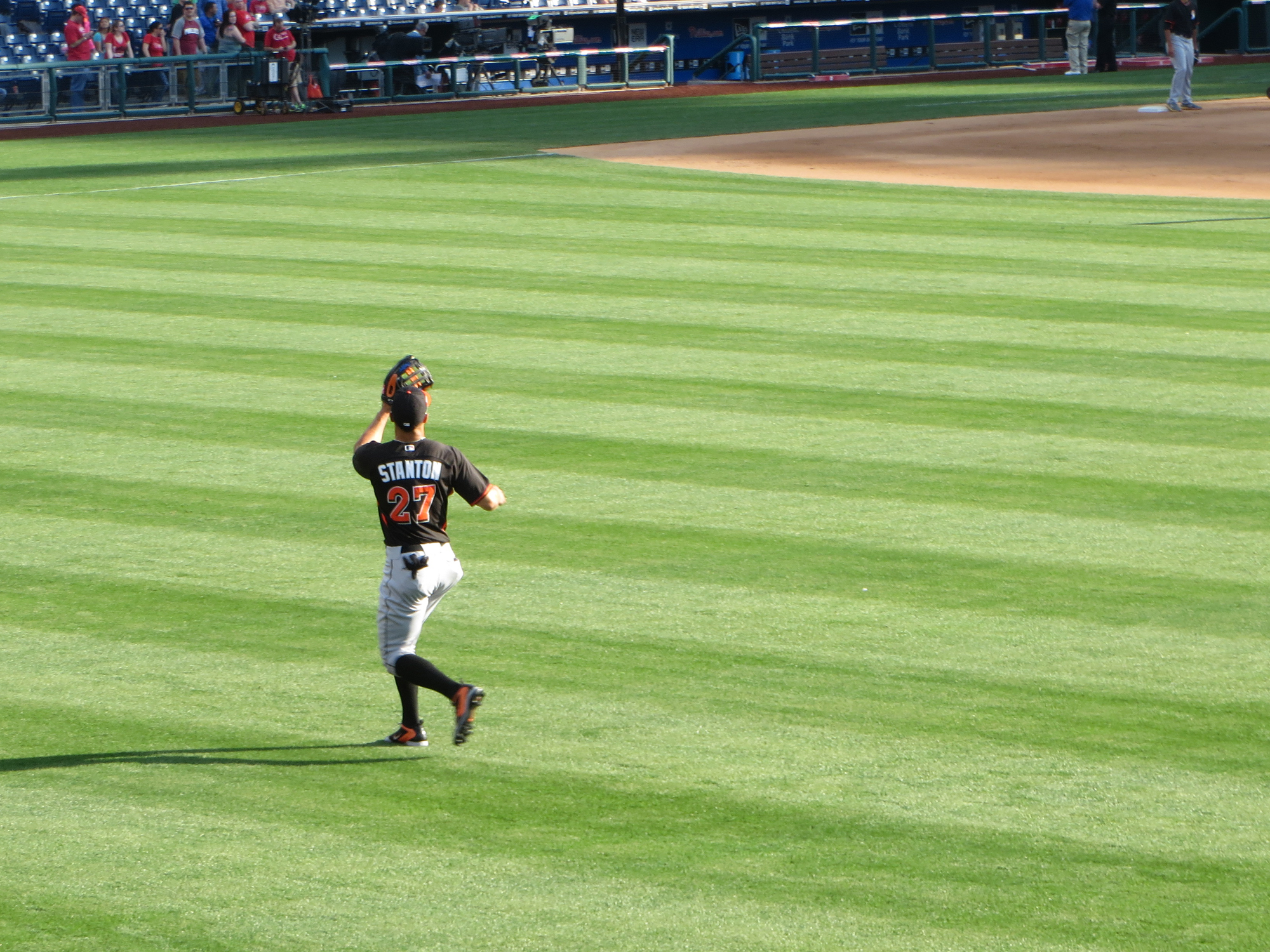 Meanwhile, Steve Cishek made his way to RCF.  When I called out his name, he tossed us a baseball.
Thanks, Steve!
Soon, A.J. Ramos made his way over to RCF too: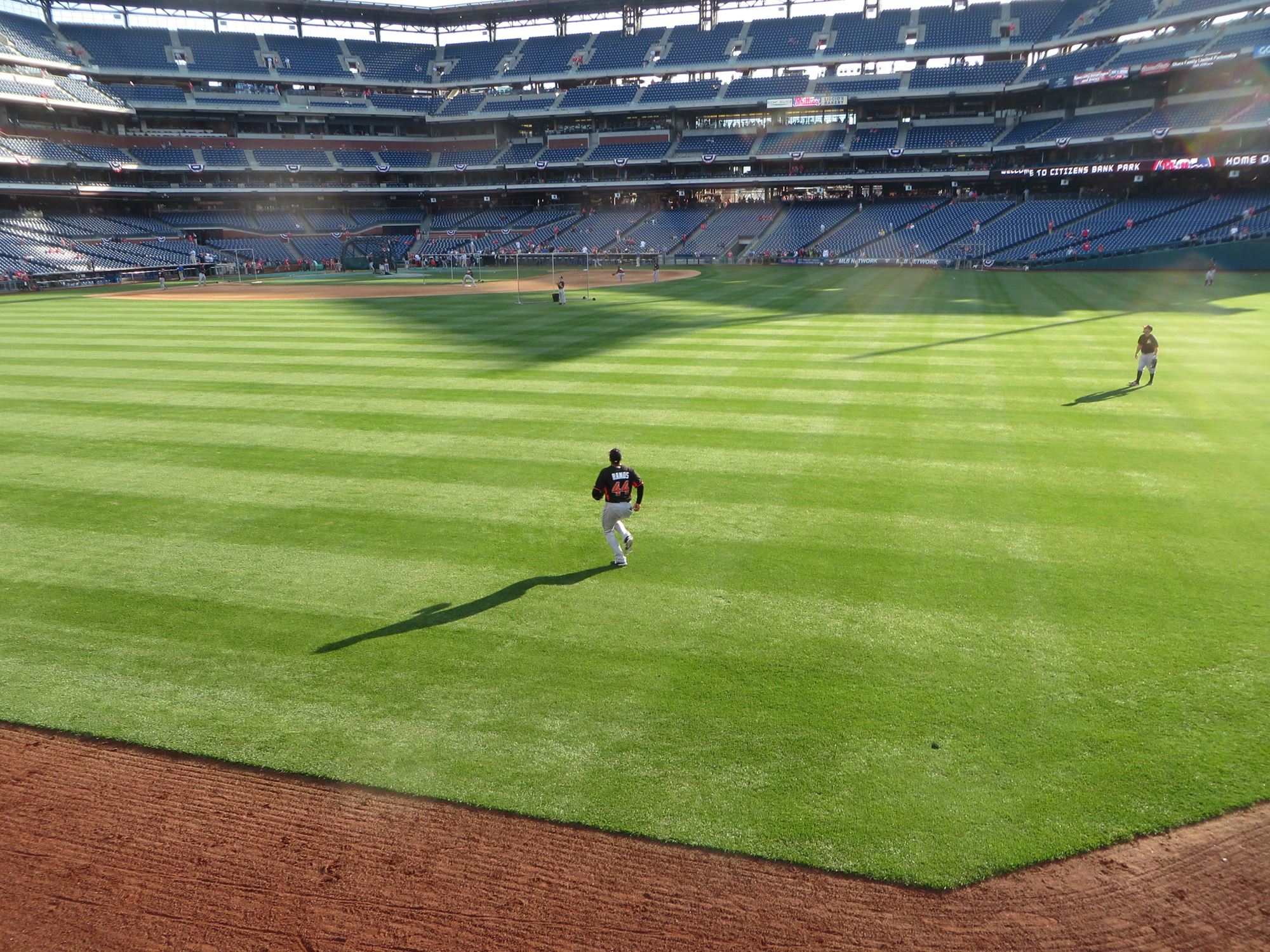 Ramos approached us and tossed a baseball to Tim.  Then he asked if Kellan had a glove to catch a ball too.  I put my glove on Kellan's hand and helped him catch a second toss-up from Ramos.
Double thanks, A.J.!
Earlier in the week (maybe even the day before this game), Giancarlo Stanton had been on Intentional Talk.  During Rapid Fire, Stanton told Millar and Rose that Ramos spends all of his time checking his hair in the mirror and taking kissy-faced selfies to post on Instagram.  After he tossed the baseballs to us, I asked Ramos what was up with Stanton talking about him on "IT"?  He responded with a big smile and chuckle, and he suggested, "I need to smack him in the back of the head!"
Ramos seemed like a really cool dude who knows how to have fun during BP.
Now, I've taken (and posted) a bunch of panoramas from Section 101 at Citizens Bank Park, but why not one more, right?  Nothing you haven't seen here before, but this picture sets the scene for Marlins BP:

If you look over toward RF, you'll see Brad Hand and Tom Koehler.  Roughly between where they are in this panorama is where Giancarlo had been shagging fly balls.
After BP wrapped up, we headed off to get some food – hot dog for Tim and pretzel with ketchup for Kellan:

We ate in our actual seats for the game – beautiful seats, section 101, row 5!
At around 6:30, Jesus Tiamo and some other dude…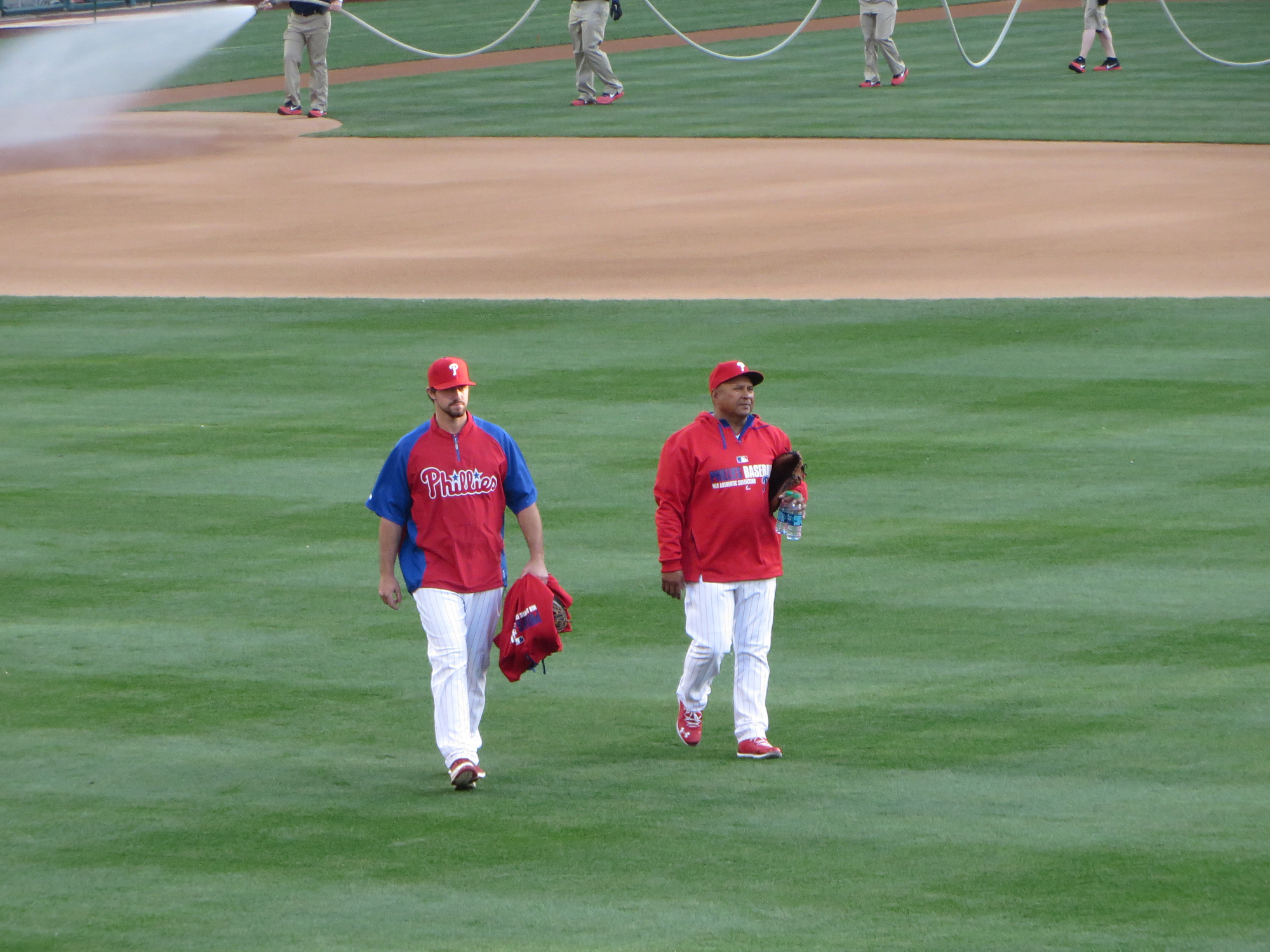 …started walking out to the bullpen.  I later came to find out (from Harrison Tishler) that the "other dude" is named Bob Stumpo.  I guess he's a second (I'll call him "backup") bullpen catcher.
Guess what happened when Tiamo and Stumpo reached the bullpen?
Tiamo tossed baseballs…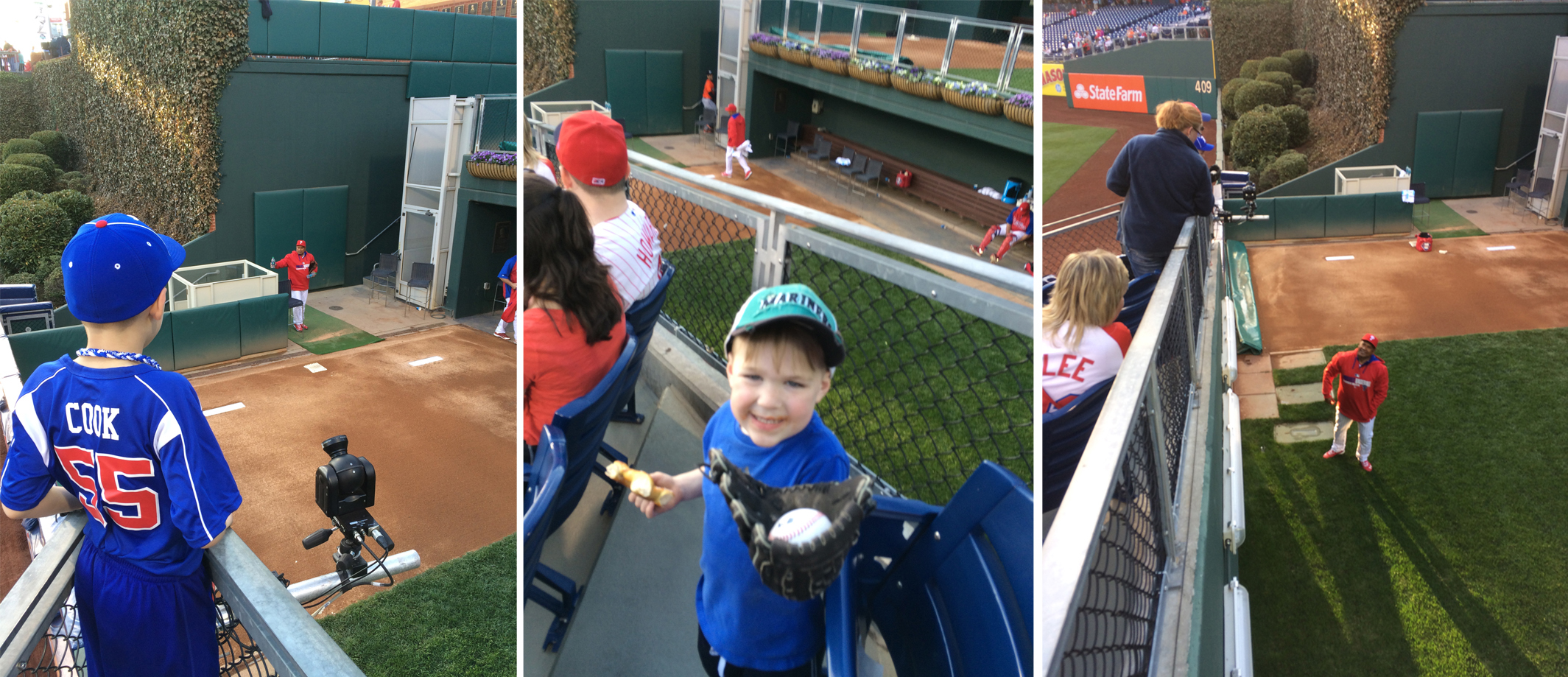 …to Tim and Kellan (but in the opposite order).  And then he signed a ball for both of the boys:
After he signed for the boys, Jesus and I chatted for a bit about his off-season down in Venezuela.
Part of the Phillies entertainment repertoire for 2014 – "what does the Phanatic say?"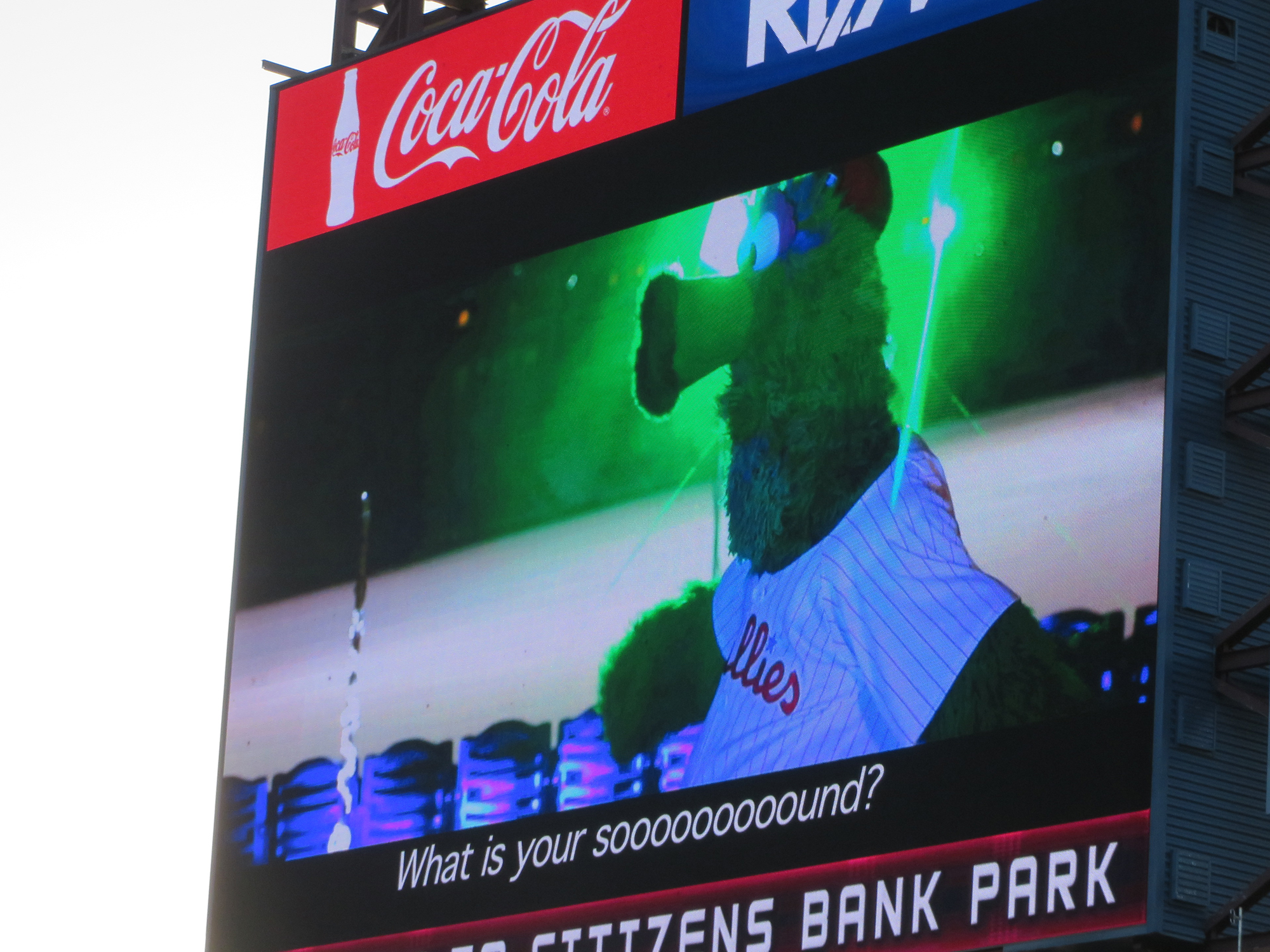 Before the game started, the boys wanted to play some more games, so off we went: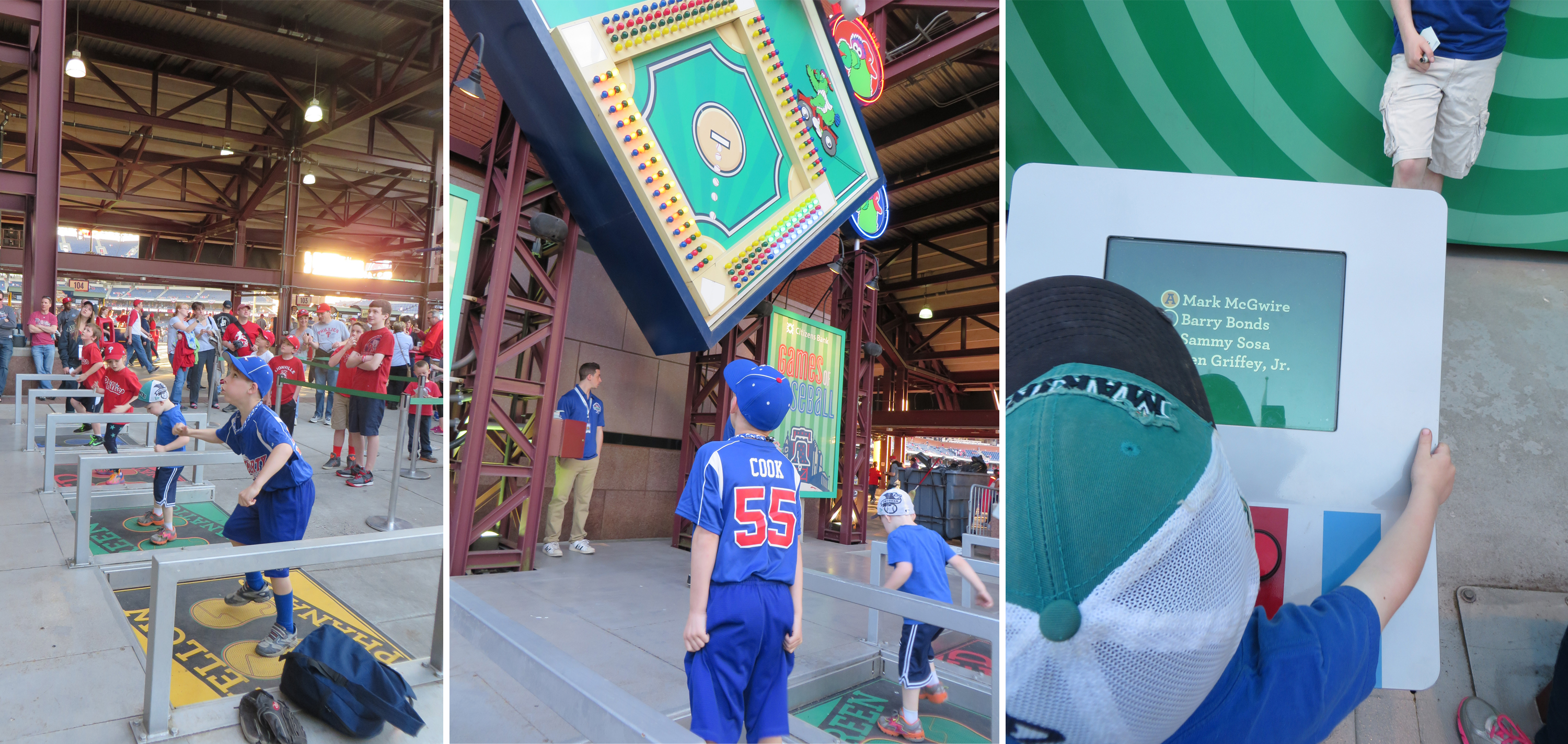 See that picture above to the far right?  Answer "D" is "Ken Griffey, Jr."  Unfortunately, that was the correct answer, and the question was "Who was the first player to strike out at Citizens Bank Park?"
After the games, we decided to get some ice cream.  As we circled the outfield toward LF foul territory, we stopped in straight away CF to watch the first pitch: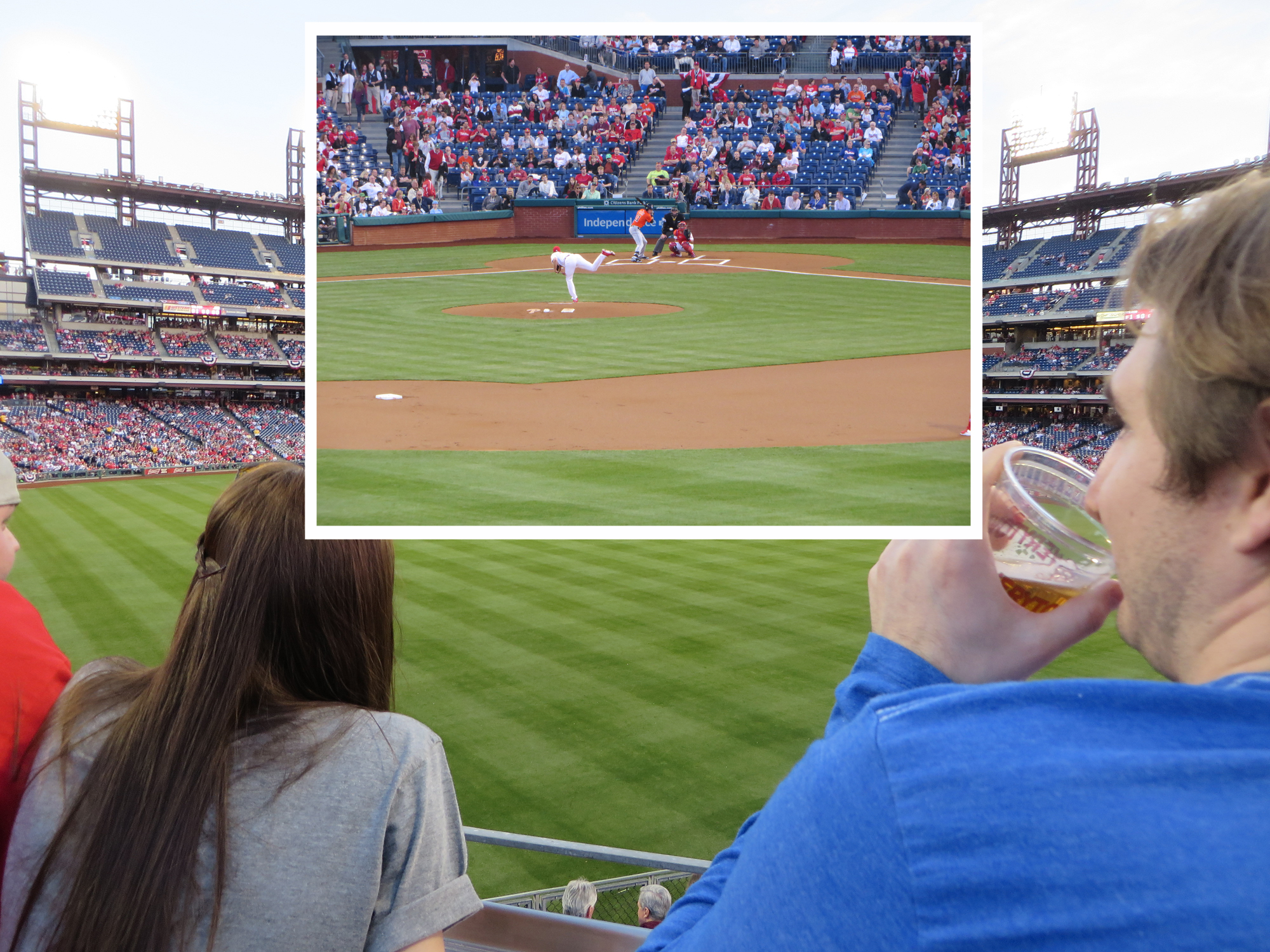 When we headed around the LF seats and scoreboard tower, we were greeted by a long table full of former Phillies ballgirls: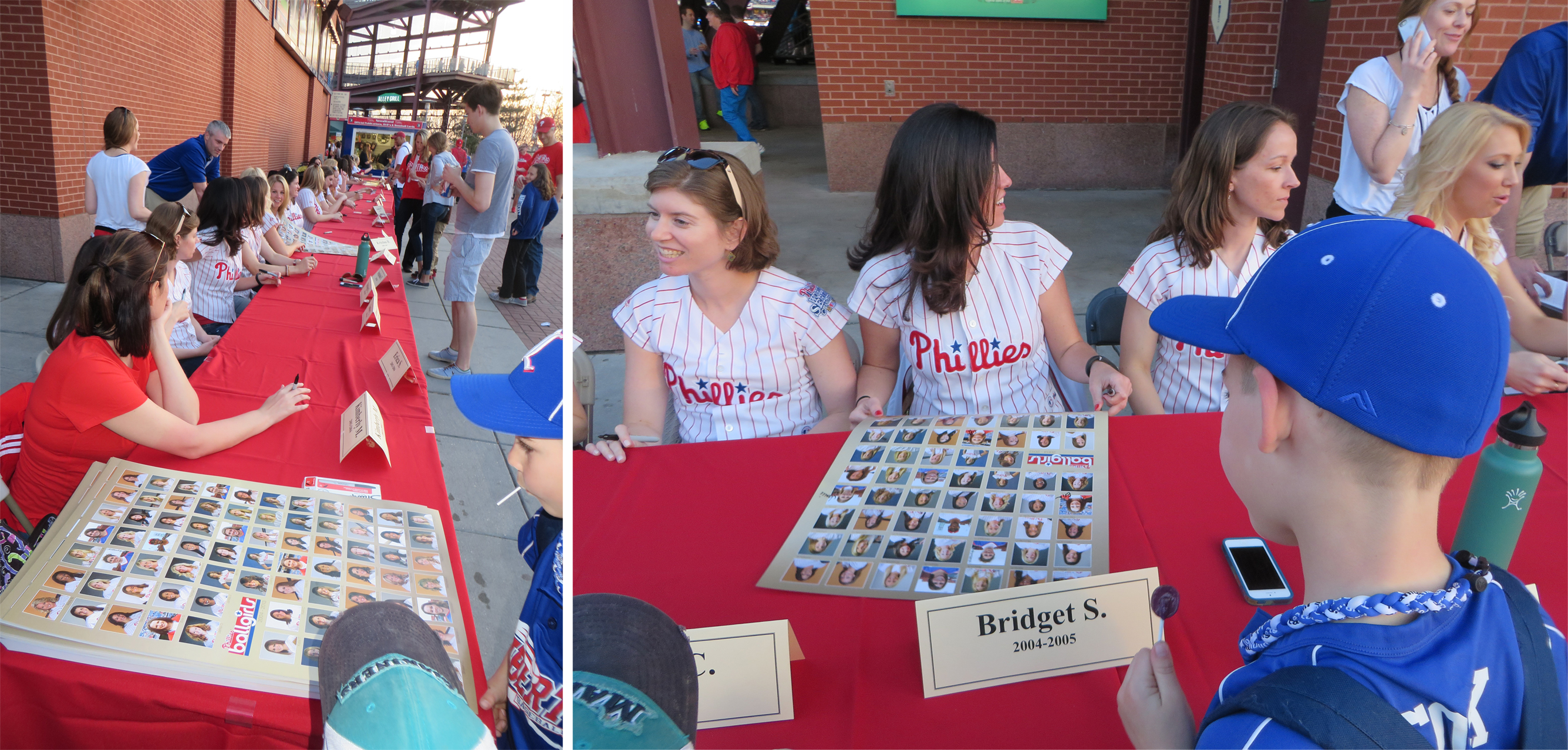 There were actually two separate long tables full of about 20 former ball girls each: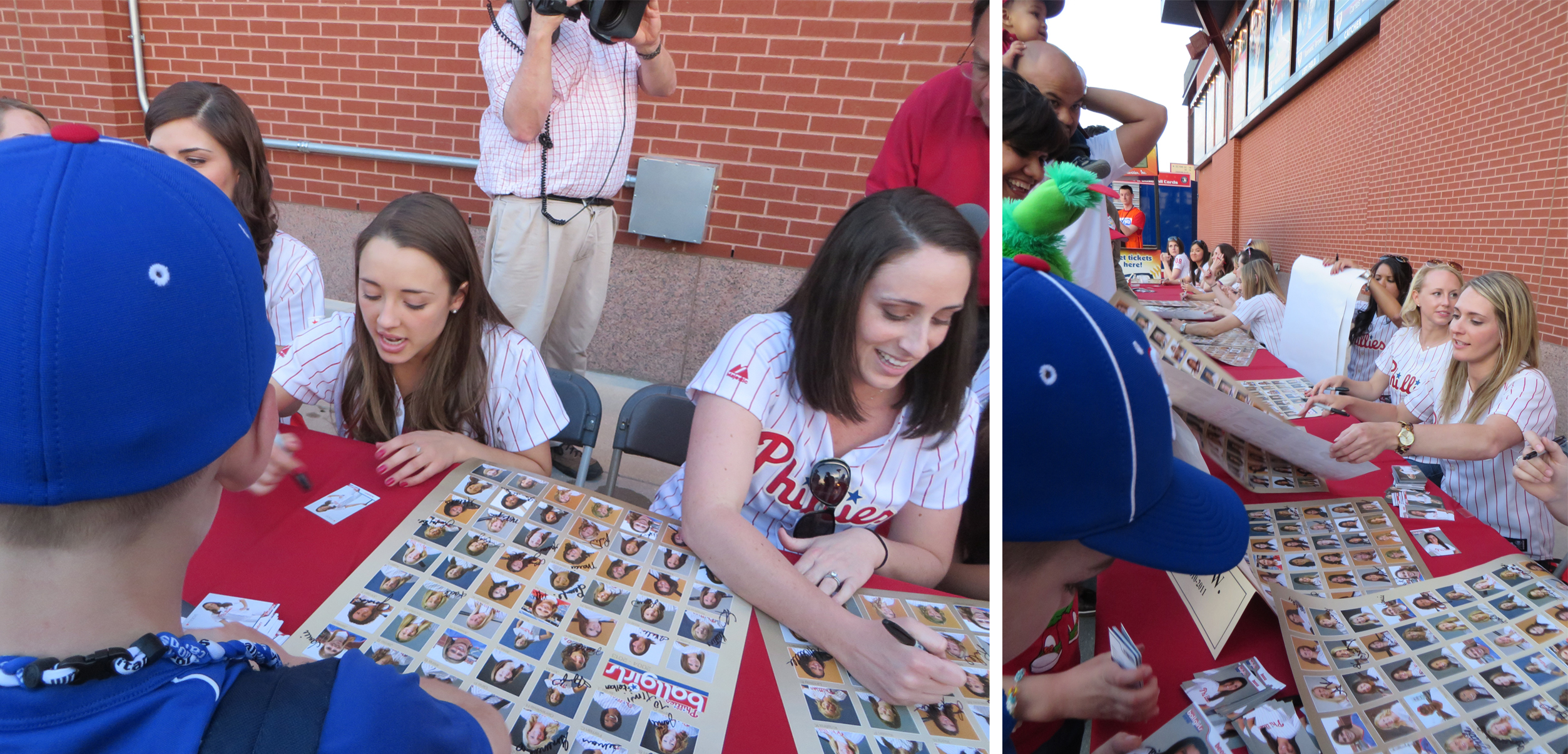 The ballgirls were signing a big poster with their pictures on it, plus their leftover baseball cards (back from their playing days).  It took us more than half an hour to collect all of the autographs, including me spelling Kellan's name for every ballgirl with baseball cards.  A bunch of the ballgirls commented on Tim's uniform and asked about his team.  It was a fun diversion before getting to the business of baseball watching.
Sadly, our normal ice cream lady was not at our normal ice cream spot.  I hope she returns because she's been a fixture at all of our CPB games for years now.  Happily, the stand-in ice cream lady did a great job putting together this beautiful mess of ice cream, cookies, sauces and sprinkles: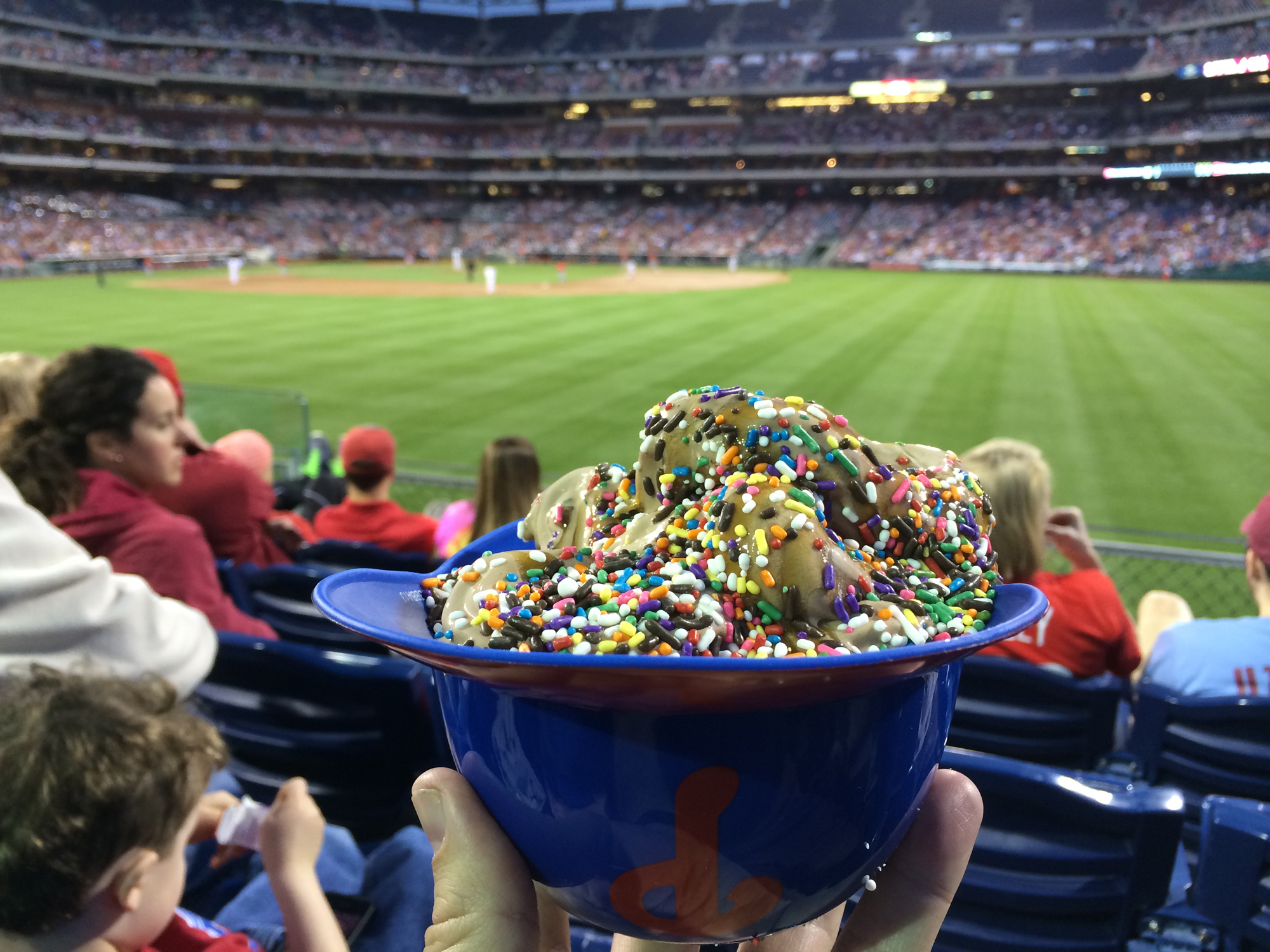 Because we had awesome (half priced) seats in the pizza wedge, we stayed in our seats for most of the game.  We were hoping to see Giancarlo Stanton…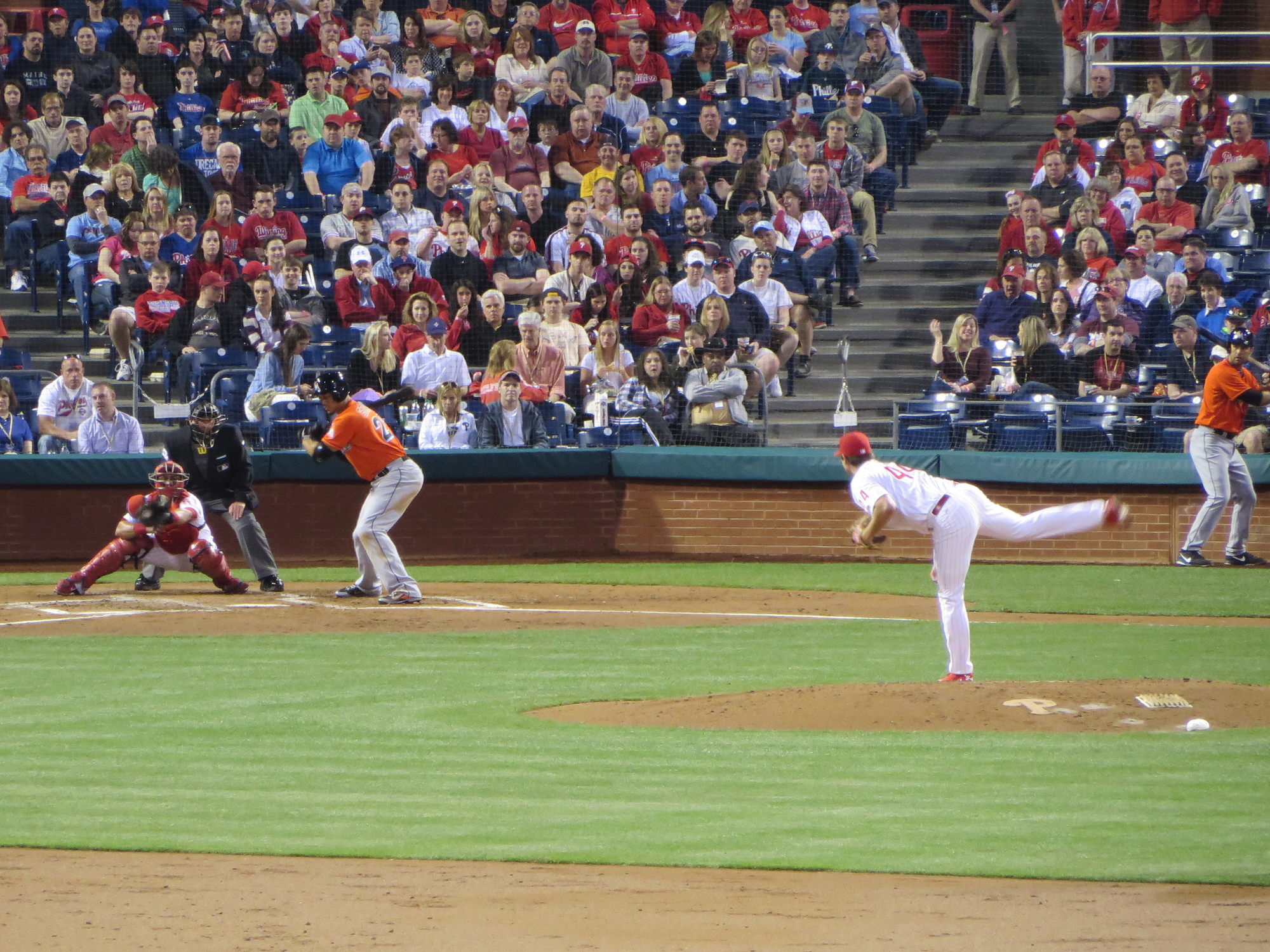 …hit some monster bombs.  He didn't do it in that at bat, but he did collection two round trippers on the night (one that landed on Ashburn Alley and we missed seeing because we were at the "games-of-baseball").  Giancarlo likes us.  We've seen him hit a least three homeruns in Philadelphia, at least two in DC, and one in Miami so far.
In the top of the second inning, we got to see our first "challenge" of the season under the new replay rules: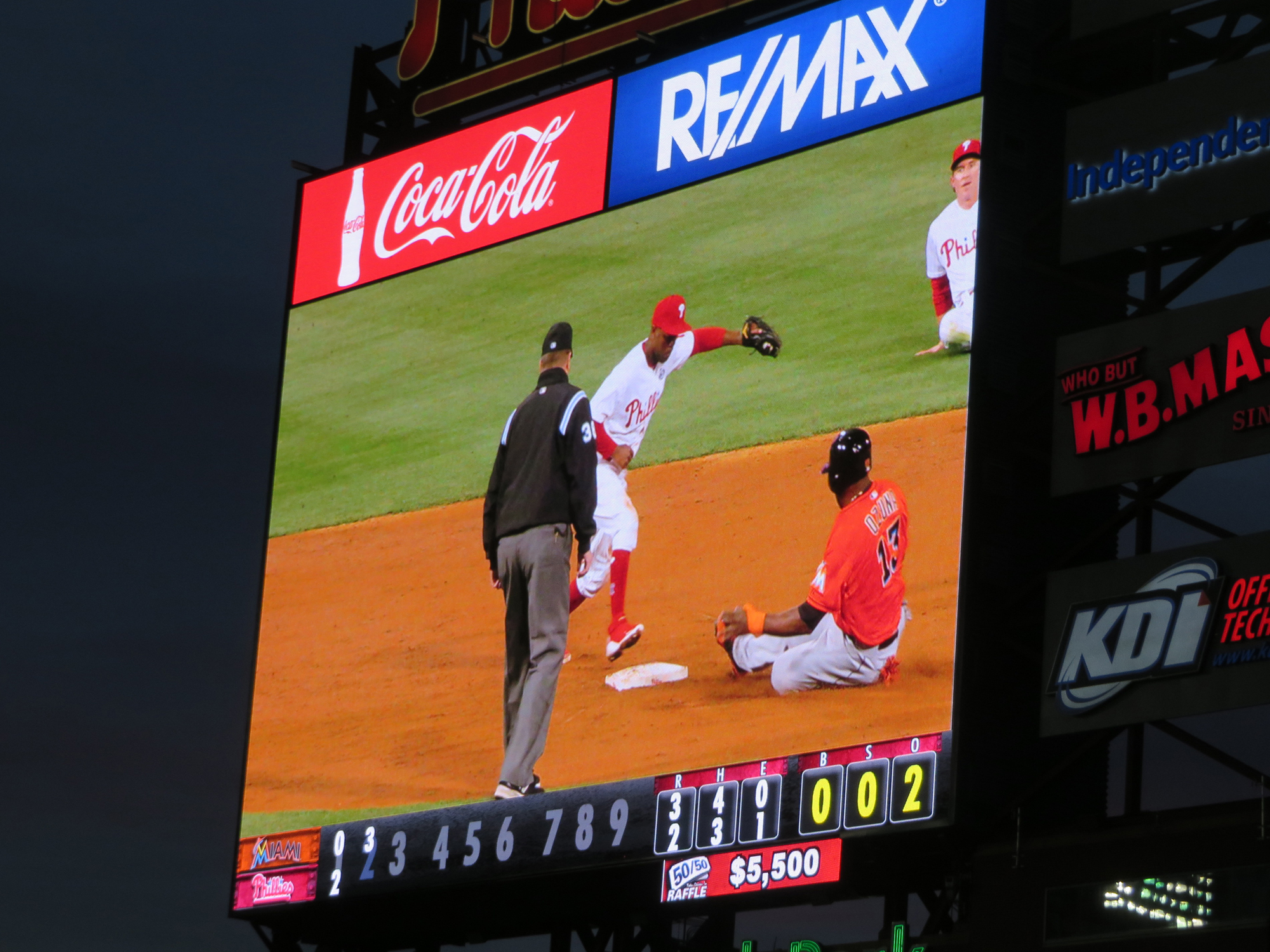 On the grounder to 2B, Ozuna was initially called safe and two runs scored (giving the Marlins a brief 3-2 lead), but on review it was decided that Jimmy Rollins narrowly beat him to the bag for the third out of the inning.
As usual, the boys were full of silliness during the game.  Kellan posed in our ice cream helmet…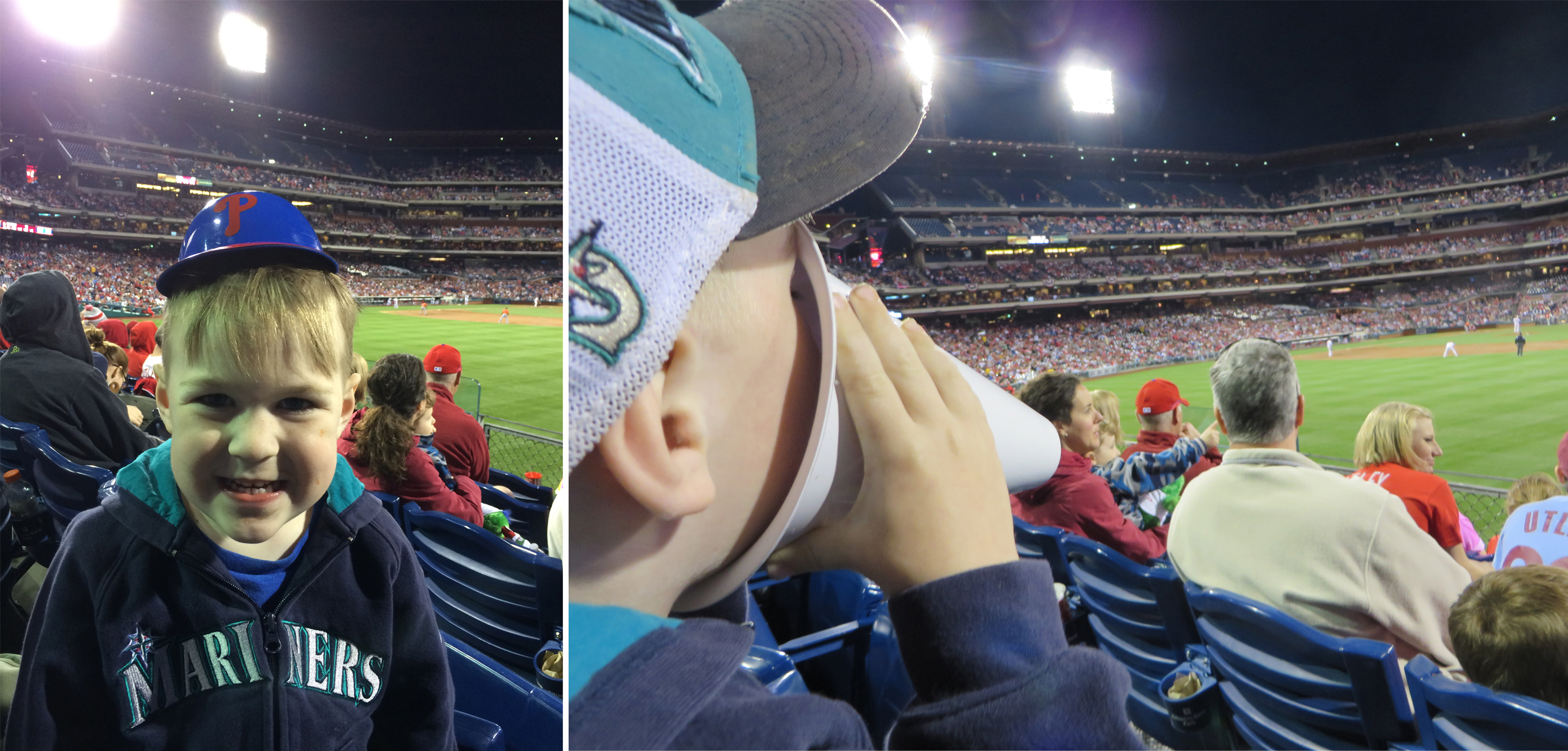 …and did some backwards yelling through one of the megaphone we won at the games of baseball.  And Tim took some selfies (and some videos) with Jesus Tiamo in the background: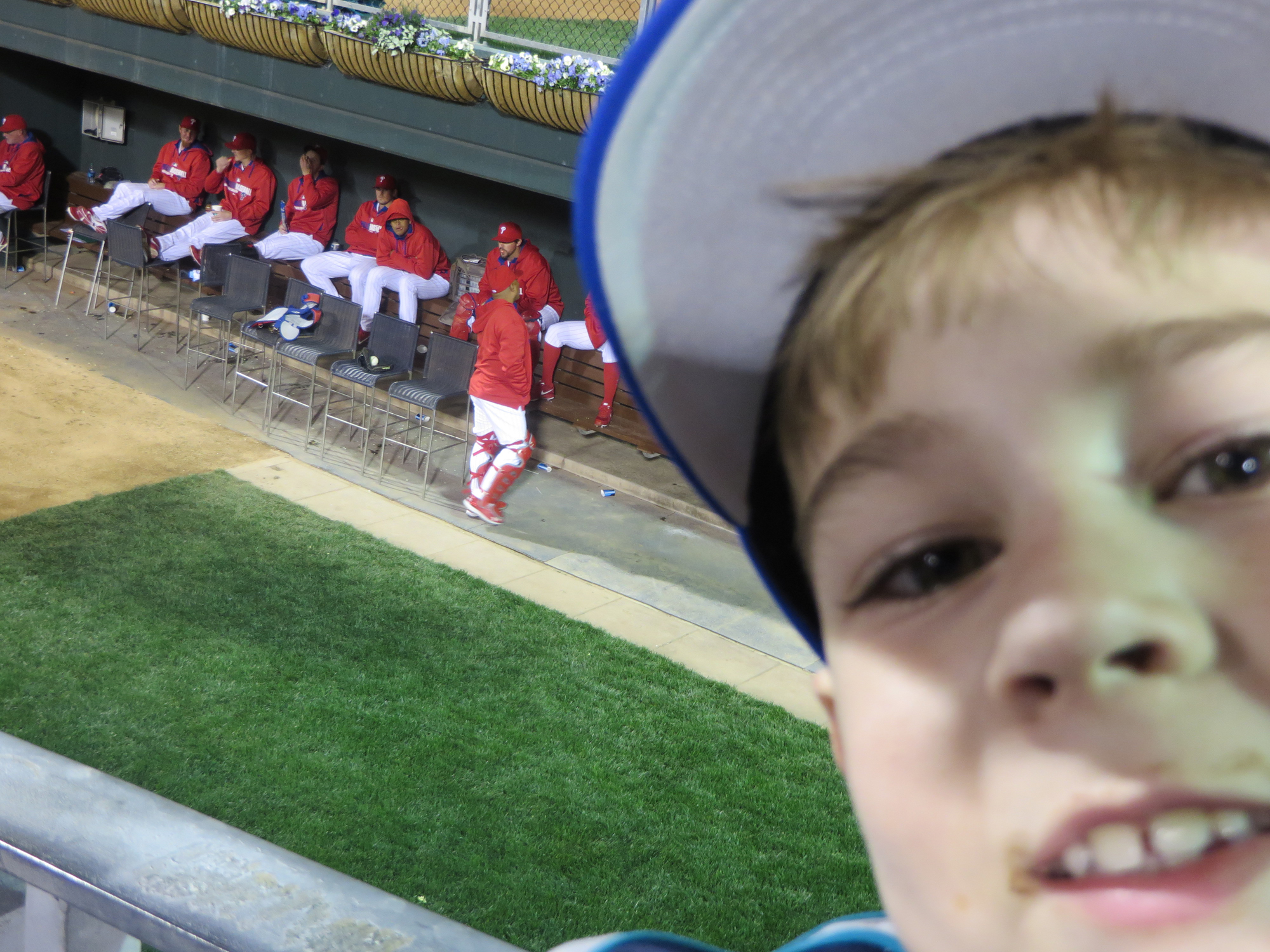 Here we are missing Giancarlo's monster bomb: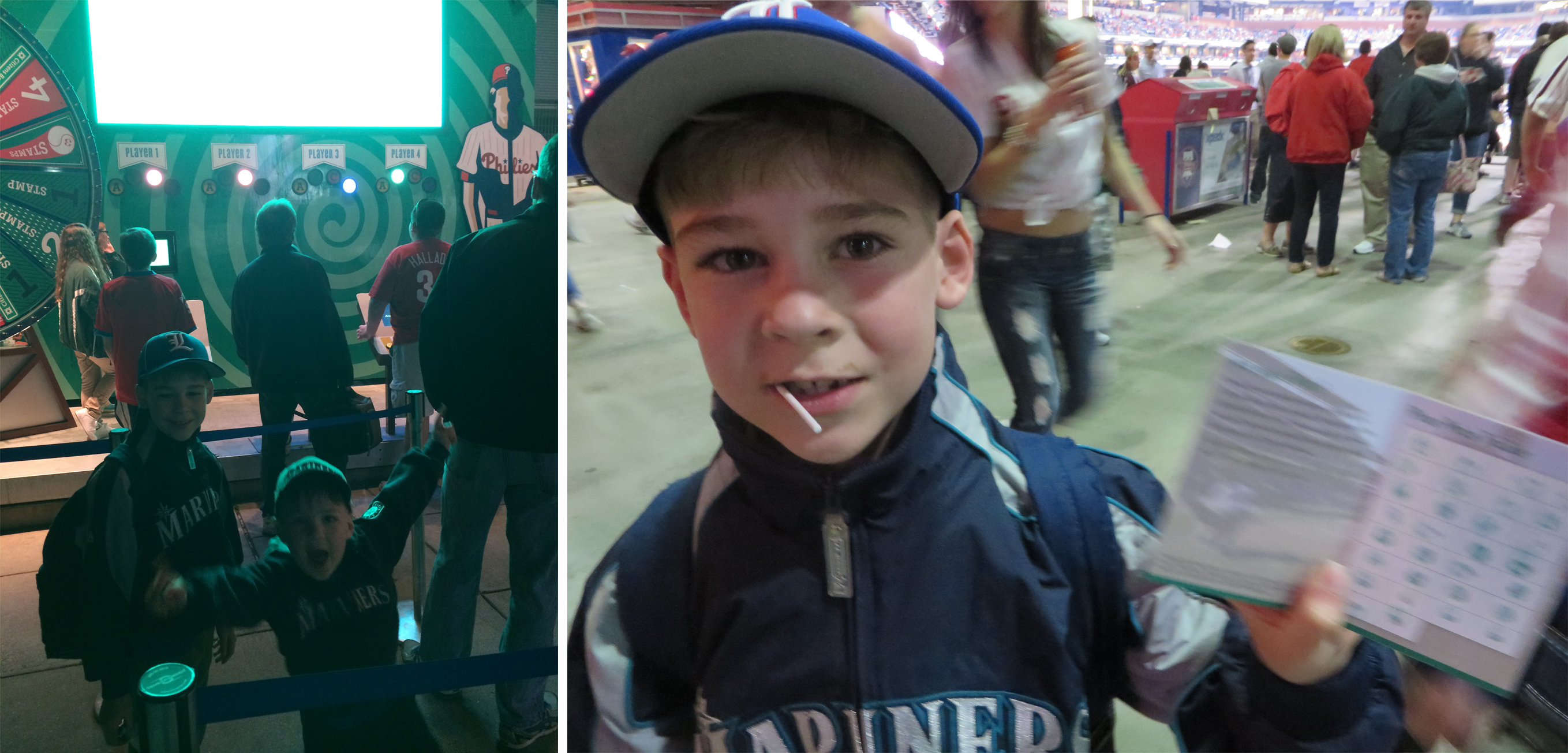 Luckily, we were back in the seats to see the second Stanton-blast.
Back at the seats, there was most general silliness:

The pizza wedge is one of the best sections in all of baseball because there is action both in front of and behind your seats.  Check out this panorama that (should be curved around the viewer and) shows about a 270 degree view from out seats:

In this view, the guy in the blue/maroon shirt and backwards cap it sitting right in front of me and the Liberty Bell sign (in the upper right) is directly behind us.
Maybe this picture will help explain it visually – we could watch the game right in front of us, or this…

…right behind our seats.
By the way, in those photos above, that's Jesus Tiamo catching Antonio Bastardo at the bottom and A.J. Ramos pitching to Jeff Urgelles on the top.  Prior to the game, Tiamo had given each of the boys a baseball, Bastardo had tossed one to Tim, and Ramos had tossed each of the boys a baseball.  After Ramos's final pitch, I yelled, "Hey, Jeff!" and Urgelles tossed Ramos's warm-up ball over the Phillies bullpen and right into my glove.  So, we got a baseball from each of the four featured in that picture.  Cool, eh?
Late in the game, Kellan conked out hard and slept the last couple innings on my lap.  Meanwhile, Tim took his turn in a Words with Friends game…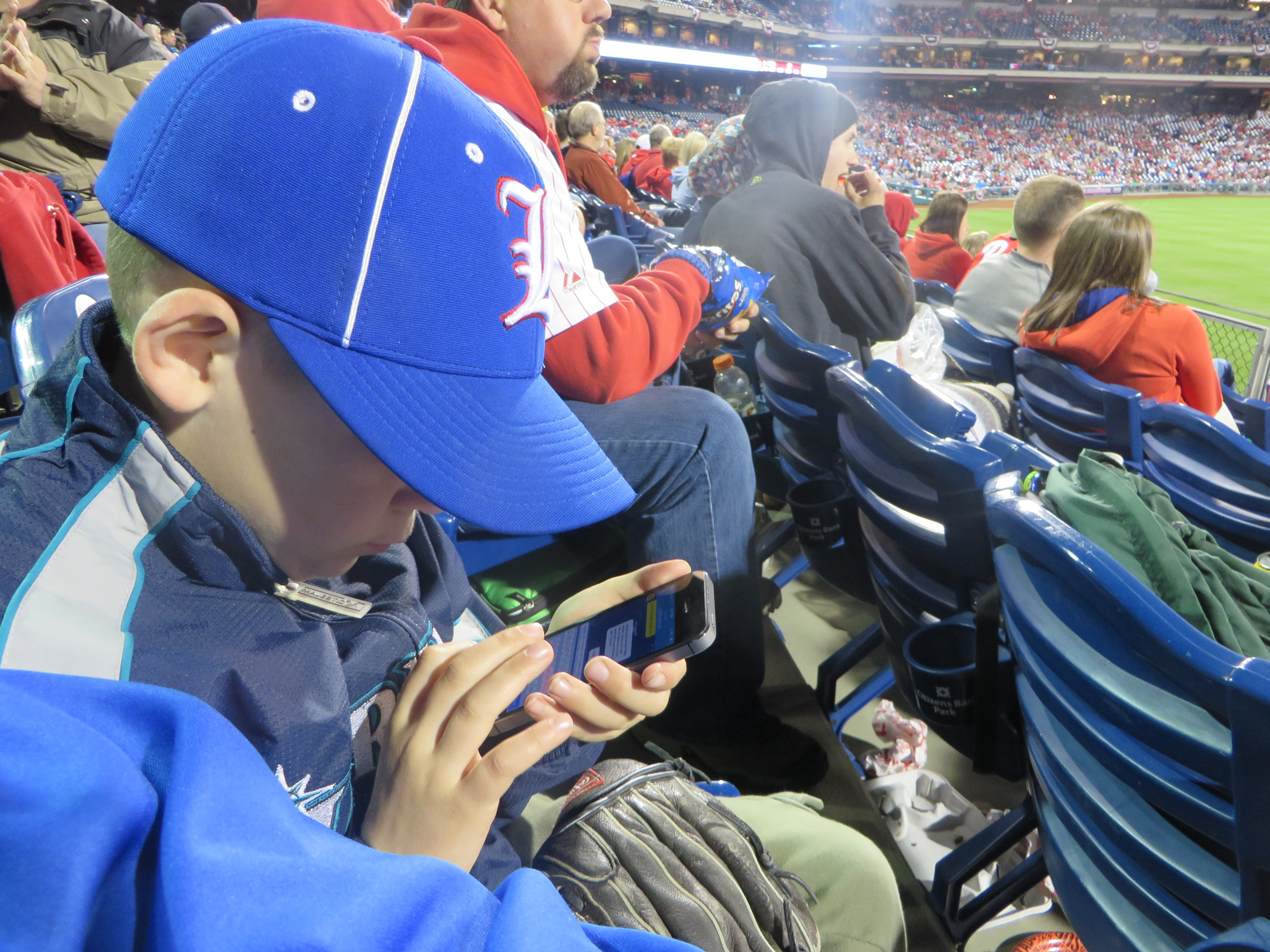 …that he is playing against his Grandma.  After making his play, he finger-typed and voice-typed a long and meandering comment to his Grandma in the Words with Friends comment section.
I meant to take a screen shot of his comments because they were funny, but I forgot.  Zooming in on another picture I took of him typing, I can see that he wrote "I played "hotels" from the Phillies stadium.  Bet you can't beat that! 123 strikes you're out at words with friends! Winning, oh yeah! 18 points!"  Then he followed up with a long and convoluted explanation that he really meant "22 points" and he provided a detailed explanation of how the points added up.  He's a funny guy.
Hey, guess what?  The game went into extra innings.  Giancarlo Stanton tied up the game in the seventh with a 2-run homerun to left.  Jimmy Rollins broke the tie with a walk-off solo shot in the bottom of the tenth inning: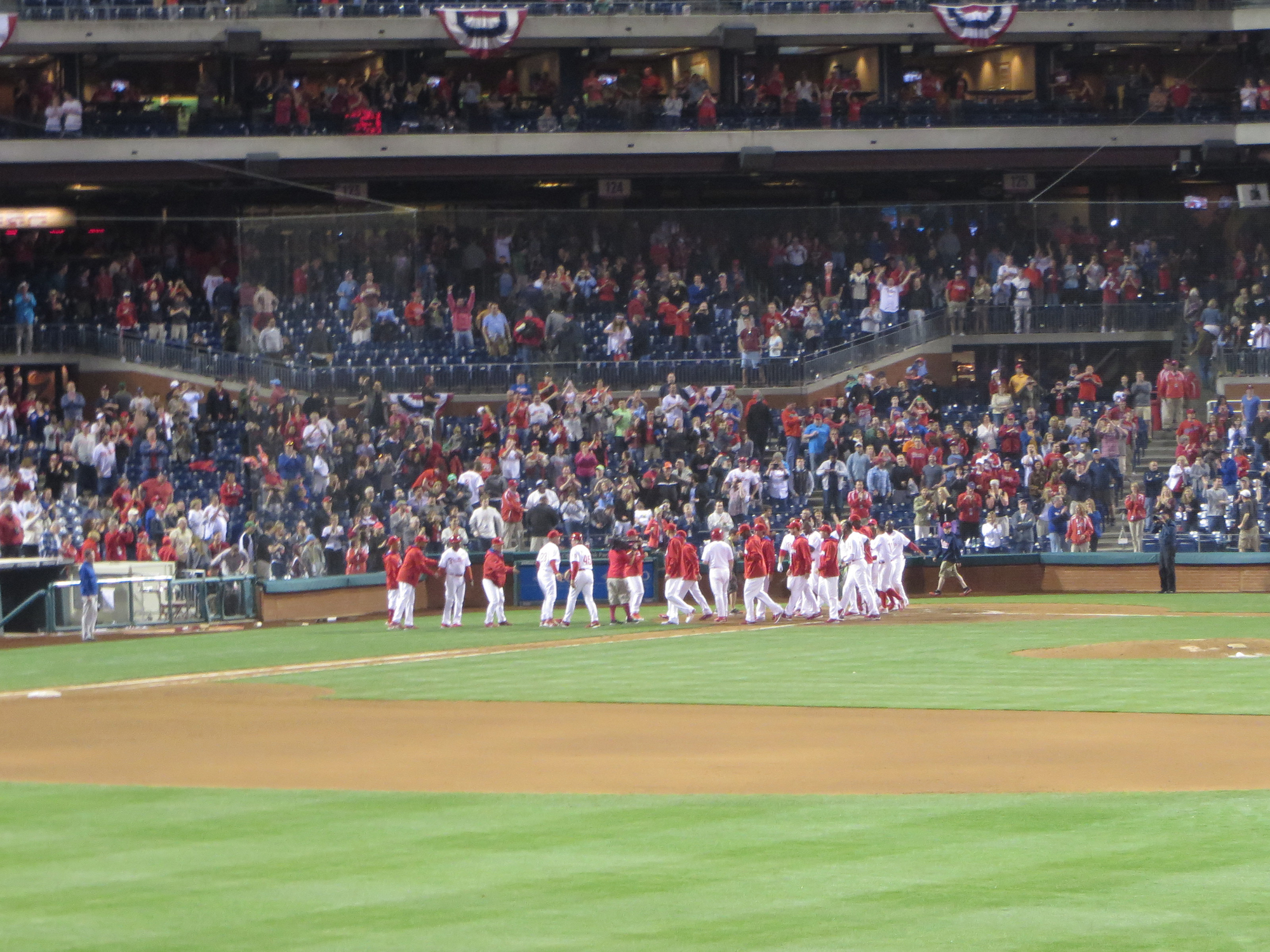 After the game, Bob Stumpo tossed a ball up to Tim and then a kind usher took our picture…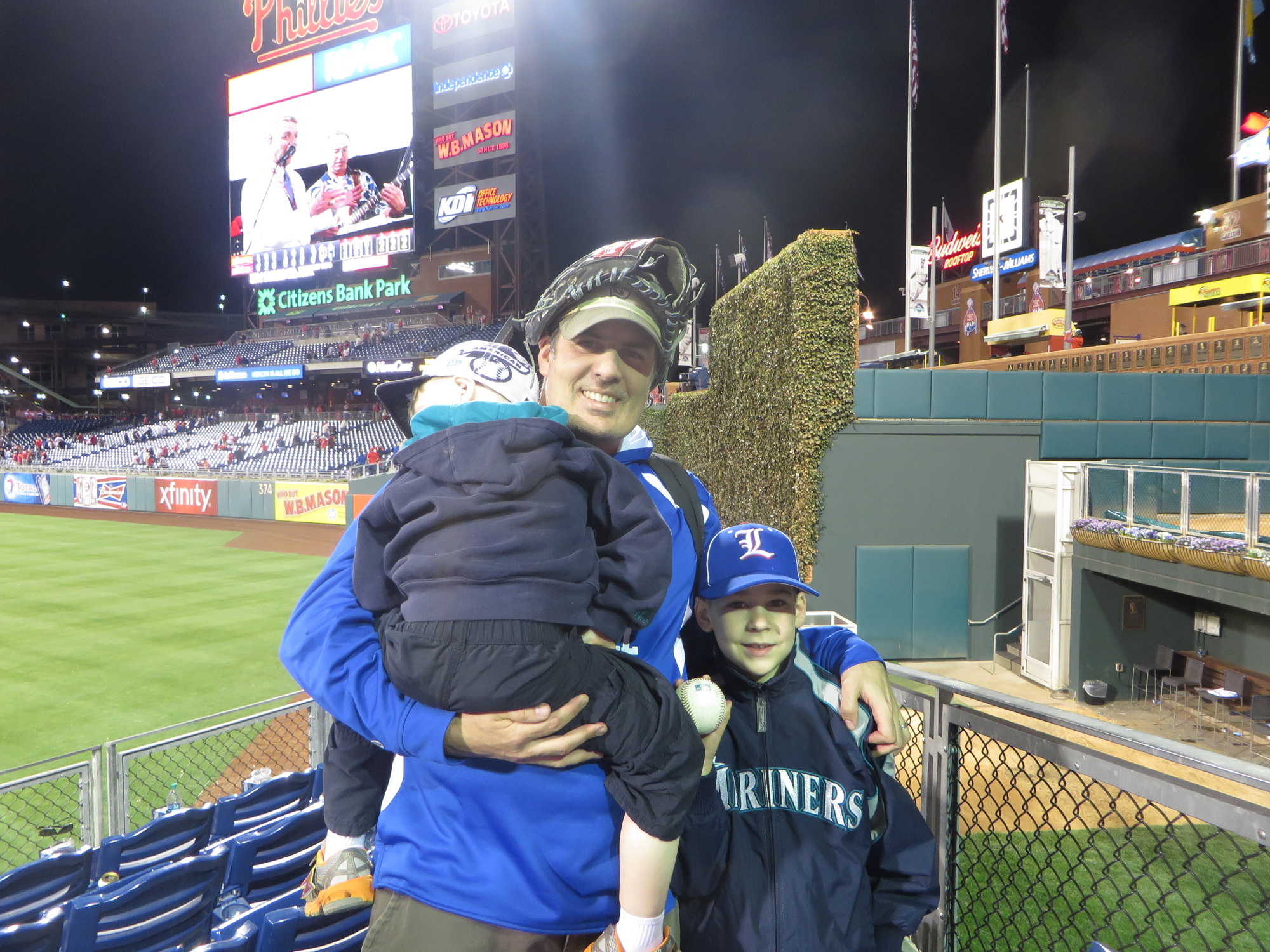 …before we headed to the gates with Kellan still sound asleep: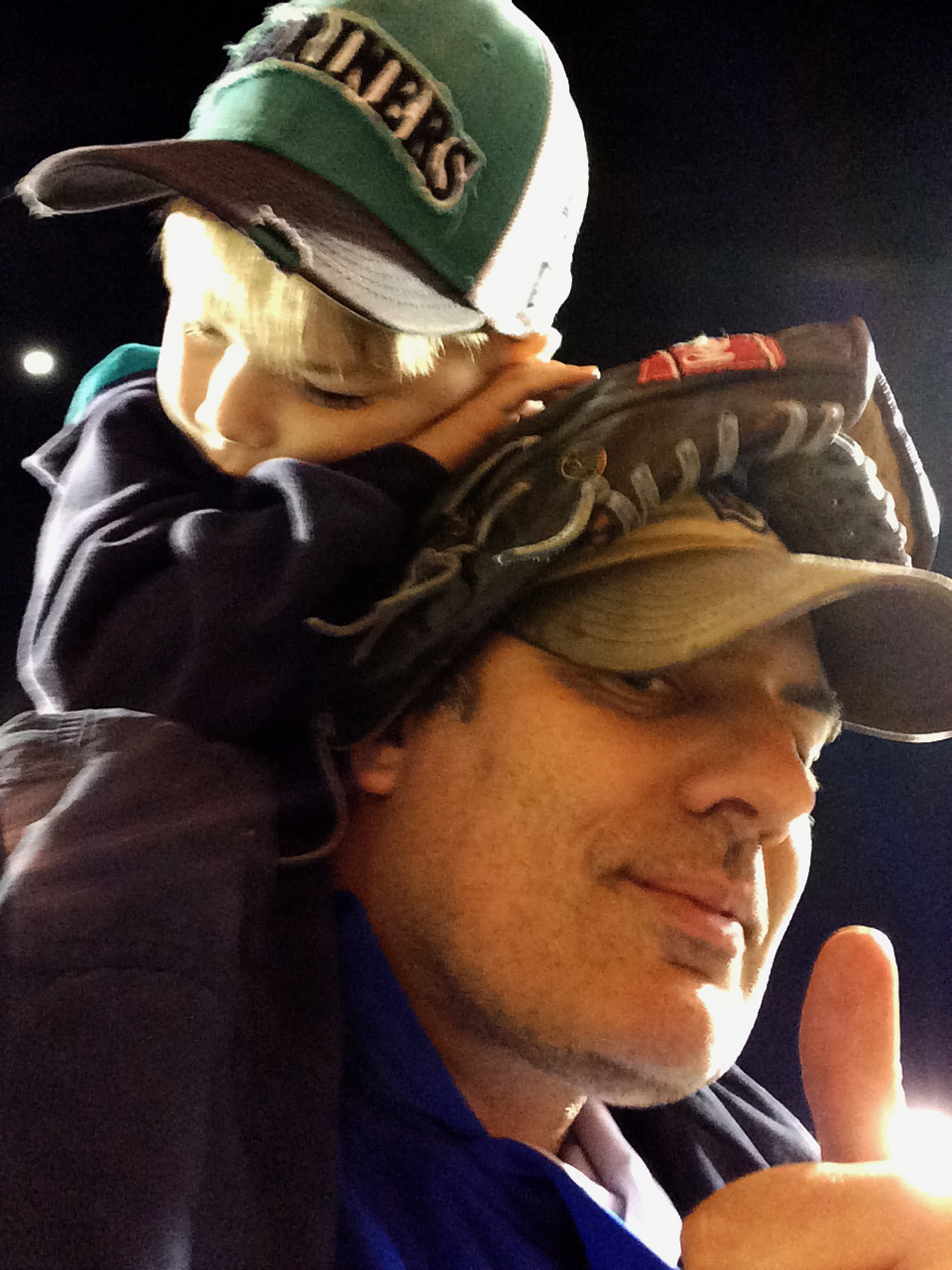 And then we sat in a traffic jam for an hour on the Schuylkill Expressway…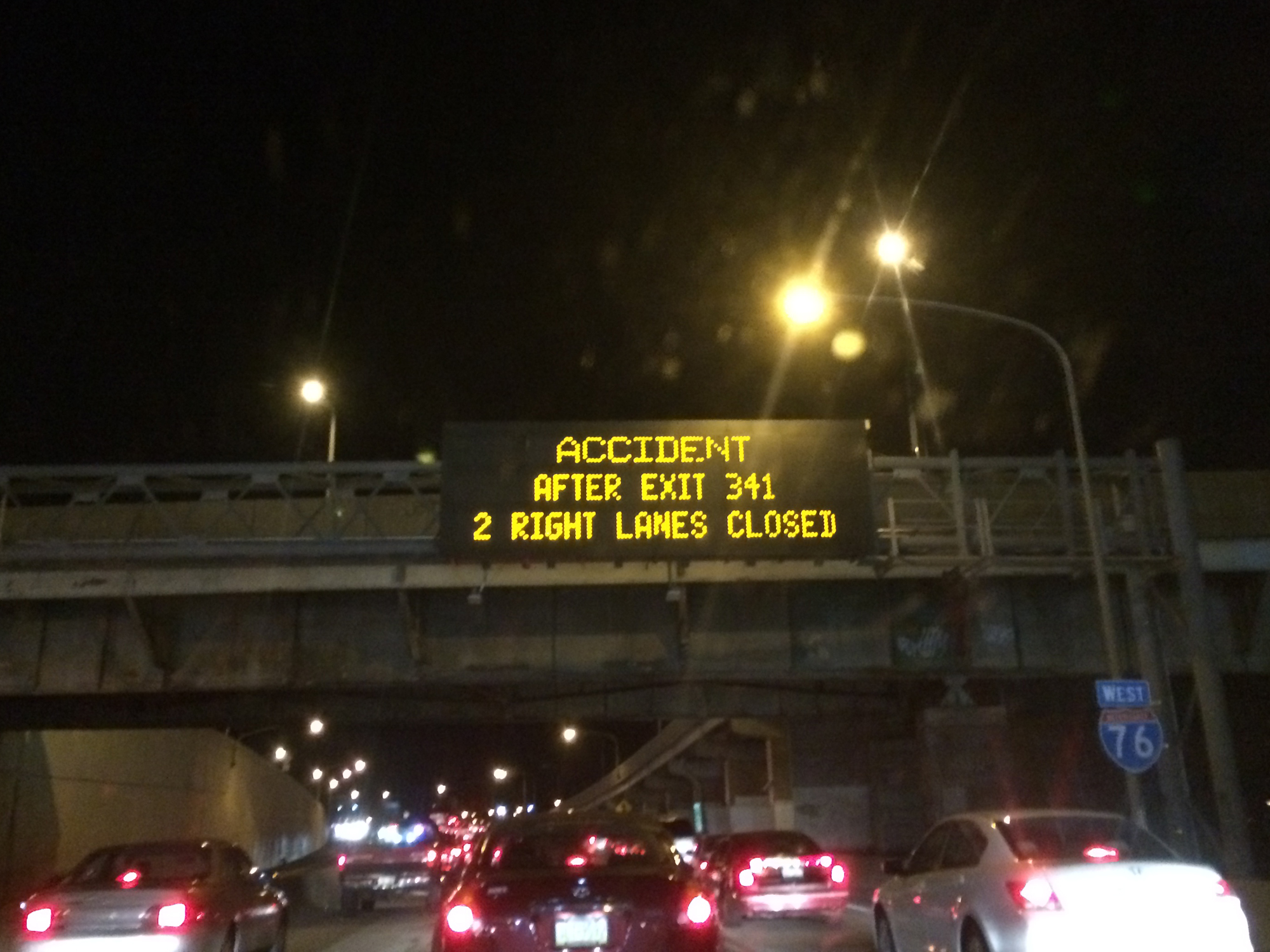 …and got home around 2:00 a.m.
Not the best ending of the night, but a great first game of the season at Citizens Bank Park.
| | |
| --- | --- |
| | 2014 Fan Stats |
| 3 | Games |
| 4 | Teams (Blue Jays, Mets, Phillies, Marlins) |
| 2 | Stadiums (Stade Olympique, Citizens Bank Park) |
| 21 | Baseballs (Mets 5, Expos 2*, 7 Phillies, 6 Marlins)* Olympic Stadium Staff |
| 5 | Commemoratives (2013 WBC 1, Angels 50th 2, Dodger Stadium 50th 1, 2011 All-Star, 2012 All-Star) |
| 1 | Ice Cream Helmets (Phillies) |
|   | |
Bonus Photo – Lots of activity again at this game:
[60]