November 2013
Who was the first batter at the first MLB game you ever attended?  Personally, I have no clue.
But I can tell you that Frank Catalanotto took "strike 1" when Tim watched Gil Meche deliver the first pitch of his first Major League game back on September 12, 2006.  And I can tell you that Luke French delivered "strike 1" to Rajai Davis with the first pitch of Kellan's first Major League game back on October 1, 2010.
Our goal has been to meet and get an autograph from each of those guys.  And on August 5, 2013, which marked the first full day of our 2013 Seattle vacation, we finally caught up with Rajai Davis.  Here is the story of that day.
We had four Mariners games planned for the trips.  On our way down to this one, we were happy to have Colleen "Mommy" Cook…

…join us for her first game of the season.
We arrived plenty early and entered through The Pen entrance…
…in left field.
At the outset, Tim hung out with Granpda while Kellan, Colleen and I headed out by the batters' eye: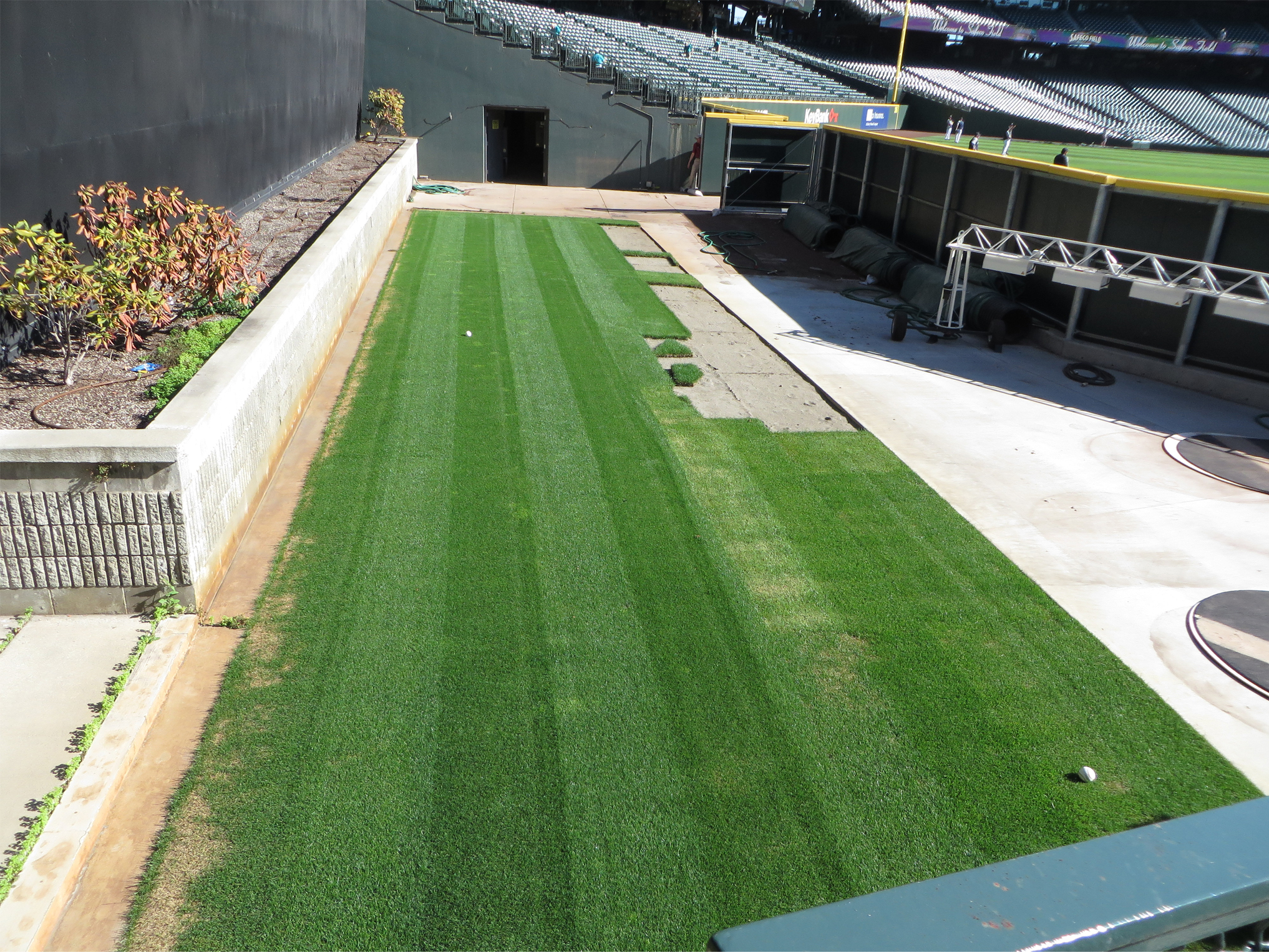 There were two baseballs in the grass out there and an usher eventually tossed one our way.
Thanks, Usher!
I then split off from Colleen and Kellan and headed over to the LF corner to check out Edgar's Cantina.  It's nice, but I'll never really spend any time here for at least a decade or two because kids are not allowed in there (which seems silly to me since people drink alcohol everywhere in the ballpark…and all ballparks).  Anyway, here are a couple photos.  First, the view to home plate: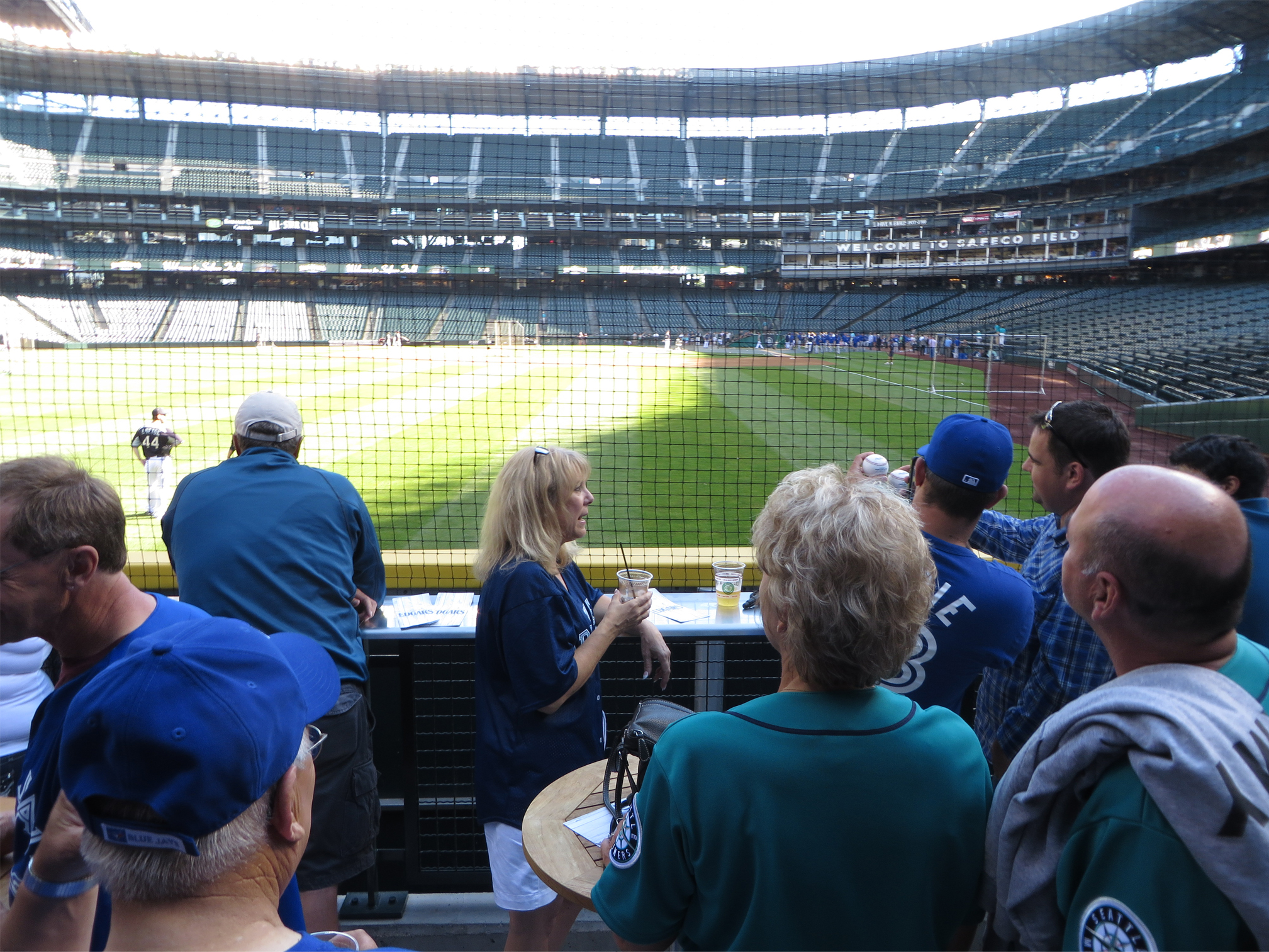 The bar: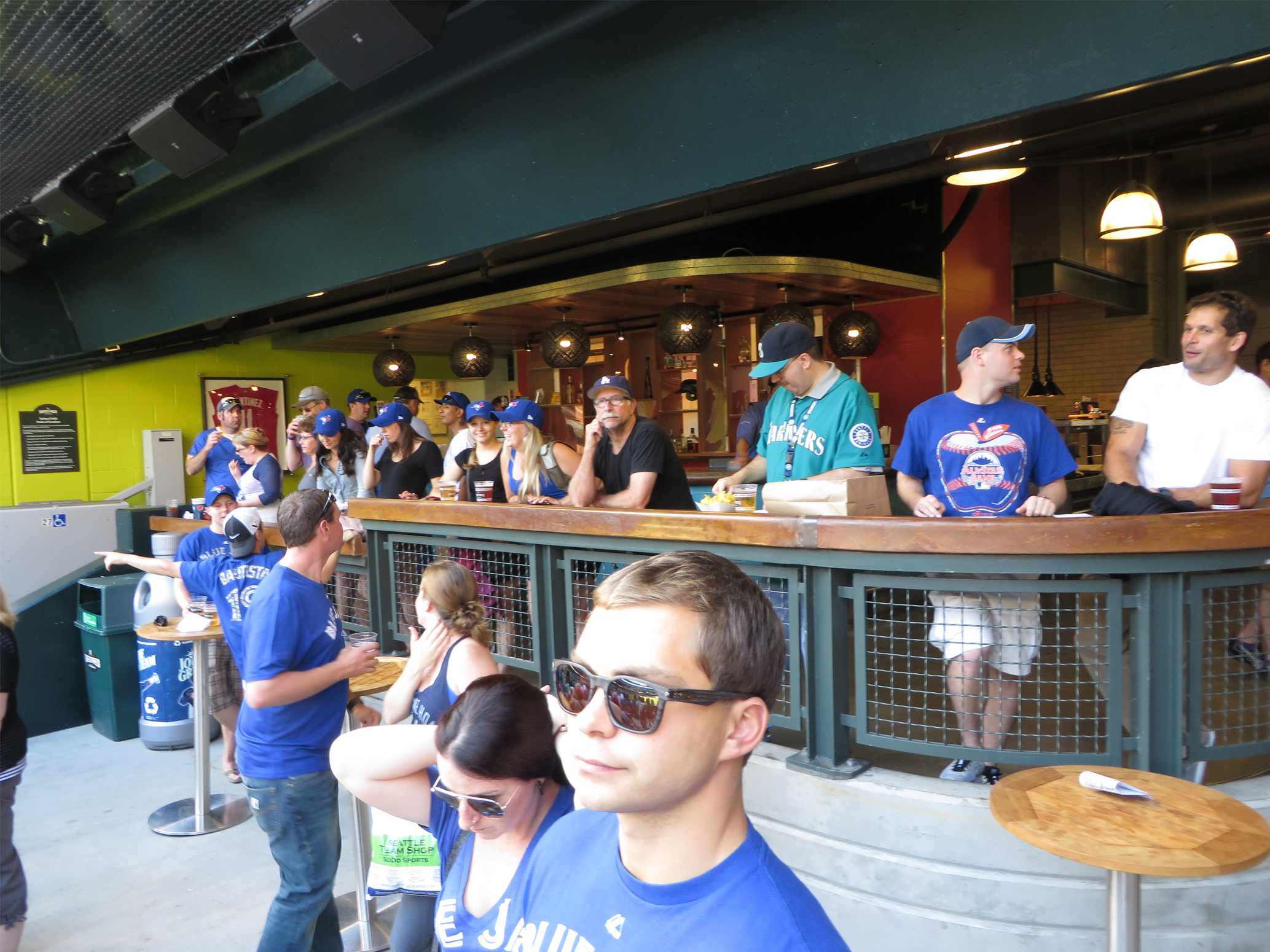 And through the window looking into the visitors' bullpen: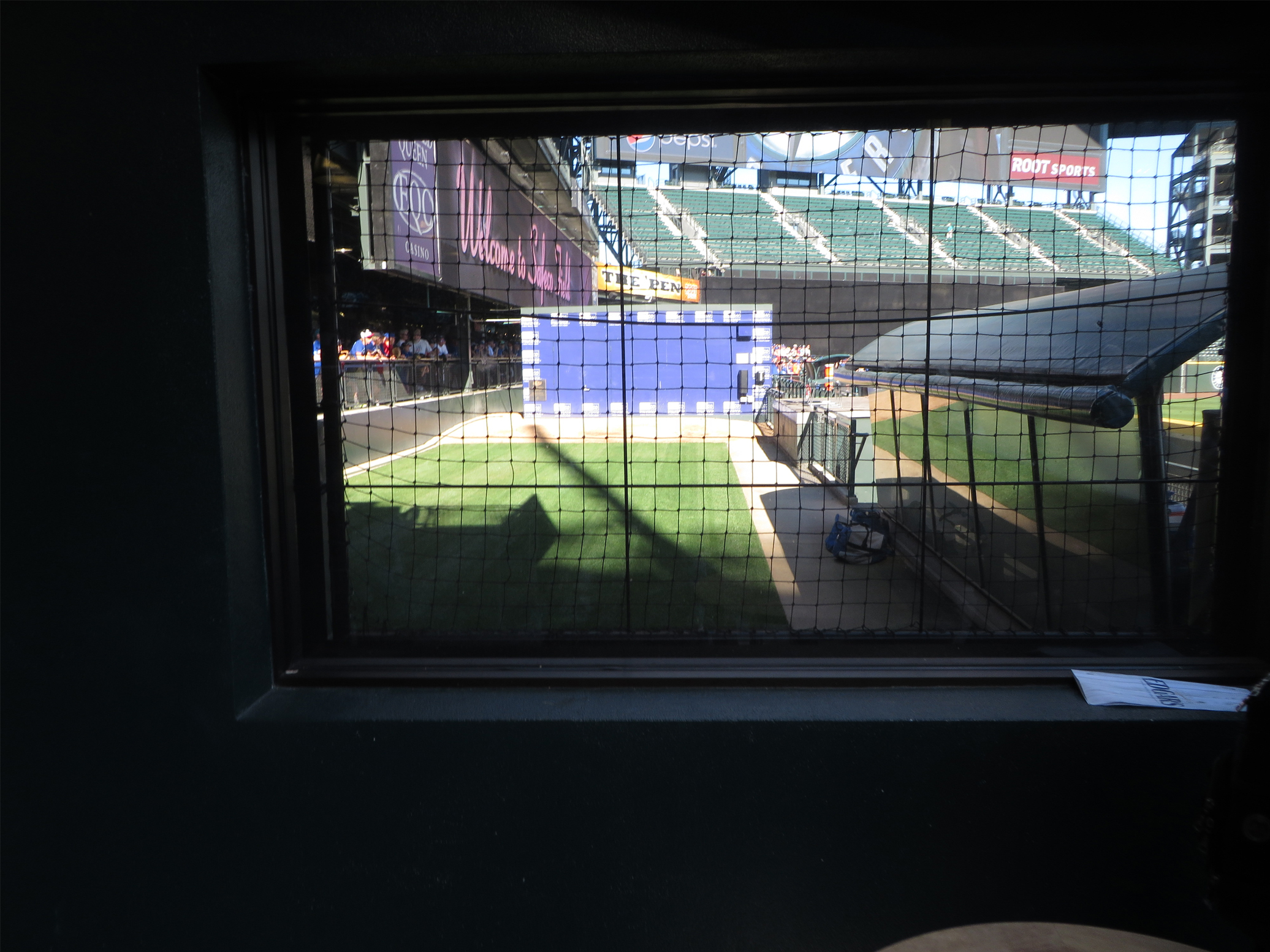 Someone hit a homerun into the Cantina while I was in there.  They put a net over the top of the fans during BP, but the ball still trickled down and made its way into the hands of a fan back toward the bar.
So long, Edgar's, I'll come check you out again once the boys are in college or something.
When they opened the rest of the ballpark, Tim and my dad headed to RF for a bit and Yoervis Medina tossed a ball to Tim.
Thanks, Yoervis!
Colleen, Kellan and I headed to foul territory in LF.  We had one major goal for this game:  get a special autograph from Rajai Davis.  I knew the 3B line would be our best bet to make it happen.
As the Blue Jays took the field, the scene looked a little like this: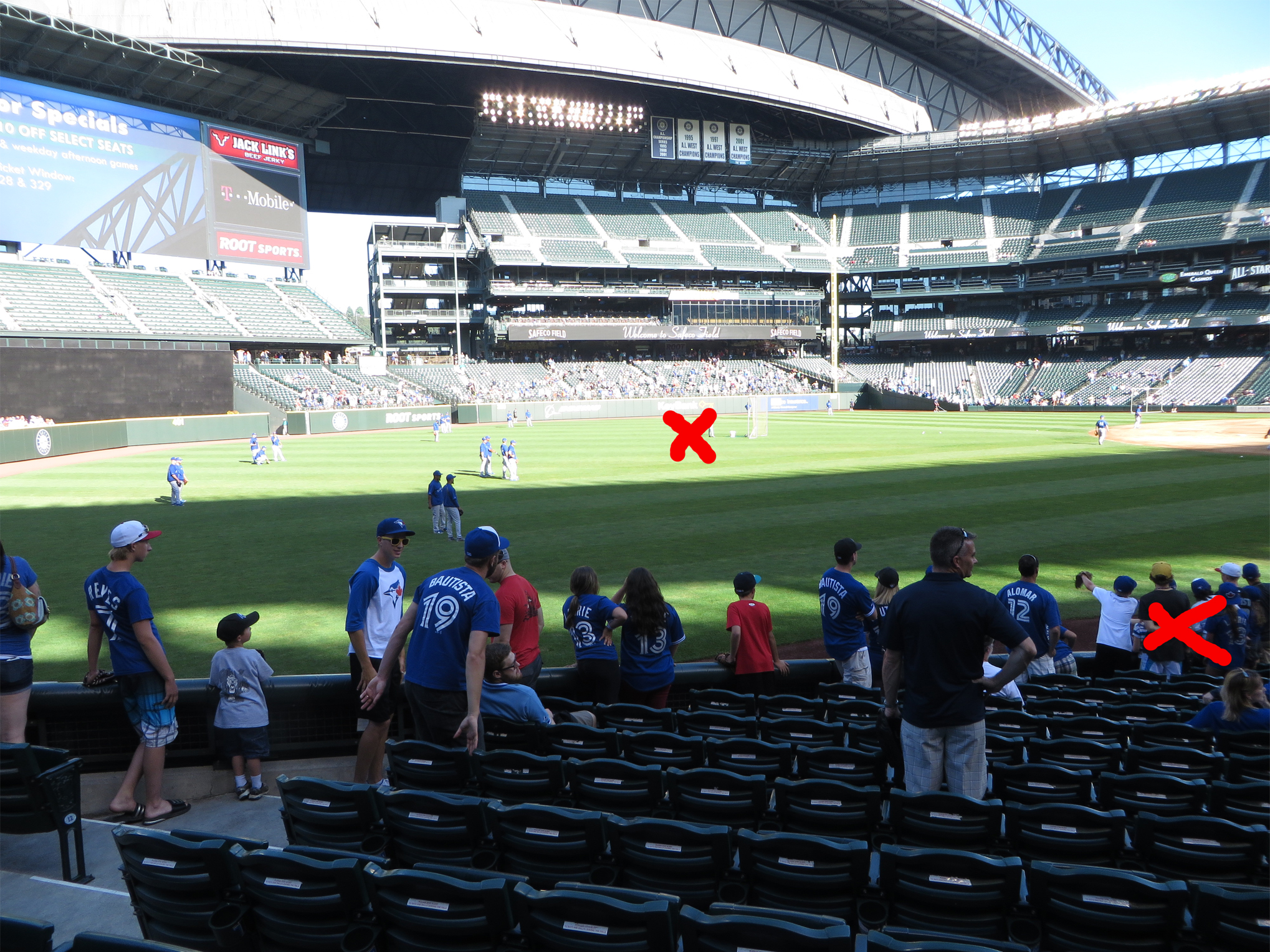 The three of us went to the lower "X" on the far right side of the photo.  Davis was playing catch with one of his teammates and he was in shallow CF throwing to his partner just behind 3B.
I made a big sign (just like I made for Tim's first batter, Frank Catalanotto) that read:
RAJAI DAVIS
AUTOGRAPH
PLEASE!!?
When I spotted Rajai out in shallow center, I yelled, "RAAAAAAJJJJJJJAAAAAAAAAIIIIIII" at the top of my lungs and held the sign high over my head.
Davis looked over and gave me a nod and a little "hold on a minute" hand gesture.
Yes!!!
I knew we were going to succeed in our two three-year old Davisquest.
After taking some fungo'd pop flies in LCF, Rajai made his way over to us (and my dad, who had joined us) took a lot of pictures: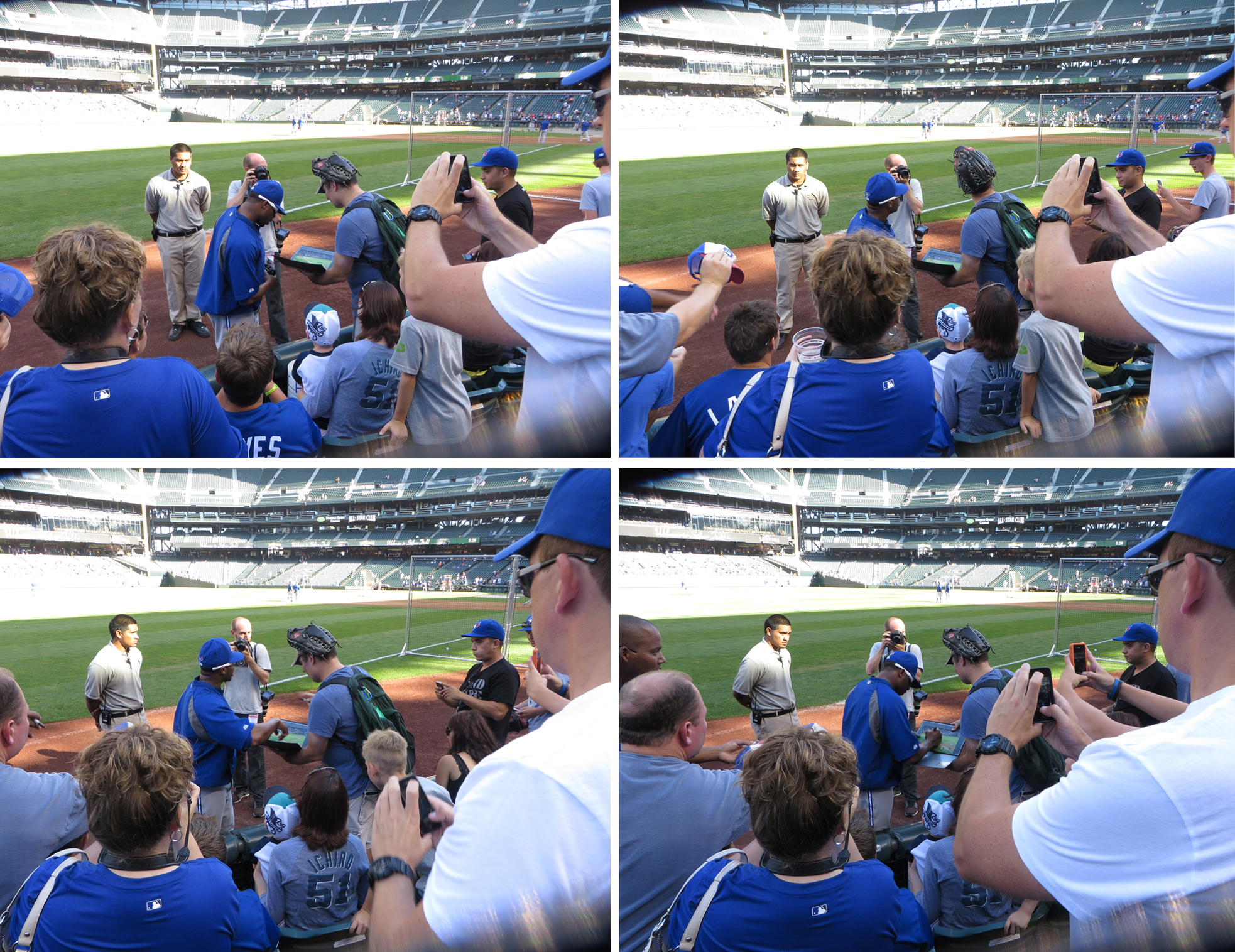 Top Left: I'm showing Rajai the photo of the first pitch of Kellan's first MLB game back on October 1, 2013.  The picture was already signed by the M's starting pitcher, Luke French.
Top Right:  While a Rueters photographer snapped away, Rajai and I look up to track a ball after hearing the crack of the bat.
Bottom Left:  Rajai points at the picture and mumbles (as if half to himself and half to me), "Ah, Oakland A's.  Luke French.  Yeah…that's a good night for Mr. Davis."  After the game, I checked the box score and found that Mr. Davis went 2-3 with an RBI and 2 walks on the night. Nearly everything went wrong that night.  The M's lost 9-0.  Thankfully, the one thing that went right was that Rajai was retired on the second pitch of the game.  So Kellan started his MLB career with the Mariners throwing "strike 1, out 1" on his first two pitches.
Bottom Right:  Rajai signs the photo for Kellan.
After signing the photo, Rajai was super cool (and patient) and hung out long enough for my dad to snap a few more photos of us (in which, for some reason, Colleen tried to lean back out of the photo instead of joining us – silly girl):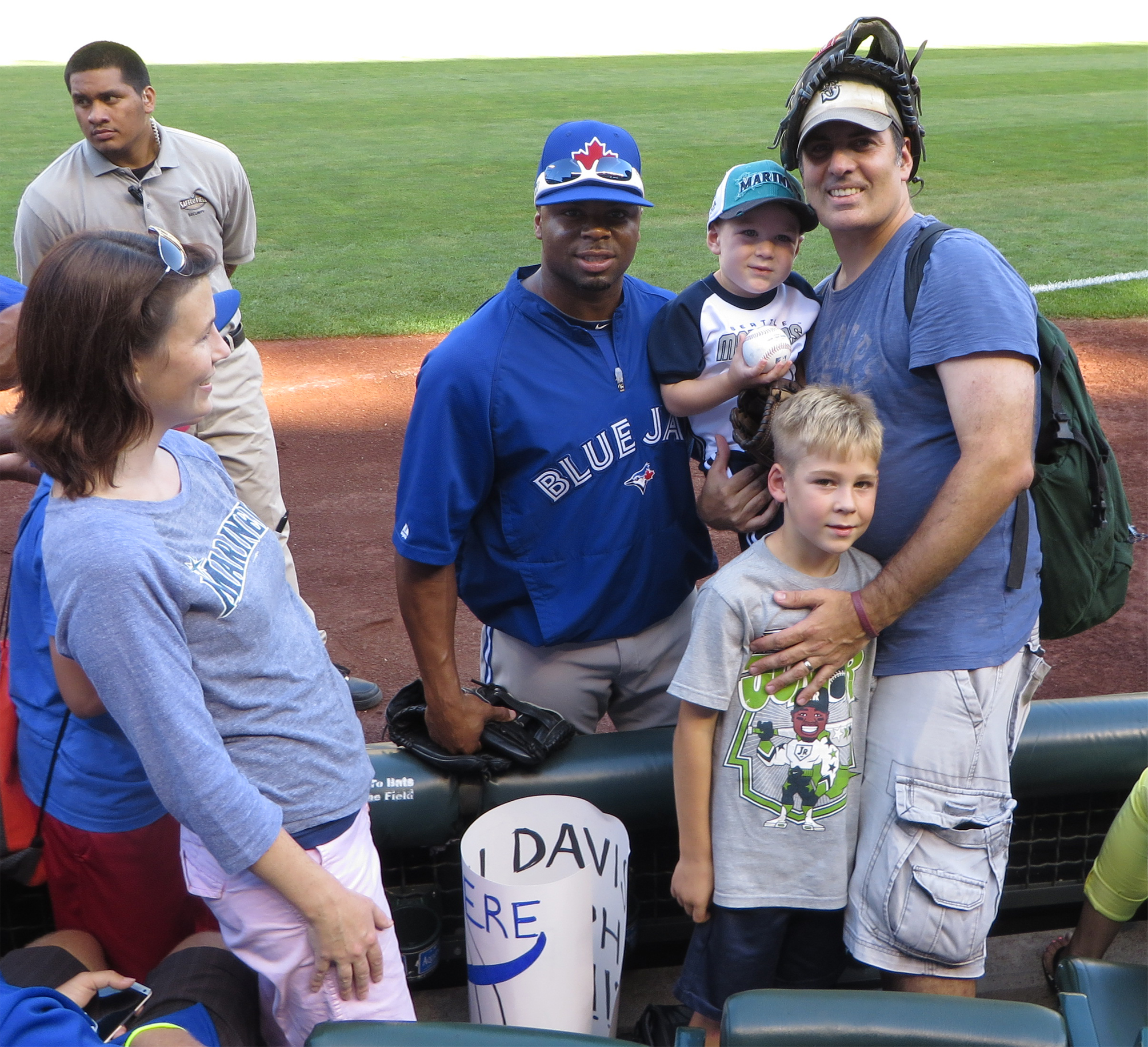 Here's a close up of Rajai and Kellan (and me since I was holding Kellan):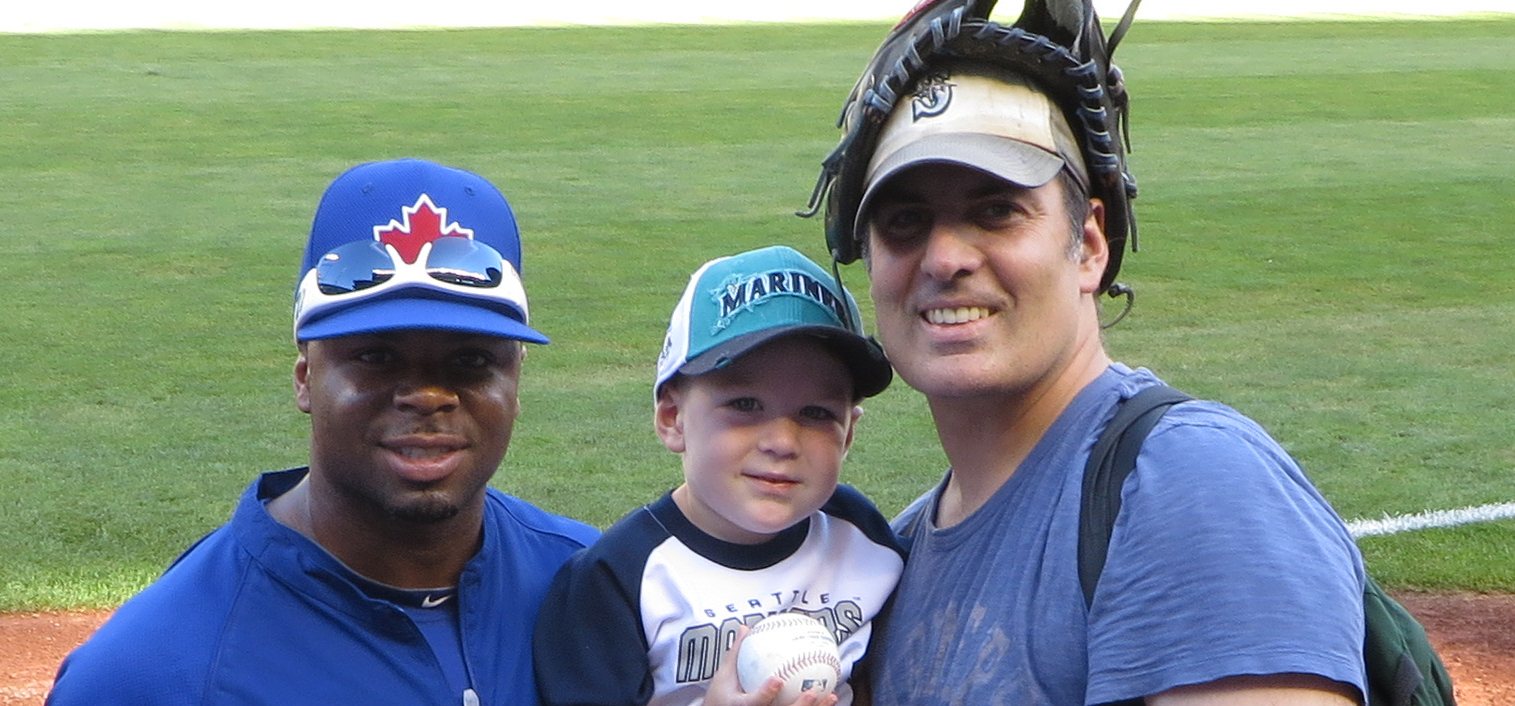 And here's a photo I found after the game by search google for "Rueters Rajai Davis":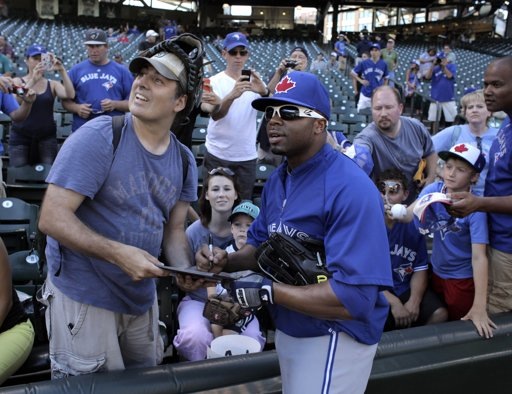 That photo was posted on several sports websites around the world…I'm not sure why, but I won't argue about it.
Finally, check this out:

How many people have a picture of the first pitch of their first MLB game signed by both the pitcher and batter AND photos with both of the players??  Not many, I am sure.  In fact, Kellan is the only one I know (we are still trying to track down Tim's first pitcher, Gil Meche).
After our Rajai Davis experience, we headed further down the LF line for a while:

There were so many Blue Jays fans down from Canada that we stood no chance at getting any toss-ups.
Late in BP, Colleen and my dad stayed with the boys in the shady foul territory and I headed out to RF to try my luck at catching a BP homer.  It was really sunny out there…

…and I came nowhere near catching any homers.
Check out my dad, Colleen and the boys (you can only see Tim in this photo) hanging out in LF foul territory…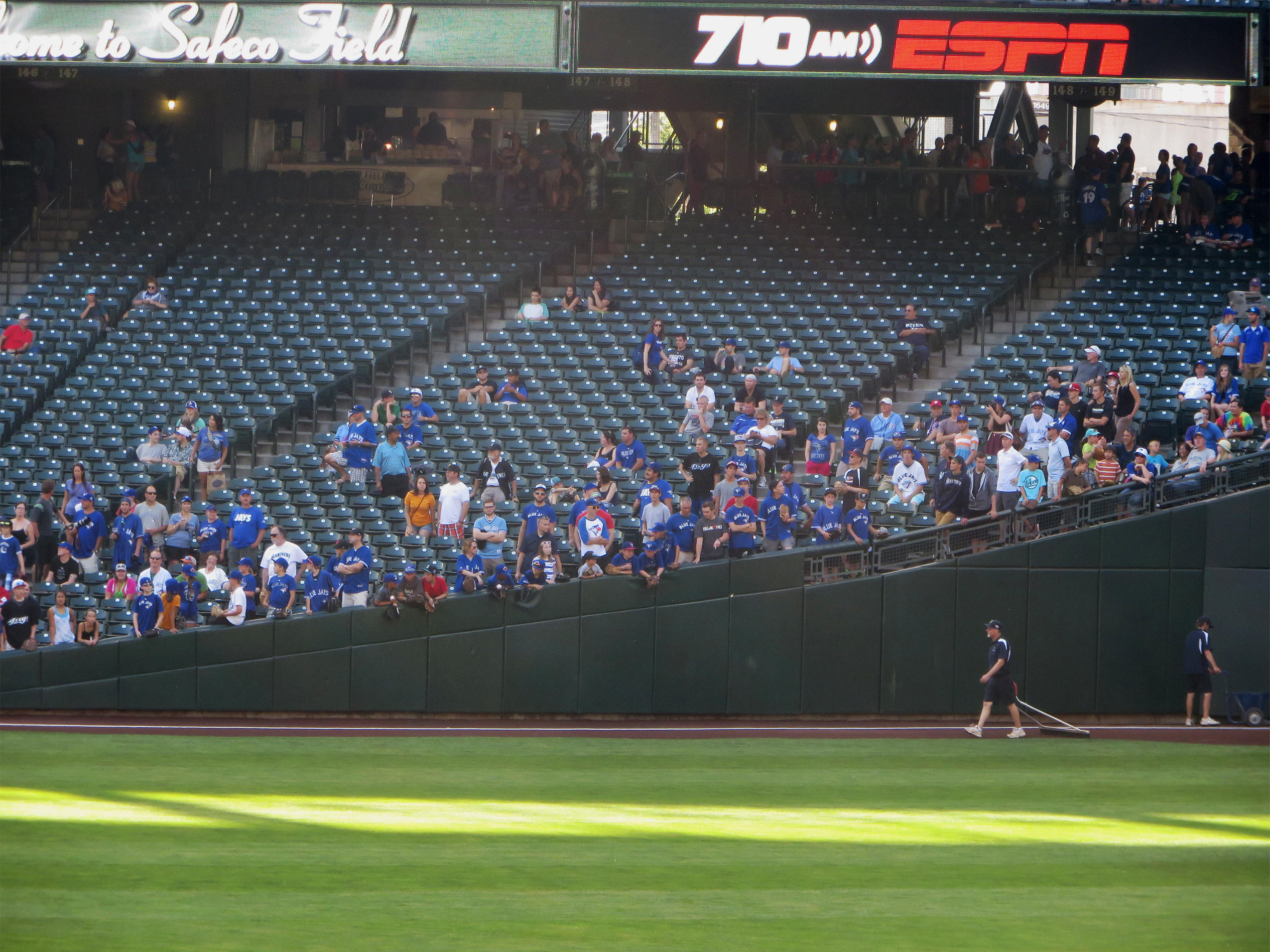 …behind a line of Blue Jays fans.  I'm pretty sure that there are more Blue Jays fans at BP at Safeco Field when the Blue Jays visit Seattle than there are at any Blue Jays home game.
On my way back over to foul territory, I stopped by the Mariners bullpen to check out the new setup…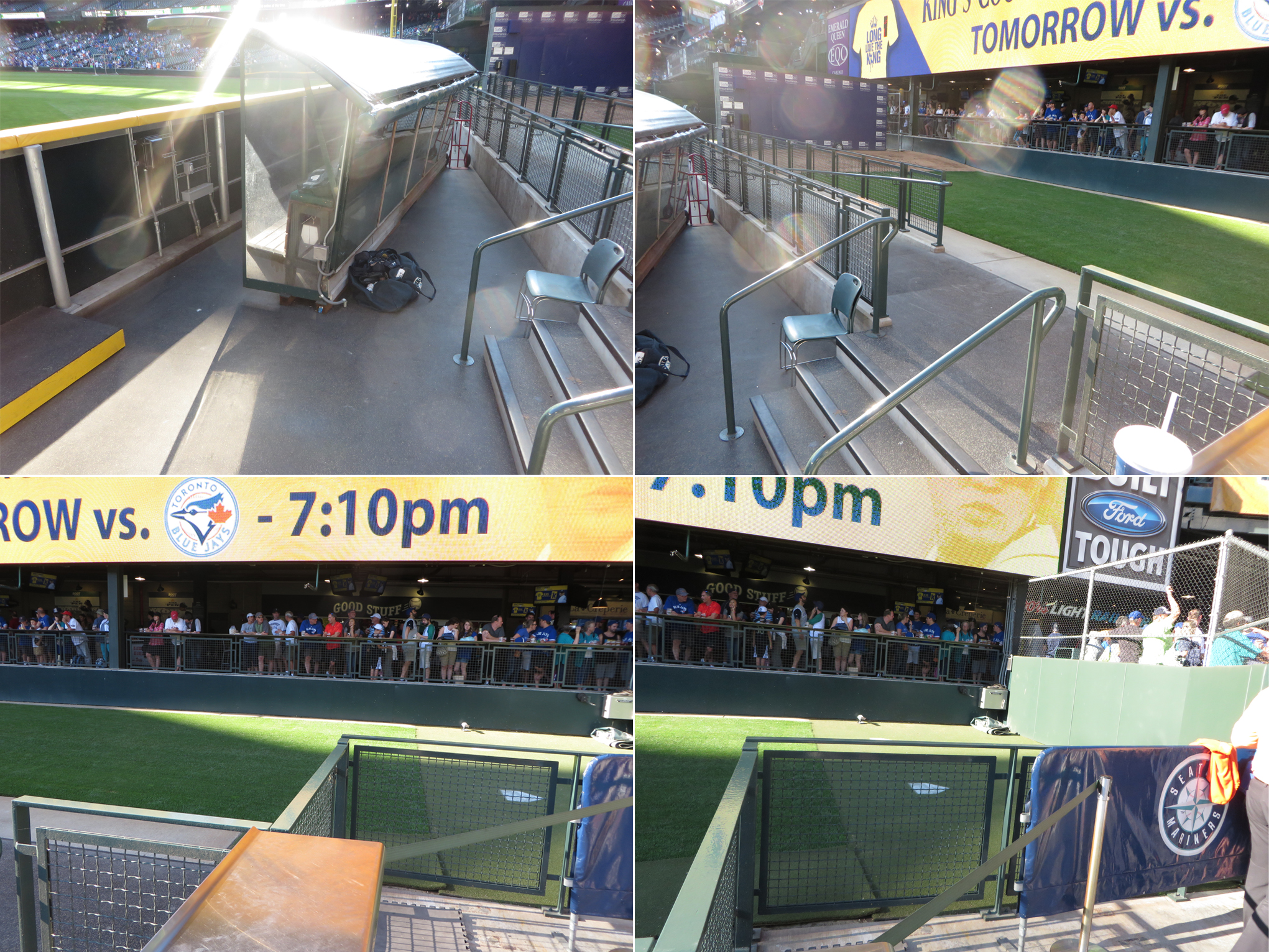 …, which is the result of the M's bringing the fences in for the 2013 season.  Last season, there was a tall chain link fence between the bullpen and the fans.  Now, it is just a low railings.  Much more access and less interference between fans and players.  I like it.
Here are a few views of the newly reconfigured LF area: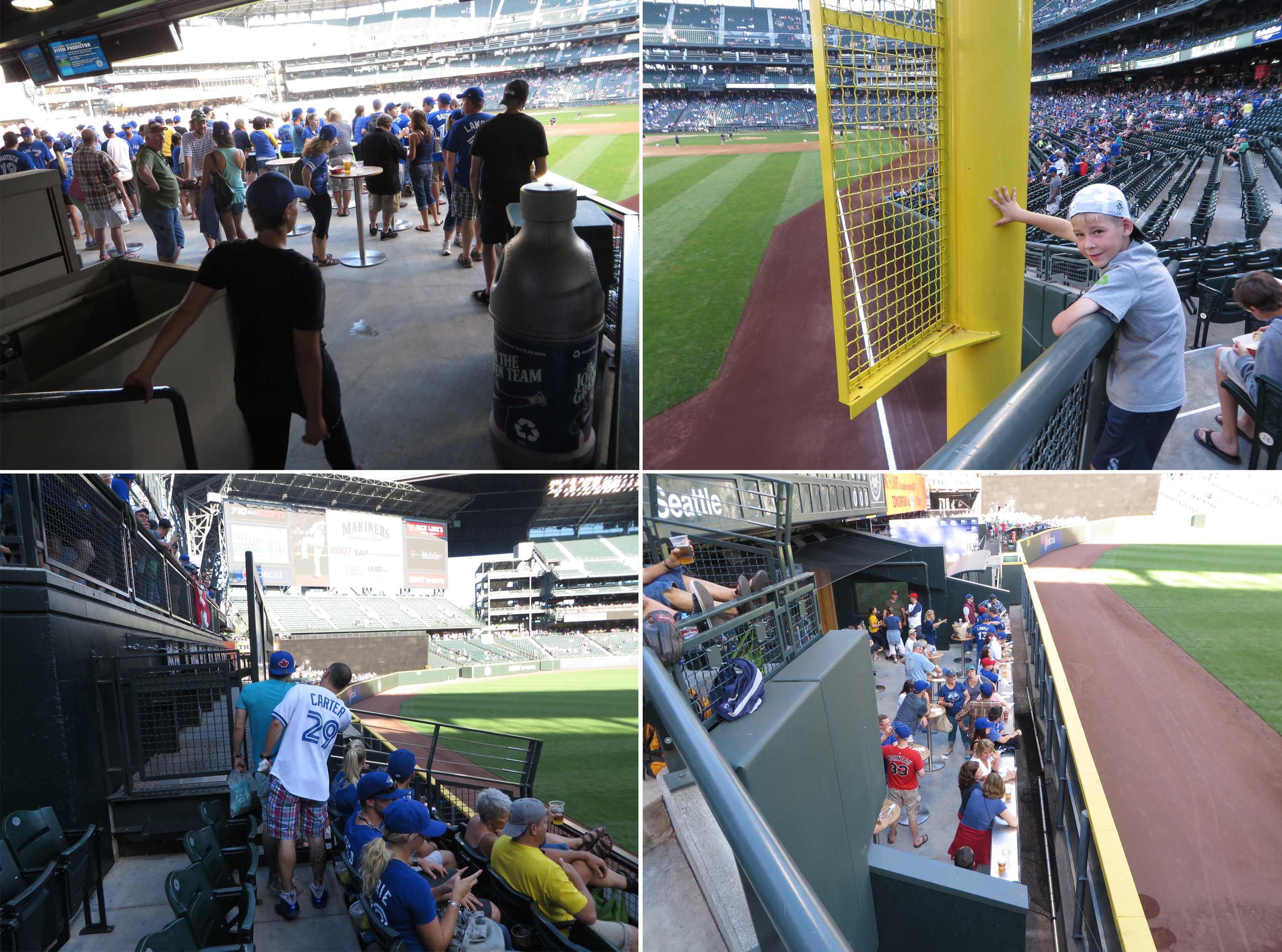 Lower Right:  Edgar's Cantina from the seats next to the LF foul pole.
Lower Left: The hand operated scoreboard is now above Edgar's and set back 10-15 feet from the field – it used to be right above the OF wall.
Upper Right:  Tim touching the LF foul pole.
Upper Left:  The new standing room area above Edgar's Cantina.  This area replaces two sections of seating that used to be in LF.
Next, we headed off to the Kids' Play Area for a bit: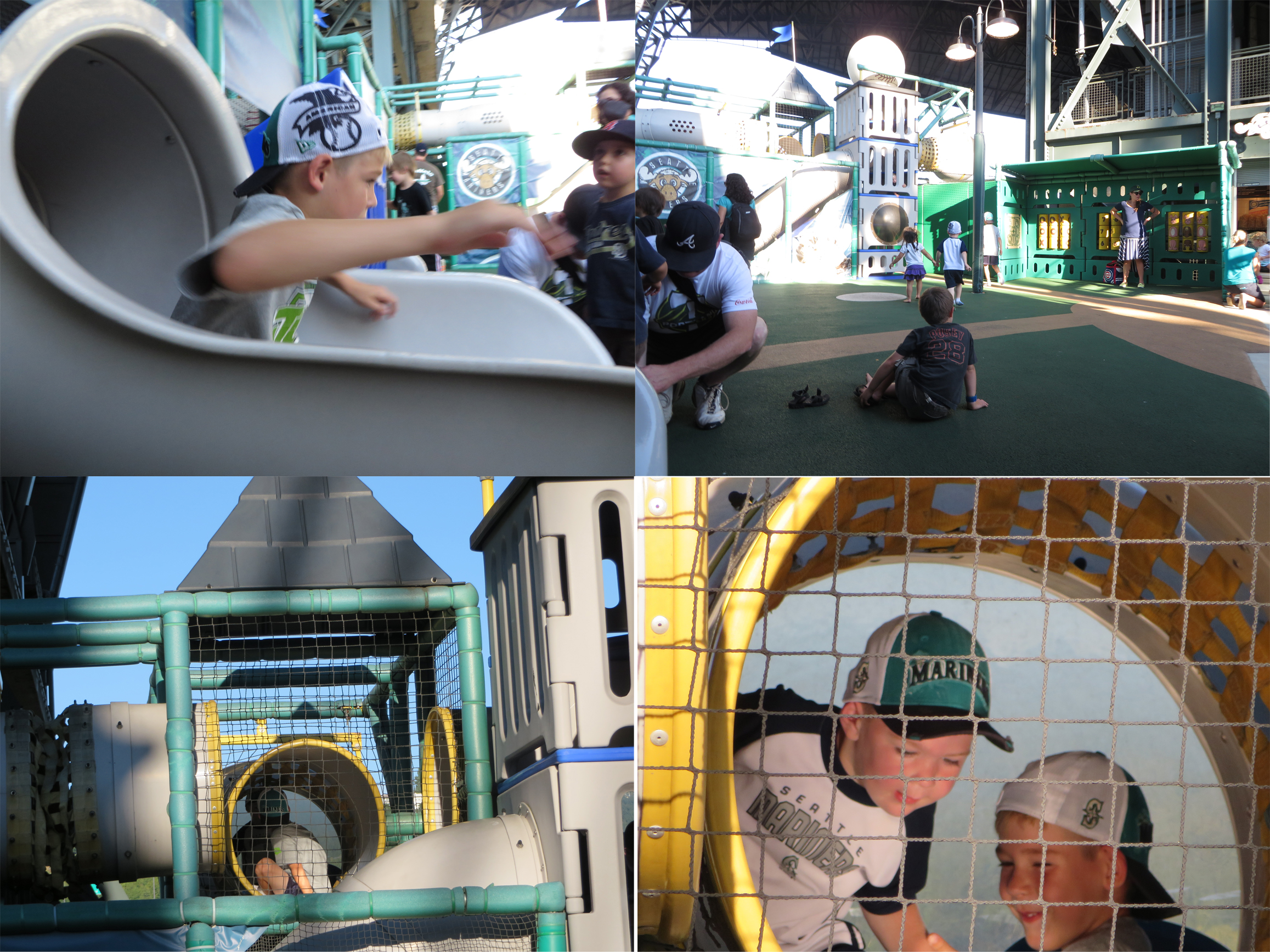 Last season, we concluded that Tim wouldn't be able to go in the play area this season.  This season, he was a smidge taller than the height limit, but they still let him in with Kellan – and he still had lots of fun.
While we watched the kids play, my dad posed for a picture with the Rajai Davis sign and…

…then I drew a "Hit It Here" sign on the back of the Rajai sign.
Before the game started, we headed back to the bullpen to watch Hisashi Iwakuma warm up for the game: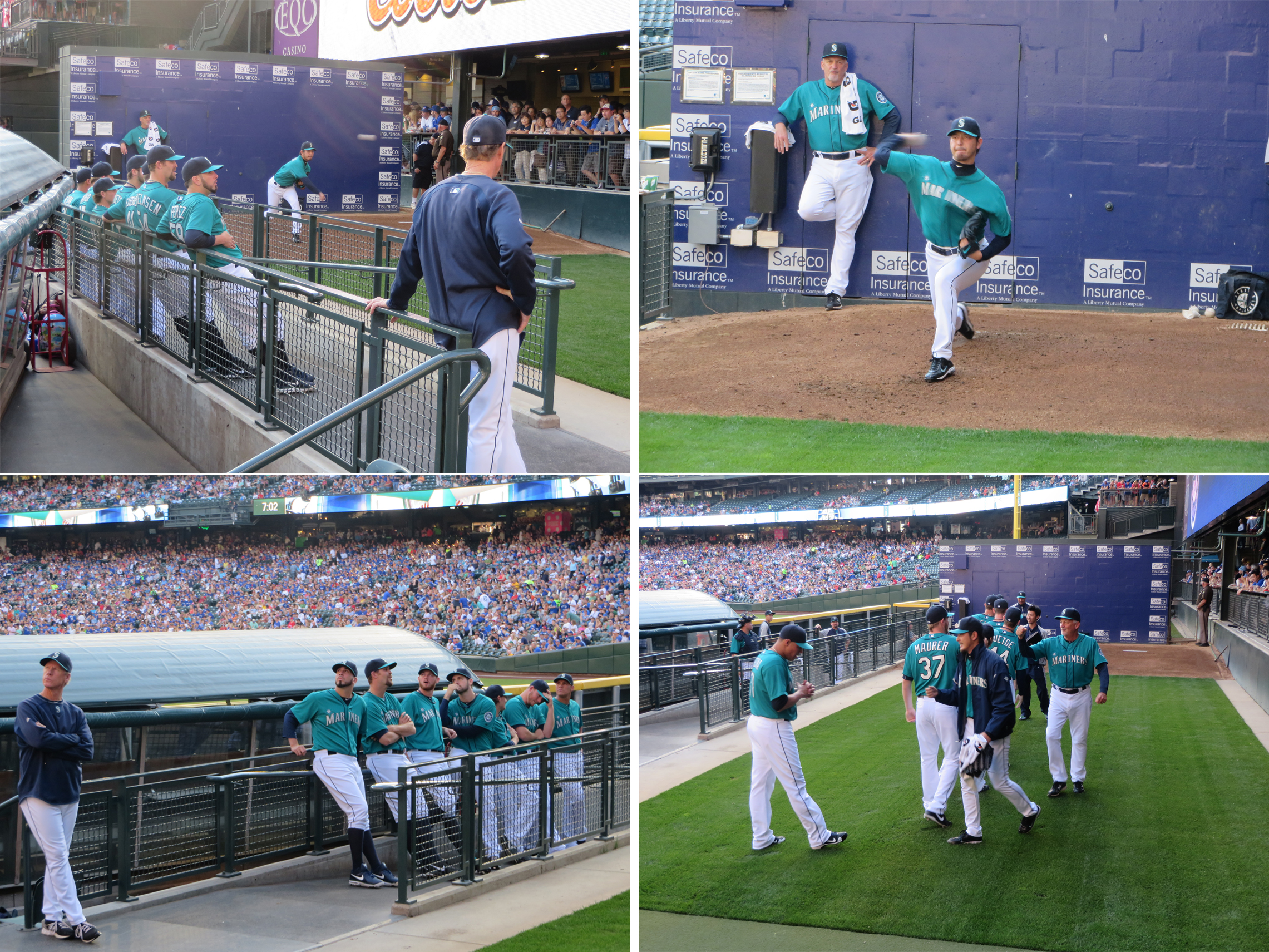 And then Tim acted like he was throwing this Pepsi sign on our way to our seats: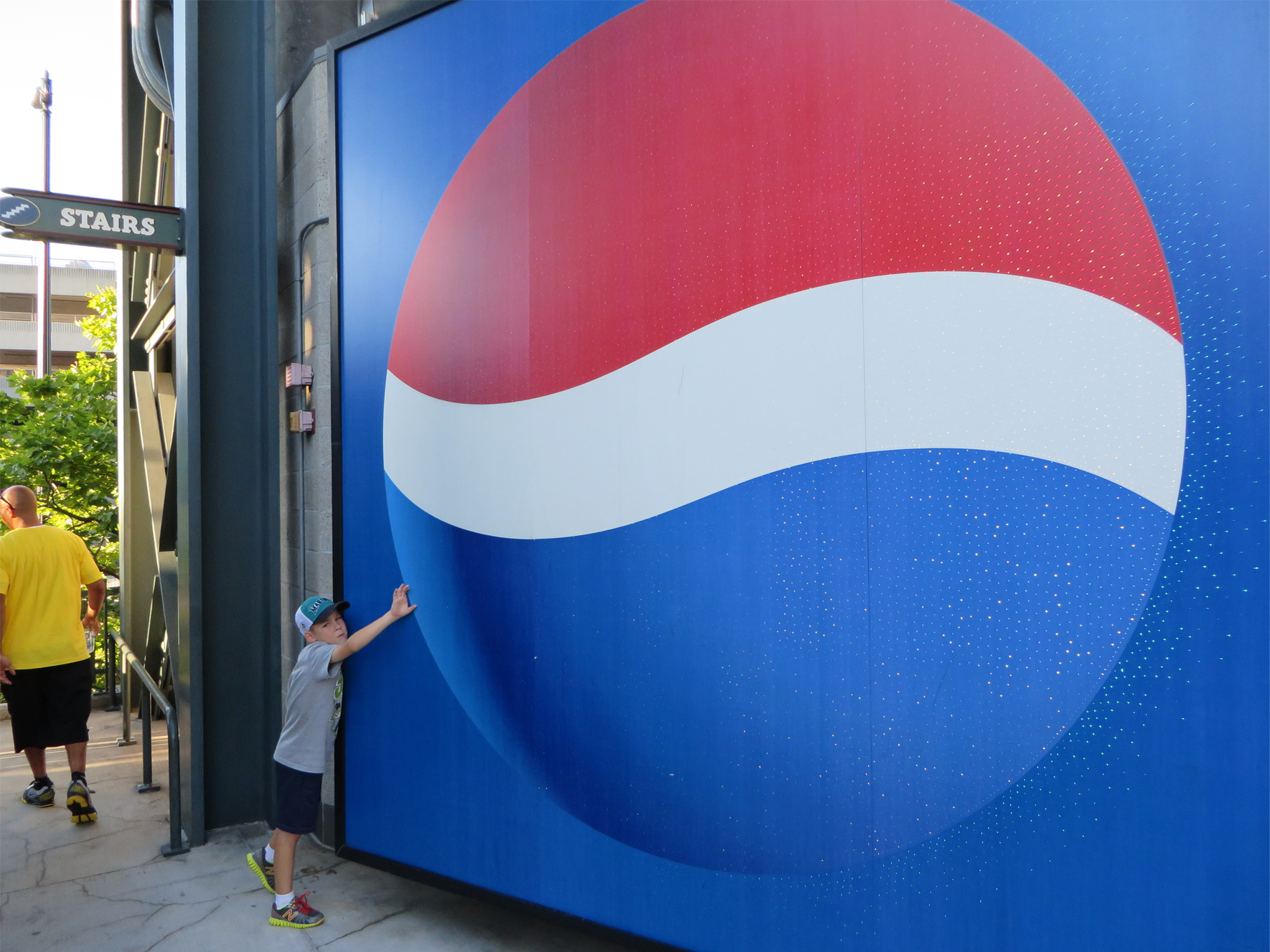 We made it to our seats in CF in time for Kuma's first pitch to Jose Reyes: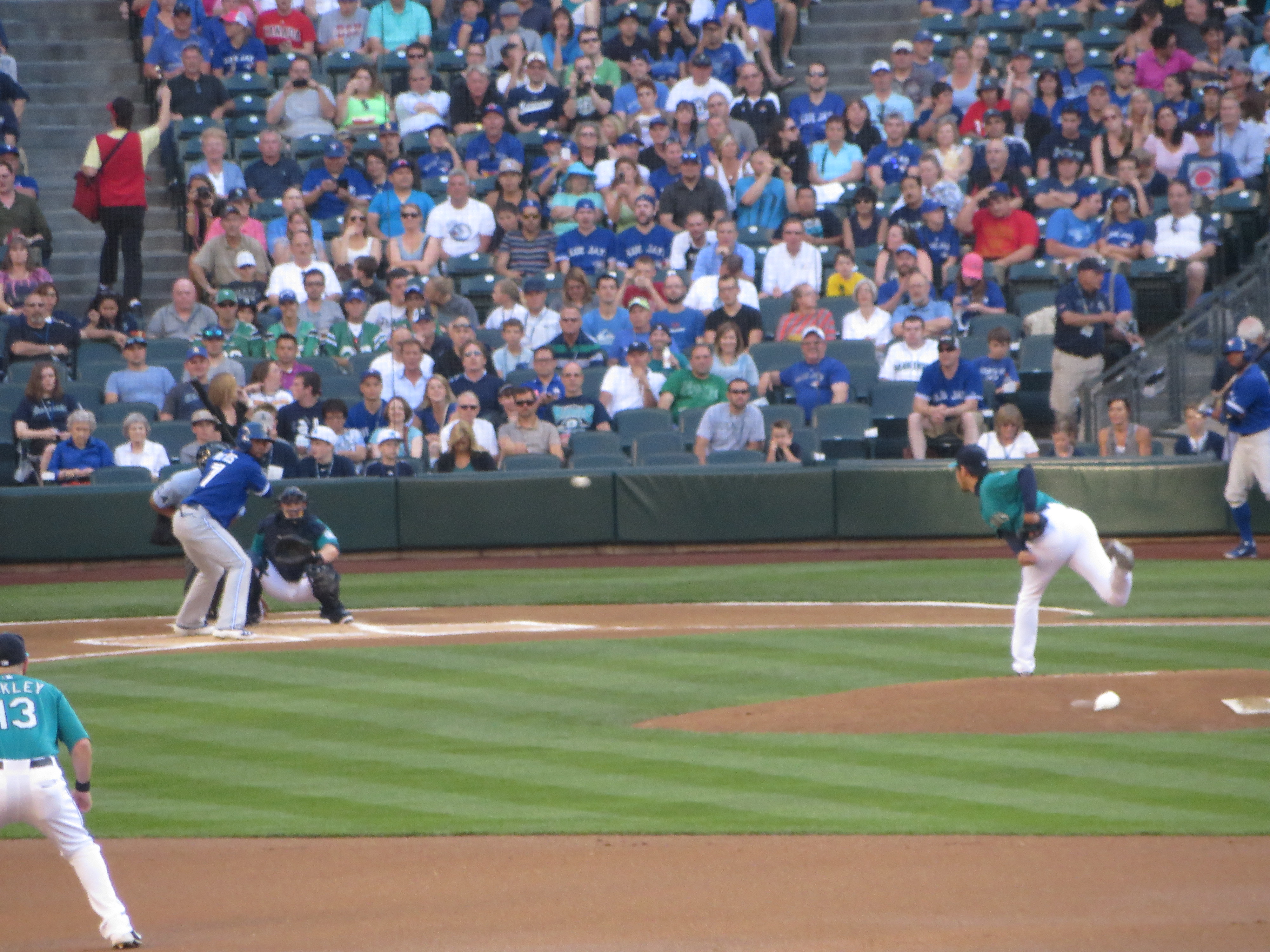 And that's when I noticed that one of the Blue Jays' BP homers had busted the out-of-town scoreboard above the bullpens: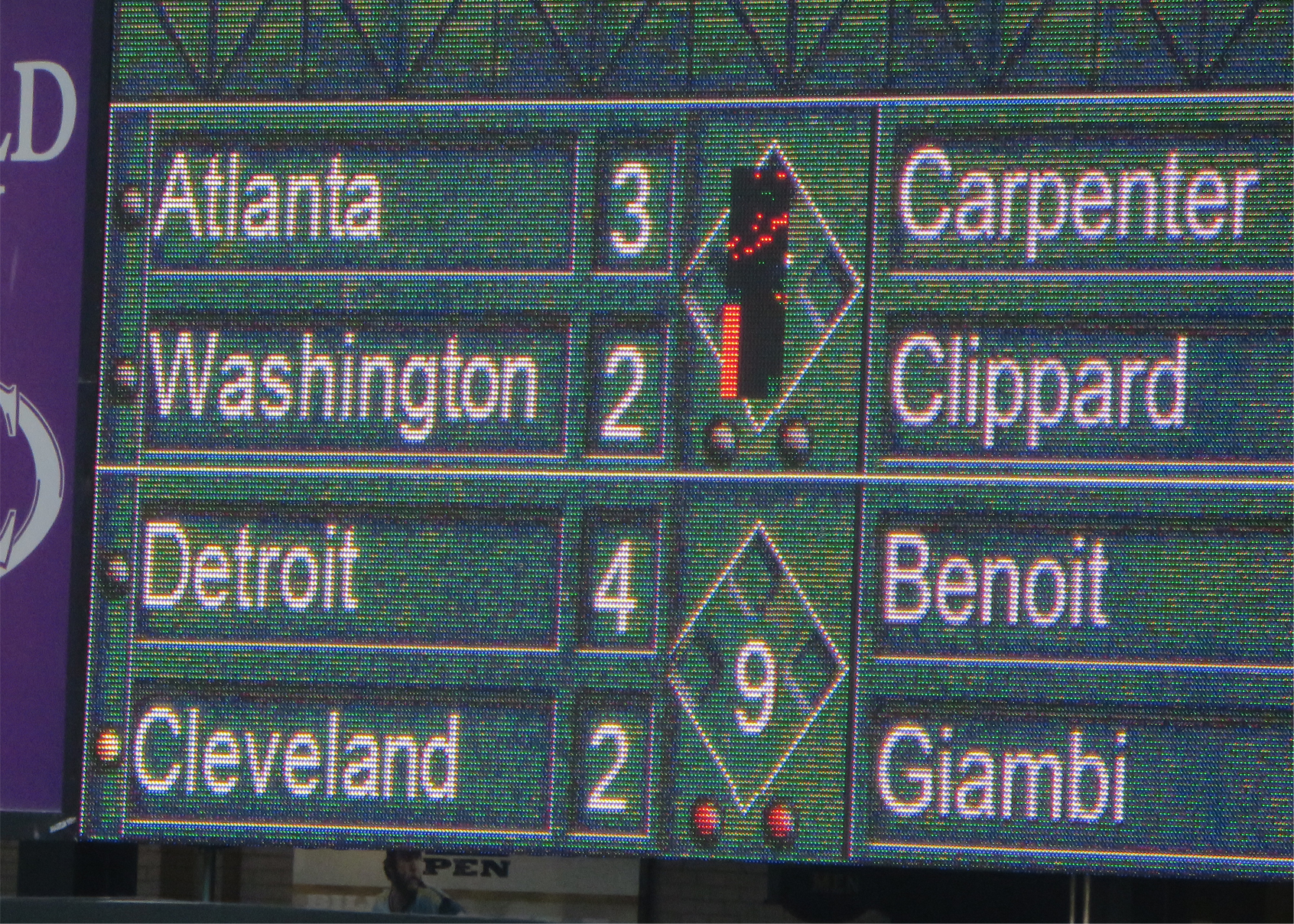 It was like this the entire game, but was fixed by the next day.
For most of the game, my dad and Tim sat next to each other…

…and Colleen, Kellan and I sat right in front of them, with me on the aisle seat.
The game was a pitchers' dual with R.A. Dickey…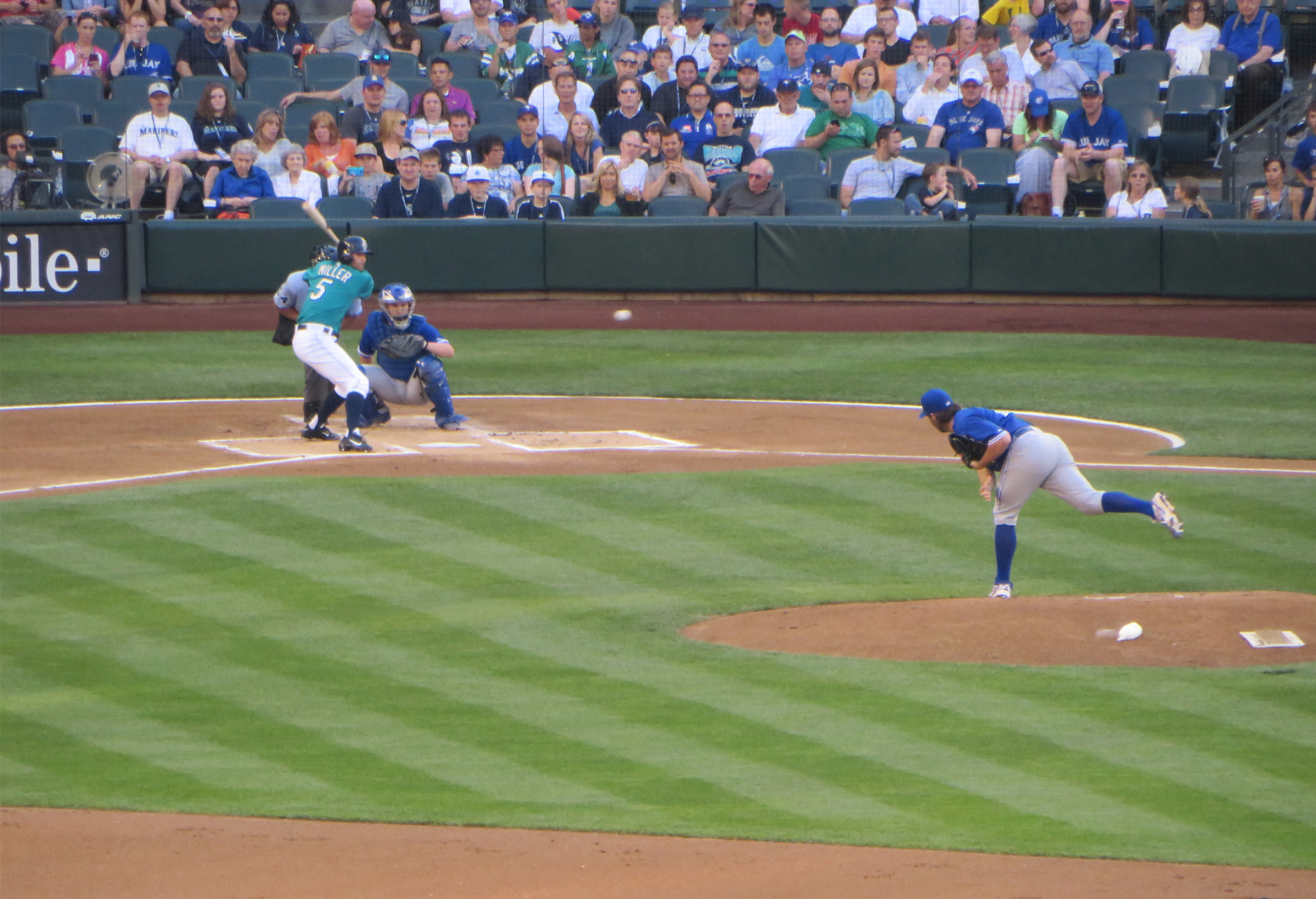 …going pitch-for-pitch with Kuma.
In the bottom of the second inning, Justin Smoak hit an infield Popfly that just missed hitting the international space station…

…and it almost went for a base hit, but for the last minute diving catch by Jays third baseman, Brett Lawrie.
In the second inning, Kellan and I set out on foot for a little adventure.  First, we headed out to the SRO area in CF by the Mariners bullpen: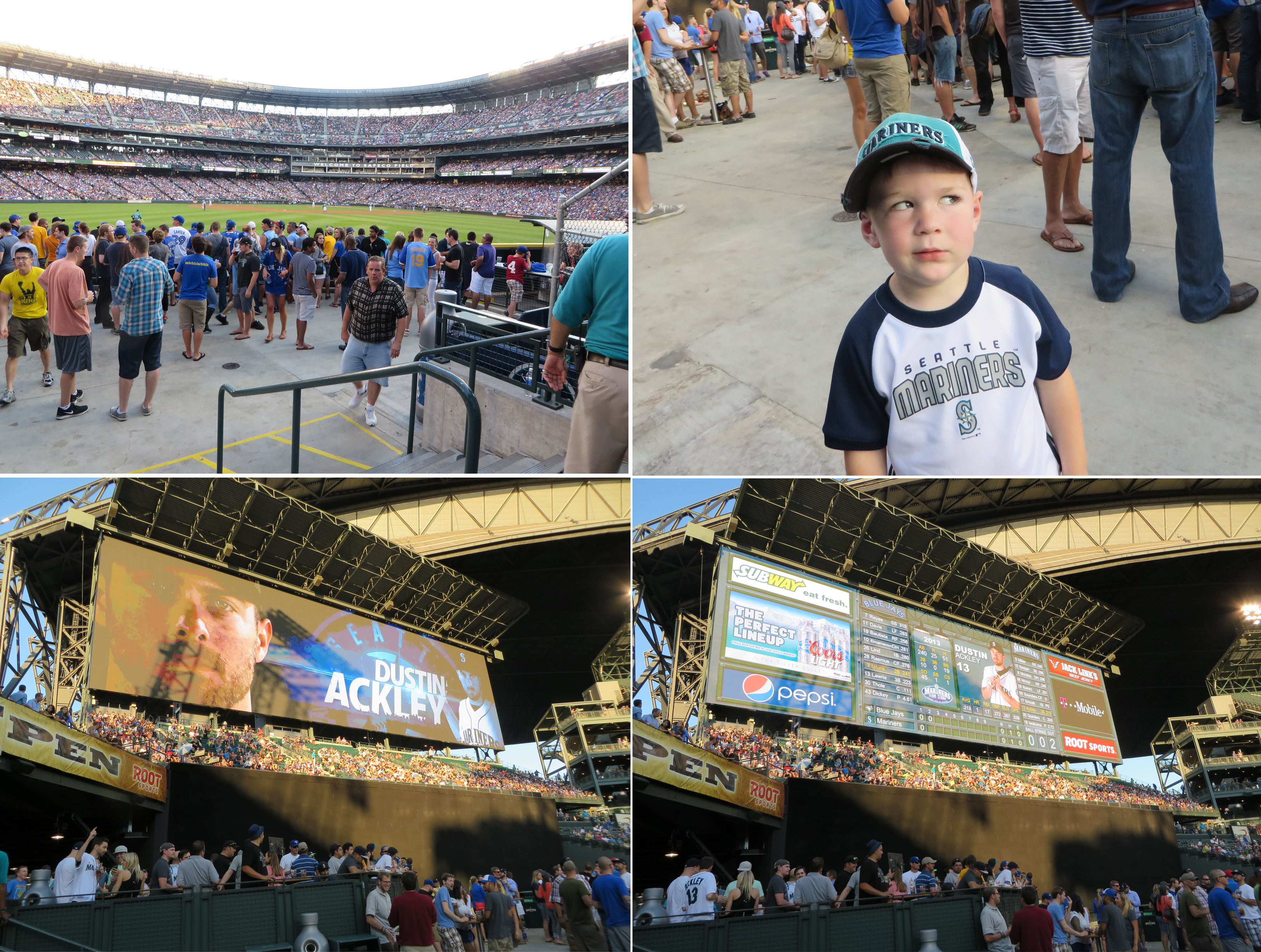 Check out the shadows on "MarinersVision" in those bottom two picts.  The sun was streaming into the ballpark from low on the horizon across Puget Sound resulting in a shadow of the lighting fixture clock in LF being cast against the screen.
Next, we headed to the SRO bar area Edgar's Cantina: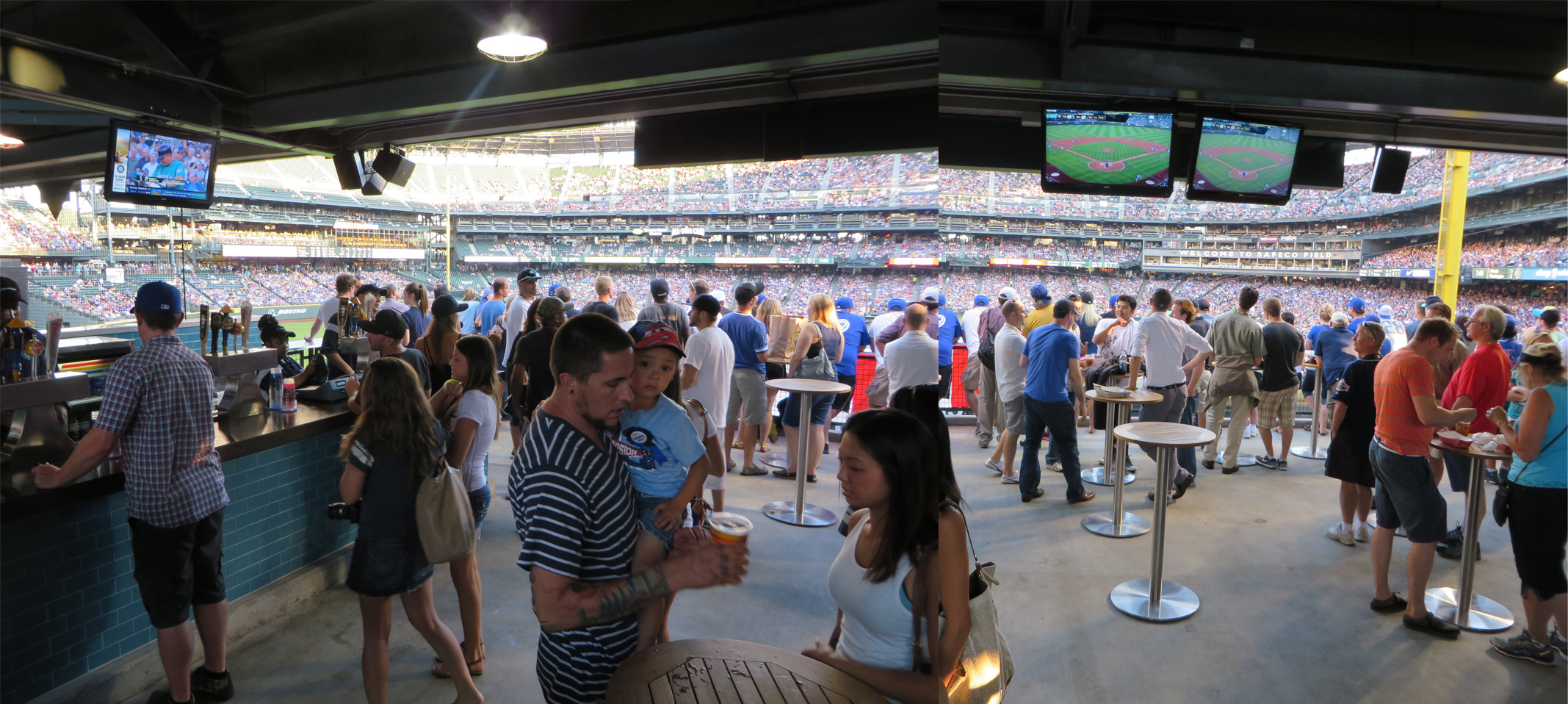 I guess, in theory, this is somewhat like the Flag Court in Baltimore or the LF corner in Cleveland, but it is much smaller and is partially covered with an overhang.  Not bad though.
Next up, we headed over to the Mariners team store, where Kellan wanted me to buy him a stuffed Mariners Moose thingy (which I meant to buy later in the week, but forgot to do)…

…and then we headed back to our seats.  By this point, it was the fourth inning and I had to shake my head at the fact that people were still arriving for the game!
In the bottom of the fifth, it looked like the M's were getting something going.  Dustin Ackley led off the inning with a single.  After Humberto Quintero flew out, Brad Miller slapped a single…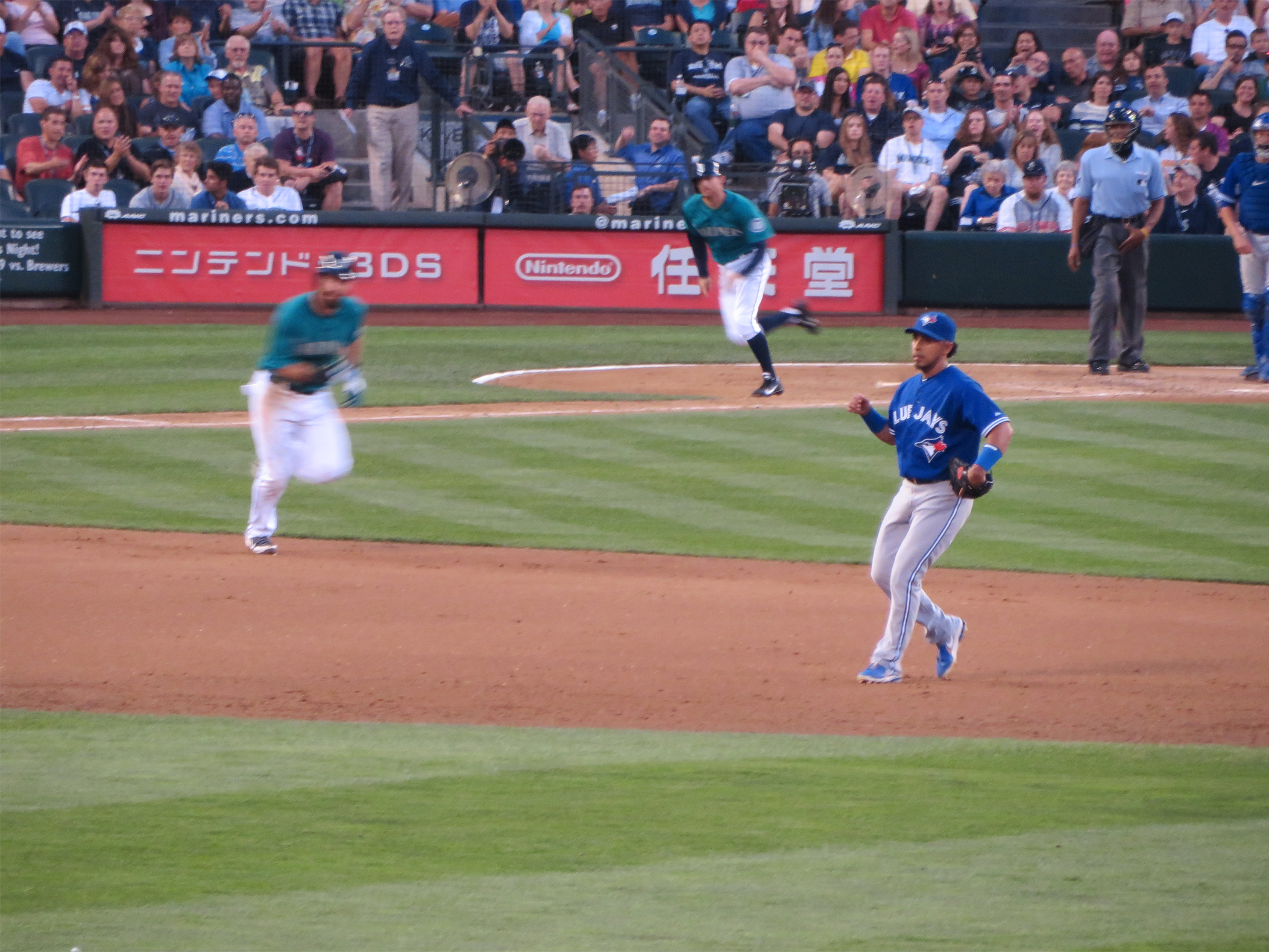 …of his own.  But that's all the M's could muster in the inning.  Two more quick pop outs followed and the game went into the sixth inning with a scoreless tie.
Here are some random, mid-game cute pictures of Colleen and Kellan:

We held the "Hit It Here" sign a bunch when the M's were batting.  But no one ever hit us with a homerun.
I had forgotten about this, but Mariners home games against the Blue Jays are usually annoyingly crowded.  I'm all for tons of fans showing up at Safeco Field.  But I'm not for tons of visiting fans showing up.  I don't particularly enjoy hearing the crowd at Safeco Field cheer AGAINST the Mariners.  I get enough of that phenomenon when we see the M's play road games.  When I Seattle, I like the crowd to go crazy IN SUPPORT of my boys in blue.  This was the wrong series to attend from that perspective.
Anyway, due to the large'ish crowd (at least large'ish for a Mariners Monday night game), the people running the play area handed out these cards…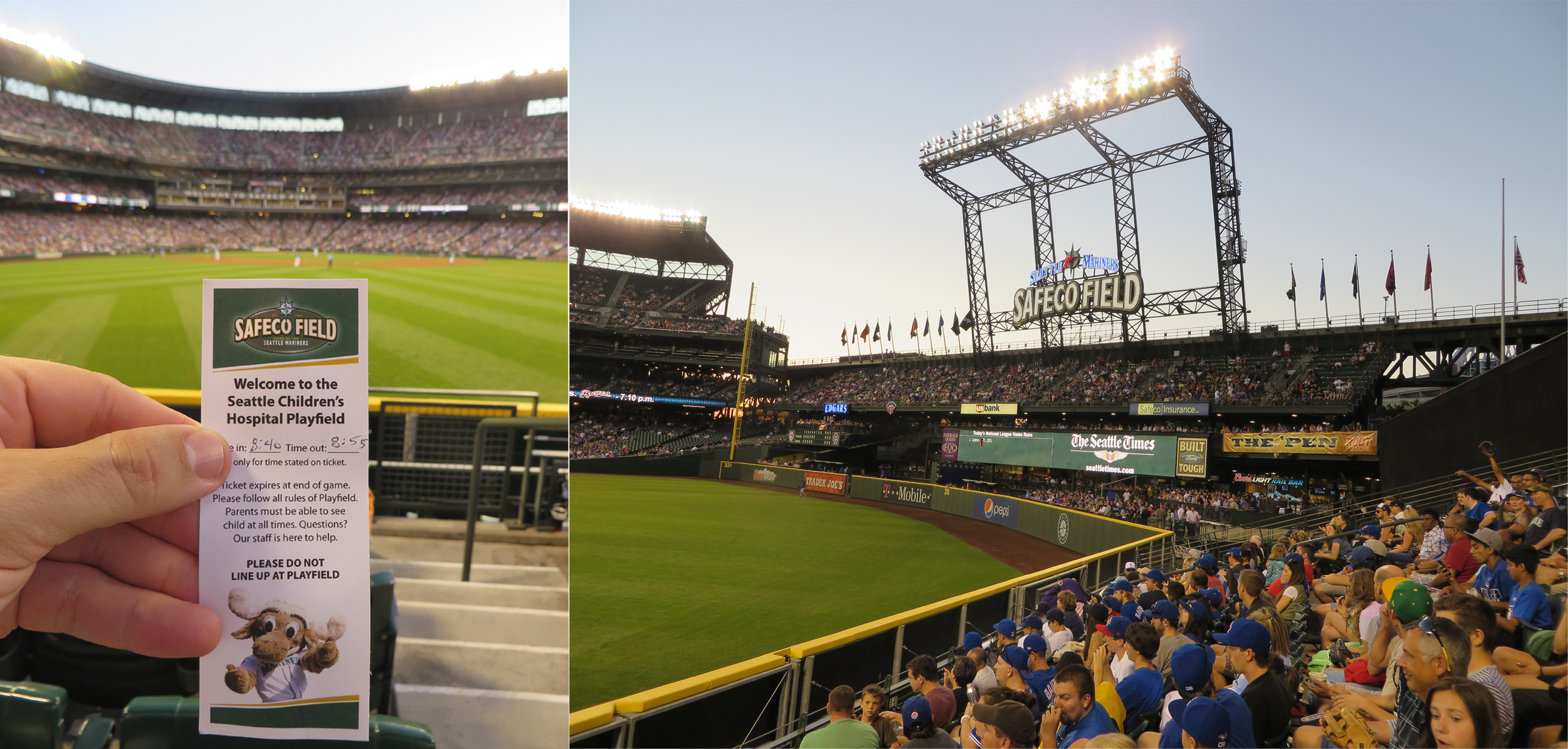 …at the beginning of the game.  They ran 15 minute shifts throughout the night and Tim and Kellan (accompanied by Colleen) had their chance to play a bit more from 8:40 to 8:55 p.m.
While they were away at the play area, my dad came down a row to sit next to me.  Soon, a couple of my high school friends sent me messages that looked like this: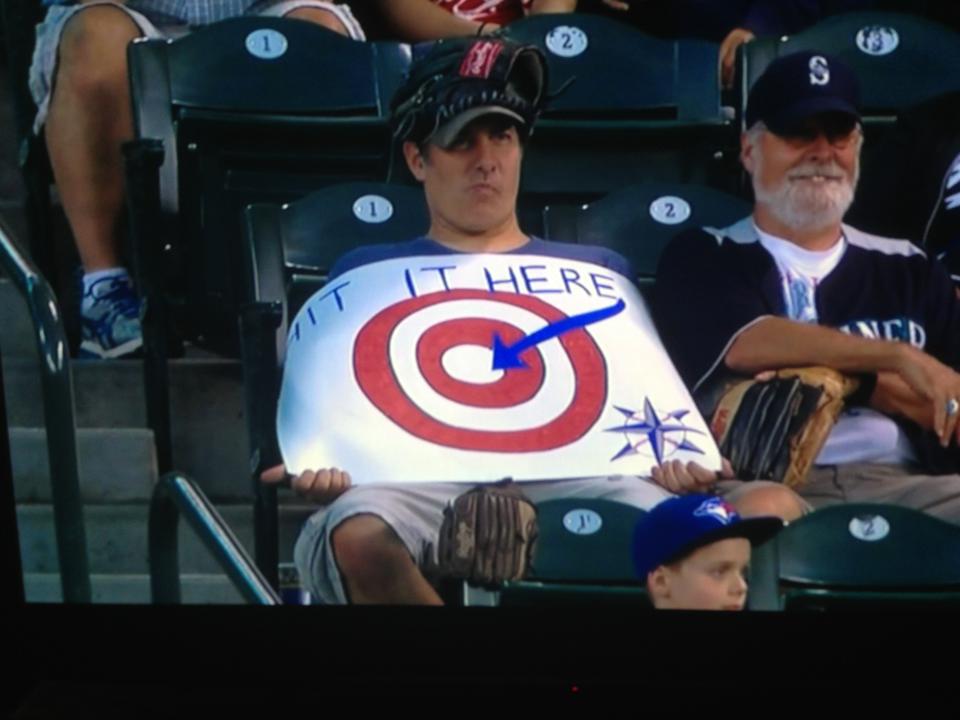 My dad and I made the Mariners broadcast with my "Hit It Here" sign.  I think that picture is pretty funny because (1) my dad is smiling like he knows we're on TV, (2) I'm doing something weird with my mouth (maybe I was eating something???), and (3) Kellan's cute little glove looks so tiny on the corner of the chair in front of me (next to my knee).  I only wish they would have put us on when Colleen and the boys were all there.  Tim would have gotten a kick out of that.  Oh, well.
In case you were wondering, he was the Mariners outfield for the game:

Michael "The Beast" Morse, Michael "The Condor" Saunders and Rauuuuuuuuuuuul Ibanez.
And, in case you were wondering again, here is the oddly cool green-based Ken Griffey, Jr. shirt that Tim wore to the game: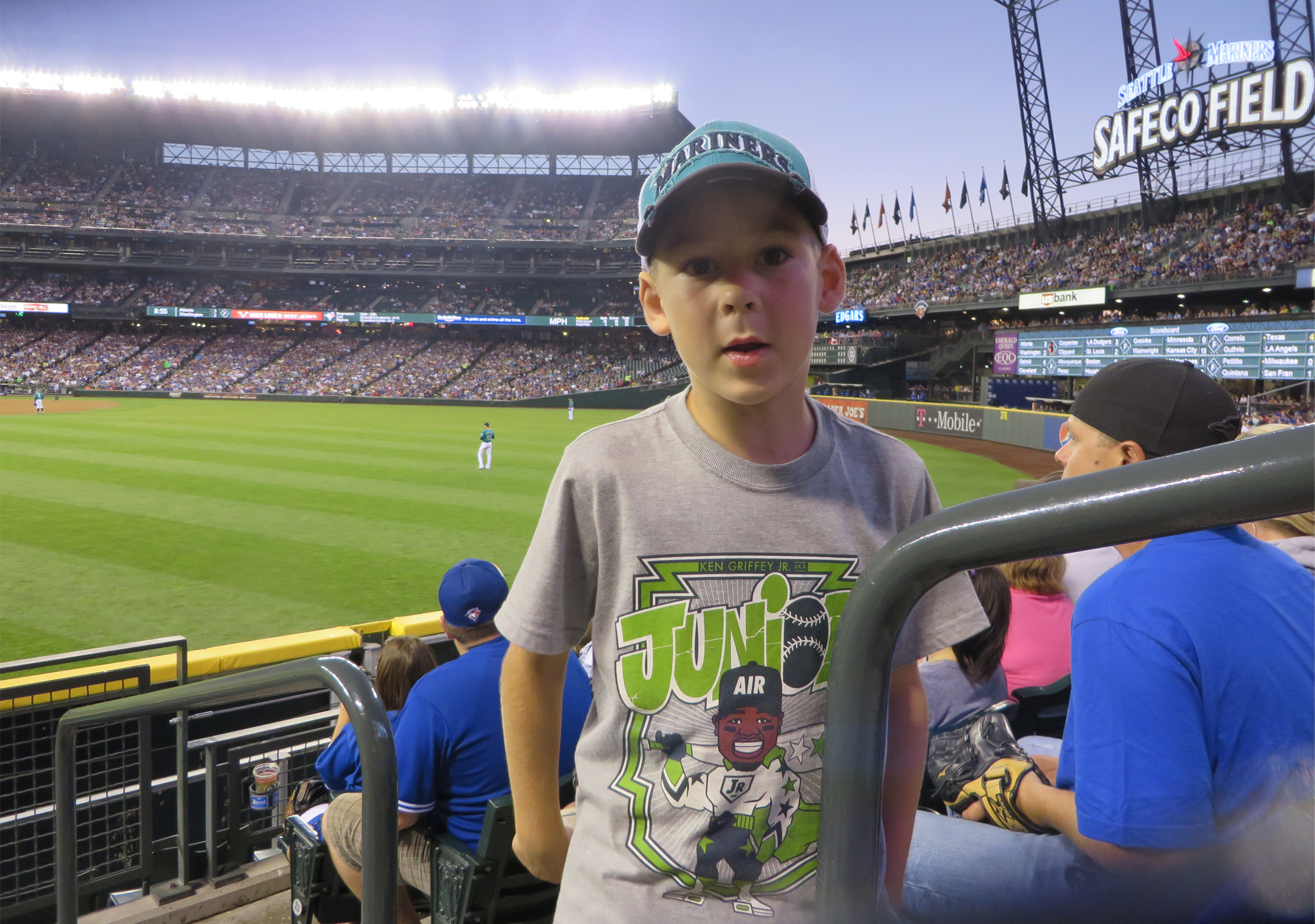 So, Justin Smoak led off the bottom of the seventh inning with a massive Smoak-bomb to deeeeeeep RF: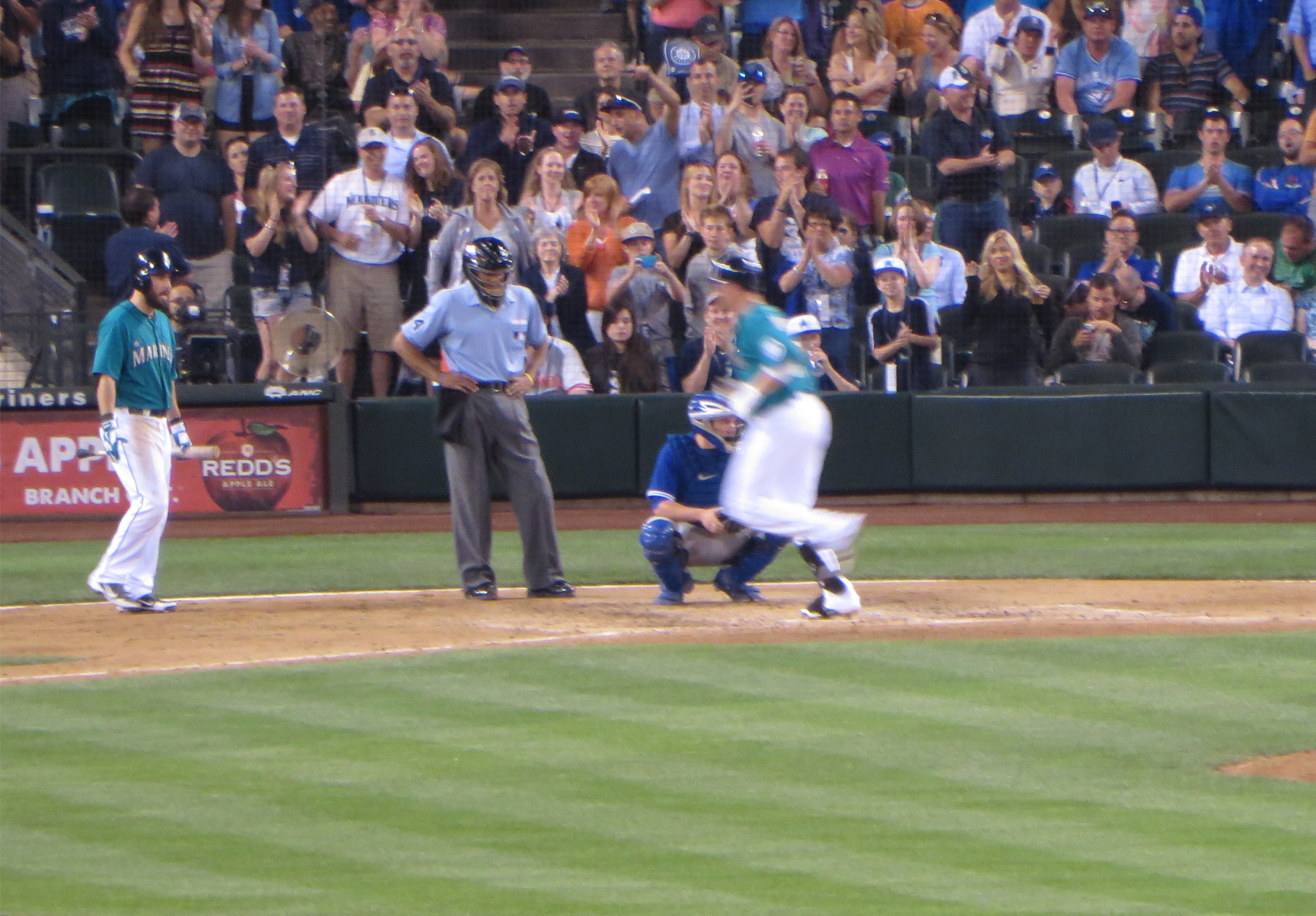 That put the M's up 1-0 with only sixth defensive outs to go and Kuma dealing a gem on the mound.  I was feeling quite positive about the prospects for an M's "W".
But it wasn't our night.  Kuma gave up a lead off triple to Brett Lawrie in the top of the eighth inning.  After retiring Josh Thole, Kuma gave up an RBI single to Jose "Jose, Jose" Reyes.  Tie ball game.
Funky Cold Yoervis Medina then came in and recorded the second out of the inning.  But then he gave up a single to Jose Bautista, a wild pitch sending Reyes to 3B, and a walk.
By this point, Tim and I were over by the Mariners bullpen…
…watching Oliver Perez warm up:

And just taking photos of the bullpen setup that was still very new to us: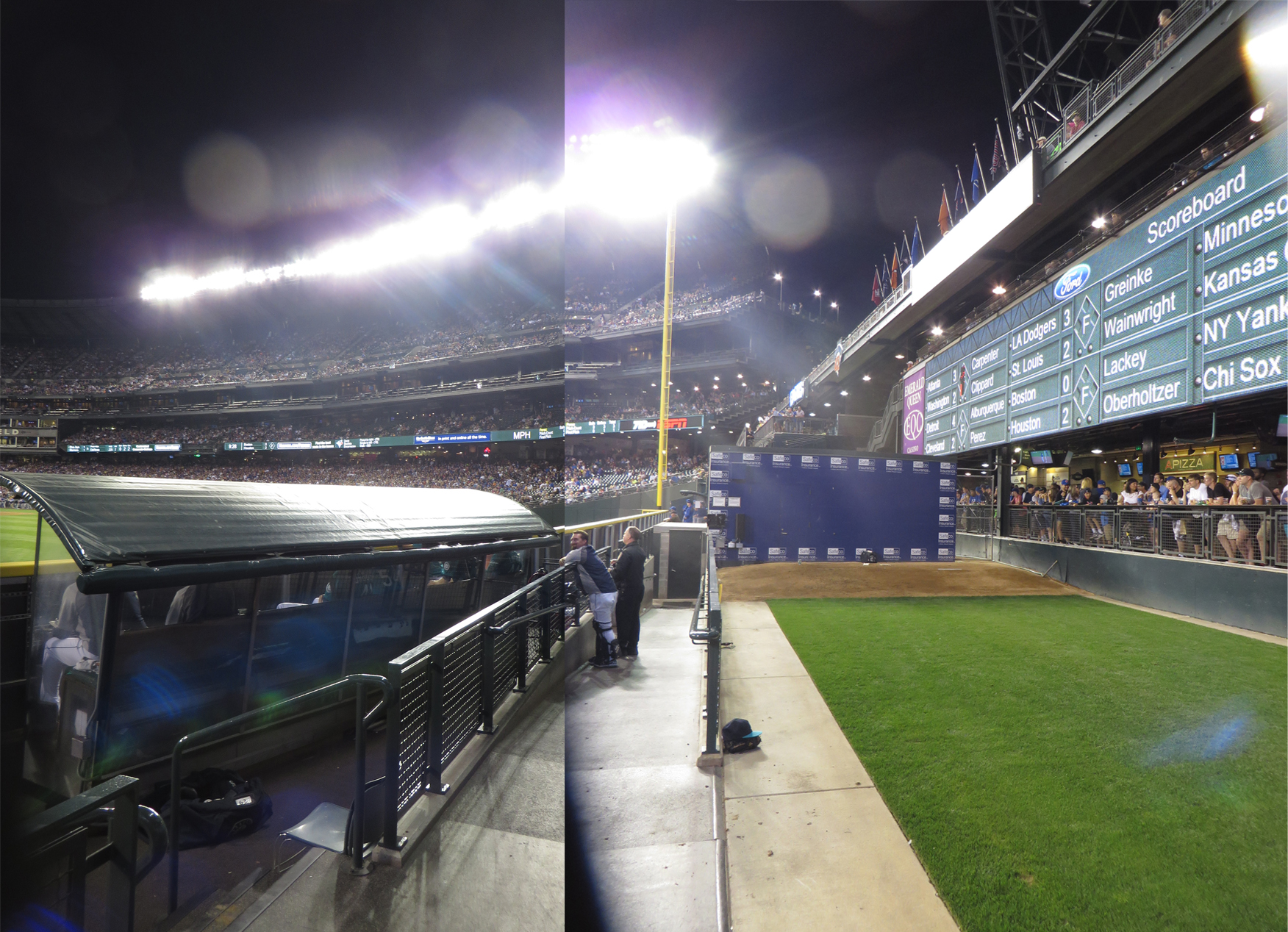 Unfortunately, Perez gave up a 2-RBI line drive single to Mark DeRosa.  That put the Jays up 3-1, and that was the final score.
On our way back to our seats we were hopeful for a Mariners comeback (that was not in the cards).  We stopped along the way at what I think is one of the most unique spots in any MLB stadium – The Pen's lounge area with open flames: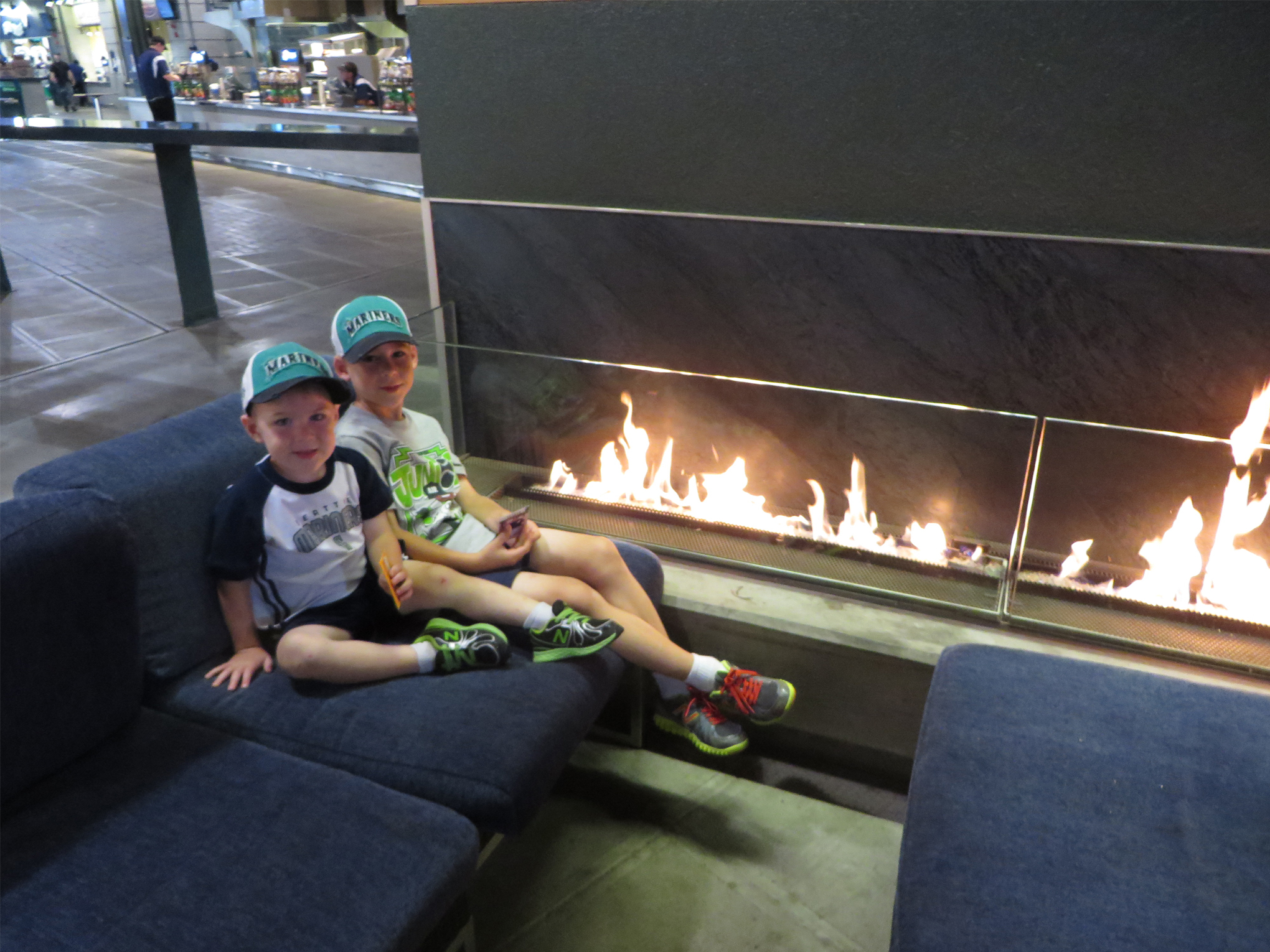 The boys love that spot.  Unfortunately, you cannot see the game whatsoever from there.
The M's gave it their best shot, but couldn't come back.  Final score 3-1 Blue Jays.
After the game, we got some family pictures before heading out:

While we prefer Mariners wins, it is always great to be at Safeco Field, and we left this game knowing we had three more opportunities to see the M's win at this beautiful ballpark over the course of the week.
Go Mariners!
2013 C&S Fan Stats
20 Games                                                     
19 Teams – Mariners, Royals, Phillies, Red Sox, Rays, Orioles, Yankees, Dodgers, Reds, Nationals, Marlins, Pirates, Blue Jays, Twins, Tigers, Mets, Brewers, White Sox, Braves
32 Ice Cream Helmets – Phillies (jumbo) 4, Phillies (normal) 2, Red Sox 2, Yankees 2, Orioles 4, Nationals 2, Pirates 2, Blue Jays 2, Tigers 6, Mets 2, Reds 4
93 Baseballs – Mariners 13, Royals 4, Phillies 19, Rays 2, Orioles 7, Dodgers 3, Umpires 7, Reds 9, Nationals 3, Marlins 4, Pirates 1, Blue Jays 2, Twins 3, Tigers 1, Mets 3, Yankees 2, Brewers 2, Red Sox 6, White Sox 3
11 Stadiums – Safeco Field, Citizens Bank Park, Fenway Park, Yankee Stadium, Camden Yards, Nationals Park, PNC Park, Rogers Centre, Comerica Park, Citi Field, Great American Ball Park
33 Player+ Photos – Oliver   Perez, Lucas Luetge, Hisashi Iwakuma, Carter Capps, Daniel Nava, Alex Wilson, Andrew Bailey, Pedro Ciriaco, Mike Carp 2, Koji Uehara, Will Middlebrooks, Joel Hanrahan, Jonny Gomes, Alfredo Aceves, Clayton Mortensen, Rick Anderson, Tom Gorzelanny, Joe Savery, Jonathan Pettibone, Carlos Ruiz, Charlie Manuel, Justin DeFratus, Ryan Howard, Ben Revere, Larry Anderson, Gary "Sarge"   Matthews Sr., Kyle Kendrick, Ryne "HOF 2005" Sandberg, Michael Stutes, Jimmy   Rollins, Ryan Rowland-Smith, Rajai Davis
11 Autograph – Hisashi Iwakuma 2 (English & Japanese), Carter Capps, Ryan Hanigan, Jesus Tiamo,   Mike Carp 2, Ryan Rowland-Smith 2, Felix Hernandez, Rajai Davis
On August 3, 2013, we attended the MyGameBalls.com Ballhawkfest 2013 (the East Coast edition) in Philadelphia. And it almost didn't happen.
First, there was a major scheduling conflict. The event was scheduled for the same weekend as the Mariners series at Camden Yards. I couldn't imagine missing the Mariners in Baltimore. The thought of it was…well, it was unthinkable.
Next, we realized we had to fly to Seattle that very same day because we were heading out for Ken Griffey, Jr.'s induction into the Mariners Hall of Fame (which would happen the following Saturday). Normally, we fly out to Seattle on a Saturday and we return the following Sunday. Based on the scheduling of the Griffey MHOF game (something that was completely non-negotiable – we HAD to attend it), our "normal" schedule would have us flying on the day of Ballhawkfest.
But then we waited way too long to book our flight to Seattle. The ticket prices were ridiculous and the times weren't great either. We ended up opting for a Sunday morning flight. And that meant we could go to (1) the Mariners at Camden Yards on Friday 8/2/13 and (2) Ballhawkfest on 8/3/13. Well, after securing our Mariners tickets, it turned out that 8/2/13 did not work. But 8/3/13 did. And this is the story of our day with our friends from MyGameBalls.com.
Because we didn't find out we could go to Ballhawkfest until very late in the game, we didn't get to order official shirts. But my wife found blank shirts that were exactly the same color and I made these shirts with my trusty set of sharpies:

I did the number on Tim's back on the morning of the game, so his number was spot on.
Alan Schuster, who was going to join us for the Mariners/Orioles game on 8/2/13, stayed at our house on 8/2/13 and we caravanned down to Philadelphia (about an hour away) around 7:45 a.m: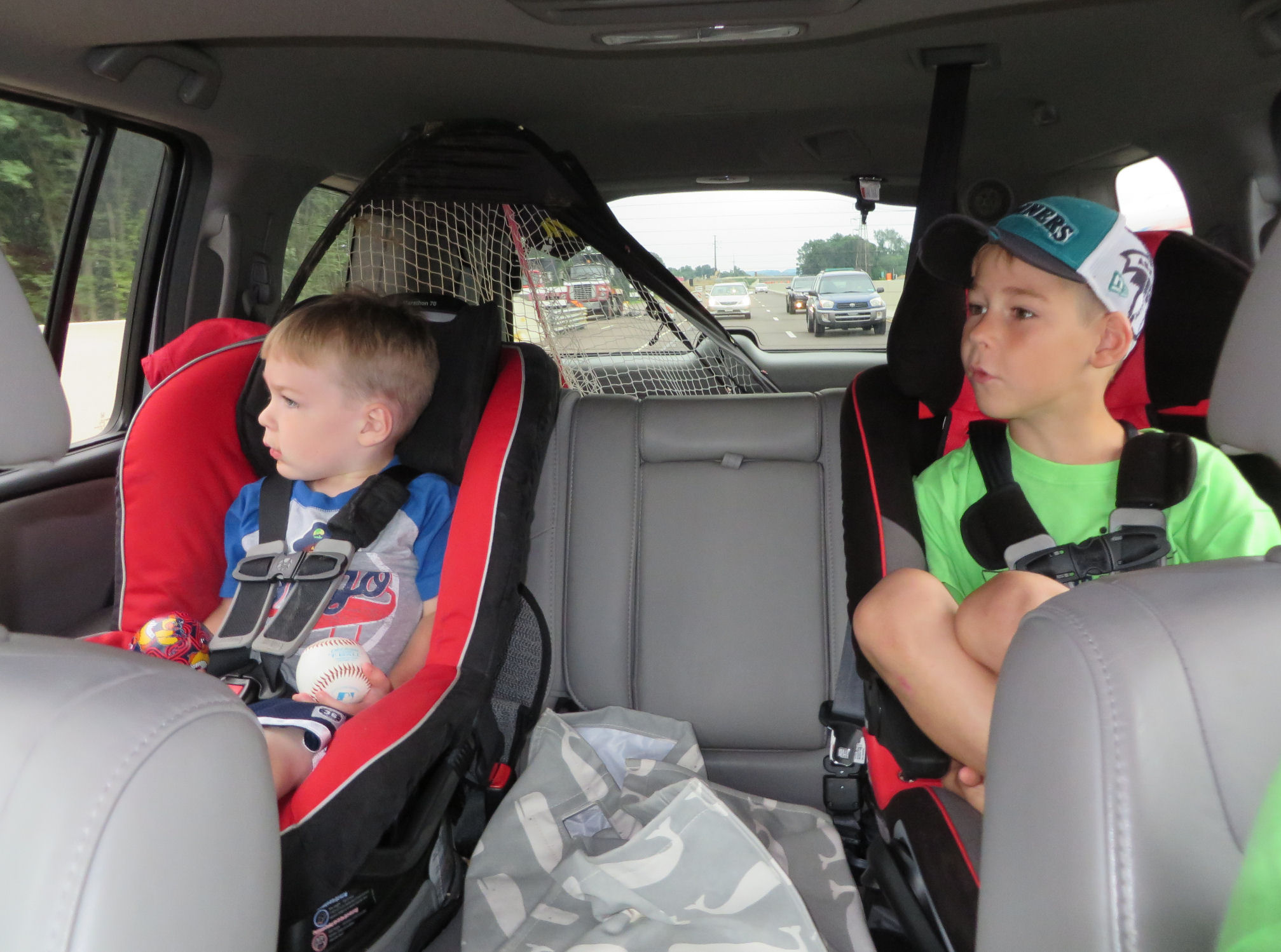 As you can see, we were carrying a net in the back of my wife's SUV. We brought it to use as a makeshift "L" screen.  Safety first, you know?!
We met up at FDR Park for a little homerun derby.  I'd never been to FDR Park before. It was perfect for our purposes. Check this out: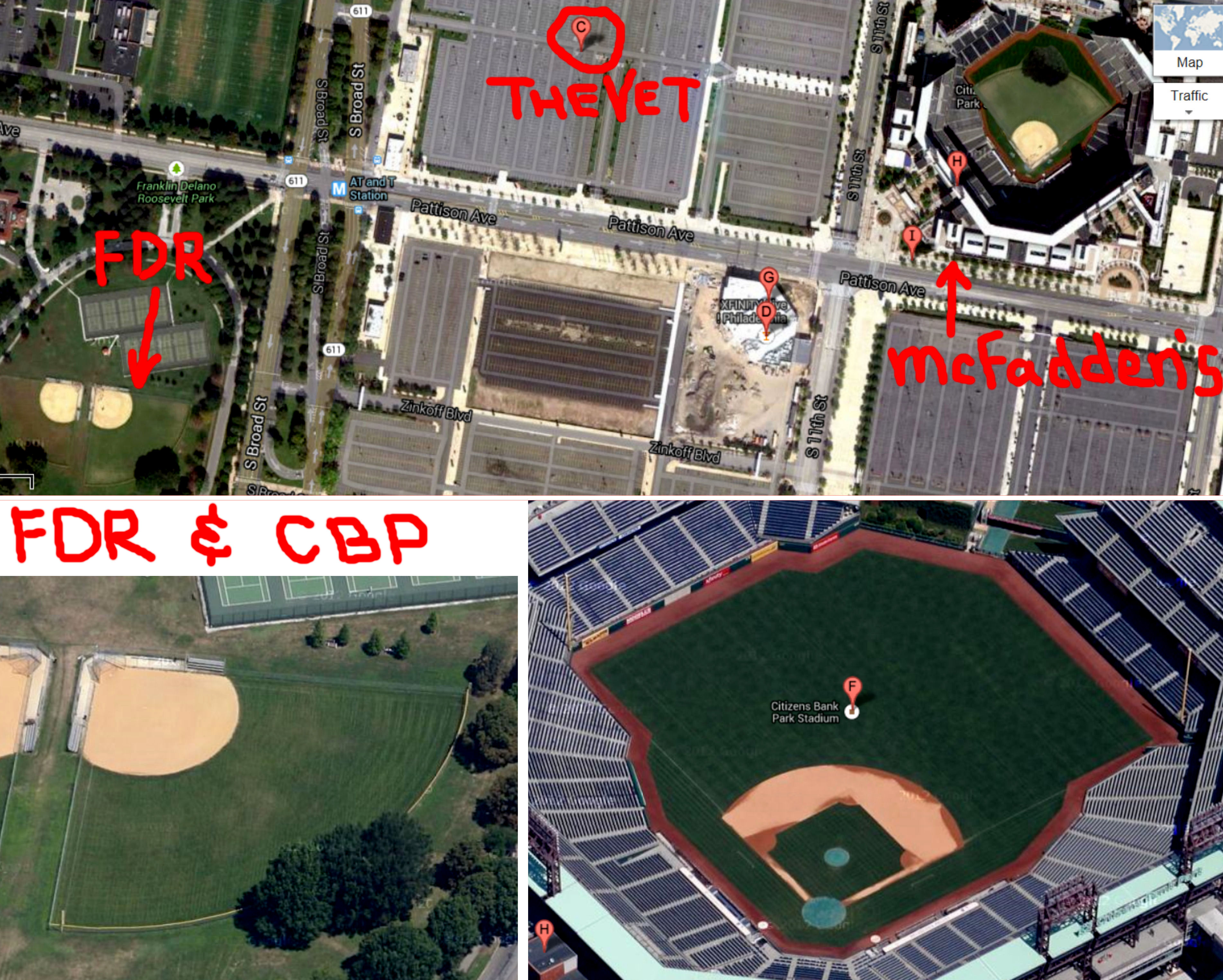 FDR Park used to be right across the Broad & Pattison intersection from Veterans Stadium, and it is just two blocks away from Citizens Bank Park where we went to the game and ate lunch at McFadden's before the game. Also, check out CBP in the upper
right of that last pic. I cut out the field we played on at FDR Park, spun it around about 135 degrees and fit it on top of the field at Citizens Bank Park. It was definitely shorter, but it took a decent shot to get it out of our field at FDR Park.
Here is the crew we met up with at FRD Park (minus a few camera shy parents):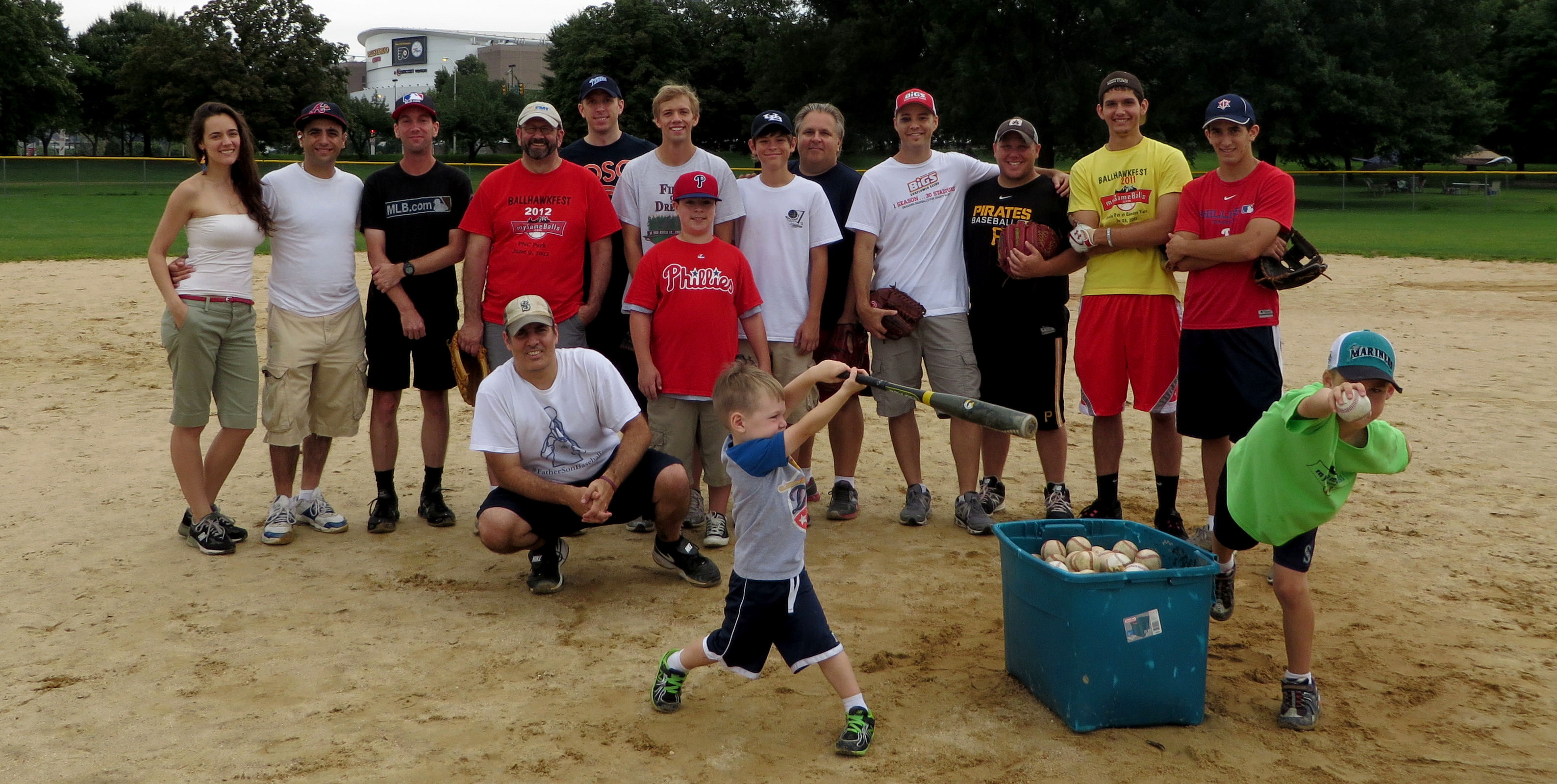 Cooks aside, from left to right our group included: Jenny and Benny Bang Bang, Rick "Unfortunately An A's Fan" Gold, Mark Kopp, Alan "Mister MyGameBalls.com" Schuster, Alex "Fresh Off Catching A Chris Davis Eutaw Street Homerun The Night Before" Kopp, Harrison Tishler, Quinn Imiola, Dave "Big Papi" Imiola, Zack "Trying Not To Catch Any Game-Used Balls Today" Hample, Rick "Zoltan" Sporcic, Jeremy Evans and Max Pinsky.
We split into two teams and played homerun derby. The format was that each batter got two outs person inning. Any ball hit out of the park was worth 5 runs. Hits that landed in the outfield grass without being caught were worth 1 run. Any swing and miss, foul ball, ground ball or ball caught in the outfield was an out.
Our team was me, Tim, Jeremy, Alan, Dave, Benny and Jen.
The much better team included Rick Sporcic, Rick Gold, Zack, Alex, and Harrison.
It was a lot of fun playing ball with my boys: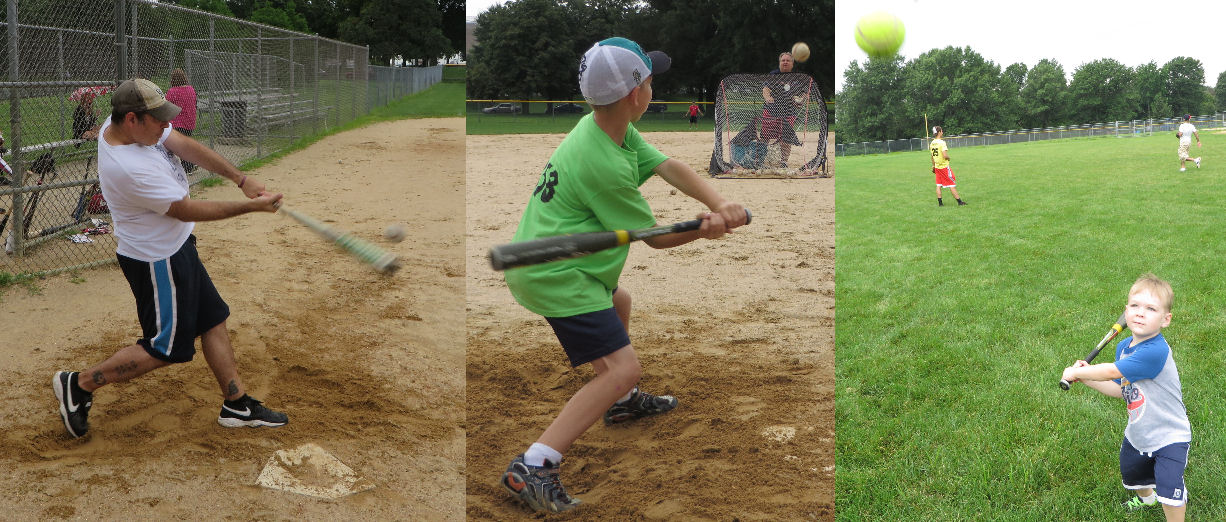 I hit maybe 4-5 homeruns over the course of the morning. Tim put on a solid hitting display, and was only half the age of the next youngest player. Oh, yeah, Tim also made up the rule that a hit off of the "L" screen was good for 100 points…he made that rule right after the first time he hit the screen.  And, if you went by that rule, our team won big thanks to a few hits off the screen by Tim.
The other squad, unfortunately for us, put on a hitting clinic: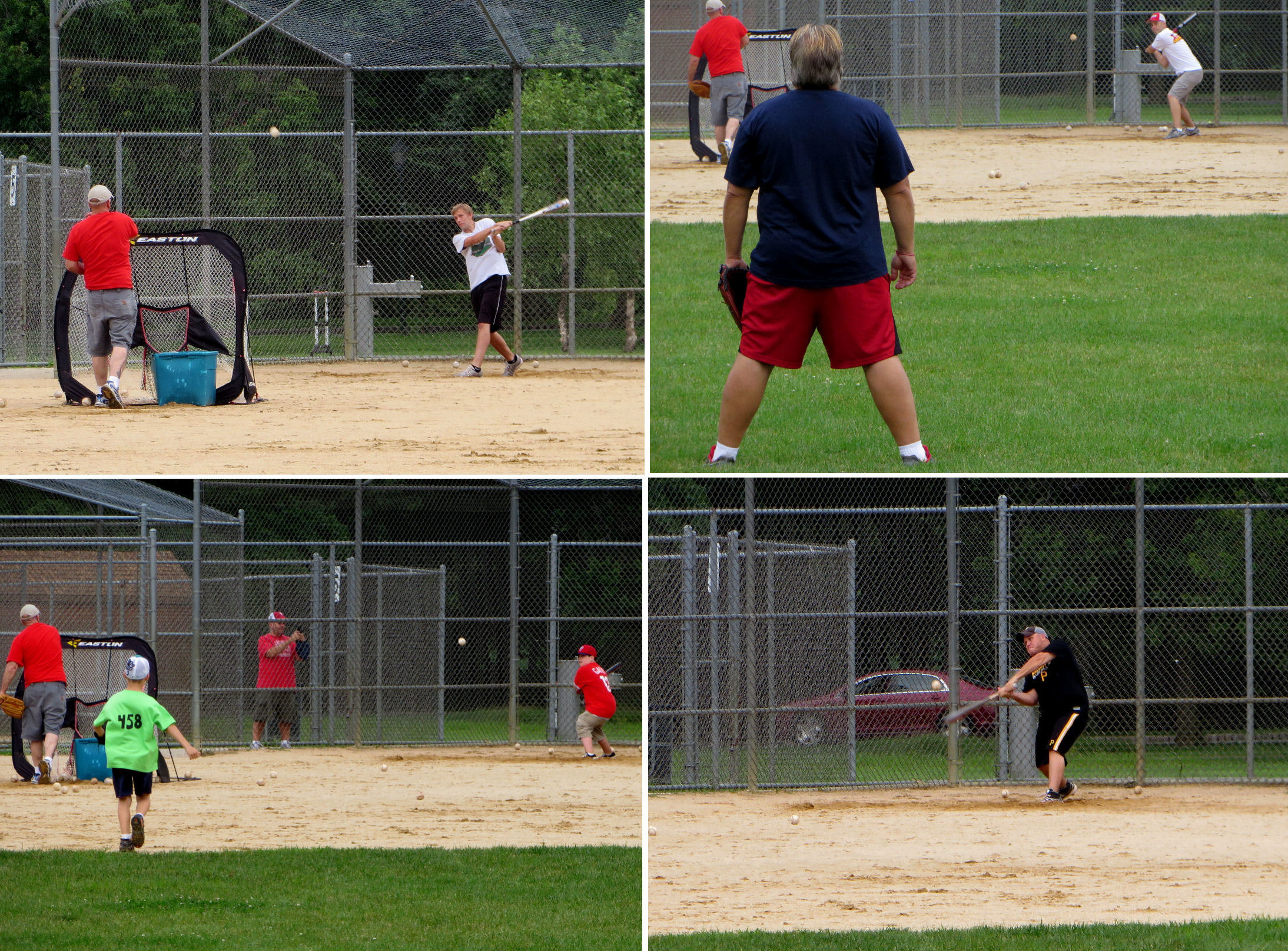 Upper Left:  "The" Alex Kopp showing his fine hitting form.
Upper Right:  Zack knocked a few long balls over the OF fence.
Lower Left:  Harrison "H" Tishler kept Tim on his toes with solid shots to left.
Lower Right:  The Babe Ruth and defending Ballhawkfest Homerun Derby Champion Rick Sporcic launched approximately 1,000 homeruns.  Rick hit 'em deep, he hit 'em long.  Rick put 'em on the board.  Yes!
We didn't let Rick's barrage of homers put lower our spirits…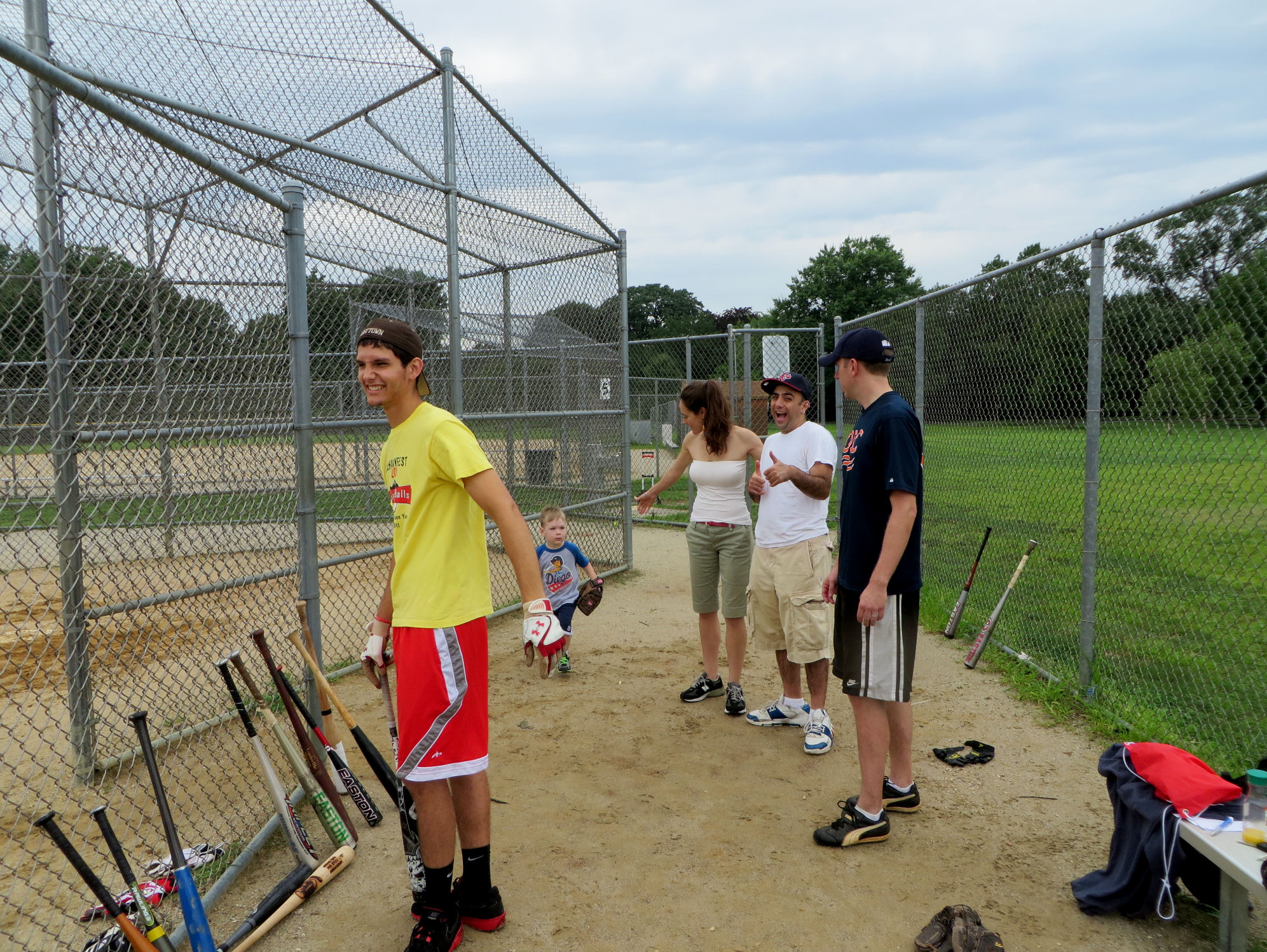 …., nah, the good guy were full of hope and ready to swing 'em.
I was snapping pics in the dugout and in the outfield.  Some of my favorite pics were captured while we changed sides after a half inning.  Here's my favorite: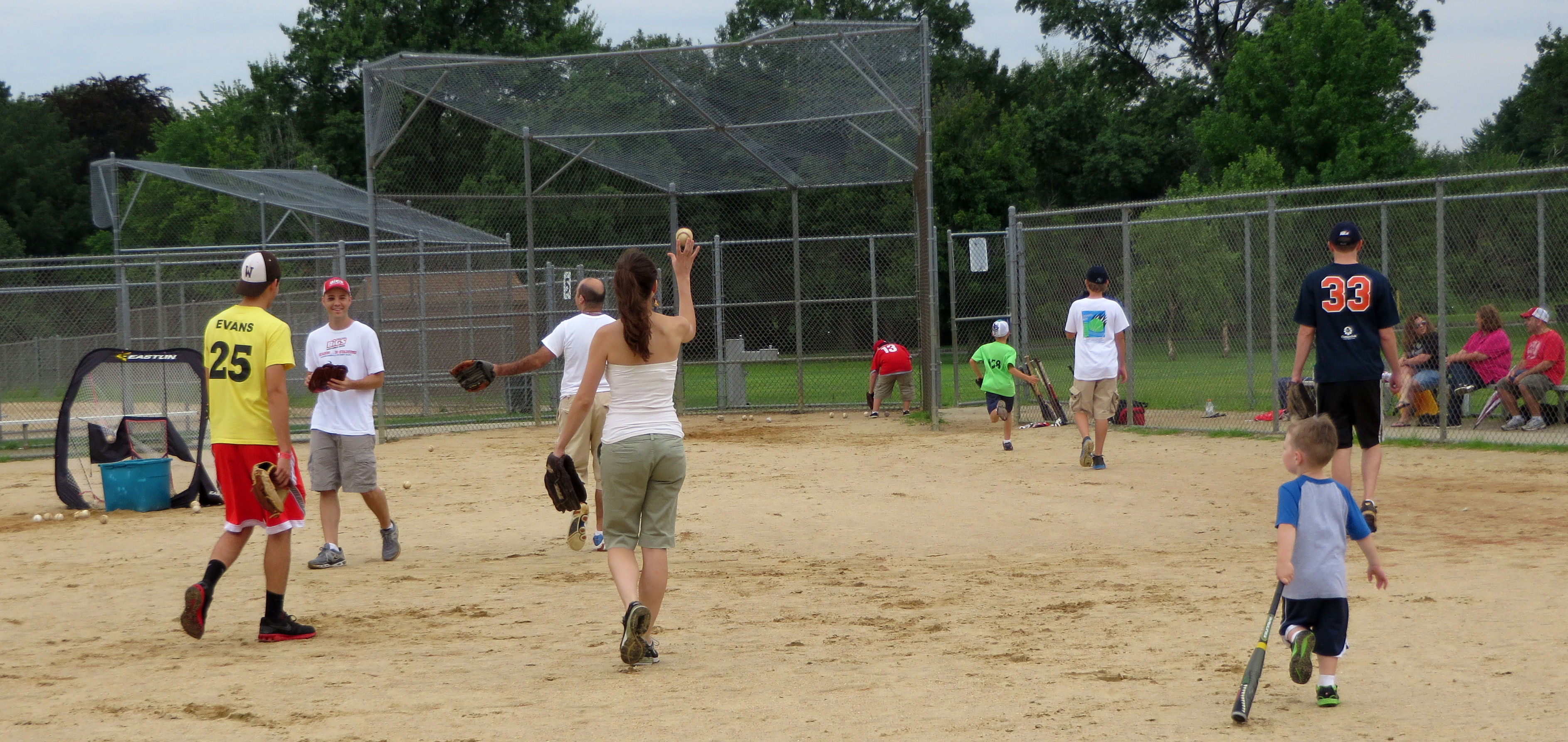 I tried to stick right by Kellan in the outfield so I didn't catch much…in fact, I think I only caught one fly ball all morning.  But my team mates had the outfield covered:

Benny was all over the place in LF catching balls.  Every time a ball was hit over there, Tim thought he was going to catch it.  But, eventually, Benny would make the grab.  I was happy with this outcome because the other team was hitting the ball pretty hard and I didn't want Tim to take one off of his face.
During parts of the game, Tami and Seth Tishler patrolled homerun territory collecting the balls that we were hitting out there.  Seth joked that they were "ballhawking" the ballhawkfest homerun derby: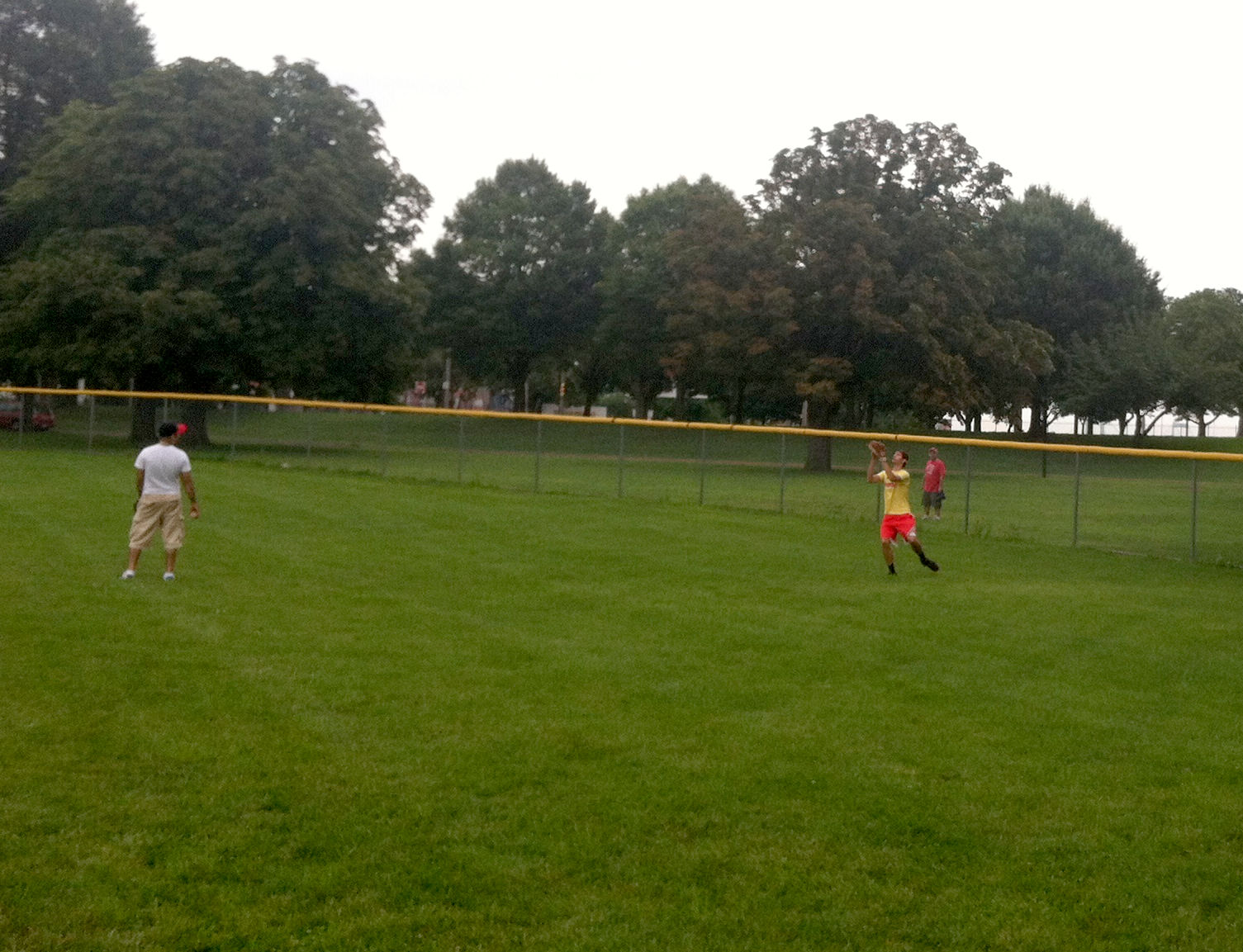 Here are some action shot of my teammates hitting from the diamond club:

Above to the left, Jenny Bang Bang demonstrates the old foot-on-home-plate method of hitting (note:  not the preferred method if you're going by the official MLB rule book).  Above to the right, Dave Imiola hits a hard shot to RF in a Imiola vs. Imiola show down (i.e., that's Quinn pitching his old man).
When our team was in the field, Kellan brought Tim's bat with us to the outfield and I pitched tennis balls to him.  At one point, Kellan hit a homerun over the fence: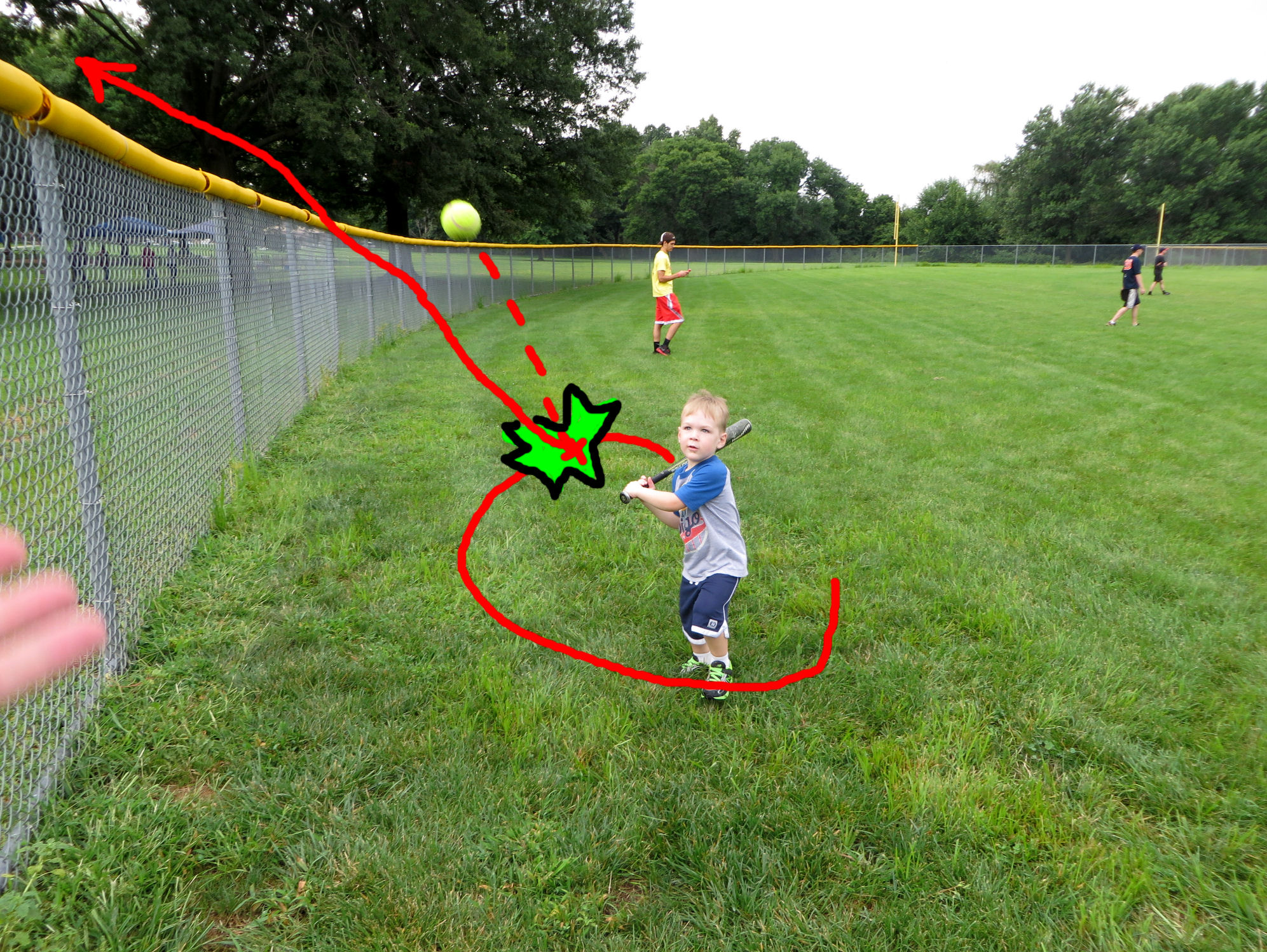 That photo is just a recreation of the event, not the real thing.  When Kellan hit his homer, he was actually another 10-15 feet in from the fence (closer to the in field) and I had my back to the fence.  He hit a nice poke to clear the fence.
After the derby, which my team lost (we needed about 40-50 runs in the bottom of the last inning but managed only 15 or so), we all headed over to Citizens Bank Park.  We parked out by the old Veterans' Stadium infield and got a picture of the boys playing around at first base…

…before heading toward the stadium (and walking through a big BBQ festival that was getting ready for pre-game festivities).
We had two big tables at the restaurant.  One featured…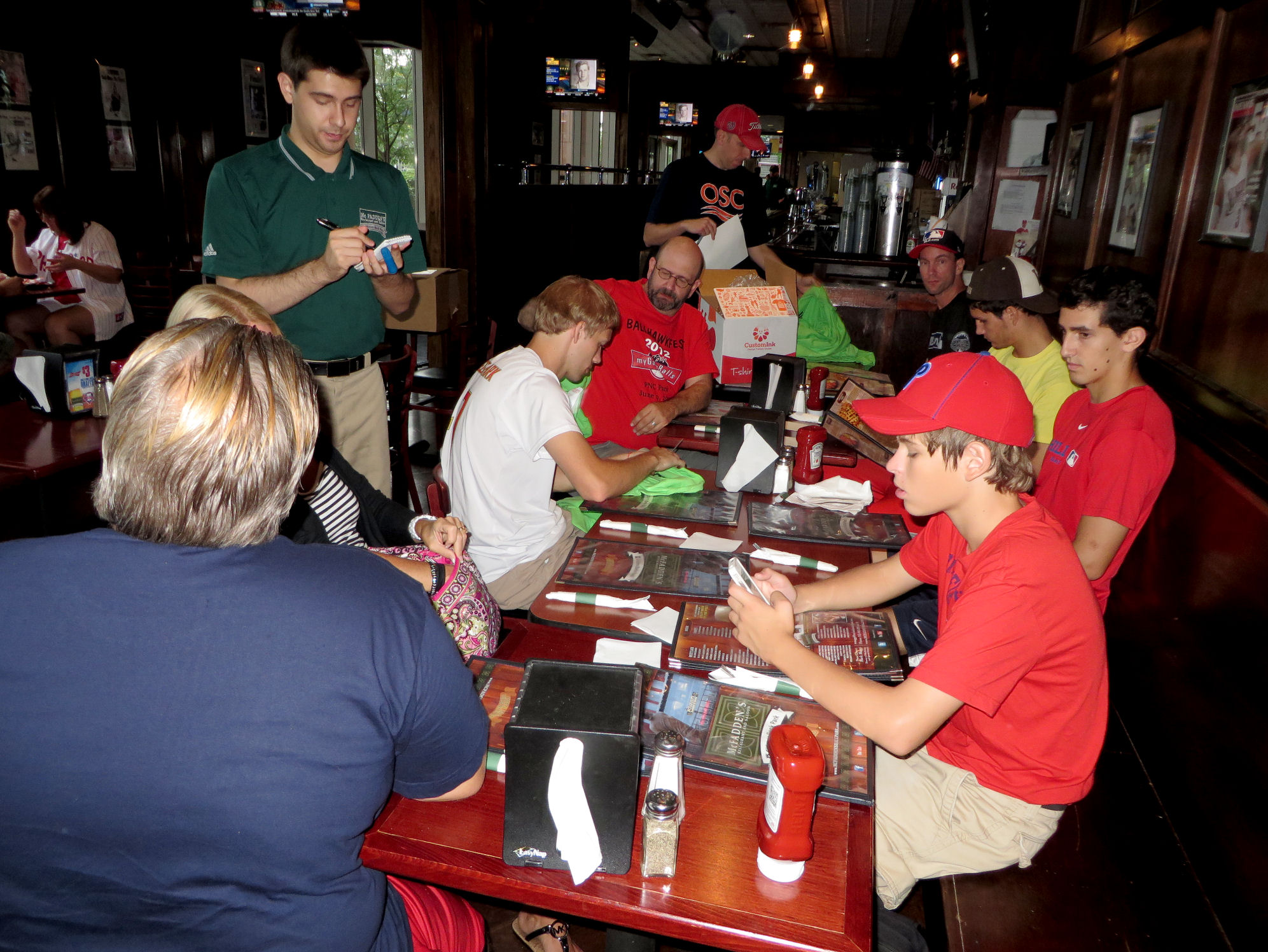 …Alan, the Kopps, the Imiolas (including Mom Imiola), Jeremy, Max, Rick Gold, and late arrivals Mateo Fischer and Chris Hernandez.
The other table featured…

…the Bang Bangs, Zack, the Tishlers and the Cooks.  In the picture to the left, Zack is signing a shirt that we all signed for Matt Hersl's family.  Matt was one of the original members of MyGameBalls.com and organizers of the first Ballhawkfest.   Matt was tragically killed last winter when he was hit while walking on a side walk in Baltimore by an out-of-control car.  This Ballhawkfest was dedicated to him.  Benny is signing a photo/certificate type thing that we also all signed for Matt's family.
Here's another picture of our table that shows Jen too: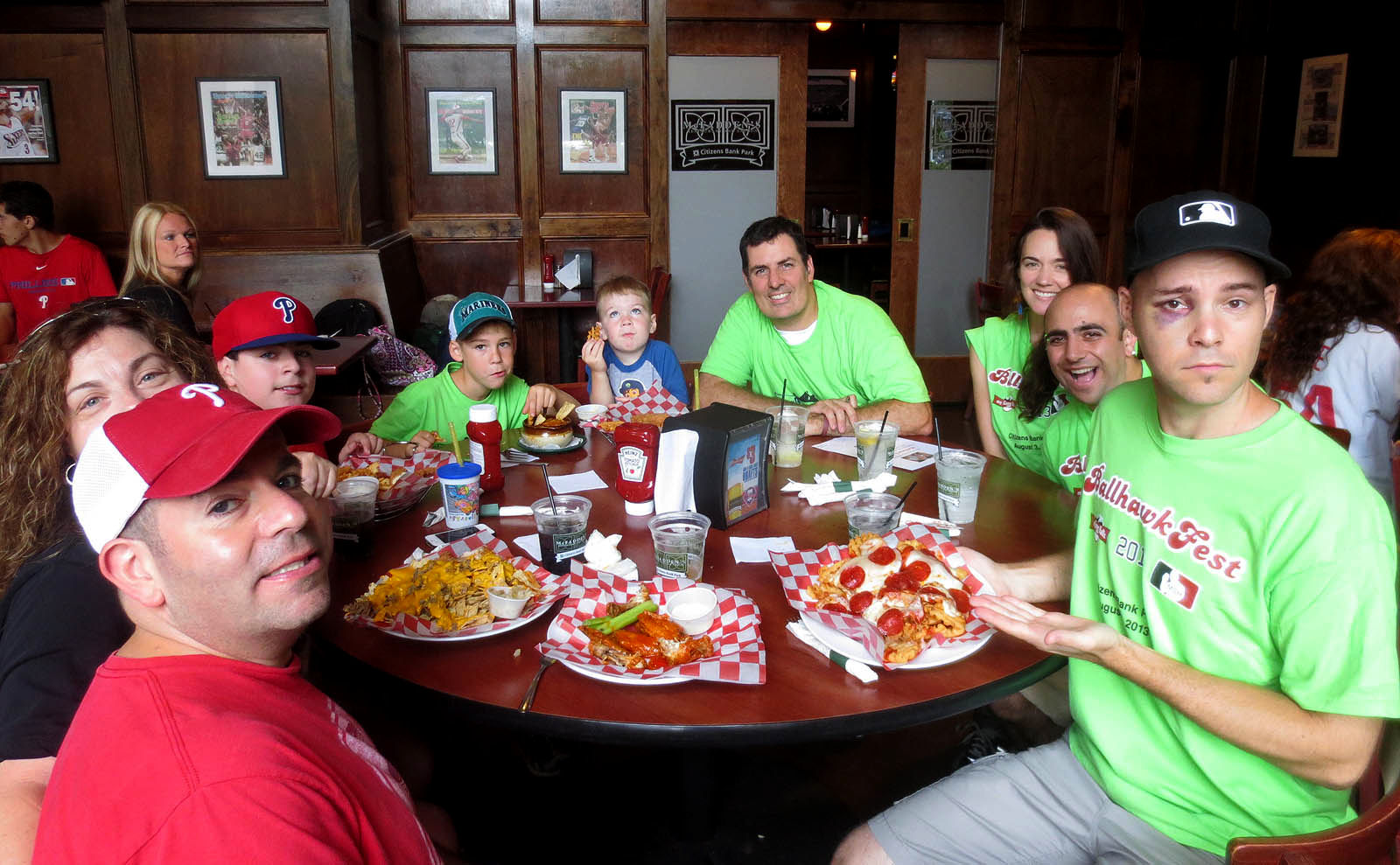 I think Zack has patented that display hand move so don't try it in pictures unless you want to pay him royalties.  Kellan has a patent of his own, the eye-roll pose, which he is demonstrating above.
I should mention that Rick and his friend, Julie, hit baseballs for another half hour or more after we all left for lunch.  They showed up to lunch eventually, but after all of those picture were taken.
During lunch, Alan handed out certificates for last year's awards (Ballhawk of the Year —> Zack; Photo Scavenger Hunt Champs —> us!) and gave out a bunch of prizes that people had donated.  When Benny saw Tim's Ken Griffey, Jr. back pack, he tried to get it donated as a prize and suggested that he should be the winner.  Nice try, Benny!
As lunch started to break up, Dave announced that it was Quinn's 14th birthday so we all sung "Happy Birthday" to him and then Alan broke open a HUGE box of seeds donated by BIGS seeds.  If you look three photos above, there is a big card board box on a table behind the waiter.  That was the box of seeds.  It was packed with full-sized BIGS packs and everyone took a bunch of bags.  I think we got 3-4 bags ourselves.
Big thanks to BIGS seeds!
Eventually, we all scurried off to the LF gate to get in line.  While most of us just milled about and chatted at the gates…

…Mateo and Tim played catch.
Much of the discussion at the gate was about how Zack's bazillion game streak of getting a baseball was definitely going to end at this game because all of us were there AND the tarp was on the field!  I assured Zack that there would be batting practice.  But we was very doubtful, and nervous.
Eventually, we got a whole bunch of photos taken of us: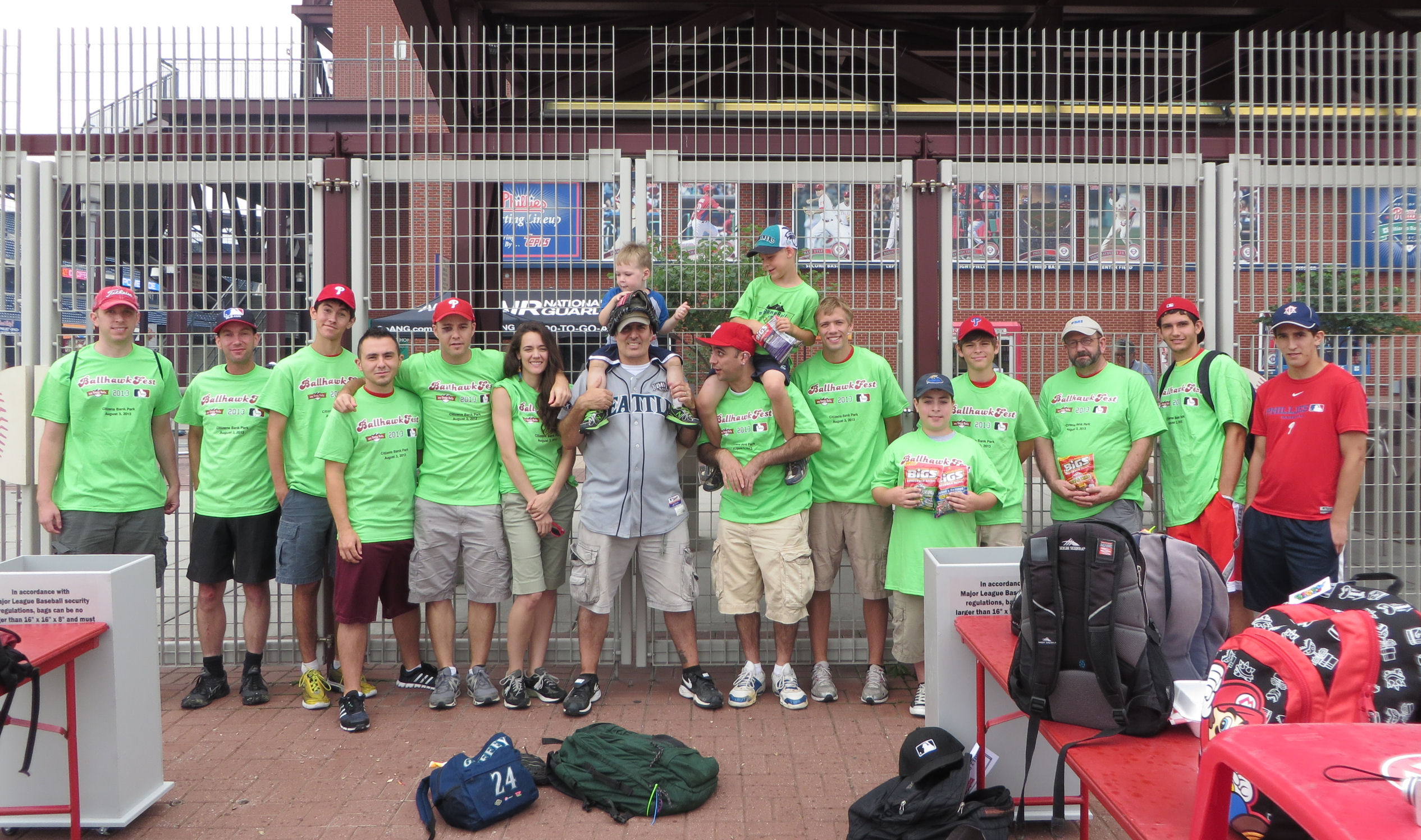 Benny, who is newly engaged (but wasn't as of the date of this game), got a taste of what its like to have a kid at a ball game, with Tim up on his shoulders…spitting seeds left and right.
After I cleared out, we recreated the photos from the original Ballhawkfest with the shirts arranged in total-lifetime-baseballs order: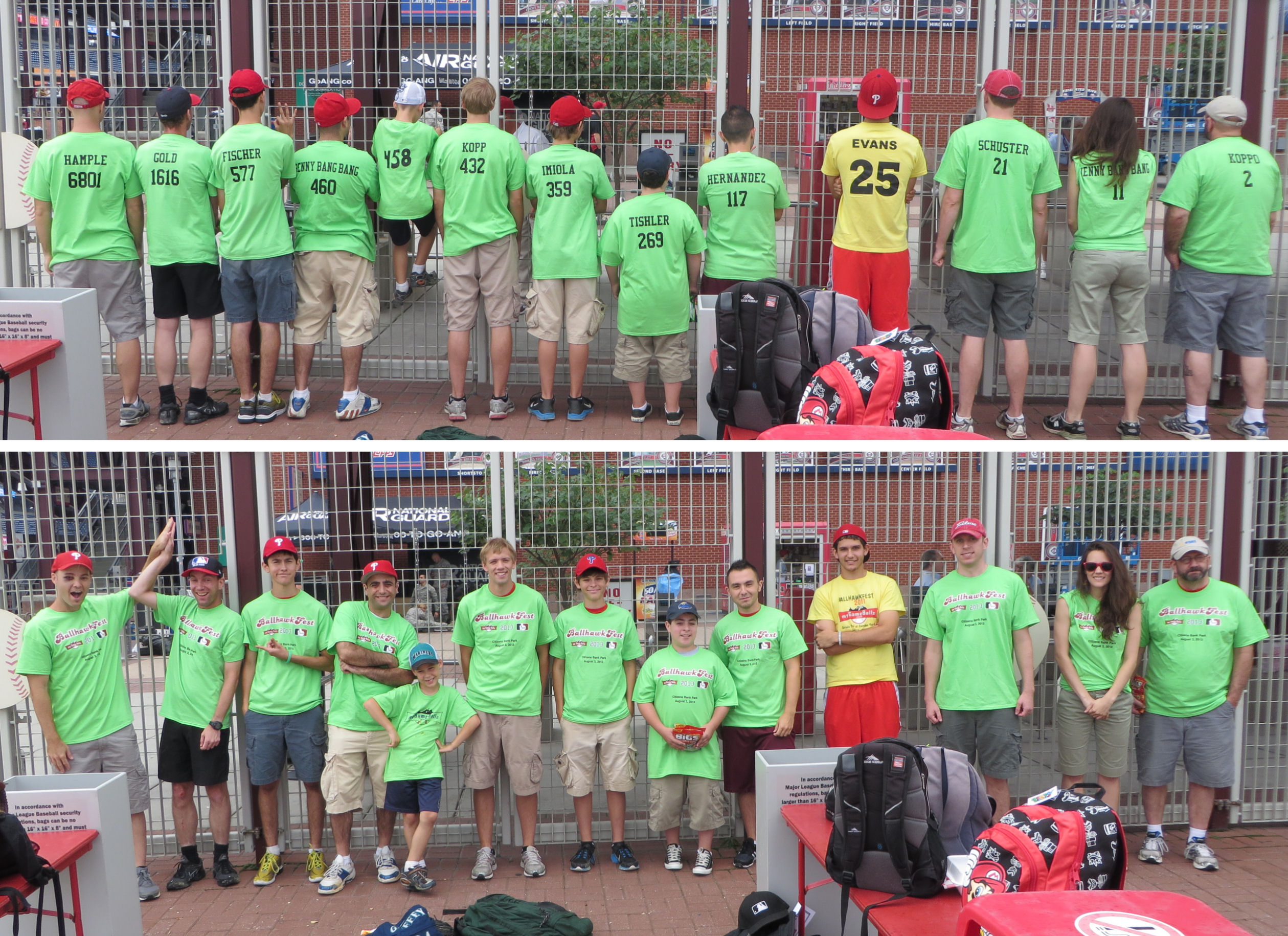 With Rick Gold replacing Garrett Meyers, Zack recreated the "top 2" high five from 2011.  It's pretty cool to look back at the photo from 2011 and compare it to this photo.  Check out Tim, Benny and Alex in 2011 — they were all within 10 baseballs of each others.  Now, in 2013, they came into ballhawfest with 2 baseballs separating Tim and Benny, and Alex not far behind.  By the end of the season, Alex would rocket to the lead.
Before heading into the ballpark, Zack organized a photo to send to BIGS to say "thank you" for the seeds: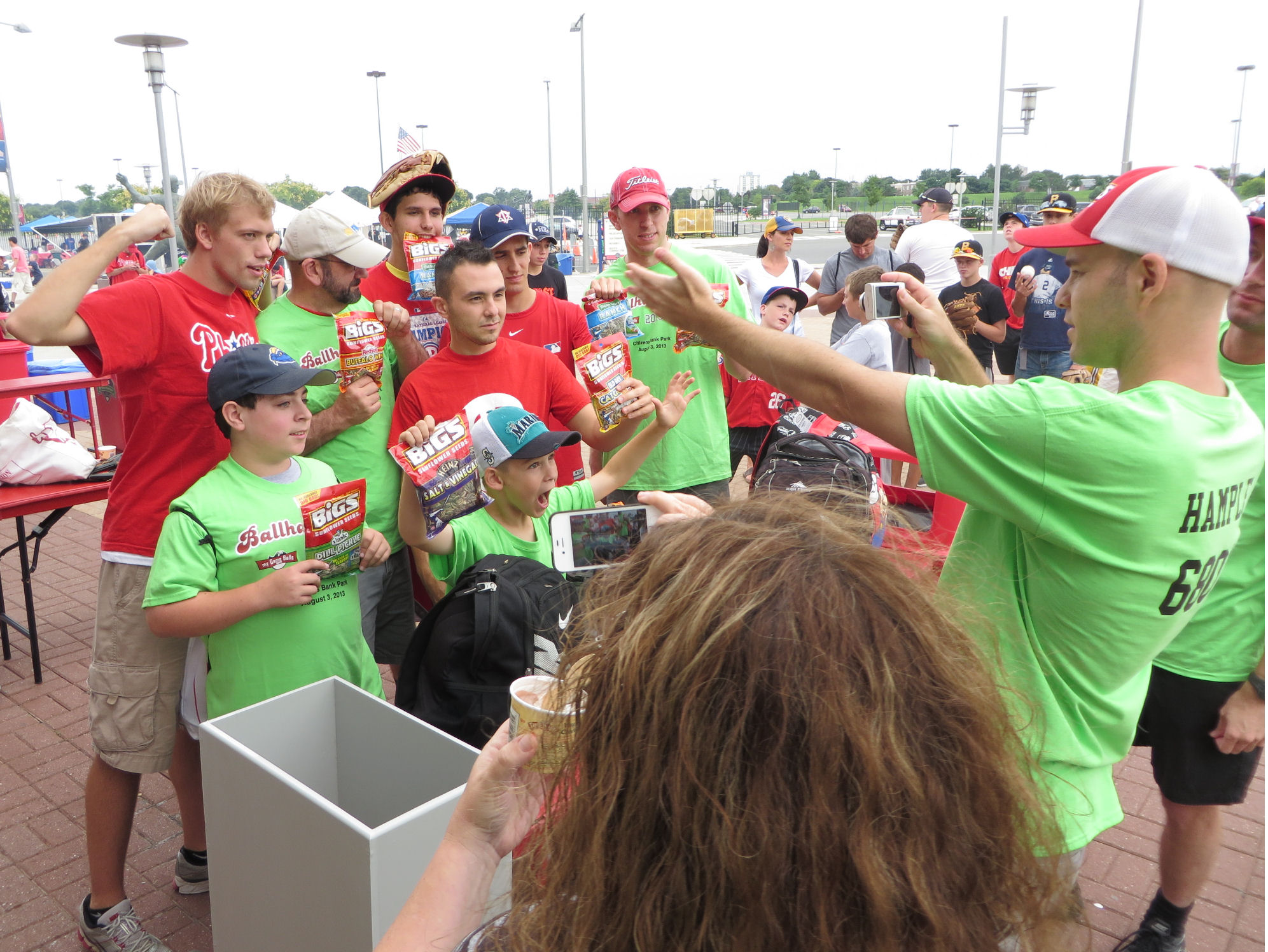 At this point, Kellan was crashed out HARD on my shoulders: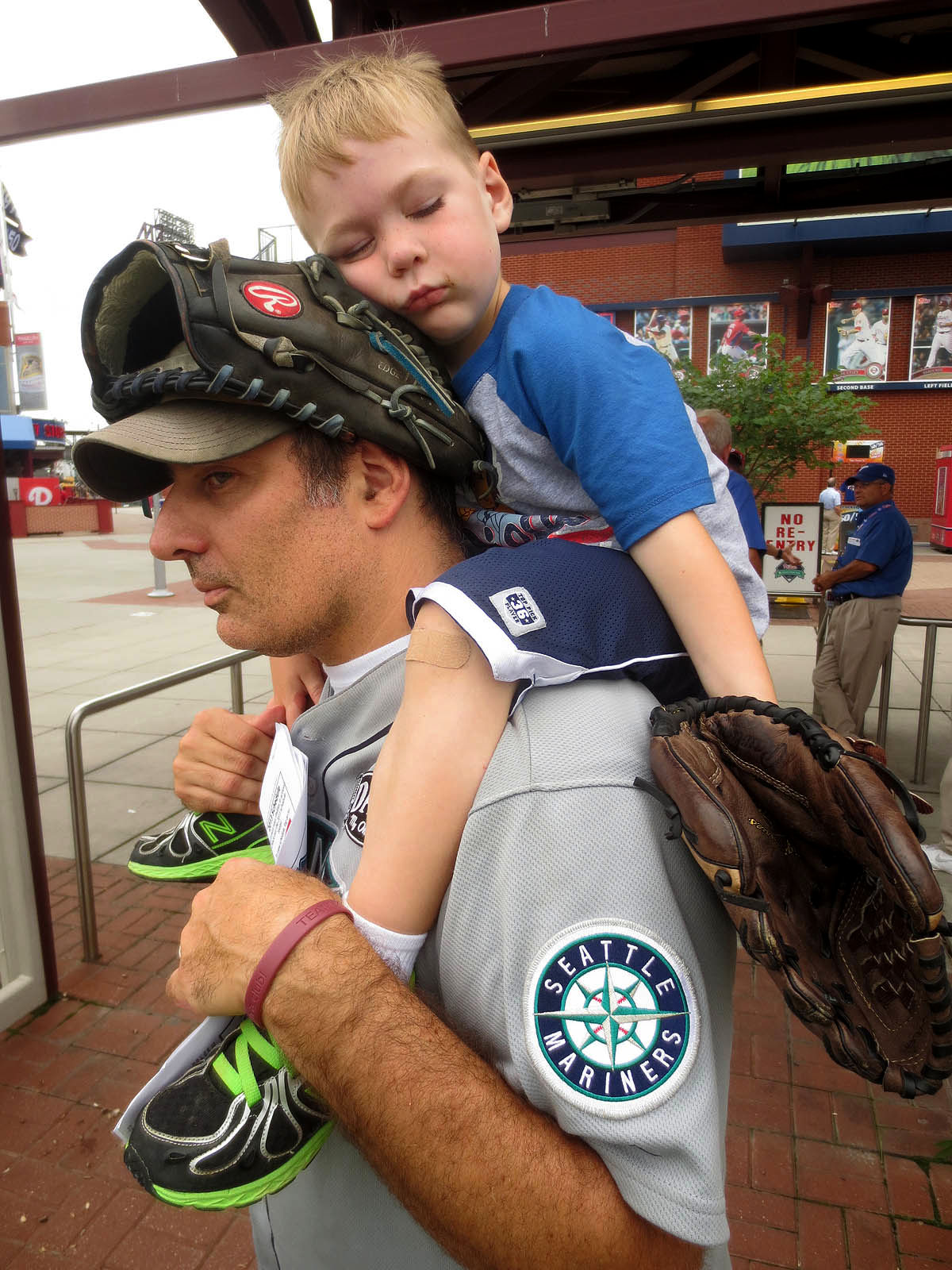 He slept up there fore more than half an hour and it really refreshed him for the afternoon.
When the gates opened, we made our way to the LF corner.  This was the scene on the field:

It was pretty hilarious.  There were three groups of Braves throwing and about 50 people (our group plus others)  standing there watching intently.  Three balls were thrown into the stands.  The first to Chris Hernandez.  The second to someone not associated with MyGameBalls.com.  And the third to Zack, who was about 10-15 rows back and got a player to throw a long bomb over everyone else's heads on his way toward the dugout.
When Craig Kimbrel saw Zack get the ball, he yelled, "NOOOOOOOOO!"  He's not fan of Zack getting more baseballs…or at least he acts like he's not.  I'm not sure if it's real or just an act to be funny.
When all of this was going on, Mike Minor walked slowly out to CF where a ball was sitting in the grass.  He walked over to it and then just stood there for a long time like he was in a trance.  It was bizarre.  Eventually, Minor made his way into the bullpen.  When we started to head over toward the pizza wedge, a bunch of the guys were watching Minor continue to stand around in a trance: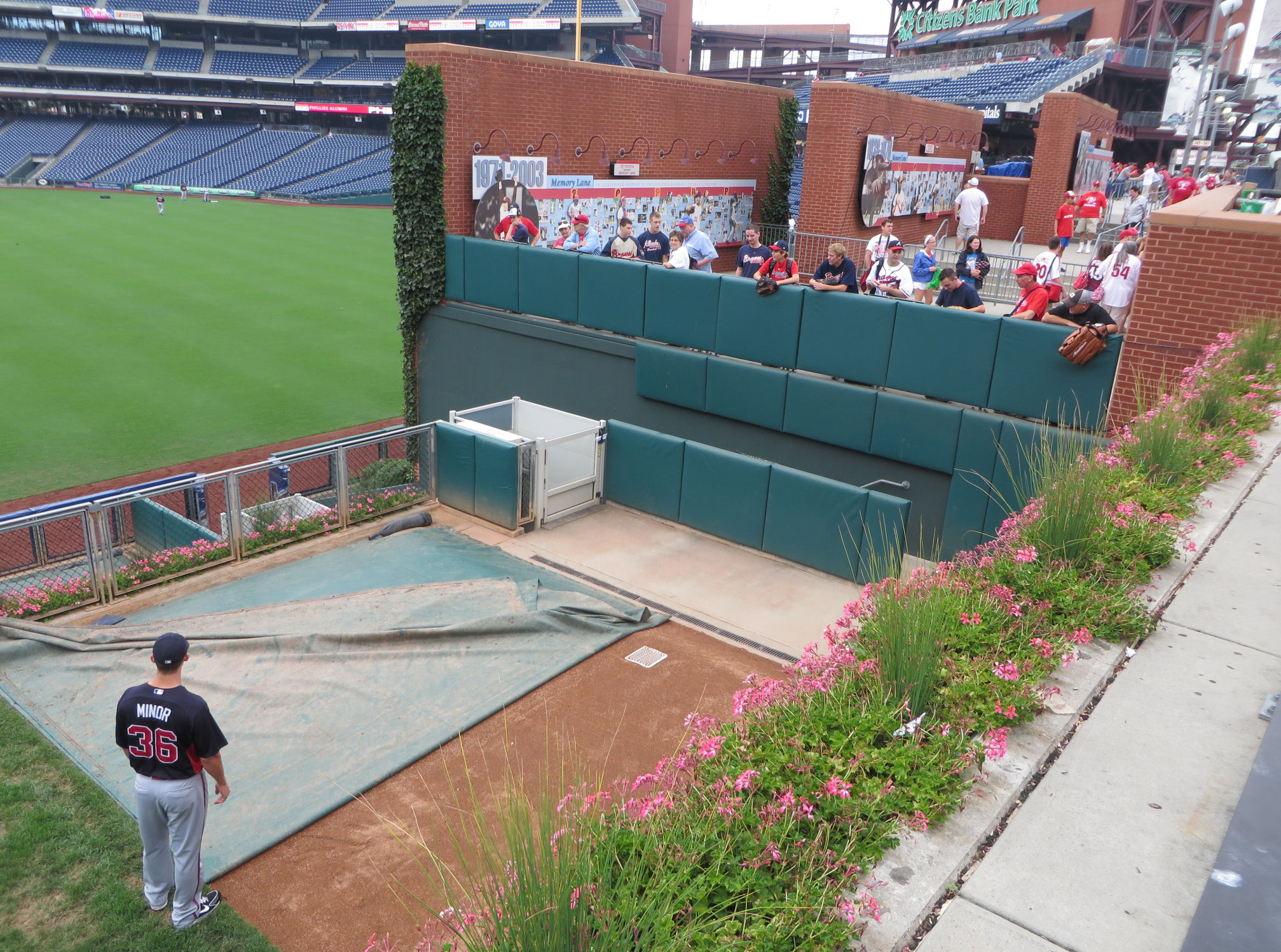 When RF finally opened, there was nothing at all happening on the field.  We headed down to the pizza wedge and just hung out until…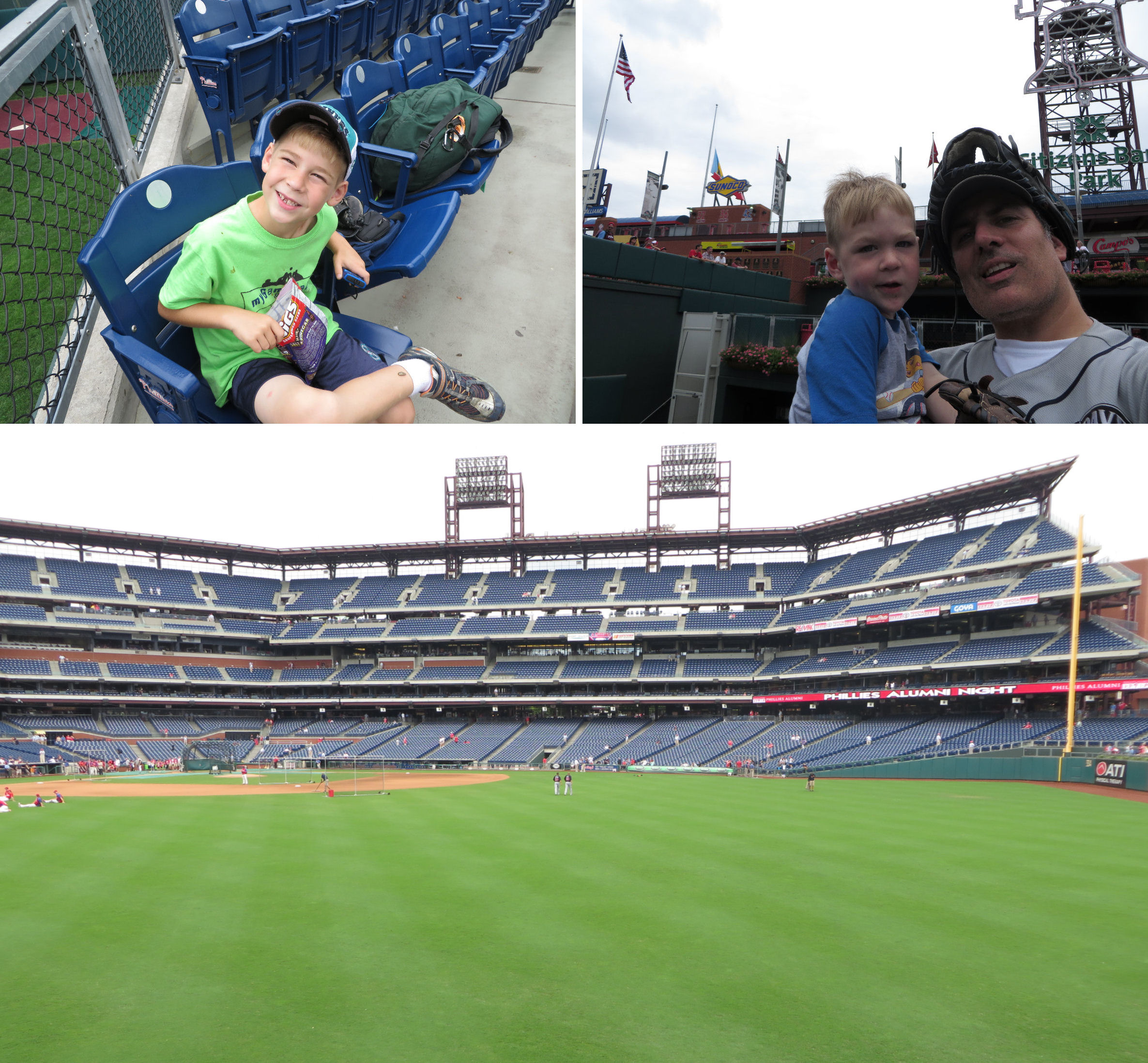 …what's this…???  They set up the field for BP and the Phillies started stretching in RF!
So, I was right after all.  Or half right, at least.  There was half BP at this game.  Only the Phillies hit.
I noticed that our buddy Jesus Tiamo was warming up at the mound…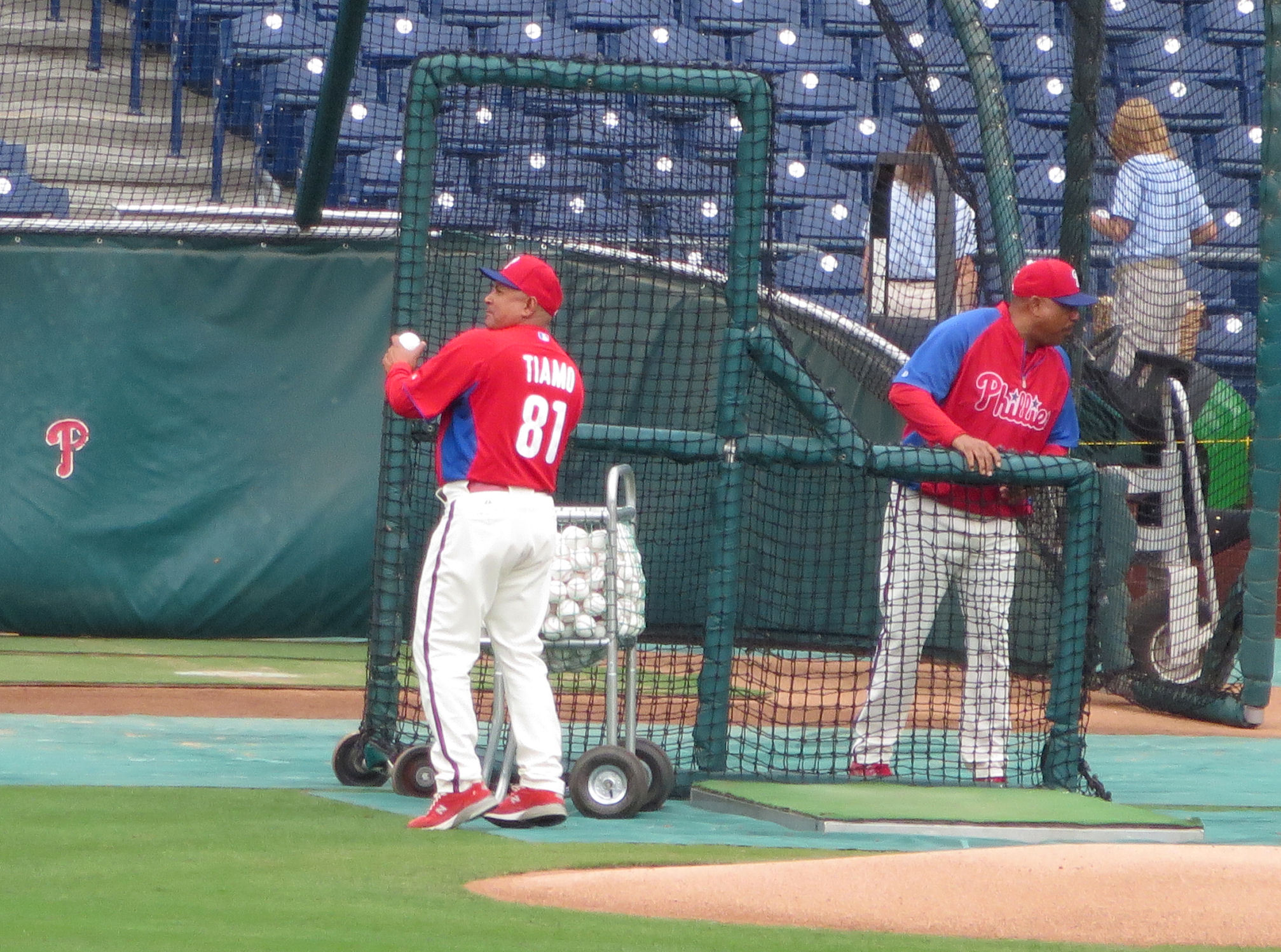 …as the Phillies warmed up in RF.
It was still a very slow process before things got under way.  People were milling about passing time.  Eventually, Chris Hernandez came over and said hi: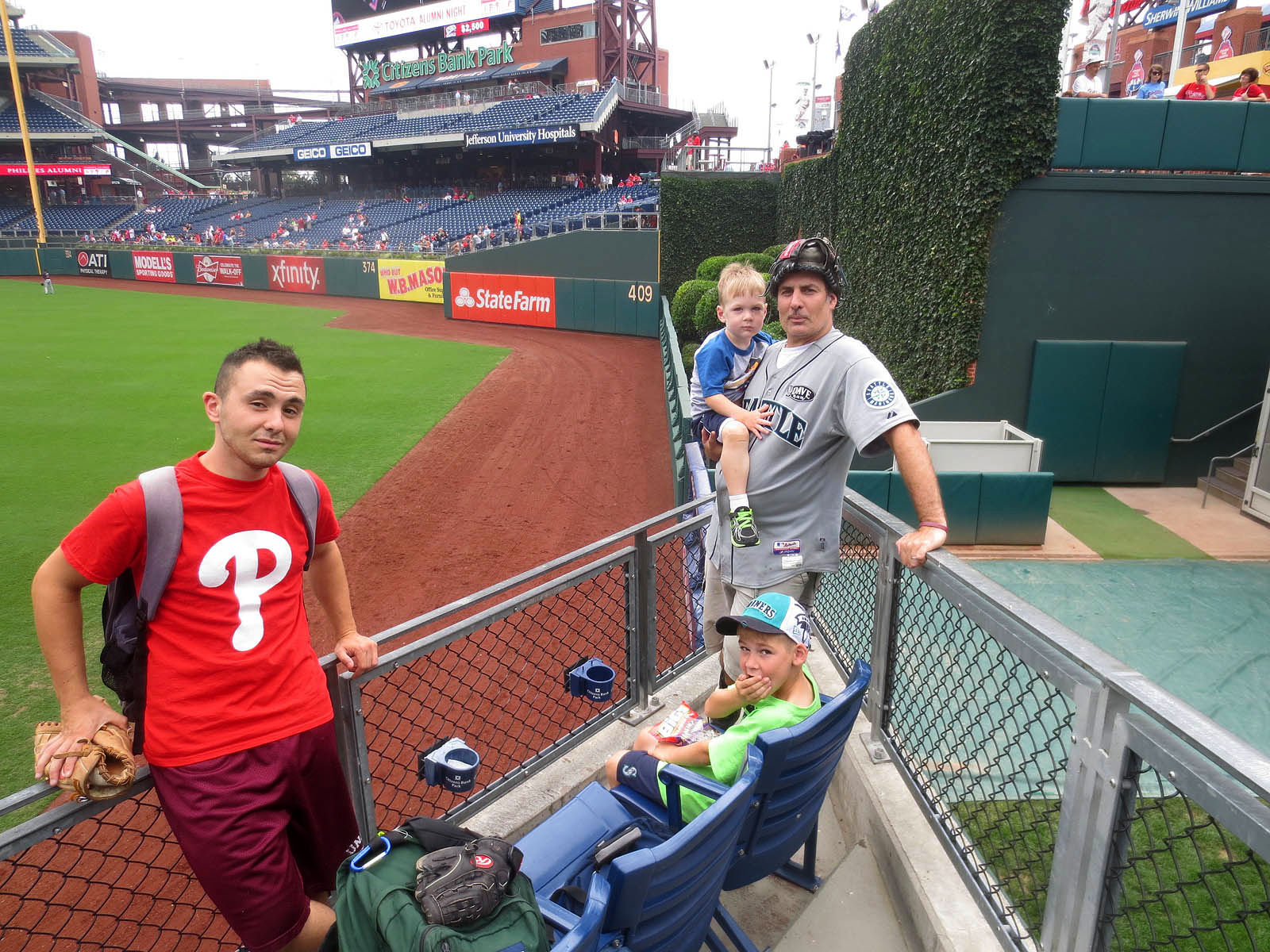 We'd never met Chris before, but had seen his blog and seen him on Zack's blog.  He's a good guy (aside from tweeting way too much hockey stuff during the baseball offseason) and we got to known him a lot better about 1.5 months after Ballhawkfest.
The Phillies pitchers played catch along the RF line.  When they started playing long toss, I asked Luis Garcia…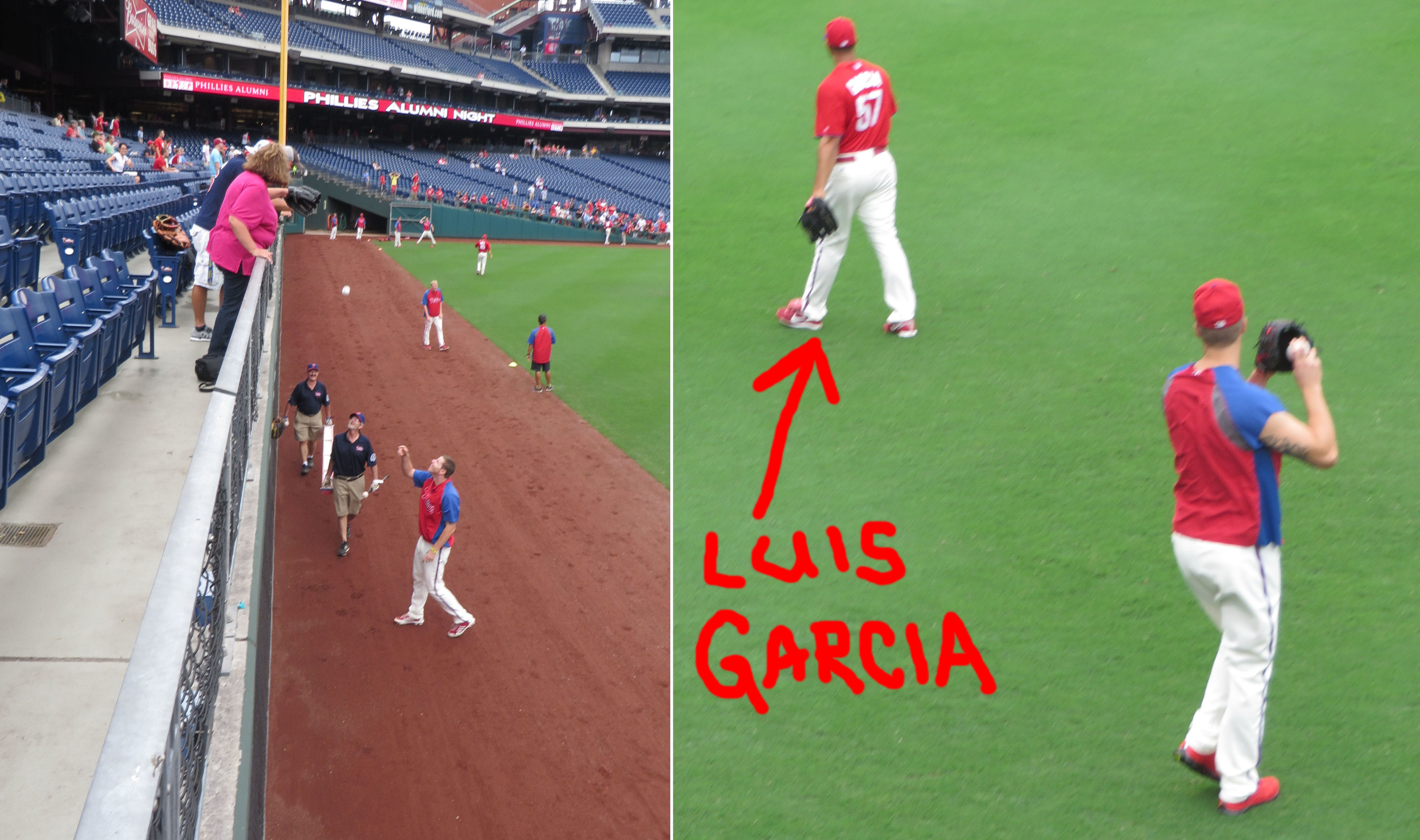 …if he'd toss us his ball after he finished playing catch.  He said he would.  But then someone hit a ball to the warning track and Luis ran over, grabbed it and tossed it to Tim.  That works too!  (By the way, in the photo above to the left, a Phillies pitcher is tossing a ball to Rick Sporcic after taking it out of his *glove trick*).
Thanks, Luis!
Here's an interesting drill that we witnessed in the bullpen: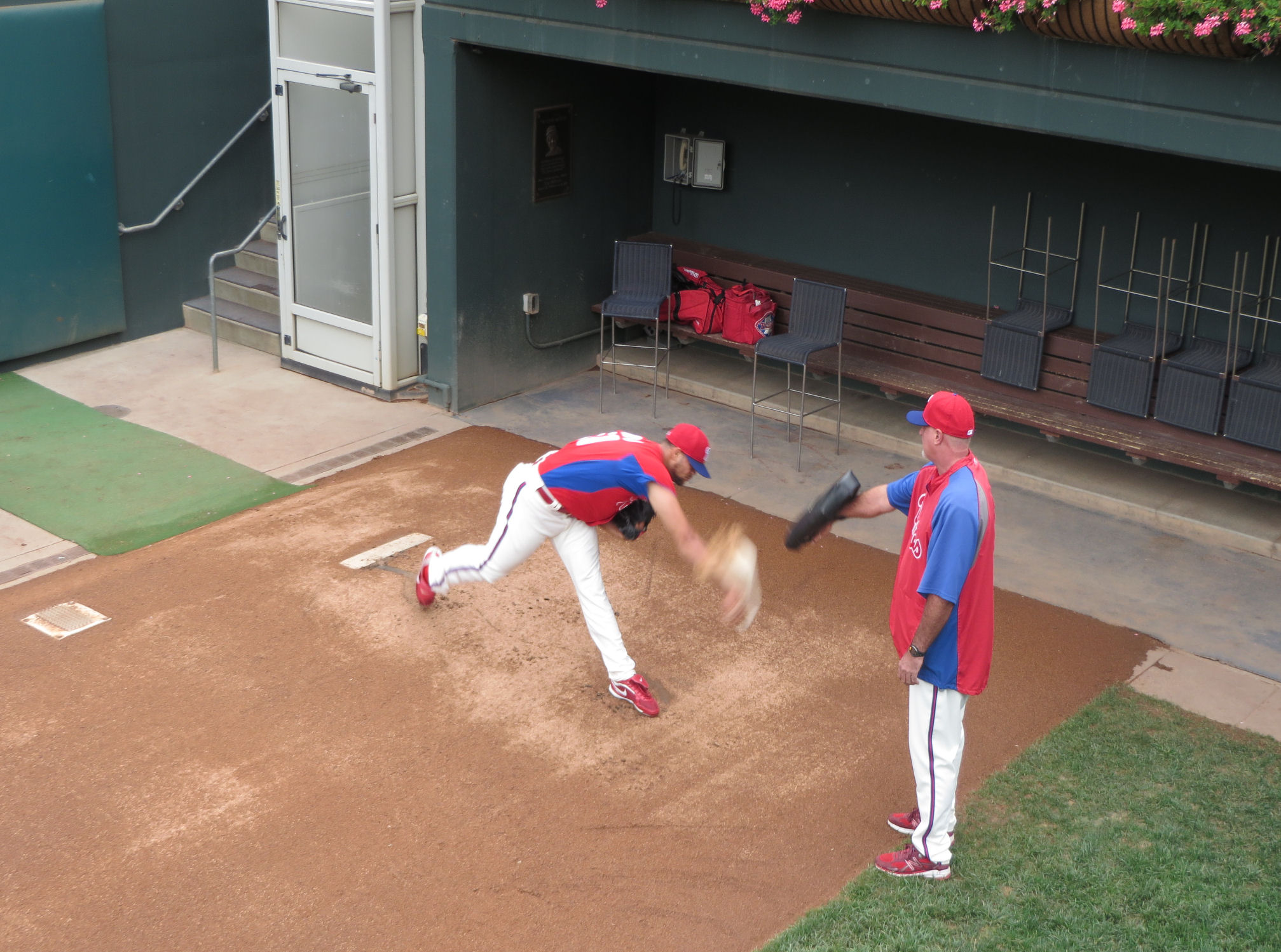 The bright Ballhawkfest shirts makes it easy and fun to watch the others across the ballpark.  Check out this photo featuring Zack, Mateo and Alan: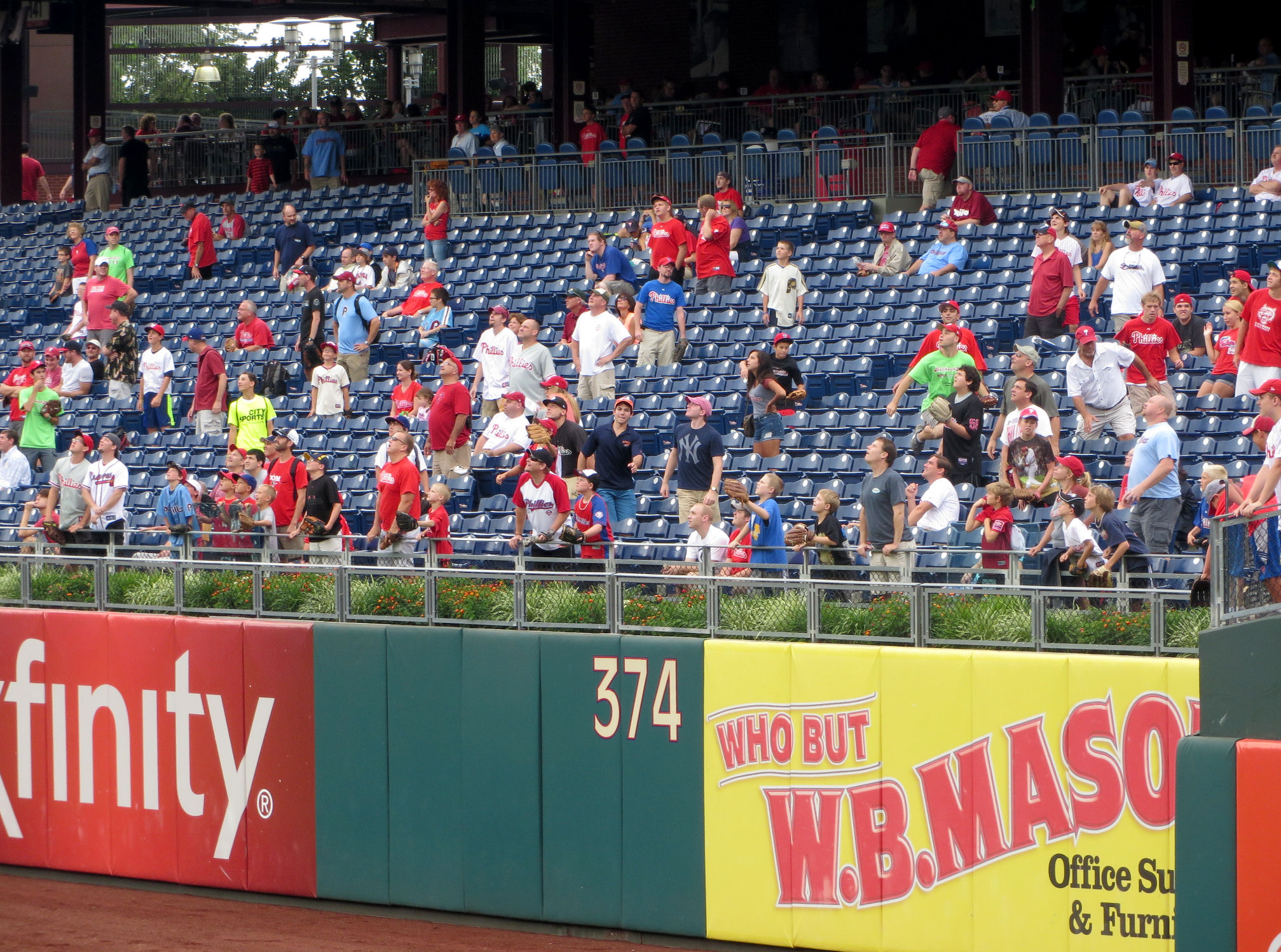 Zack did not get that ball.  But Harrison got this one: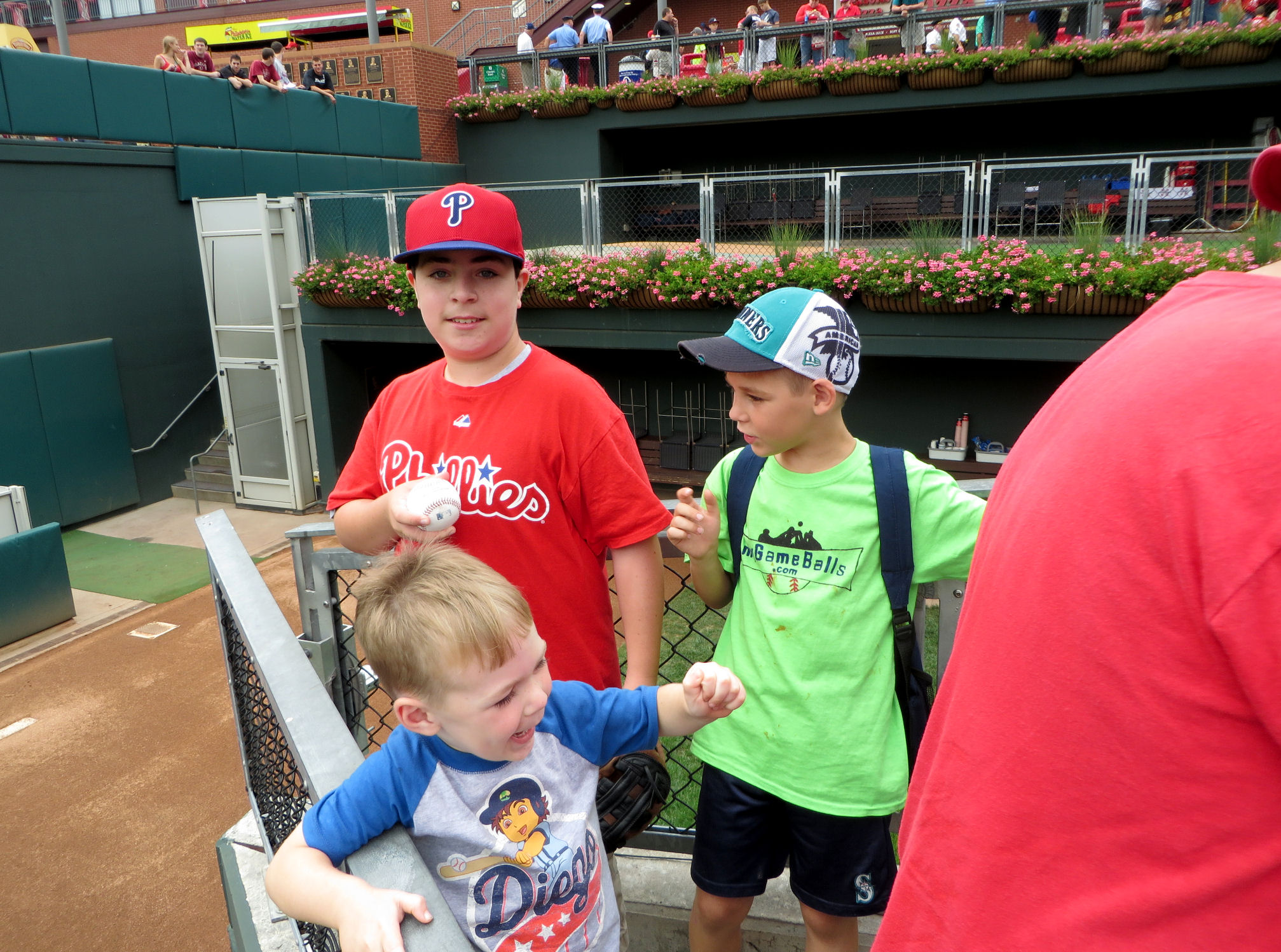 And we got another one from Rod Nichols and then another from this guy with the catchers mitt…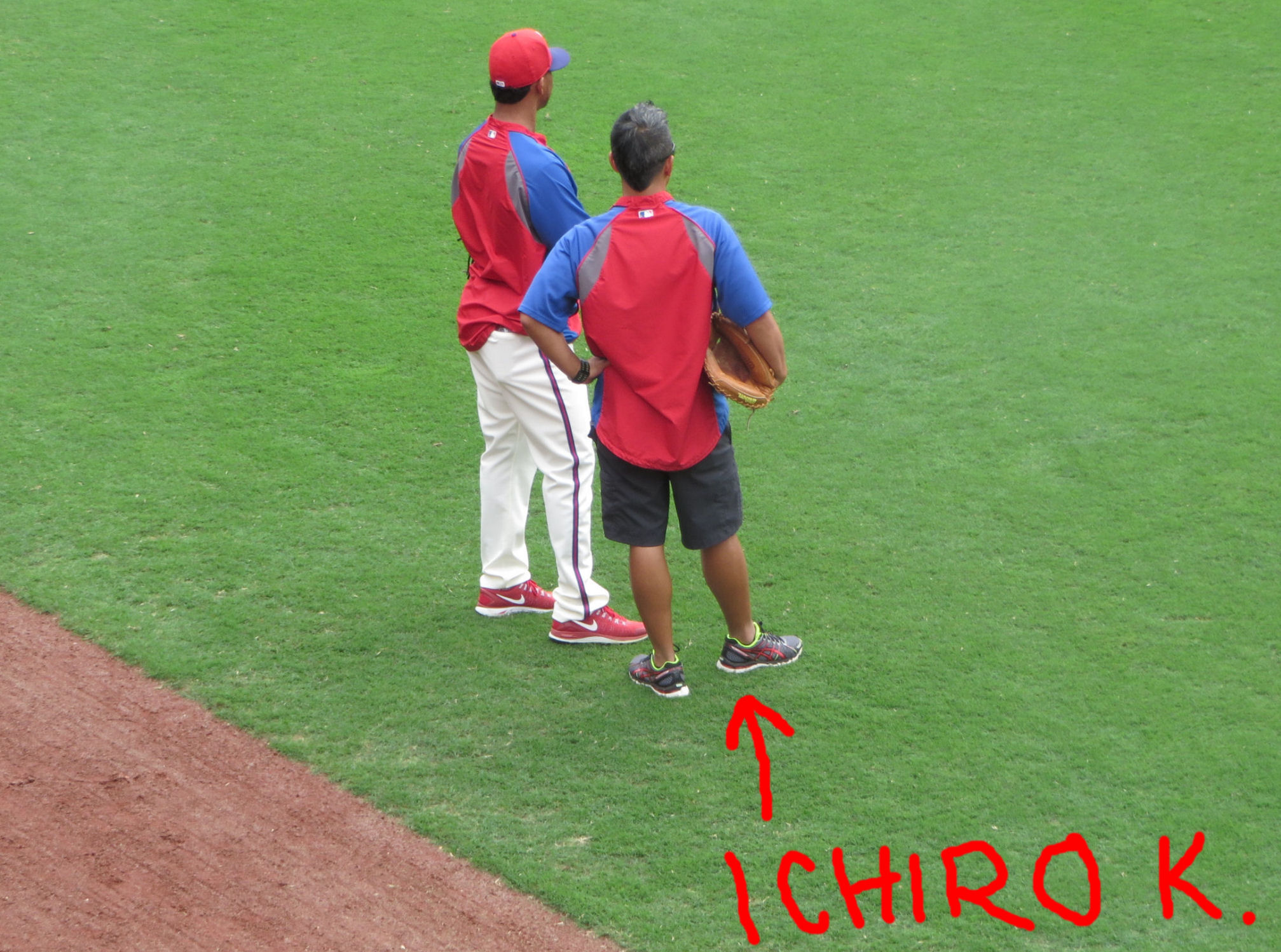 …whose name just happens to be Ichiro!
Thanks, Rod and (Not-Ichi) Ichiro!
For much of BP, it was the Cooks and the Tishlers locking down the pizza wedge…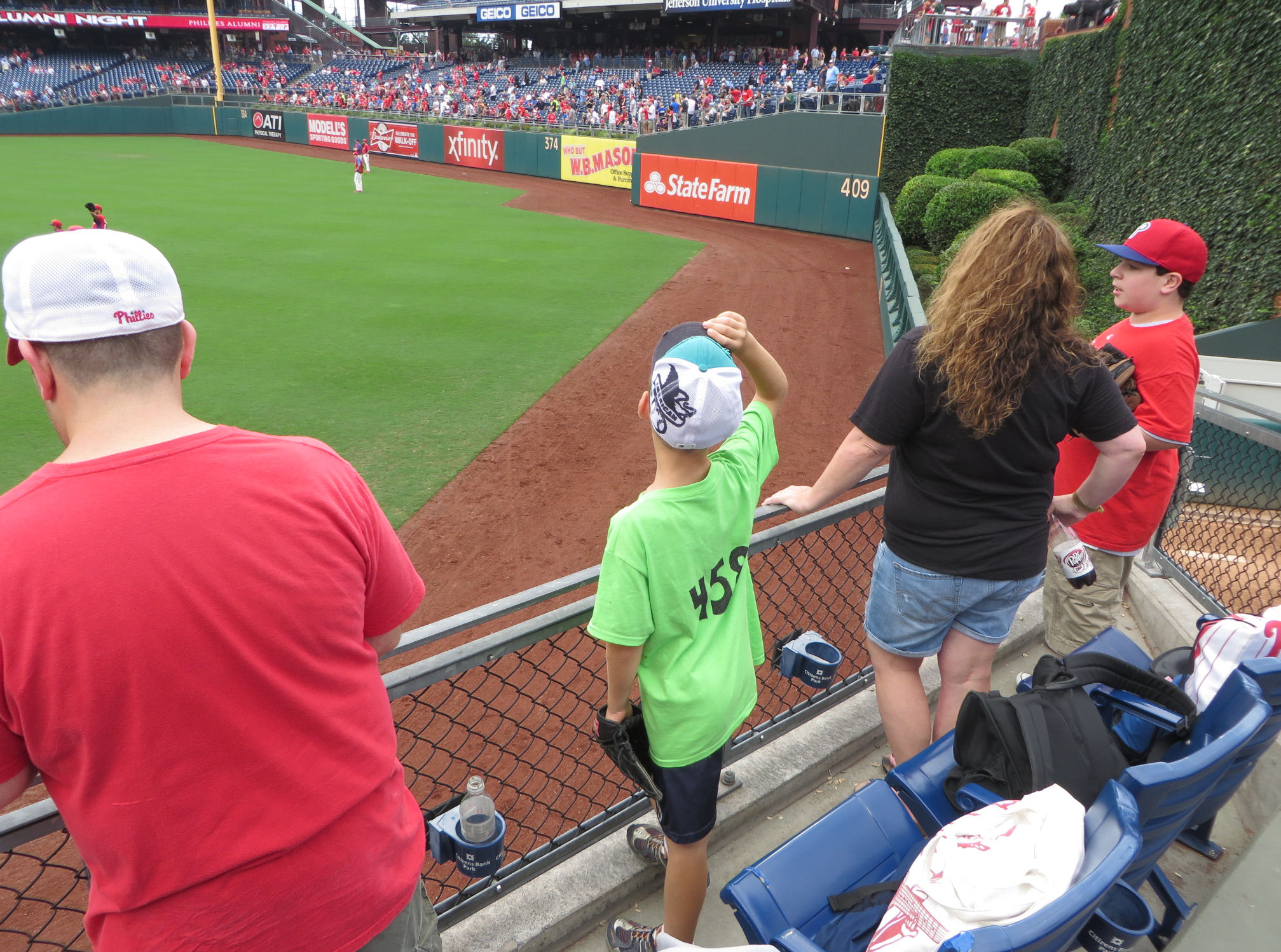 …pretty typical stuff for a Saturday home game at Citizens Bank Park!
Check out this unique catch Tim made on a ball tossed by Zach Miner:
I guess that's why you use two hands!
Thanks, Zach!
After BP, we all met up at the Richie Ashburn statue in Ashburn Alley.  On our way, Tim got the chance to pose with Rick's big glove: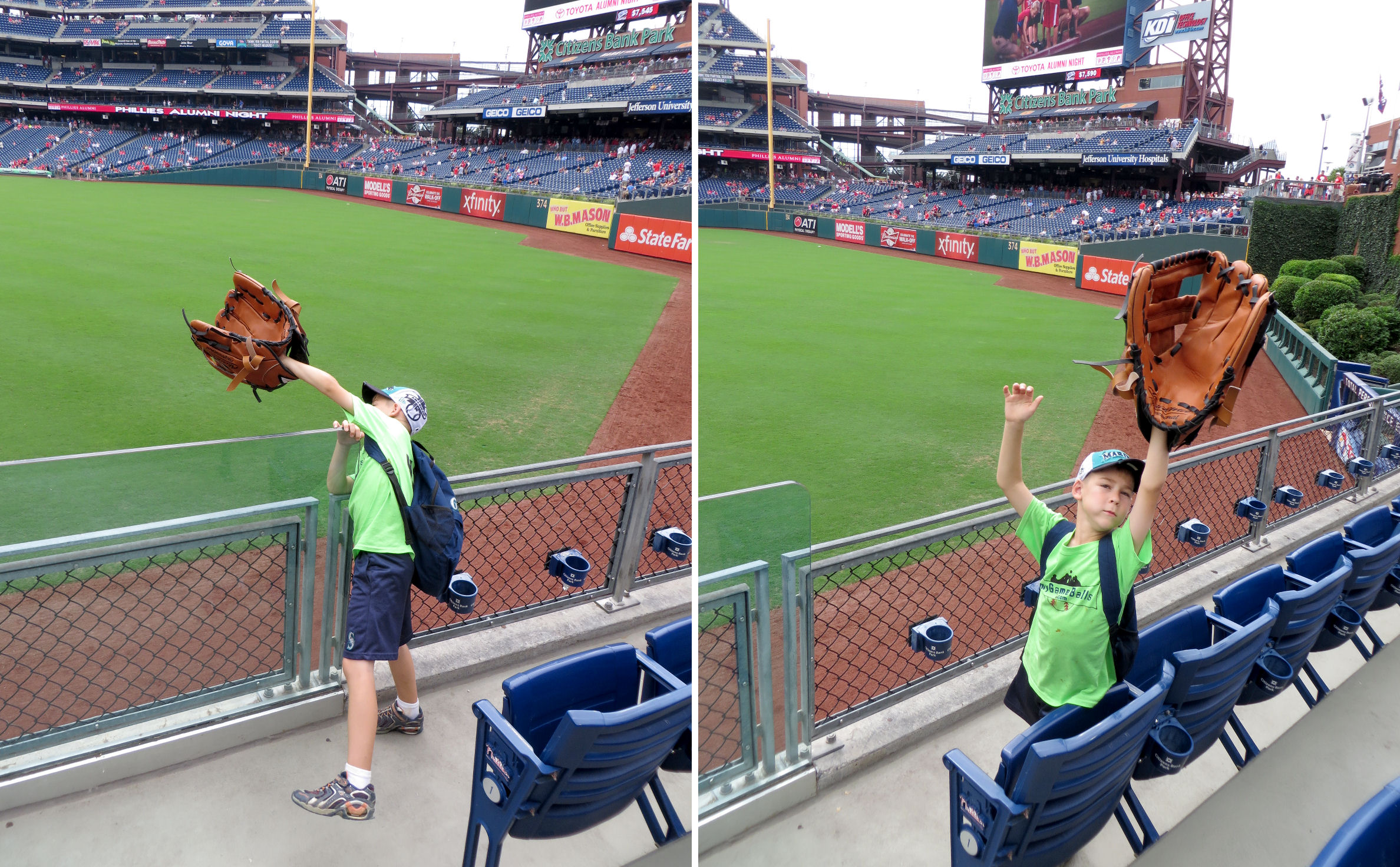 That's a big glove, alright!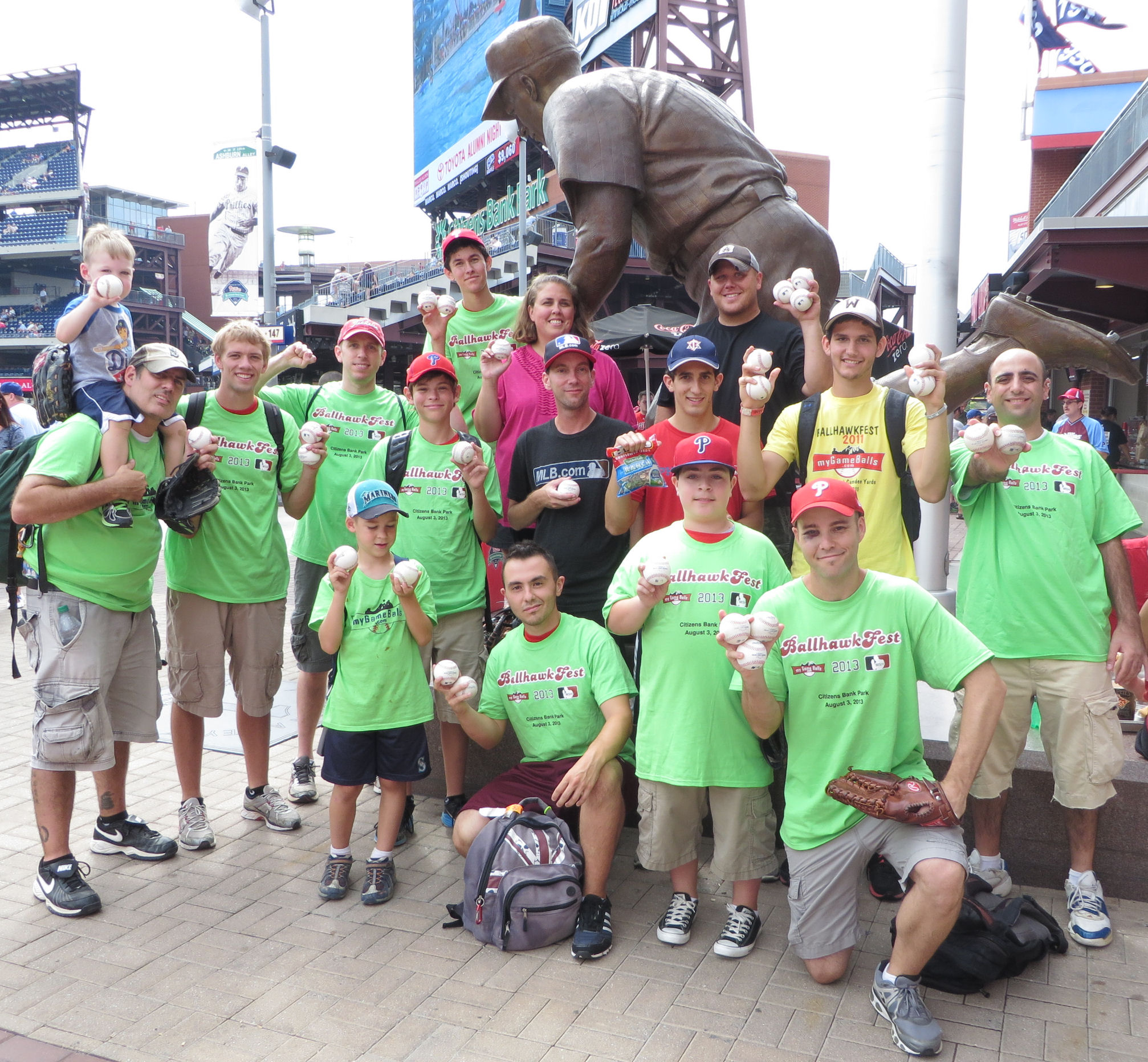 Everyone had a ball by that point except Alan (who is displaying his empty fist) and Quinn (who is holding one of Mateo's balls, but would eventually snag a few of his own at this game).
We ended up getting one more ball on the day from someone pictured in this photo: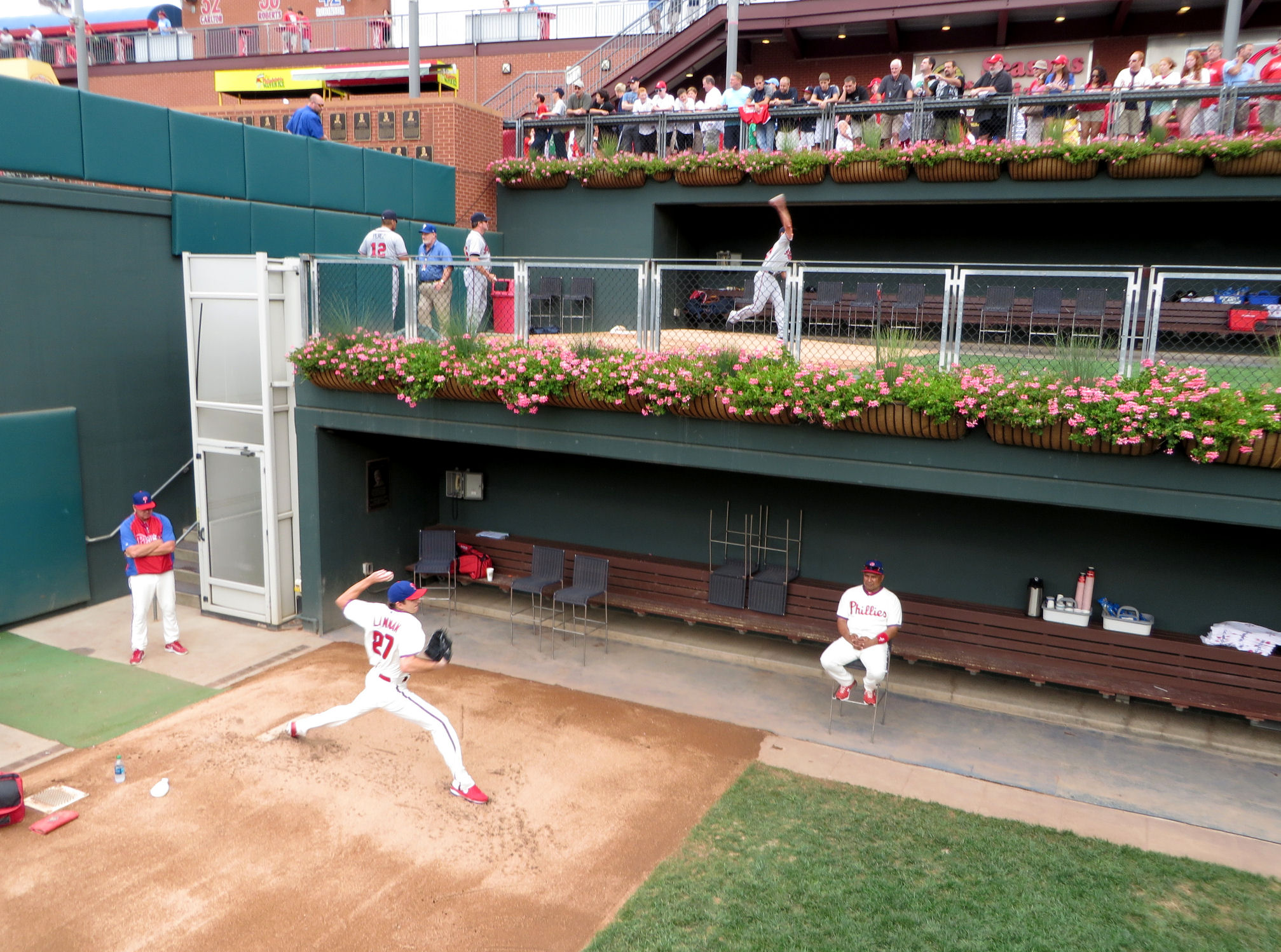 Yep, out guy, Jesus Tiamo tossed a ball to Tim.
Thanks, Jesus!
It was Phillies Hall of Fame weekend.  One of my least favorite Phillies of all time had been inducted into the club's hall of fame the day before.  And there were a bunch of famous former Phillies at this game for the pre-game festivities, including a pair of National Baseball Hall of Famers in this photo: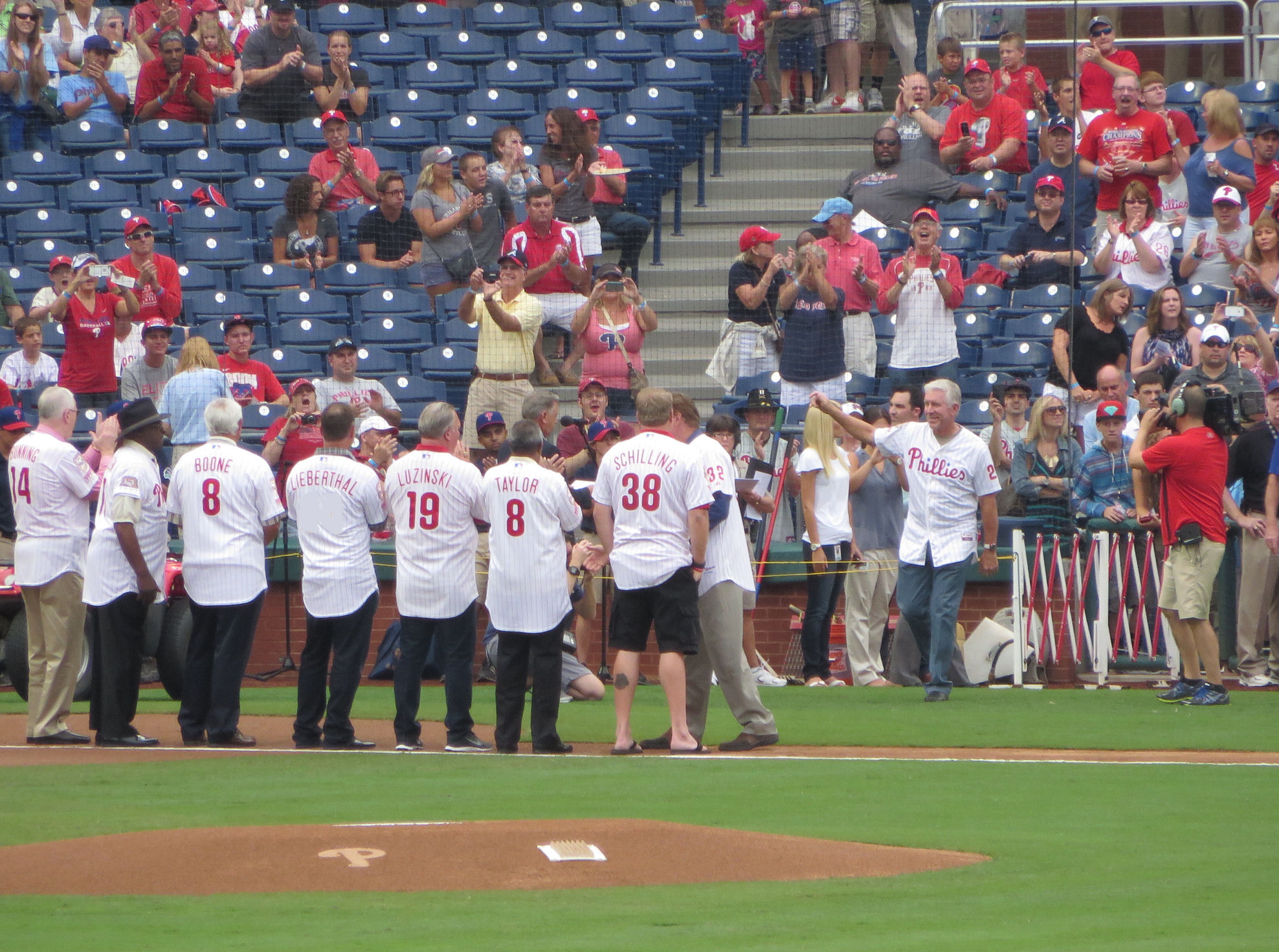 It's easy to see Michael Jack Schmidt waving to the crow in that photo, a little less clear to see that Steve "Lefty" Carlton is reaching out to shake "Taylor's" hand (Sorry, I'm a Mariners fan, I have no clue who Taylor is).
As the game started, the boys played some Games of Baseball: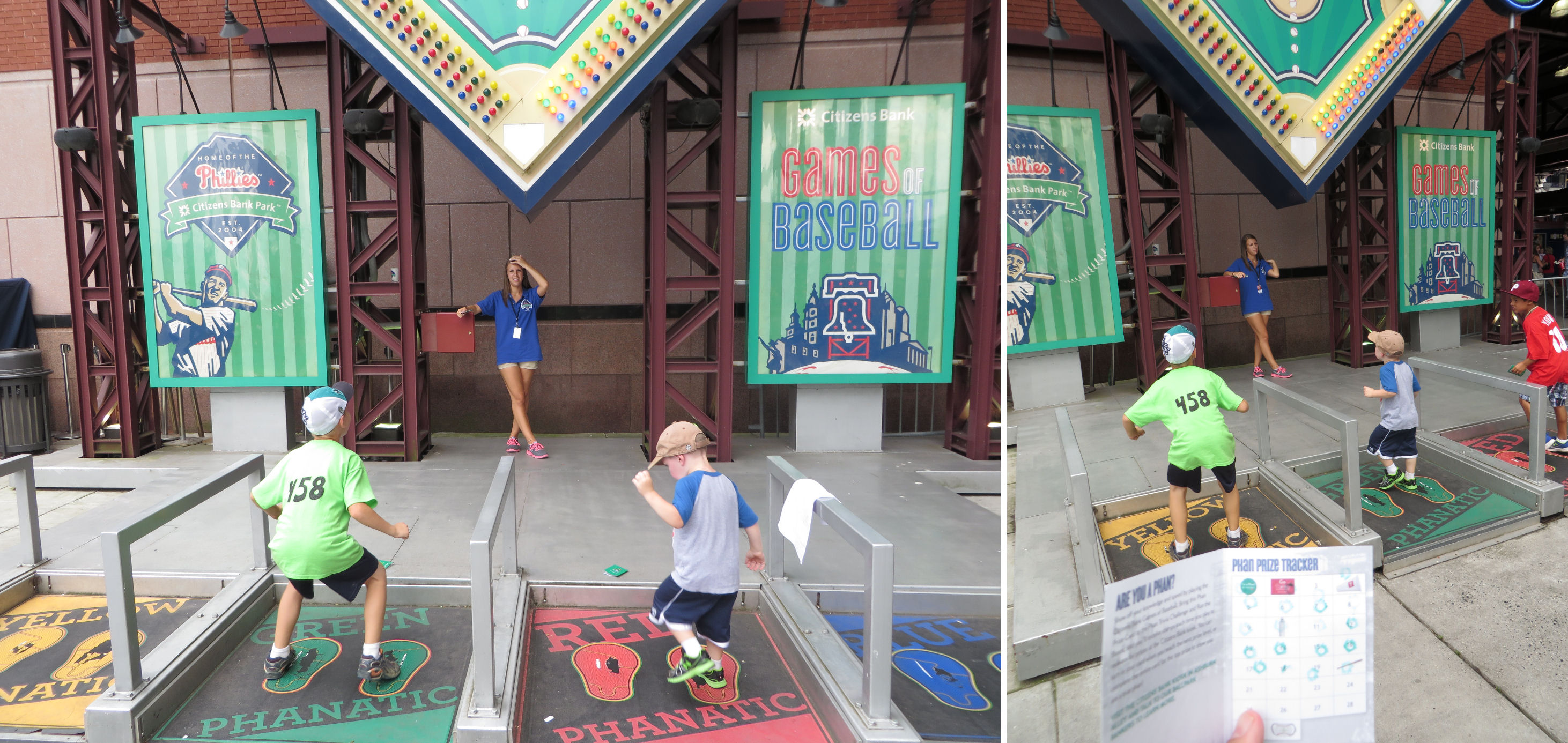 The Phillies scored a run in the first inning while we were at the games to take a 1-0 lead.
And then we met up with Alan and headed to one of our favorite spots — the back row of section 428: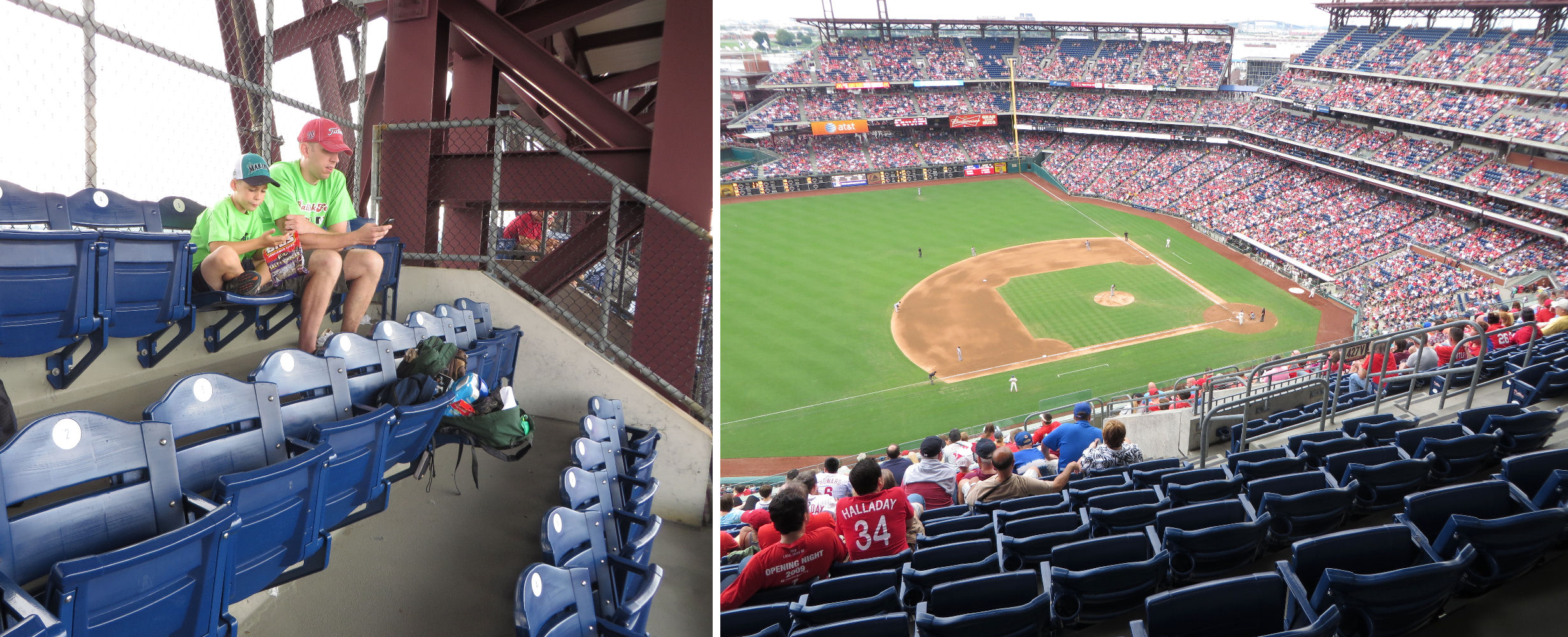 We devoured a cookie sundae helmet while we were up there.  And, check out what we could see from up there: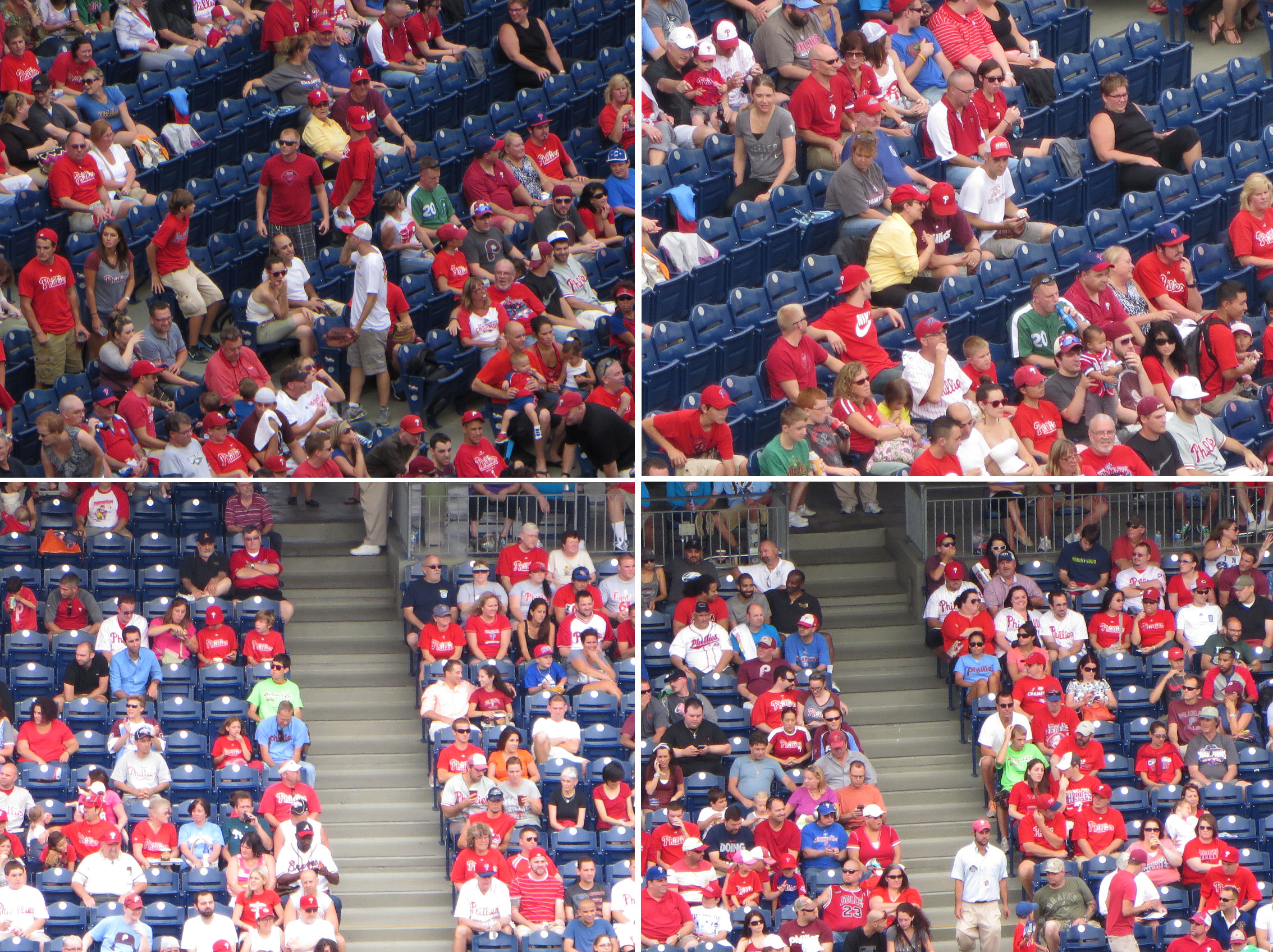 Upper Left:  Zack is on the phone in LF chatting with someone-or-other after catching John Maberry's 2-run homerun in the bottom of the second.  That put the Phillies up 3-0 and got Zack in trouble for sitting in the wrong seat (in the right section).
Upper Right:  Zack was forced to sit in his actual seat in the middle of the (almost empty) row.
Lower Left:  Mateo's future was so bright he had to wear shades as he watched the game from section 103.
Lower Right:  Alex and Mark Kopp, both shades less, watched the game from section 105.
After a few innings up in 428, Alan headed toward the OF to hear the story of Zack's homerun catch (I think) and we headed to the kids play area (to play):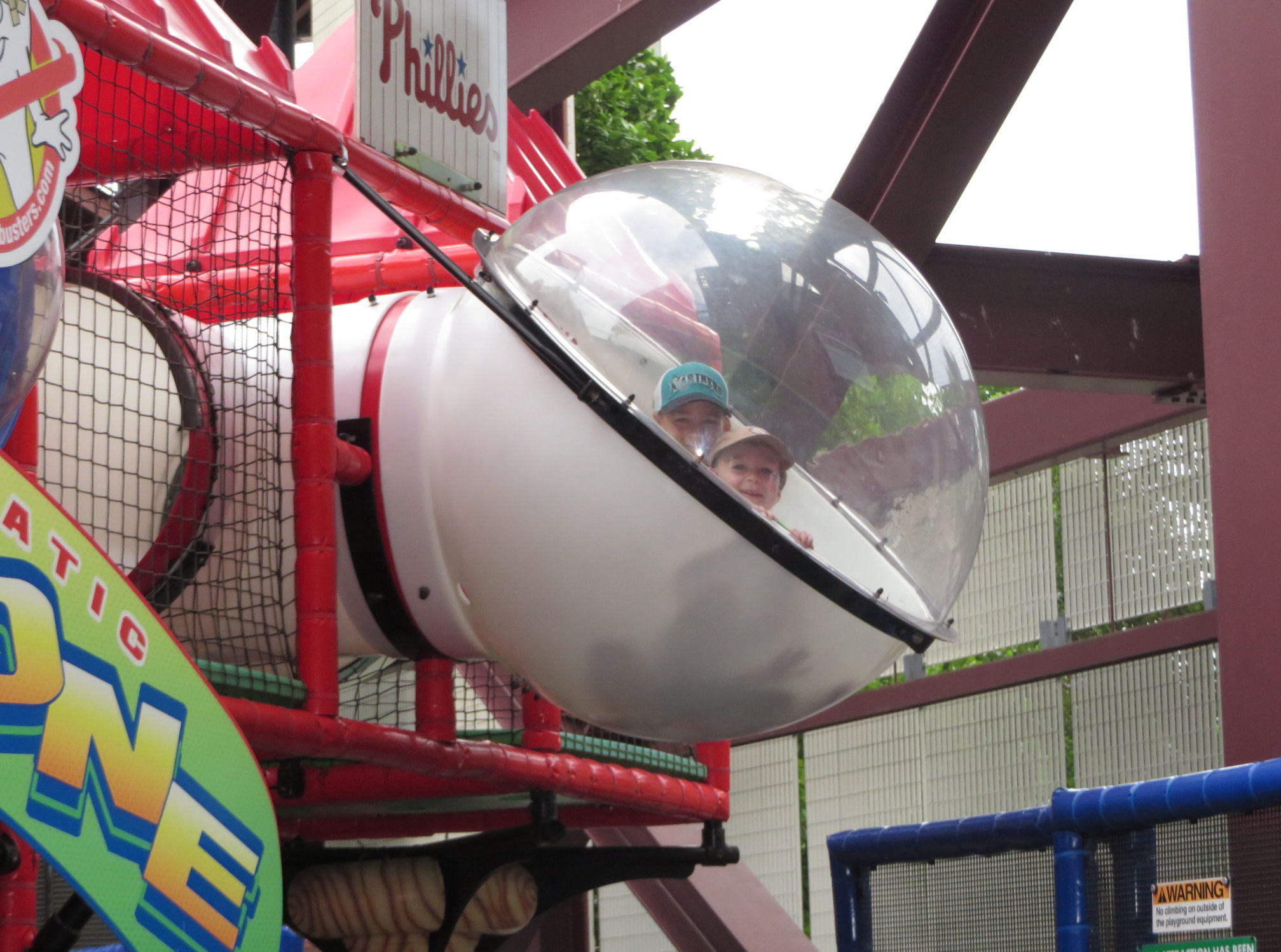 While the kids played vigorously in the kids play area, I monitored the game and the world on my phone.  On the old Twitter machine, I discovered that the Tishlers were going to or had met up with Mateo in section 103.  So when we finished up at the play area, we decided to head over there.  Lemme tell you, 1-oh-3 was the place to be!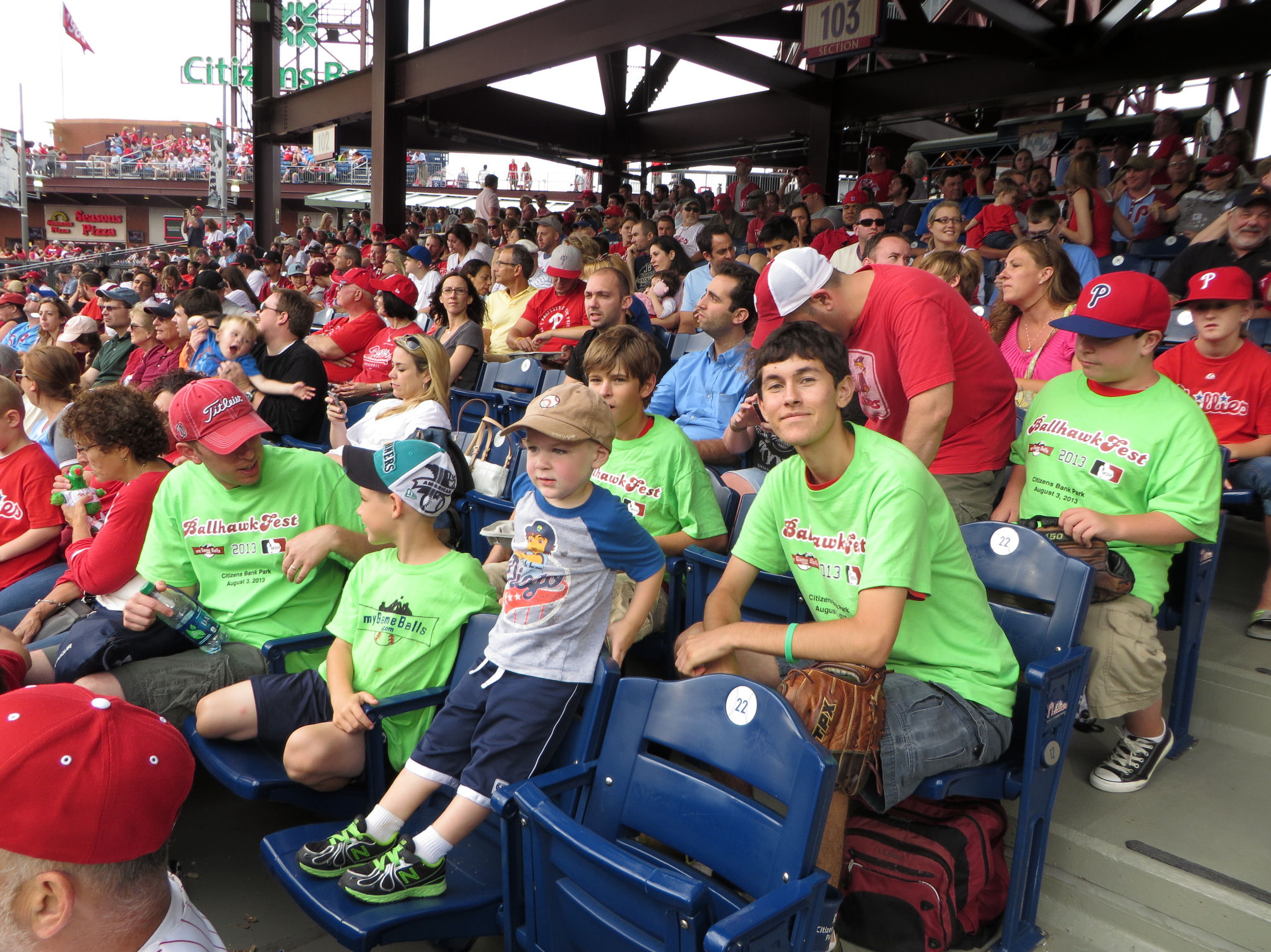 As you can see, I grabbed the aisle seat in section 11 along with Kellan, Tim and Alan.  Mateo and Quinn were in row 12.  And the Tishlers had the last three seats in row 13.  It was perfect.
Well, it WAS perfect, until this guy came back to his and his wife's (Tim and Alan's) seats: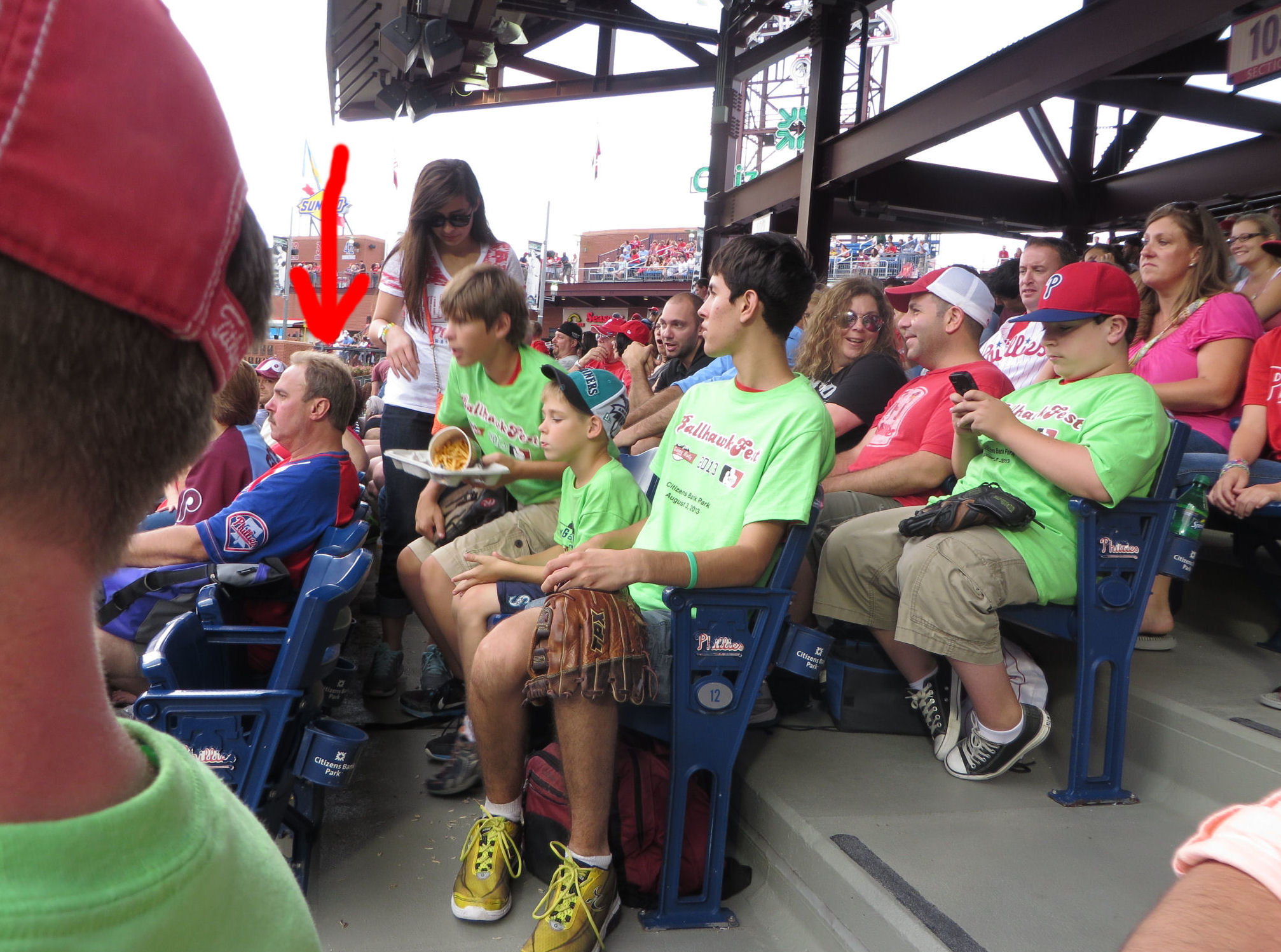 His wife was just fine, but this guy was quietly, but very obviously, not happy to find people in his seats.  Alan, Kellan and I moved across the aisle to some other open seats and Tim popped back a row and took the seat between Mateo and Quinn.  Tim loves hanging with older guys.  And he was in older guys paradise sandwiched between Quinn, Mateo and Harrison.
I always enjoy taking some outfielders pictures while we're in the outfield, so here are some:

That picture to the right is pretty cool because its features a pair of brothers, B.J. and Justin Upton, manning the outfield together.  How cool would that be!?  I couldn't imagine how awesome it would be if Tim and Kellan both played in the big leagues and played in the same outfield together.  I'd probably have to start traveling with the team so I could see every single game!
One of the great parts of being a dad to a little kid is getting to hold the little buggers when they fall asleep.  Sleeping little kids are great.  And watching the process of them falling asleep is great too.  It was so relaxing and low key out in RF during this game.  I had a blast watching Kellan slowly fall asleep on my lap for his second nap of the day: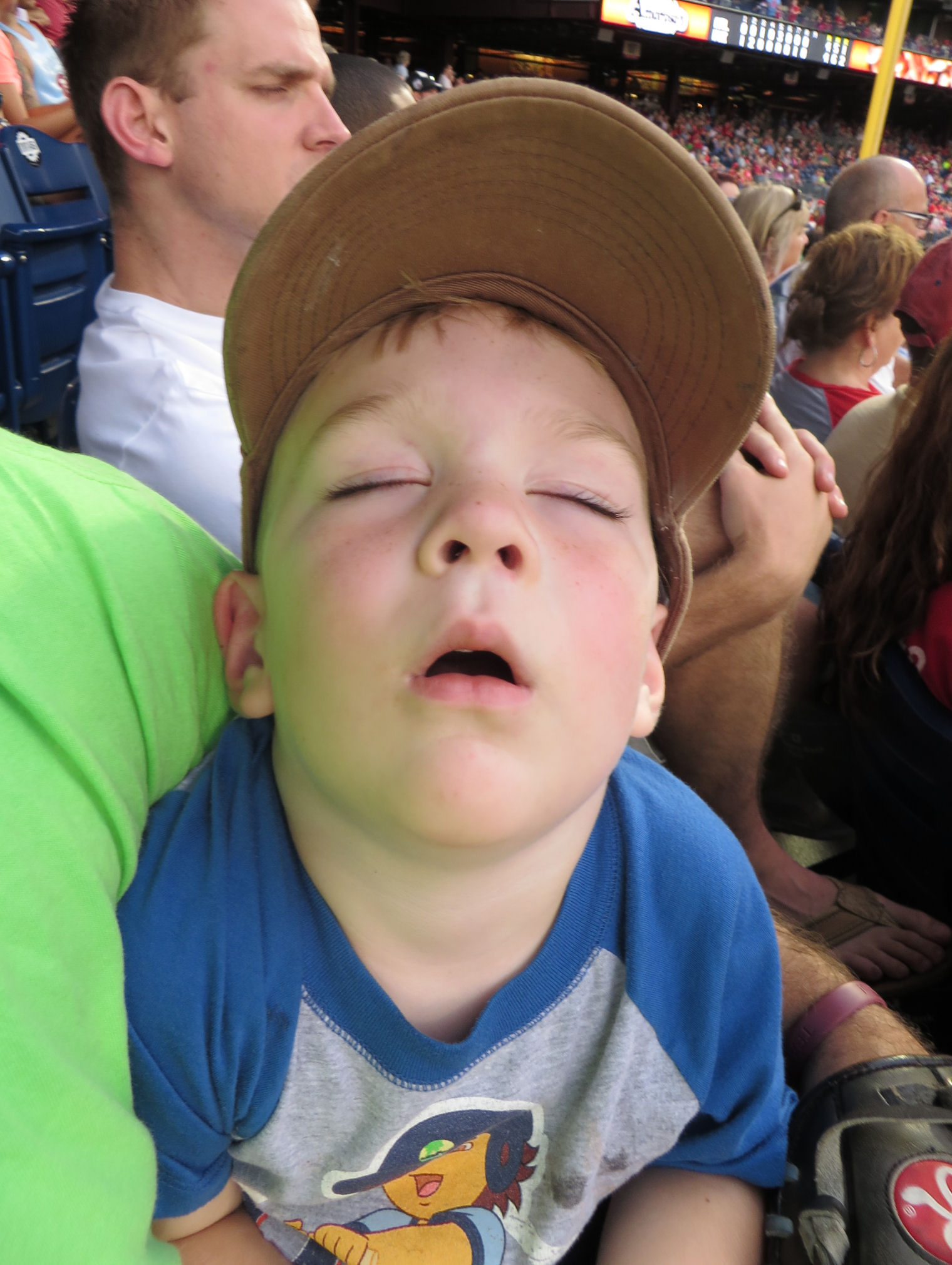 Check out my awesome view of the game: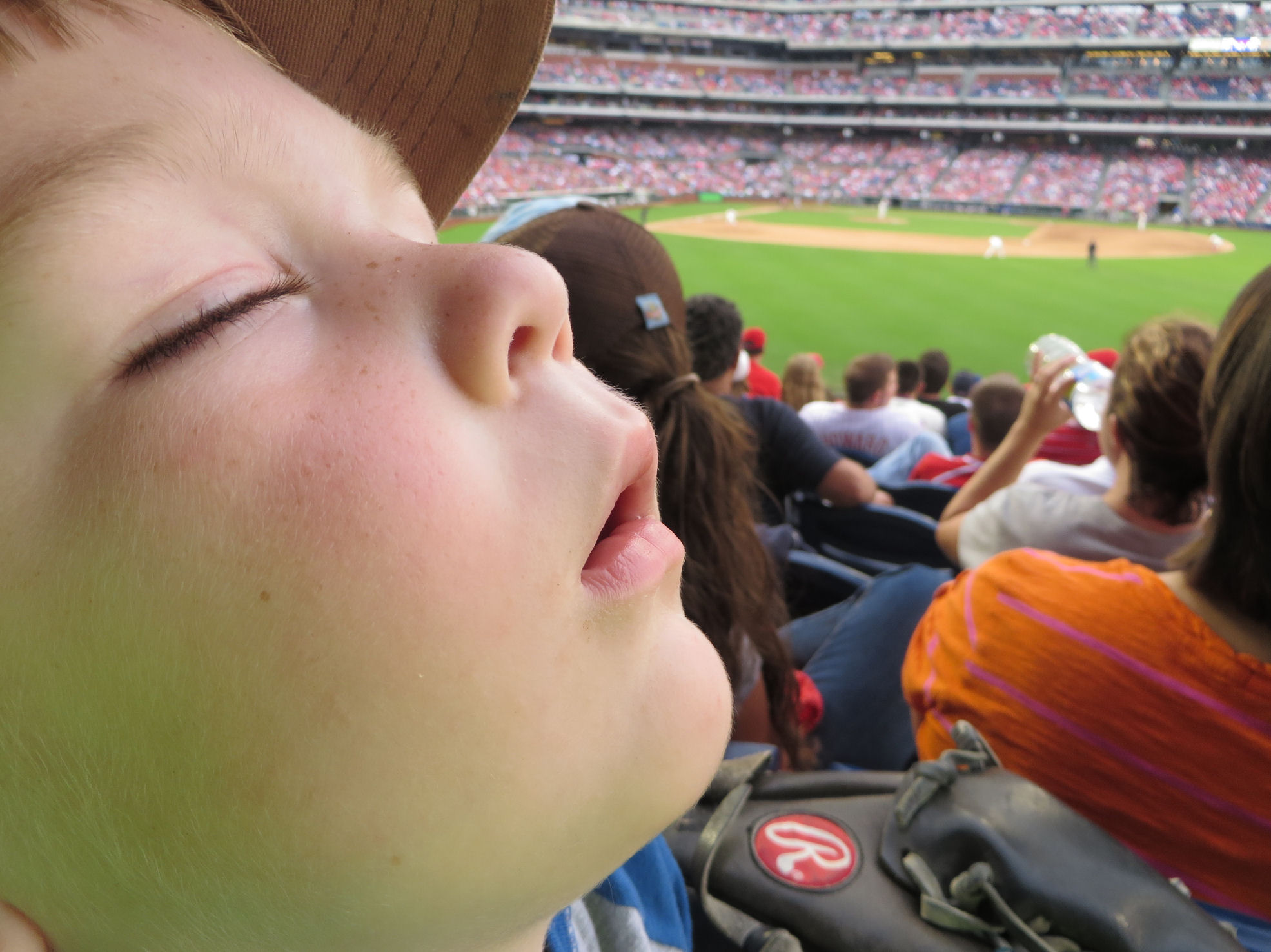 While Kellan napped, Tim went crazy with his camera (that dude loves taking pictures!):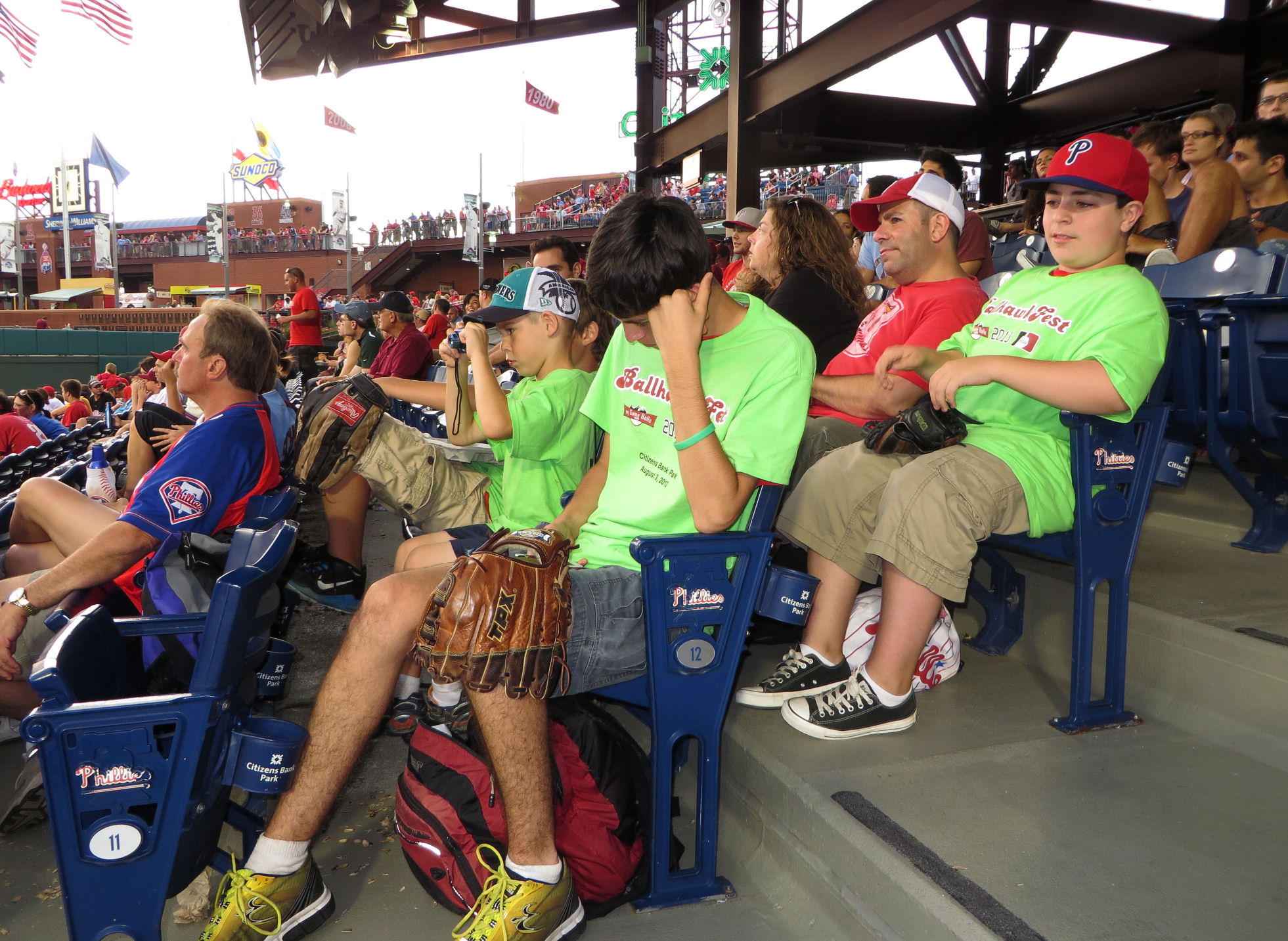 You know how some stadiums do the bongo drum cam?  Well, this was Tim's (failed) effort to get on it: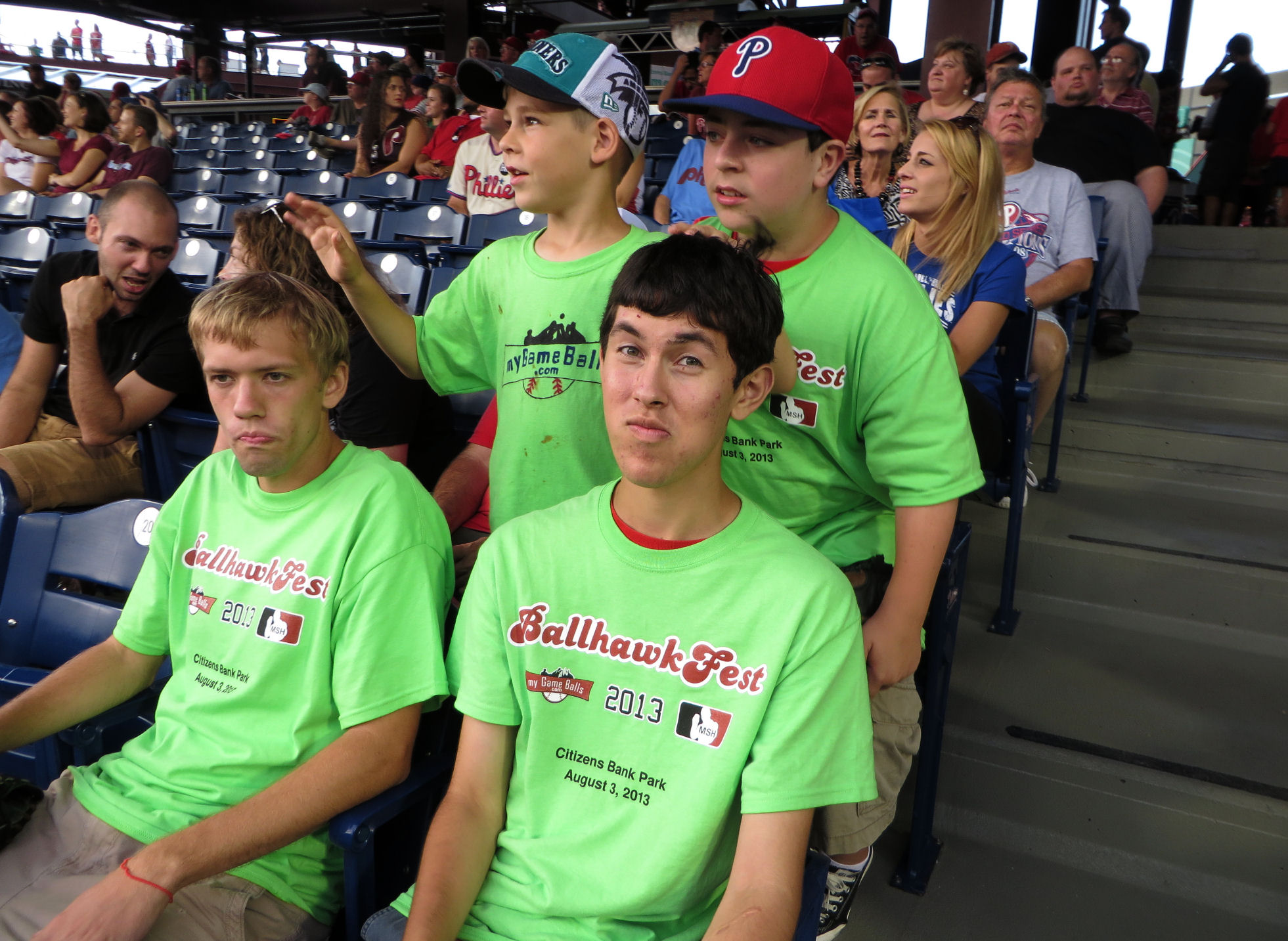 He was really playing the bongos on Alex and Mateo's heads.  I gotta hand it to them, Alex and Mateo are always great with Tim.  He is an excitable (fun-loving) little guy, and they always roll with the punches (or the head bongos) like pros.  That's why Tim loves going to games with these guys and Avi and Harrison so much.  He's making great childhood memories at the ballpark with his old man and brother, and a set of supercool friends that we've met through MLBlogs and MyGameBalls.com.  Thanks, guys.
So, Tim devoured (or at least sucked and spit) an entire bag of BIGS Salt & Vinegar seeds.  So he as pretty pumped when Alan handed him another free bag o' BIGS — bacon BIGS!
Eventually, most of the MyGameBalls.com crew made it over to RF.  When Zack stopped by, we capitalized by getting a bonus picture for the MyGameBalls.com photo scavenger hunt: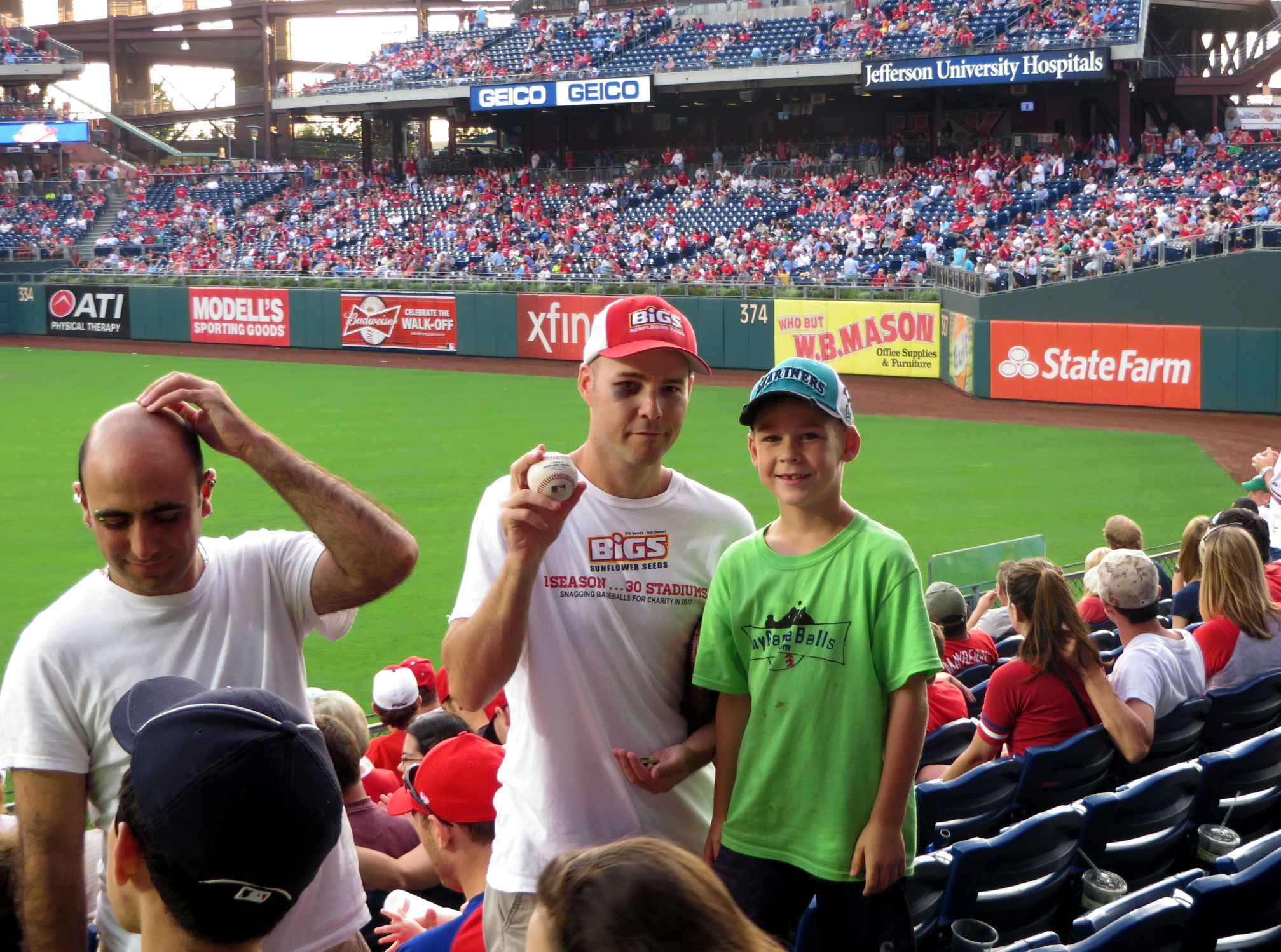 Zack is the all-time MyGameBalls.com leader at Citizens Bank Park (and that's the homerun ball that he caught).
When I stood up between innings with sleeping Kellan, Jen and Benny decided to copy us: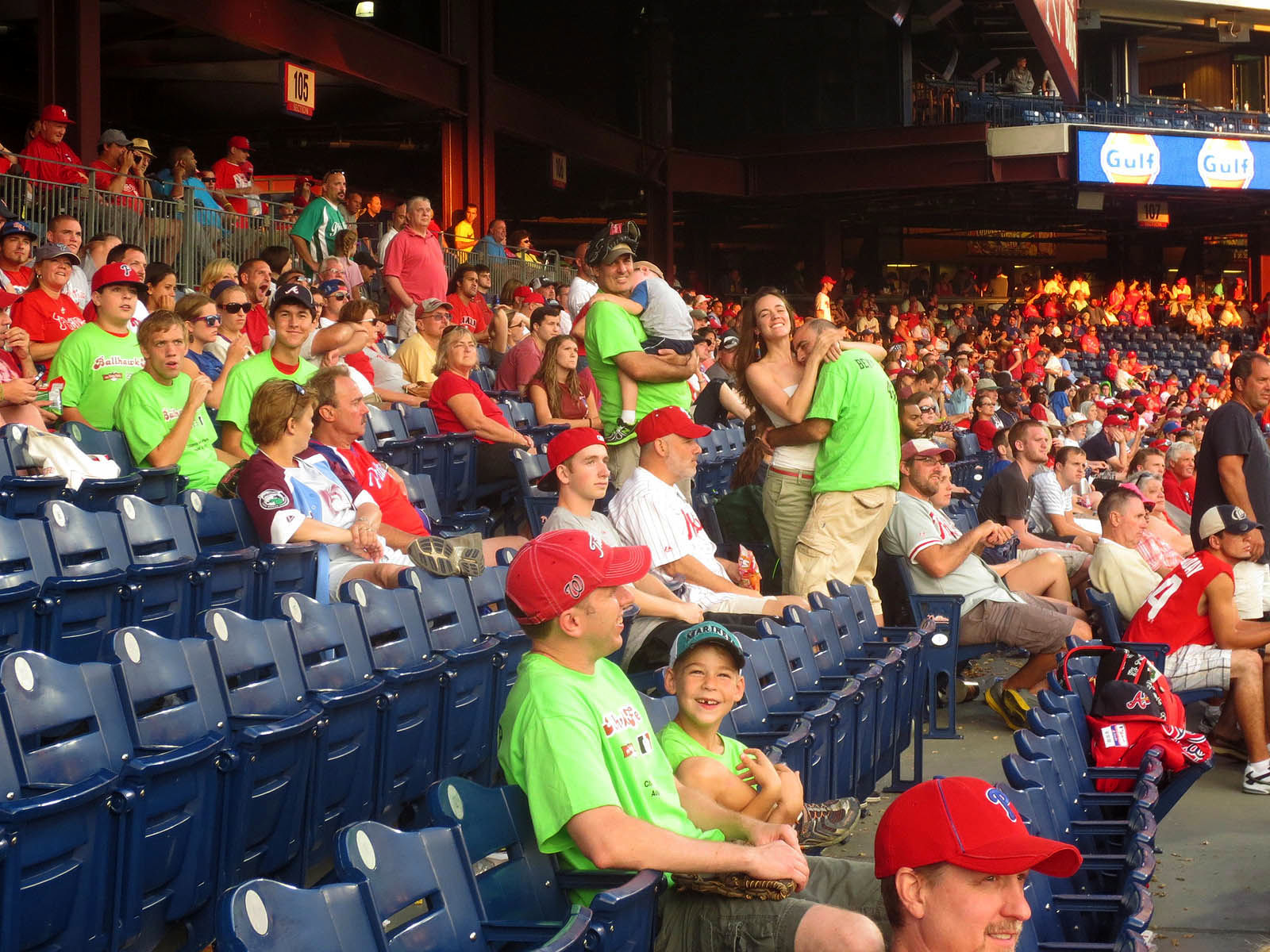 Hilarious stuff, guys!
Here's some more hilarious stuff:

The slow process of awaking up at a ballgame.
I'll tell you, I was paying attention to the game.  But most of all, we were just relaxing and having fun hanging out as a group.  It was just about ideal conditions for a game with friends.  (More ideal would be with the Mariners playing and winning the game by 16-or-so runs).
Here's a behind he scenes photo of Mateo taking a picture of the young love birds: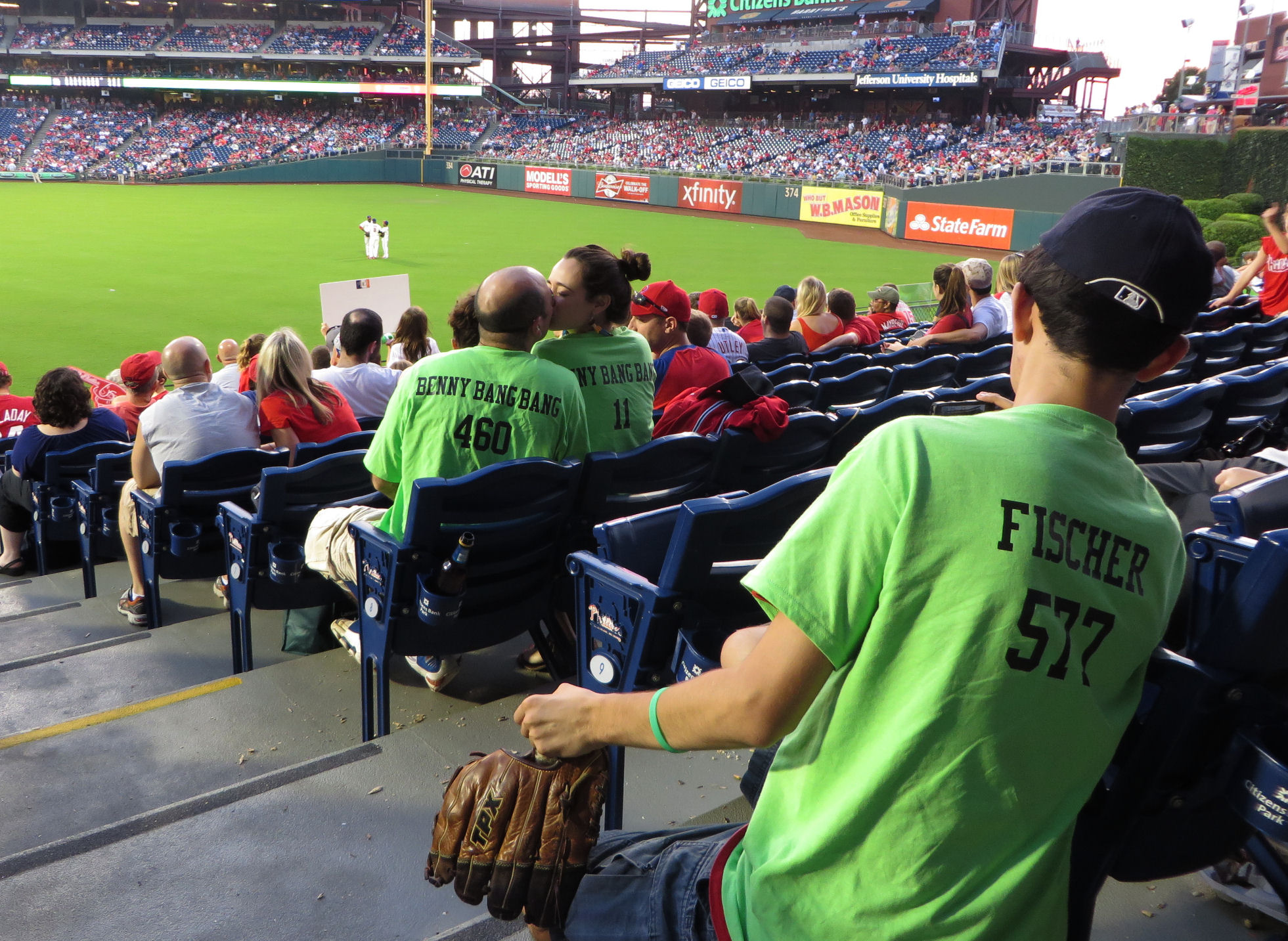 Oh, yous guys!
So, after the Phils took an early 3-0 lead, the Braves came roaring back and took a 4-3 lead.  The Phils tied it up at 4-4 in the seventh, and then the pitching an defense took over.
The Braves finally broke through for another run in the top of the 12th inning on an RBI ground out by the .196 hitting "His Name Is" Dan Uggla.  That meant Craig Kimbrel came into the ball game in the bottom of the ninth: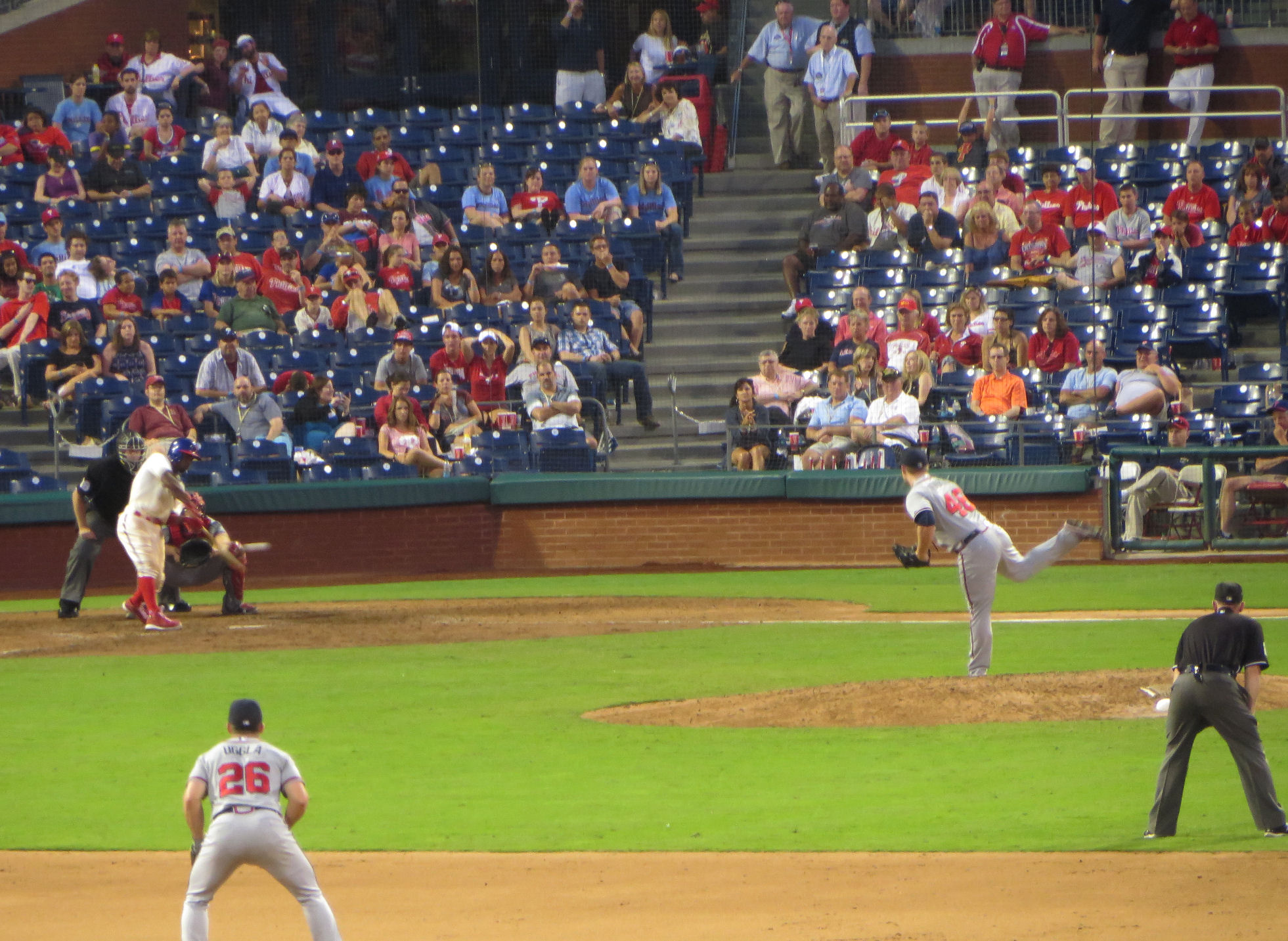 And that was all she wrote for the Phillies.
Ball Game:  5-4 Braves win over the Phillies.
After the game, we were going to all meet behind the Braves dugout for a group photo.  But plans changed when we learned that Zack got booted out of he game!  He went back over to LF (where his actual ticketed seat was located) and they kicked him out on sight because a beer vendor (or some sort of vendor) told the ushers that Zack and used some foul language in describing them after their post-homerun interaction.  It all seemed quite silly and unnecessary.
Anyway, as a result, we all (or those of us who could stay for the end of this 4-plus hour game) met up outside the ballpark for a final group photo: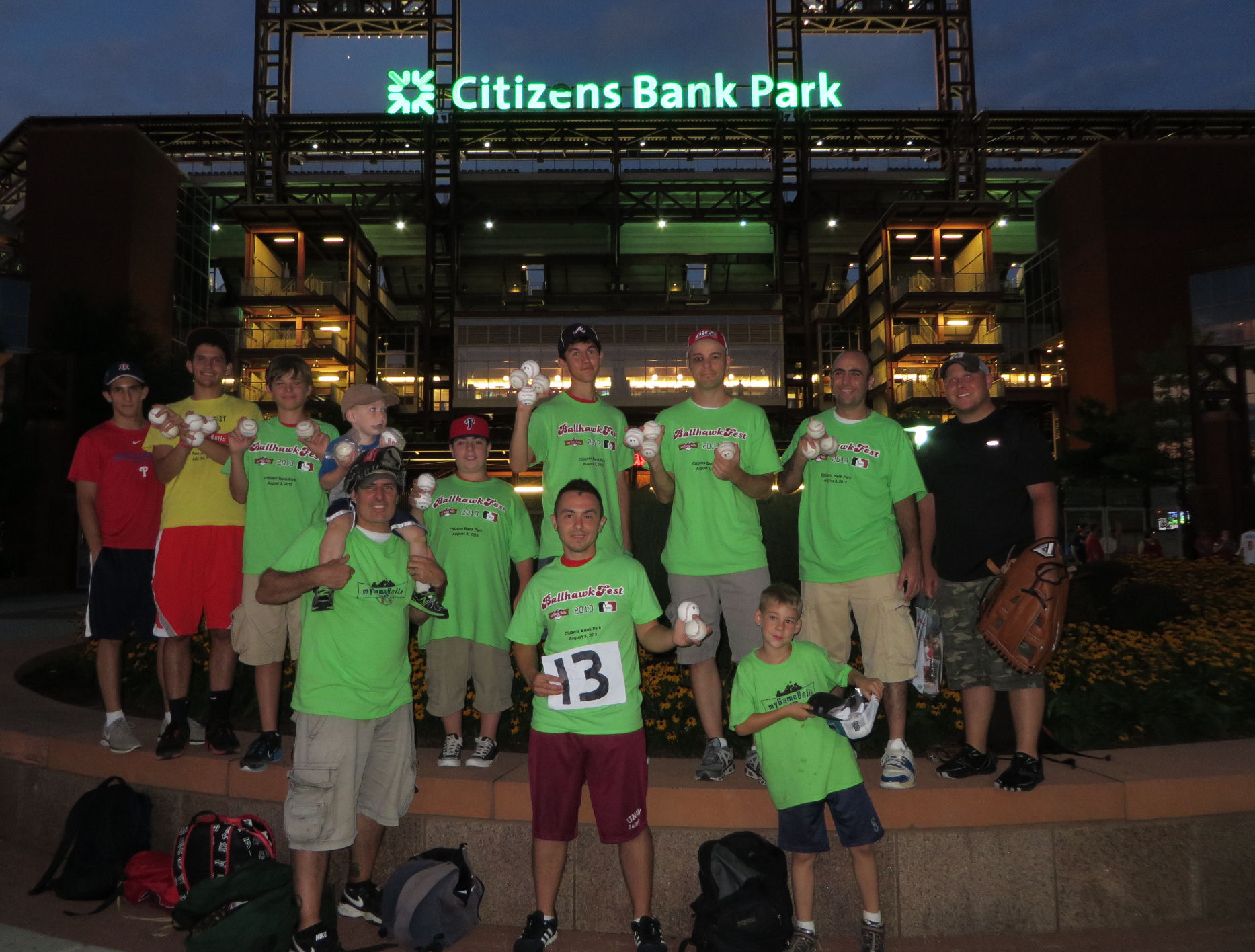 It was a great day all around.  Great guys, great game, great lunch, great homerun derby.  Great, great, great.  Looking forward to next year already.  (By the way, Citizens Bank Park is the 13th stadium that Chris has visited in his quest to see 'em all).
2013 C&S Fan Stats
19 Games​
19 Teams – Mariners, Royals, Phillies, Red Sox, Rays, Orioles, Yankees, Dodgers,
Reds, Nationals, Marlins, Pirates, Blue Jays, Twins, Tigers, Mets, Brewers, White
Sox, Braves
32 Ice Cream Helmets – Phillies (jumbo) 4, Phillies (normal) 2, Red Sox 2, Yankees
2, Orioles 4, Nationals 2, Pirates 2, Blue Jays 2, Tigers 6, Mets 2, Reds 4
91 Baseballs – Mariners 11, Royals 4, Phillies 19, Rays 2, Orioles 7, Dodgers 3,
Umpires 7, Reds 9, Nationals 3, Marlins 4, Pirates 1, Blue Jays 2, Twins 3, Tigers
1, Mets 3, Yankees 2, Brewers 2, Red Sox 6, White Sox 3
10 Stadiums – Citizens Bank Park 2, Fenway Park, Yankee Stadium, Camden Yards,
Nationals Park, PNC Park, Rogers Centre, Comerica Park, Citi Field, Great American
Ball Park
32 Player+ Photos – Oliver Perez, Lucas Luetge, Hisashi Iwakuma, Carter Capps,
Daniel Nava, Alex Wilson, Andrew Bailey, Pedro Ciriaco, Mike Carp 2, Koji Uehara,
Will Middlebrooks, Joel Hanrahan, Jonny Gomes, Alfredo Aceves, Clayton Mortensen,
Rick Anderson, Tom Gorzelanny, Joe Savery, Jonathan Pettibone, Carlos Ruiz, Charlie
Manuel, Justin DeFratus, Ryan Howard, Ben Revere, Larry Anderson, Gary "Sarge"
Matthews Sr., Kyle Kendrick, Ryne "HOF 2005" Sandberg, Michael Stutes, Jimmy
Rollins, Ryan Rowland-Smith
10 Autographs – Hisashi Iwakuma 2 (English & Japanese), Carter Capps, Ryan Hanigan,
Jesus Tiamo, Mike Carp 2, Ryan Rowland-Smith 2, Felix Hernandez